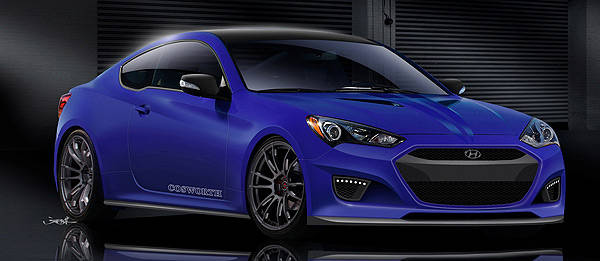 If the Hyundai Genesis Coupe that ARK Performance is tweaking for the 2012 Specialty Equipment Market Association (SEMA) Show is too much for you, then perhaps you'd be interested in what Hyundai is calling "the ultimate Genesis Coupe" that's being developed by Cosworth for the same aftermarket show.
Known as the Cosworth Genesis Racing Series, the 3.8-liter, direct-injected engine of the Genesis Coupe was worked on by the world-renowned race-engineering company to produce 389hp and 441Nm of torque while retaining its daily-driver sensibilities.
For its exterior, Cosworth gave the Genesis Coupe a satin-gloss blue finish and fitted it with a front splitter, gunmetal-finish lightweight racing wheels, an integrated rear spoiler, and a blackout rear diffuser.
Despite its race orientation, the Cosworth Genesis Racing Series retains the original Genesis Coupe's design language, with Cosworth focusing most on the car's performance gains and real-world performance potential.
"The rear-drive Genesis Coupe is simply a great platform from which to build our ultimate Cosworth Genesis Racing Series street model," said Cosworth Americas marketing director Nicole Armbrustmacher. "The Cosworth Genesis Racing Series truly demonstrates the purpose-built performance potential of the affordable Genesis Coupe line. We're proud to partner with Hyundai for this ultimate racing series model."
Continue reading below ↓
Recommended Videos