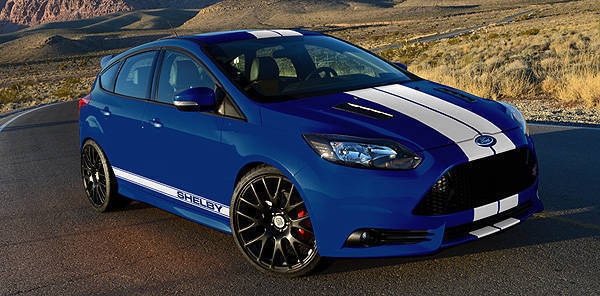 While the name Shelby American is synonymous with powerful, heavily modified Ford Mustangs, the American aftermarket brand has now added another Ford nameplate to its portfolio: the Focus ST.
Called the Shelby Focus ST, the car receives a new Ford Racing suspension package that lowers the car, while new wheels and tires improve grip and traction. Bigger Shelby brakes with drilled rotors enhance the stopping power, while a Shelby/Borla exhaust makes the car sound uniquely Shelby.
Under the hood, the Shelby Focus ST produces the same 252hp from the 2.0-liter EcoBoost engine while still delivering up to 32mpg (13.6km/L). Shelby admits that a Performance Tune package is currently being developed for the car that will significantly increase the power output.
On the outside, the Shelby Focus ST is easily identified by functional hood vents, hydro-carbon front and rear grille inserts, Shelby lettering, and rear hydro-carbon spoiler. Three visual graphic packages are offered, ranging from "traditional" Shelby stripes to edgier Shelby checkered-flag splash or competition graphics.
Inside, the car has a complete Shelby-branded custom interior and a Shelby shifter, and is finished off with the unique Shelby badge.
According to Shelby American, the Shelby Focus ST will be limited to just 500 units per year and will be serial-numbered, earning for it a place in "the stable of the most seasoned collector."