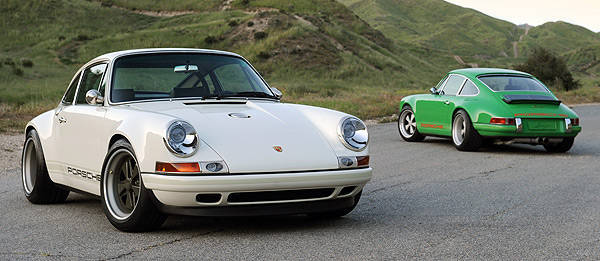 Singer Vehicle Design (SVD) has partnered with motorsport engineering outfit Cosworth and composite expert Aria Group to bring Singer's take on the iconic, air-cooled Porsche 911 closer to production.
"We are thrilled to be involved with these incredible companies, who together bring a wealth of heritage, intelligence and global engineering expertise to this labor of love," said classic vehicle design enthusiast and SVD founder and creative director Rob Dickinson. "This is not just about re-imagining an icon; we're working in a collaborative spirit of excellence to build something that celebrates Porsche's genius and the air-cooled era of the world's most important sports car: the Porsche 911."
The Singer 911 is based on the Porsche 964 platform--manufactured and sold between 1989 and 1994--because of its perfect blend of vintage 911 character and technical sophistication. SVD then dresses the car up in carbon-fiber bodywork that evokes the 911s of the 1960s and 1970s. With the addition of the optimized engines--and transmissions, suspension and brakes lifted from later air-cooled models--the transformation is complete.
"There is a generation that has never experienced the magic of an air-cooled 911, and we wanted to offer something that oozed authenticity and offered access to the heart of the original 911's brilliance," said Dickinson.
Dickinson admits that taking up an ambitious project like the Singer 911 would have been impossible for a fledgling company like SVD, which is why it chose to partner with both Cosworth and the Aria Group.
For the engine, Cosworth is working closely with engine designer Jae Lee of Mirage International in San Diego, California, in specifying and calibrating the air-cooled mills. Together with Cosworth's engineering and development capabilities focused on optimizing the classic flat-six air-cooled engine configuration, SVD is able to offer a full range of engine options with three tiers of performance levels:

* Touring, with a 3.6-liter engine producing 300 hp;
* Sport, with it a 3.9-liter engine producing 380 hp; and
* Cup, with a 3.9- to 4.0-liter engine producing more than 425hp

"Our partnership with Singer is about taking that level of detail even further," said Ken Anderson, vice president of sales and marketing for Cosworth, LLC. "As the exclusive engine builder for Singer Vehicle Design, we have the ability to provide a unique array of powerplants--making for a very exclusive arrangement."
As for the Aria Group, it brings to the table the type of specialized carbon-fiber construction that was only previously available for Formula 1 outfits.
"By taking off any removable body work of the original vintage body and replacing it with an optimized carbon-fiber body, we not only save 75 percent of the weight, but of more importance, we strengthen the vehicle through a higher level process than any of the top high-performance road-going brands," said Clive Hawkins, president and owner of the Aria Group.
Hoping to produce 10 Singer 911s annually, SVD is also planning to expand its product offerings by restoring and modifying similar platforms.
"Unlike a Ferrari or a Lamborghini, the Singer 911 is a genuinely usable proposition and not a highly strung plaything," said Dickinson. "I liken it to a good companion. It's a beautiful piece of jewelry for sure, but we've maintained the intrinsic versatility of the 911. Our machines have that vital duality of purpose that every great 911 possesses: the ability to thrill, but also to chill, and simply complete a journey in style and comfort."
[gallery]974[gallery]