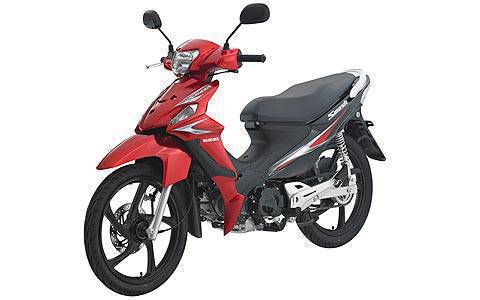 Suzuki Philippines has launched the all-new Smash 115, an entry-level motorcycle model which replaces the old Smash 110.
Though the all-new Smash 115 has a slightly bigger engine than the 110, it's more fuel-efficient due to Suzuki's patented Pulsed Secondary Air Injection System, which ignites unburned gases inside the exhaust port, maximizes engine efficiency and ensures cleaner emissions.
"Our tests of the new Smash 115 showed that it can run from 45 to 47 kilometers per liter," said Benedict Arreola, Suzuki Philippines' senior marketing manager for motorcycles. "The old Smash 110's fuel mileage was at 42 to 44 kilometers per liter. So while the power output of the 5cc difference in engine displacement is roughly the same, the new Smash is more fuel-efficient than the old model."
Besides being fuel-efficient, Suzuki said the Smash 115 is also more environment-friendly as its large-diameter 100mm muffler has a built-in oxidation catalyzer.
The all-new Smash 115's design was inspired by Suzuki's GSX-R sportbike as evident in the front fairing. Its high-wattage multi-reflector headlight is complemented by a multi-polygon reflector rear combination lamp while its instrument pod's speedometer is sports-watch inspired and has a gear position indicator.
The underbone motorcycle is compact with a 750mm ride height and a 1,240mm wheelbase for easy maneuvers. It has an eight-liter underseat compartment, and a magnetic key shutter to deter motorcycle thieves.
Continue reading below ↓
Recommended Videos
"With the new Suzuki Smash 115, we are confident that we have a bestselling model that will appeal to a large segment of motorcycle fans, ranging from novice riders who want an easy-handling entry level bike, to company employees who want an affordable and reliable vehicle for their daily commuting needs, to experienced riders looking for a durable performance machine," said Suzuki president Satoshi Uchida.
The new Suzuki Smash 115 is priced at P59,900, comes in two colors--Pearl Mirage White and Candy Summer Red--and is now available at all Suzuki motorcycle dealers nationwide.
UPDATE as of June 11, 2018: The 45th Tokyo Motorcycle Show in Odaiba was held from March 23 to 25 this year. The photos and videos shared by their visitors might have caused confusion among netizens since they have almost the same group of motorcycle companies showing off their latest hardware and technology. Moto Sapiens attended the Tokyo Motorcycle Show. This year, 135 companies with 882 exhibit booths showed off their latest two- and three-wheelers, modern electric bikes, accessories, and even riding paraphernalia. There were launch events of new motorcycles, relaunching of face-lifted units, and even revivals of classics by Japanese, European, American, and—wait—two Taiwanese brands.