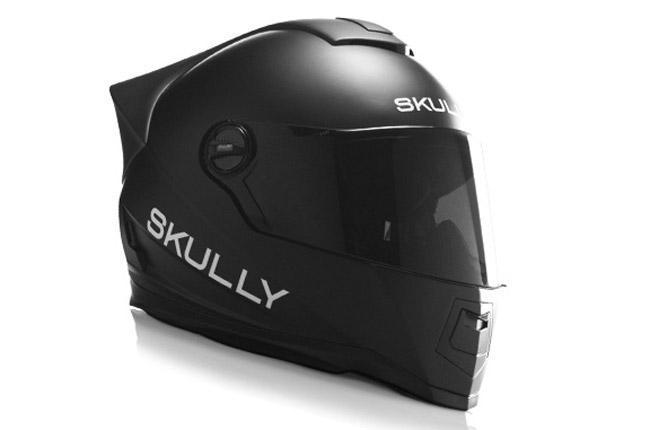 Those of us driving cars may complain about the motorcycles on the road, buzzing about like gnats with ominous intentions. But if you think about it, those on two-wheelers have more cause to be afraid of us. We car drivers are the ones in the solid metal cage; all they have are thick clothing and an enclosed helmet.
Wouldn't it be better for motorcyclists--and everyone else they share the road with--if they could see, literally, from the back of their heads? Maybe it will stop them from weaving so much. A US-based start-up called Skully has invented the answer to this question. Its invention, the AR-1 motorcycle helmet, has recently cleared the crowdfunding stage and is now available for preorder.
What makes the AR-1 so special is the amount of tech crammed into it. First is a heads-up display integrated into the fog-, scratch- and glare-resistant visor. This is connected to an ultra wide-angle rearview camera that lets the rider see behind him/her. The HUD was designed not to obstruct the rider's vision, by being positioned outside the primary field of view. The video feed simply appears to float in the distance.
ADVERTISEMENT - CONTINUE READING BELOW ↓
GPS navigation is also built-in, so directions can appear on the HUD while the rider is moving. And there's Bluetooth connectivity so the AR-1 wearer can connect a mobile phone and answer calls on the go. The Bluetooth connection can also be configured to stream music.
All this tech doesn't come at the cost of safety. The AR-1 has undergone extensive road testing, and is certified by the required US agencies.
If you want one, you can order a Skully AR-1 from its official website. The first batch of 25 helmets have been sold out. For international buyers, the next batch can be had for $1,599 (P70,000), and if you order now it will arrive by May 2015.
If you're viewing this on a mobile device and can't see the video, please click here.
ADVERTISEMENT - CONTINUE READING BELOW ↓
Recommended Videos