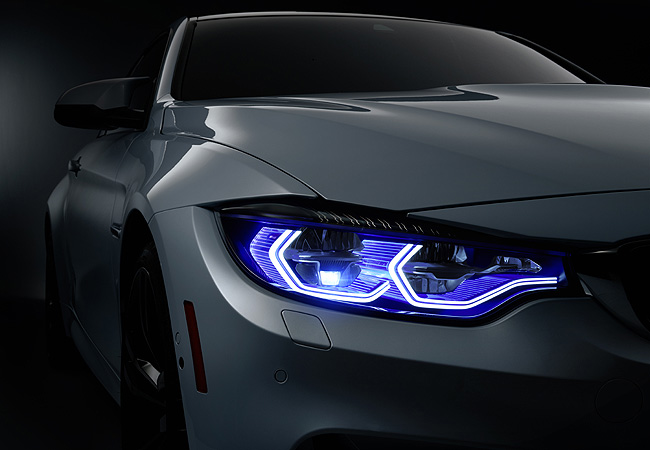 From developing laser-light technology for the i8 hybrid sports car, BMW is now presenting at the 2015 Consumer Electronics Show in Las Vegas an update to the system, which, integrated with assistance systems and vehicle sensors, "can be used to implement new intelligent lighting functions for enhanced safety and comfort."
According to the German carmaker, the updates to its laser-light technology can now allow it to work with the navigation system by illuminating corners even before the steering wheel is turned. Working in conjunction with an infrared camera and the laser-based dynamic light spot, people and animals can also be detected in pitch-dark conditions from a distance of up to 100m.
BMW's laser technology can also be used as a new method to highlight the brand's signature twin round headlights.
BMW claims that, despite consuming 30% less energy, the parallel beam of its laser-light technology is "10 times more intense than that produced by halogen, xenon or LED light sources." The system also supposedly has a beam range of up to 600m, more than twice that of conventional headlights, for increased safety in the dark. The camera-based BMW selective beam system also prevents oncoming or preceding vehicles from being dazzled, and allows the laser high beam to be left on at all times.
Continue reading below ↓
Recommended Videos
In addition, if the system detects the road width ahead as narrowing, the laser headlights can provide "narrow clearance" lighting through a laser-projection function that indicates the exact width of the vehicle in relation to the road to allow safe passage through the narrow space.
BMW, however, didn't mention when the updates to its laserlight technology will find its way into production cars.