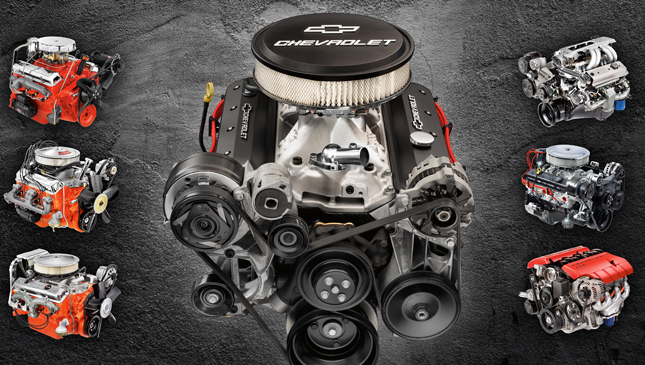 Chevrolet has been known for churning out engines known as the "small-block" series. Since its inception in the '50s, this motor has gone through several generations and has powered many Chevrolet vehicles such as the Suburban, the Camaro and the Corvette.
These powerplants range from a smallish 4.3L all the way to a massive 6.6L. But one of the most popular versions of the mill is arguably the 5.7L. And now, this particular family of motors gets a much-needed update in the form of the ZZ6.
Known to tuners as the crate engine, the ZZ6 small-block powerplant utilizes new technologies such as fast-burn cylinder heads with beehive-style valve springs. This tuning technique was inspired by the LS family of motors, and aids in giving the lump the high-rpm capacity necessary in high-output applications.
According to Chevrolet, the ZZ6 is the most powerful 350 small block in the generation's almost 26-year history. Thanks to stuff like large-intake runners and 2.00/1.55-inch valves, the engine can take in large amounts of air. At the same time, the beehive-type valve springs mean more dynamic movement for better performance at any engine speed.
ADVERTISEMENT - CONTINUE READING BELOW ↓
But what does this all mean in plain English? Simply put, the new technology allows the 5.7-liter V8 to produce 405hp and 549Nm. That's more than enough power for any vehicle it will be used with. Of course, these figures can be further enhanced, depending on the application and tuning. For optimum breathing and flexibility, the motor uses a hydraulic roller camshaft that supports high-rpm breathing and low-speed drivability. And to ensure a lightweight design, it has an aluminum valve cover that likewise gives it a cool new look.
ADVERTISEMENT - CONTINUE READING BELOW ↓
Recommended Videos
Chevrolet will be offering the new ZZ6 engine in either Base or Turn Key versions. The Turn Key application includes a carburetor (yes, you read that right), a valve-cover specific air cleaner, a starter, a distributor, an alternator, and stuff like the A/C compressor. If you opt for the Base version, you get a single-plane aluminum intake, water pump, distributor, damper, and flexplate. You will need to shell out additional extra for the carburetor and other accessories.
ADVERTISEMENT - CONTINUE READING BELOW ↓
The ZZ 350 small-block engine has come a long way since it first saw daylight in 1989. Back then, it already produced a potent 350hp. Some 26 years later, it promises to give motorists and tuners the same powerful experience it has been known for all these years. Chevrolet will be revealing more details and availability dates at this year's SEMA (Specialty Equipment Market Association) show in November. Stay tuned for that. It should be one exciting ride.