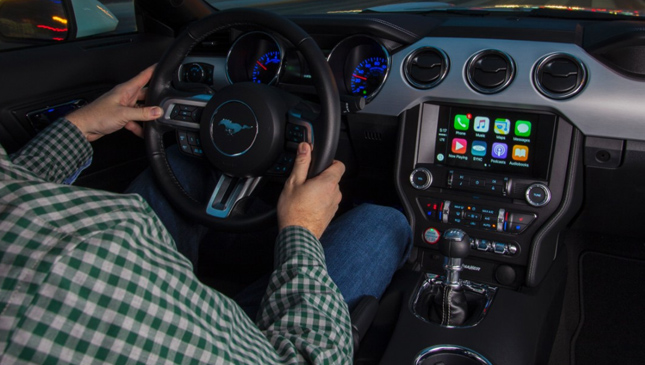 Back in 2007, Ford changed the way we interacted with our cars. Ford SYNC was the first mass-market system that enabled drivers to perform simple in-car tasks--such as changing the radio station or making phone calls via voice commands. While similar features were already being offered by several other carmakers, those were a bit too upscale for most folks' budgets.
Nine years later, the industry leader in auto connectivity is taking things a notch yet again. The SYNC 3 system will offer users the ability to connect their cars to their phones via Apple CarPlay and Android Auto. The two systems can now be paired seamlessly with one's Ford vehicle. Now, drivers and passengers can access their apps, make calls, send and receive text messages, and do just about anything they would on their phone without taking their hands off the wheel and their eyes off the road.
For instance, Android users can use Google Maps to find their way in and around town. Meanwhile, iPhone diehards can interact with Siri behind the wheel without picking up their phone. But wait, there's more.
The year 2016 also ushers in Applink. This smart new feature gives drivers the ability to control their mobile-phone apps through voice activation. Among the first apps that Ford's SYNC can now access are Cityseeker, Eventseeker, Concur and the AAA app in the United States. These apps allow users to seek auto assistance, find the nearest events and places, and even log a business trip for official purposes.
Continue reading below ↓
Recommended Videos
Apart from these, 4G LTE connectivity allows owners to start the vehicle, check fuel levels, or even locate their car via smartphone--all from a remote location. You can practically play James Bond with your Ford.
Ford SYNC 3 will be initially available on the 2017 Escape and can be had on all 2016 models specified for upgrade. With over 15 million SYNC-equipped cars and SUVs out on the streets, and an expected 43 million by 2020, Ford hopes that this smart technology will make driving a Ford safer and more hassle-free. We're guessing that it will only be a matter of time before Ford Philippines rolls out the technology in our market. The only question is: Which Ford model will get it first?