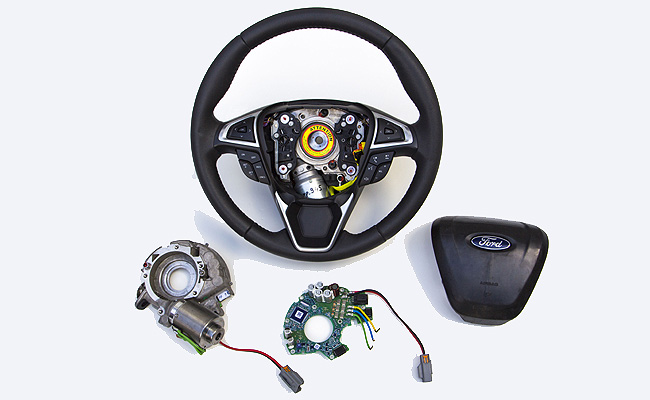 In a year's time, Ford promises that its vehicles will feel more responsive and easier to drive regardless of the speed they are going, thanks to the adaptive steering technology the American carmaker hopes to have available "within 12 months."
"First and foremost, all Ford Motor Company products have to offer a great driving experience," said Ford group vice president for global product development Raj Nair. "This new steering technology can make any vehicle easier to maneuver and more fun to drive."
Developed in collaboration with Takata, the adaptive steering technology uses a precision-controlled actuator. Placed inside the steering wheel, the actuator adds to or subtracts from a driver's steering input, with the steering ratio continually changing depending on the vehicle's speed, "optimizing the steering response in all conditions."
At low speeds, the system supposedly makes the vehicle more agile and easier to turn, with low-speed maneuvers requiring less turning of the steering wheel. At highway speeds, the system optimizes the steering response, enabling the vehicle to react more smoothly and more precisely to driver input.
According to Ford, the adaptive steering system will be available on select vehicles by next year.
Continue reading below ↓
Recommended Videos