A week after establishing a partnership with 3M and GE Healthcare to produce respirators, ventilators, and face shields, Ford has announced that it will begin large-scale production of another type of ventilator, with the target of producing 50,000 units within 100 days.
For this endeavor, the American carmaker is again teaming up with GE Healthcare, which will license the ventilator design from medical-equipment specialist Airon Corporation. This GE/Airon Model A-E unit operates on air pressure without the need for electricity, and its ease of setup means it can be deployed quickly in various situations—in emergency rooms and intensive care units, and during special procedures.
To fast-track production, Ford will send a team to work with Airon in Florida while its Rawsonville components plant in Ypsilanti, Michigan, undergoes the necessary preparations for manufacturing ventilators. Round-the-clock work is expected to begin in Rawsonville by the week of April 20, with 500 paid volunteer employees covering three shifts.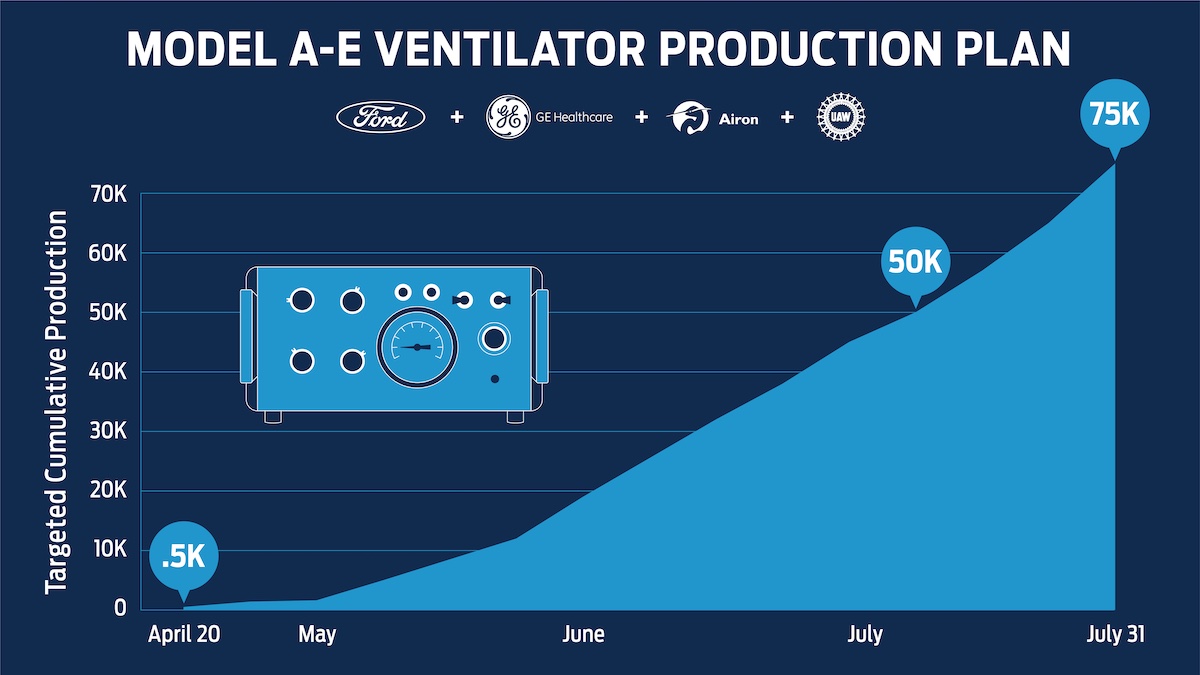 Continue reading below ↓
Recommended Videos
Following this setup, Ford aims to complete 1,500 ventilators by the end of April, 12,000 by the end of May, 50,000 by July 4—and an additional 30,000 units per month after that, as needed.
"The Ford and GE Healthcare teams, working creatively and tirelessly, have found a way to produce this vitally needed ventilator quickly and in meaningful numbers," said Jim Hackett, Ford's president and CEO. "By producing this ventilator in Michigan, in strong partnership with the [United Auto Workers], we can help healthcare workers save lives, and that's our number one priority."
This is just one of many initiatives launched by the automotive industry to fight the COVID-19 pandemic. Fiat Chrysler Automobiles has committed to producing one million face masks per month, Land Rover has deployed a fleet of Defenders for the use of various organizations, Merc's Formula 1 team has helped reverse-engineer a CPAP kit for mass production, Scuderia Cameron Glickenhaus has designed a reusable face shield for healthcare workers, and in Ford's home state of Michigan, organizers of the North American International Auto Show in Detroit have canceled the event in June, anticipating the possibility of using the show's venue, TCF Center, as a temporary field hospital.