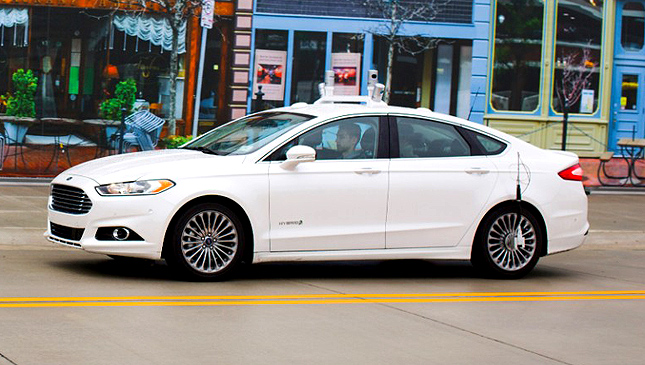 It's definitely an exciting time to be in the auto industry. Aside from the countless number of cool new vehicles and designs constantly rolling off production floors across the globe, the past few years have seen significant improvements in car technology--specifically in driverless vehicles or driver assistance.
While most of the recent driverless tech hype has revolved around Elon Musk and his Tesla autopilot system, plenty of other carmakers have been getting in on the action, too. Just recently, Ford took a batch of its autonomous vehicles for a spin around the recently opened Mcity, a 32-acre facility inside the University of Michigan designed to simulate a full-scale urban environment.
Mcity is as close as any autonomous car can get to driving on real road conditions, complete with crosswalks, functioning stoplights, bike lanes, roundabouts and other factors you would normally come across in an everyday drive. The difference is that the tests are being performed in a controlled setting where the cars are free to make errors without posing a threat to other motorists.
While Ford is no stranger to autonomous vehicle development (the company has been studying the technology for over a decade), being able to test its driverless cars inside the Mcity facility is expected to accelerate the progress of its research in advanced sensing technologies. University of Michigan associate professor Ryan Eustice summed up the benefits in conducting the trials at Mcity, saying it was all a matter of putting findings and factors into scale.
Continue reading below ↓
Recommended Videos
"The goal of Mcity is that we get a scaling factor," Eustice said. "Every mile driven there can represent 10, 100 or 1,000 miles of on-road driving in terms of our ability to pack in the occurrences of difficult event."
Ford vice president of global product development Raj Nair pointed out that Mcity provides Ford with a challenging setting to try out the latest autonomous tech.
"Testing Ford's autonomous vehicle fleet at Mcity provides another challenging yet safe urban environment to repeatedly check and hone these new technologies," the executive said. "This is an important step in making millions of people's lives better and improving their mobility."
While all these advancements in autonomous cars truly are exciting, we still get a little sad at the thought that someday most of the cars on the road might not even have anyone behind the wheel. Some proponents of the technology say that over time, autonomous vehicles will be safer than human drivers. But there's just no substitute for a good old drive behind the wheel of your favorite car.
Watch the video.
If you're viewing this on a mobile device and can't see the video, please click here.