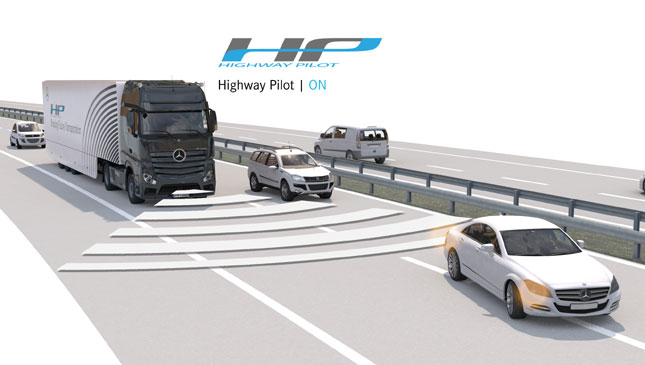 The German luxury vehicle manufacturer has just conducted the maiden voyage of a Mercedes-Benz Actros fitted with the Intelligent Highway Pilot system. Dr. Wolfgang Bernhard, board member of Daimler AG and Daimler Trucks and Buses, made the landmark trek on-board the autonomous rig. The journey took the truck from Dekendorf to Stuttgart along Autobahn 6.
The Actros used was pretty much standard fare, except that it had the Intelligent Highway Pilot system that allows the driver to switch to "autopilot" mode from time to time. This means that the truck can steer itself on the highway. However, the driver is still responsible for monitoring traffic situations. He must likewise be able to step in and take over, especially in an emergency. This is to safeguard all road-users at any given time.
To ensure this, the system uses a stereo camera, front-mounted radar and Adaptive Cruise Control+. A backup system aids in making sure that accidents are avoided. In the event that road markings become obscure (as these are used by the Pilot system), the driver is alerted so he can act accordingly. Moreover, the truck used for the maiden test has been certified under German Road Traffic Licensing Regulations. And the Highway Pilot itself has undergone some 20,000km of testing in both Germany and the United States.
ADVERTISEMENT - CONTINUE READING BELOW ↓
ADVERTISEMENT - CONTINUE READING BELOW ↓
Recommended Videos
Back in 2014, Mercedes-Benz presented the Future Truck 2025 to showcase what lied ahead for this type of transport. And in May of this year, the Freightliner was the fruition of autonomous driving trucks. All these promise a safer time behind the wheel for our hard-working truck drivers. Apart from this, a less-stressed driver means that more miles can be covered, helping ensure that more goods and services are delivered in a quicker and safer manner. And this, in turn, is good for the economy.
Of course, we may still have some ways to go before this becomes a reality. But with Mercedes-Benz taking the first crucial step, we're on our way. As for autonomous trucks making their way to our shores, why not? Who knows? They may just be better drivers than most folks who are currently behind the wheel of our transporters.