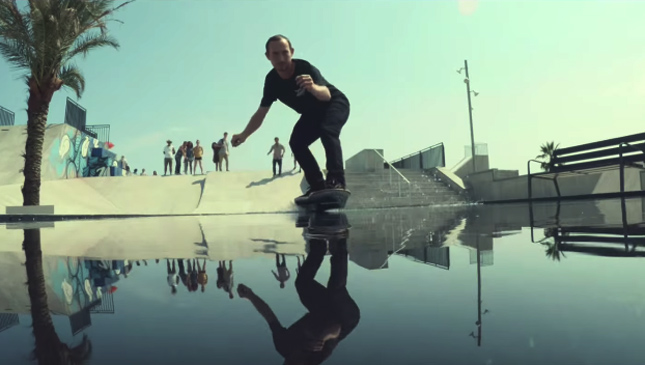 Over a month ago, Japanese luxury car manufacturer Lexus gave the world a first look at its sleek Hoverboard. Unfortunately, we didn't really get to see much of the board in the 37-second video outside of a few close-up shots. We want to see the board in action!
Well, Lexus has just released a brand-new video featuring its futuristic creation, and seeing the Hoverboard in its natural element is every bit as good as you can imagine.
The new two-minute video features a group of skaters trying out the board for the first time--with very little success, initially. But once they get the hang of it...in the immortal words of Dr. Emmett Brown: "Great Scott!" Now that's a board! Lexus has just done Marty McFly proud! The video has had everyone talking, including Guardians Of The Galaxy star Zoe Saldana, who volunteered via Twitter to be the board's next test pilot.
The skaters take the board over both concrete and water, grind it down a few handrails, and wrap it all up by getting some serious air over a car. Yes, they jumped the board over a car--a Lexus GS F, to be exact. (But we'd still pick the car over the board any day.)
Continue reading below ↓
Recommended Videos
Lexus International executive vice president Mark Templin pointed out that creating the Hoverboard was no walk in the park. "Even through combining our technology and expertise, we discovered making a hoverboard isn't an easy process," the executive said. "We've experienced highs and lows, and have overcome a few challenges. But through mutual determination, we have created a demonstration of our philosophy in design and technology to create amazing in motion."
Pro skateboarder and Lexus Hoverboard test rider Mark McGouran says that despite his years as a professional, riding the hoverboard was an entirely new learning experience for him. "I've spent 20 years skateboarding, but without friction it feels like I've had to learn a whole new skill," he explained. "Particularly in the stance and balance in order to ride the hoverboard. It's a whole new experience."
The people at Lexus, however, reiterate that the Hoverboard remains a prototype and will not be up for production any time soon. Plus, the video was shot in a specially constructed magnetic test park--so we're guessing it's going to take a little longer before we see an actual hoverboard in Bonifacio Global City.
Work overtime, Lexus.
If you're viewing this on a mobile device and can't see the video, please click here.