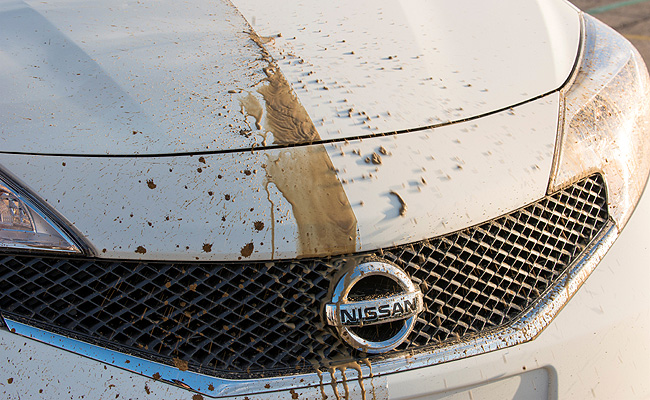 Nissan is developing a technology that may soon put car-wash businesses out of, well, business. The Japanese carmaker's European arm has reportedly begun tests of an innovative paint technology "that repels mud, rain and everyday dirt, meaning drivers may never have to clean their car again."
Nissan is the first carmaker to supposedly apply the technology, known as Ultra-Ever Dry, on automotive bodywork--specifically a European-market Note. Since the specially engineered paint repels water and oils, it effectively stops standing water and road spray from creating dirt marks on the car's surface.
According to Nissan, though the coating has responded well to rain, spray, frost, sleet and standing water, it has no plans for the technology to be used on productions cars. However, it "will continue to consider the coating technology as a future aftermarket option."
"The Note has been carefully engineered to take the stress out of customer driving, and Nissan's engineers are constantly thinking of new ways to make families' lives easier," said Nissan Note chief marketing officer Geraldine Ingham. "We are committed to addressing everyday problems our customers face and will always consider testing exciting, cutting-edge technology like this incredible coating application."
If you're viewing this on a mobile device and can't see the video, please click here.
Continue reading below ↓
Recommended Videos