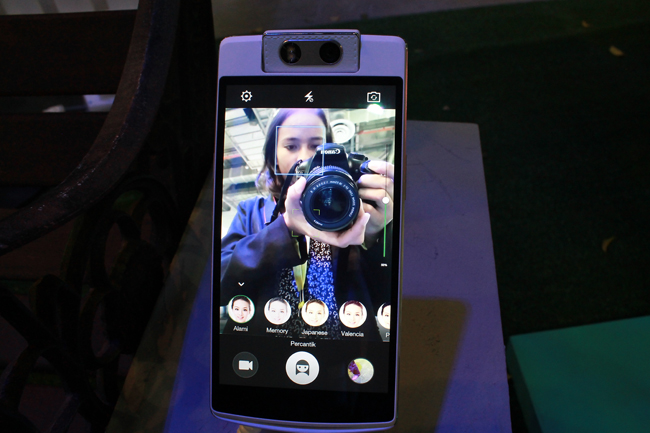 We're expecting in-car selfies and supercar street-sighting shots to be taken to a whole new level because of a new smartphone by Chinese manufacturer Oppo, the N3. It's coming around mid-December, but we got a sneak preview during a recent press event in Singapore.
So, what's so special about the N3? Its main draw is an automated rotating camera--say goodbye to lowly, pixelated front cameras, and enjoy 16-megapixel photos front or back with just a click, gesture or touch. Other than making in-car selfies during traffic ridiculously easy, you can also take panoramic road-trip shots with ease. Because the N3's camera can rotate 206 degrees, just look for that scenic roadside backdrop, position your car, click to activate the automatic rotation, and produce wide-angle shots in portrait or landscape orientation.
And what about capturing "pornographic" supercars on the road? Try the N3's target-tracking focus shift function. This will let you identify the target in focus, and the camera will modify and adjust the angle to follow the moving target. You can easily photograph a Lamborghini Aventador traveling on EDSA, for example.
Other features include a 32GB storage capacity and 2GB RAM, with a 5.5-inch screen protected by Corning Gorilla Glass 3. A Qualcomm Snapdragon 801 quad-core CPU powers the N3. Oppo's flagship phone will be priced at P29,900 when it arrives in our market.
Continue reading below ↓
Recommended Videos
Oppo also used the occasion to introduce the world's thinnest smartphone. The R5 packs it all in a body just 4.85mm thick. And while we're more impressed with the N3's camera, the R5's 0.18-second maximum focus time is not to be scoffed at.
The R5's mini rapid-charging system will provide you 75% battery life after just a 30-minute charge, and a five-minute charge will allow you two hours' worth of call time. With a charging system as convenient as this, you won't have to worry as much about losing juice while checking Top Gear Philippines' Facebook page.
Despite Chinese brands giving birth to new gadgets every 30 seconds, we're pretty much convinced that Oppo has what it takes to join the smartphone leader board with its innovative products. Now, which phone to bring to the next car-club fun run?
Photos by Elaine Lara