Playing music inside our cars has become more and more seamless these days. In-car entertainment really has come a long way—from AUX cables and simple Bluetooth connections, we now have modern-day features like Apple CarPlay and Android Auto at our disposal.
Plus, in this day and age, we have virtually infinite music libraries right at our fingertips thanks to various online streaming platforms like Spotify. So, we can't help but wonder: "Where do we go from here?"
Well, it seems like Spotify has figured out an answer to that. Well, sort of.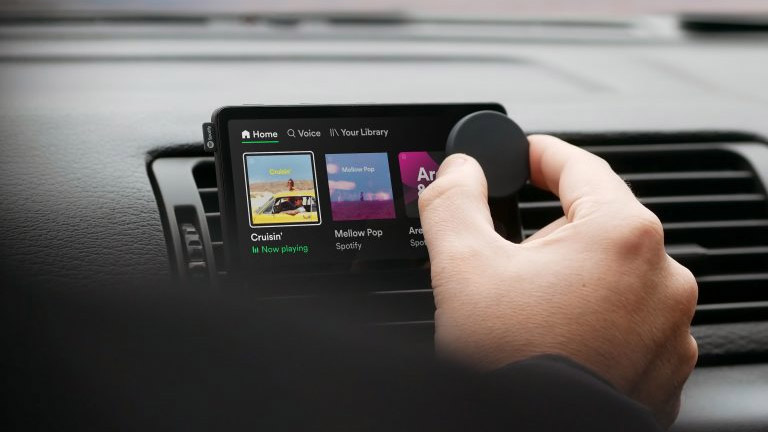 ADVERTISEMENT - CONTINUE READING BELOW ↓
The company has now released its newest creation: Car Thing. Yes, Spotify has just released a device, not software. This is available only in the US at no cost to select Spotify listeners. It requires a Spotify Premium subscription and Internet connection, of course.
This thingamajig allows users to play music, podcasts, news, and all other sorts of content in a new, seamless way. Spotify says it lets users play audio faster, so you can start listening before you even pull out of your driveway.
The Car Thing can be operated in three different ways. Voice control enables content selection by simply saying "Hey Spotify" followed by a command, while the touchscreen display allows navigation with simple swipes and taps. If you prefer tactile controls, there's also a dial available.
Now, the Car Thing isn't meant to replace today's infotainment systems. Rather, it's part of Spotify's ubiquity strategy, wherein it aims to enable people to play music whenever music can play a role, but with less effort needed to do so.
ADVERTISEMENT - CONTINUE READING BELOW ↓
Recommended Videos
Spotify's press release reads: "Our focus remains on becoming the world's number one audio platform—not on creating hardware—but we developed Car Thing because we saw a need from our users, many of whom were missing out on a seamless and personalized in-car listening experience. No matter the year or model of your vehicle, we feel everyone should have a superior listening experience. With Car Thing, we'll now be bringing our entire catalog of music and podcasts to a wider range of users across an even wider range of vehicles."
So, do you want to try out this device, too?