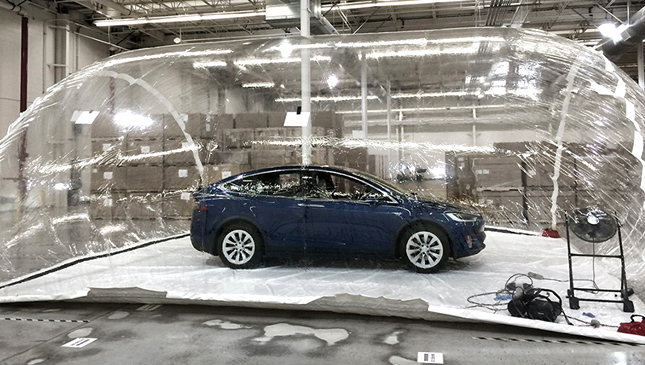 If you're one of the millions of Filipinos who take public transportation to work, dealing with air pollution is just another part of your everyday routine. By now, no trip to the office is complete without one being enveloped in a thick plume of carbon monoxide along the way.
It's not an ideal situation. Especially considering that the World Health Organization has dubbed the problem as the world's largest environmental health risk. With the way things are worsening, eventually even motorists sitting in the comfort of air-conditioned cars won't be free from the toxicity. After all, a car's aircon filter can't keep every little speck of airborne filth out--unless, of course, you're riding a Tesla.
The American electric car manufacturer felt the need to protect its customers from the growing hazards of air pollution by equipping its vehicles' air-filtration systems with a "Bioweapon Defense Mode." You read that right. While we're waiting for buses along smog-covered EDSA, Tesla customers will now be driving to work in autonomous cars capable of withstanding an airborne chemical attack.
The HEPA filtration system was inspired by the same ones used in hospitals and the space industry. It rids the outside air of pollen, bacteria and pollution, and continues to do so once air makes its way inside the cabin to eliminate any harmful particles that could find their way inside. The company says the system is hundreds of times more effective than regular filters, and it provides passengers with unparalleled air quality regardless of the environment outside the vehicle.
Continue reading below ↓
Recommended Videos
To test the filtration system, Tesla built a large air-bubble environment, which it contaminated with extreme levels of air pollution. The carmaker then placed a Tesla vehicle inside and proceeded to activate its Bioweapon Defense Mode.
Not only did the filter prevent pollution levels inside the car from rising (it was undetectable), it also reduced pollution levels outside the vehicle by 40%. The company says that the results are proof that this tech is more than just another marketing gimmick. "You can literally survive a military-grade biochemical attack by remaining inside your car."
It's a little disheartening to know that breathing clean air can now be considered a luxury. But hey, we can think of a couple of worse ways to die than by choking on dust and allergens. Being crushed by a bus on EDSA, for one, is infinitely more painful.