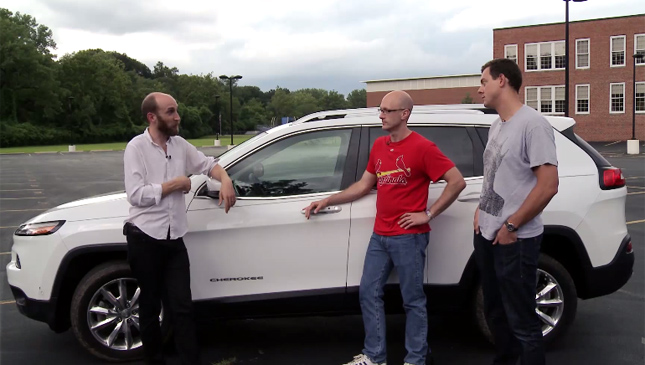 A video produced by Wired magazine--showing a pair of hackers successfully taking control of a 2014 Jeep Cherokee--has been making the rounds over the Internet for the past few days, prompting concerns over the security and safety of vehicles equipped with wireless technology. The two hackers, Twitter security engineer Charlie Miller and IOactive vehicle safety research director Chris Valasek, played around with the Jeep being driven by Wired writer Andy Greenberg as he cruised down the highway.
Miller and Valasek sabotaged the vehicle's cooling and entertainment systems, and even shut off its engine in the middle of the highway--all via the car's cellular connection. Greenberg was left helpless, only regaining control of the car after turning it off and on again. The video also shows the hackers remotely steering the car and even killing its brakes. According to Miller and Valasek, it isn't just the Cherokee that is vulnerable to wireless attacks, but thousands of newer-model Chrysler vehicles as well. The duo do mean well, informing Fiat Chrysler Automobiles (FCA) of their vehicle's wireless security issues.
According to the FCA official blog, there has not yet been a recorded incident of any unauthorized remote hacking into any of its vehicles. Nevertheless, FCA has come up with software updates that address the concerns brought about by Miller and Valasek. Included in the FCA list of vehicles that will need the update are the 2013-2014 Viper, the 2014 Durango, and the aforementioned 2014 Cherokee. The FCA is also working with suppliers to improve its vehicles' wireless security.
Continue reading below ↓
Recommended Videos
The two hackers said that they performed the experiment to point out that this is a serious issue, and to figure out the Cherokee's vulnerabilities to help get them fixed. Valasek also called for more people like him and Miller to work on fixing these problems.
Watch the video and tell us what you think. Do you find the stunt reckless and dangerous? Or do you think the hackers actually did everyone a favor? How would you handle a wireless attack on your vehicle?
If you're viewing this on a mobile device and can't see the video, please click here.