For obvious reasons, we're now paying much more attention to how we can keep the air we breathe...well, a source of life, not debilitating illness.
In cars, for instance, we could well be seeing cabin air-purification systems shift from being fancy USPs to standard equipment—they'll certainly continue to provide health benefits long after the COVID-19 pandemic is over. Among the first to hype up such a feature was Geely, which has equipped its Icon SUV with an N95-certified air-purification system. More recently, the all-new Ghost became the first Rolls-Royce to get the 'Micro Environment Purification System,' which uses a Nanofleece filter to block out "nearly all ultra-fine particles, viruses and bacteria" in less than two minutes.
Volvo is the latest to roll out its own system, touting its Advanced Air Cleaner as a "world-first premium air quality technology" that can measure PM 2.5 levels inside the cabin. It's now available on all 90 and 60 series Volvo models.
ADVERTISEMENT - CONTINUE READING BELOW ↓
'PM 2.5' is a widely used measure of air quality. The term stands for 'particulate matter' that measures 2.5 micrometers or smaller in diameter—so small it can get into your lungs or your bloodstream, according to the US Environmental Protection Agency (US EPA). For context, human hair is 70 microns in diameter.
"Most particles form in the atmosphere as a result of complex reactions of chemicals such as sulfur dioxide and nitrogen oxides, which are pollutants emitted from power plants, industries, and automobiles," says the US EPA. When inhaled, these fine particles can cause heart and lung diseases.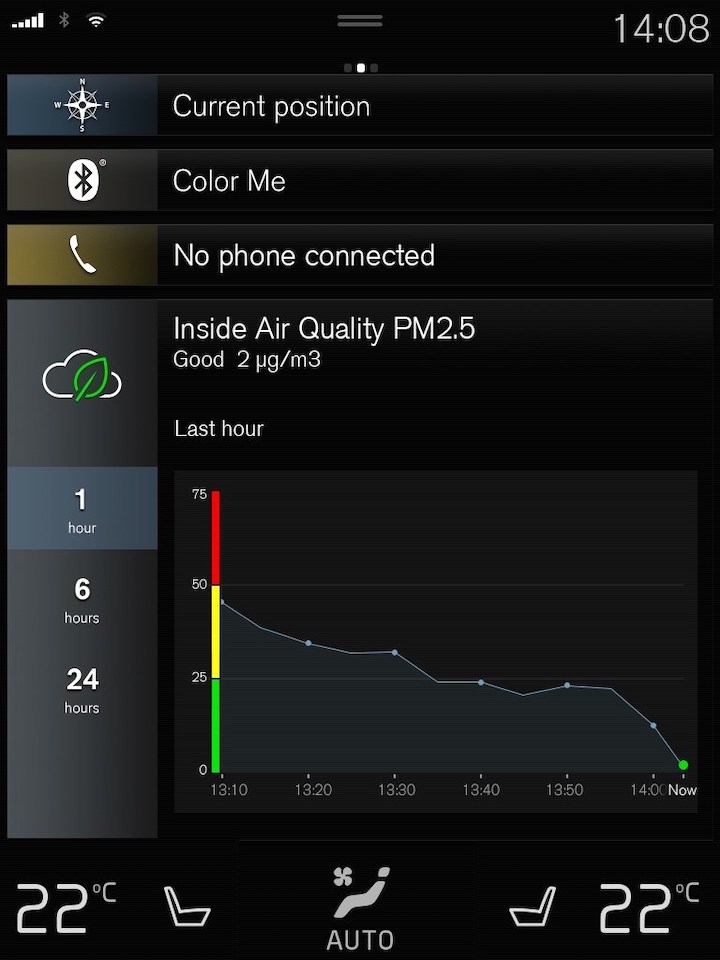 ADVERTISEMENT - CONTINUE READING BELOW ↓
Recommended Videos
In places where PM 2.5 measurements in ambient air are readily available, Volvo's Advanced Air Cleaner can compare air quality within the vehicle to that outside. It then uses a synthetic fiber-based filter and ionization to rid the cabin environment of up to 95% of PM 2.5 particles. You don't even have to be in the car to activate the feature: If the Volvo On Call app is available in your region, you can set a cleaning schedule in advance, and get an update on actual PM 2.5 levels afterwards.
"With our Advanced Air Cleaner technology, you can rest assured that the air you breathe inside your Volvo is cleaner and healthier," said Anders Löfvendahl, the Swedish carmaker's senior technical expert on cabin air quality. "We believe that clean air is good for you, both from a health and from a safety perspective, and will continue to push the envelope in this area."
ADVERTISEMENT - CONTINUE READING BELOW ↓
Do you think this type of tech should trickle down to more affordable cars in the future?