As we just did with our very first Car of the Year award, car magazines in the US also honor what they think is the best new vehicle of the year. Two of those magazines--Automobile and Motor Trend--are in agreement that the best car of the year in America is the Tesla Model S. Yes, it's made by an upstart Silicon Valley-based company that's probably more tech than automotive. And yes, it's 100 percent electric.
We read some of the stuff written about the car and were impressed, if not totally convinced. But we also knew that unless we actually got our hands on a unit, we wouldn't ever know for ourselves just how really brilliant this car was purported to be. We wouldn't be able to prove, for instance, Automobile's claim that it's "as quick as an M5 and as smooth as a Lexus."
And then we went to a mall somewhere in the city of Hackensack in New Jersey, and saw these, the images captured in the photos. The marketing plan of Tesla, it turns out, is to sell its cars--starting with the Model S--at boutique shops inside malls. In fact, we learned that the person handling these Tesla mall stores is the same brains behind those ultra-successful Apple Stores. There's just one sample unit parked inside the store, which is manned by iPad-toting employees eager to show walk-in customers the cool technologies under the sheet metal of the groundbreaking car.
The store is just as much for branding purposes as it is for the actual sale of the car. You realize this once you catch sight of all the branded apparel for sale inside the store: shirts, caps, jackets. The idea is that if they don't get to sell a car to an inquiring customer, perhaps they can sell that customer a $25 Tesla shirt. If they can do that, that's one additional walking billboard introducing the Tesla logo to the masses.
ADVERTISEMENT - CONTINUE READING BELOW ↓
"Would you like to get a cap?" we were asked by a store employee while we were checking out the lifestyle merchandise. Maybe she sensed a cap was all we could afford, as evidenced by our jeans-and-sneakers ensemble.
That's what we liked about the store's ambience. It did have an Apple Store vibe to it--minus the human traffic, that is. The store personnel would happily assist you and let you fiddle with the car's 17-inch multimedia screen even if you obviously can't afford a $75,000 electric car.
We can't say still whether the Model S is all it's hyped to be, but we can certainly see the soundness of Tesla's decision to adopt Apple's business model, which is to come up with a desirable tech product and bring it to where people are (as opposed to waiting for people to come to your product, as in the case of the traditional car showroom).
It remains to be seen now whether this business model will work. Would you like to shop for cars in stylish boutique stores, or would you still like to be able to set foot in a proper dealership?
Photos by Vernon B. Sarne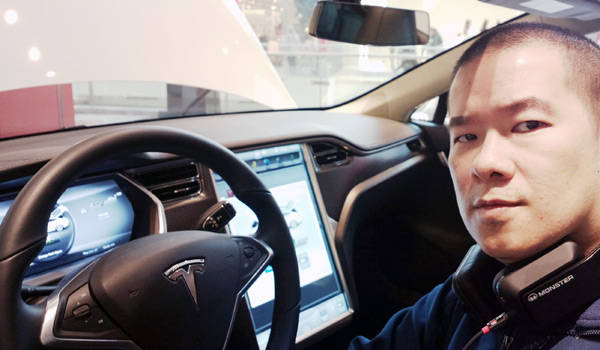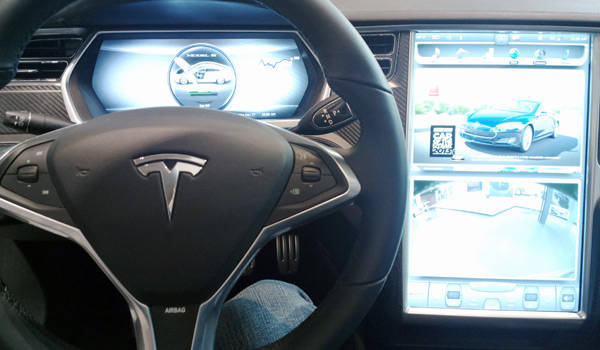 ADVERTISEMENT - CONTINUE READING BELOW ↓