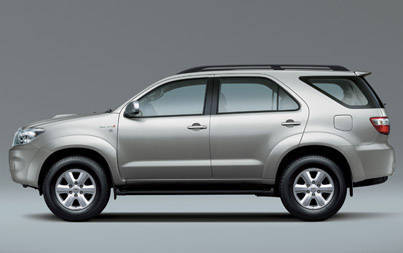 Toyota Motor Philippines dominated car sales with a 34.5 percent market share in the first four months.

Chamber of Automotive Manufacturers of the Philippines, Inc. (CAMPI) data showed Toyota sold 13,301 units from January to April.

Of its total sales, 8,289 units were under the commercial vehicle segment, which includes sport-utility vehicles, Asian utility vehicles and pickup trucks. The rest of the sales were on passenger cars.

Toyota's product lineup in the Philippines include the Fortuner, Innova and the Vios.

With roughly half of Toyota's sales, Mitsubishi Motors Philippines Corp. ranked second in the top-sellers list with 6,745 units sold from January to April.

Mitsubishi also ranked second in the commercial vehicles segment sales with 6,222 units sold. It ranked fifth in the passenger cars category.

Honda Cars Philippines ranked third in the overall sales ranking with 5,876 units sold.

It held a tight rein on passenger car sales for the fourth consecutive month with 5,054 units.

The rest of the top car sellers from January to April were Hyundai Asia Resources, Inc., 3,118 units; Isuzu Philippines Corp., 2,551 units; Ford Group Philippines (including Mazda), 2,104 units; Universal Motors Corp., 1,553 units; Columbian Autocar Corp., 1,058 units; Suzuki Philippines, Inc., 674 units; and Nissan Motor Philippines, 543 units.
ADVERTISEMENT - CONTINUE READING BELOW ↓