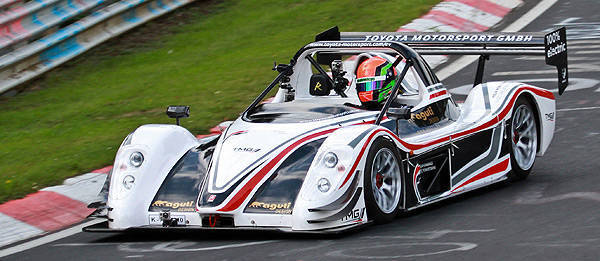 Toyota Motorsport GmbH (TMG) has set a new lap record for an electric vehicle (EV) on the 20.8-kilometer long Nürburgring Nordschleife circuit in Germany when its TMG EV P001 lapped the track in seven minutes and 47.794 seconds.
With GT3 driver Jochen Krumbach behind the wheel and with the car wearing road-legal tires, the TMG EV P001 beat the previous lap record, which stood at nine minutes and 1.338 seconds by a very substantial margin.
With its two electric motors, the TMG EV P001 has a top speed of 260kph. Combined with its 800Nm of torque output, it achieves impressive speeds on the extremely challenging Nordschleife track with its significant elevation changes and lengthy flat-out sections.
Prior to the start of the car's run, TMG's target for the TMG EV P001 was for it to be the first electric vehicle to break the eight-minute barrier. Fortunately, the record was achieved on a day when the notoriously changeable Nürburgring weather stayed fine although track temperatures were relatively low.
According to TMG, the TMG EV P001's record setting run is proof that its electric powertrian is ideal to power any future single-make electric motorsport series. TMG added that it will begin the commercial sales of this technology in 2012.
Continue reading below ↓
Recommended Videos
"This is a very impressive achievement which really shows the huge potential for electric powertrains to deliver fast, exciting action on the race track. There's no doubt that electric motorsport can be every bit as thrilling as traditional racing and it was an amazing sensation to watch the TMG electric vehicle fly past on the Nordschleife, with only the sound of wind rushing past and tyres squealing," said Rob Leupen, TMG's business operations director. "To achieve a new lap record at the first attempt, and by such a huge margin, is a great achievement and I am very proud to see TMG's name in the record books. But this is not the end of the story for TMG and I hope we will see our electric powertrains in action on the track again soon."