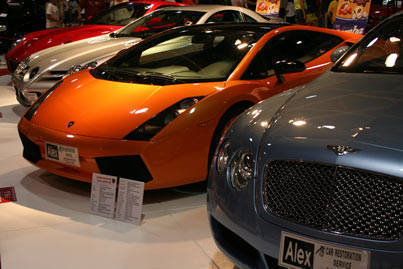 The country's longest running car exhibition returns on its 18th year.

The Trans Sport Show brings to the most ardent automotive enthusiasts not only the latest show cars and vintage car restoration projects, but also the newest technologies and designs in vehicle customization - all important factors that made the show a successful launch pad for the country's automobile stylists.

"We make sure that we always maintain the big names in the car restoration and customization scene because people want to see what new vehicles these show winners have prepared for the competition," said Sophie delos Santos, president of Trade Show International (TSI).

The "big names" include the likes of Alex Isip of Alex Car Restoration, a five-time 'Best of Show' winner with several 'Best in Class' wins under his belt; and Alex Lao of Xtreme Auto Center, two-time 'Best of Show' winner in the Trans Sport Show's competition in restoration and customization.

The Trans Sport Show Cup Competition is among the most important elements in revitalizing the country's restoration and customization sector.

"Over the years, cars displayed have become more advanced as far as customizations are concerned. Competitors are more uninhibited and quite aggressive in doing custom changes in their vehicles," delos Santos said.

Aside from the custom car display, one would also find the the usual manufacturers and dealers hawking their wares at this year's Trans Sport Show.

Games and contests sponsored by Tuason Racing School (TRS) and Clorox, and a visit from cosplayers hosted by SpeedLab promise to add fun to the car fair. And of course, no car show would be complete without the quintessential beauty contest via the Search for Miss Trans Sport Show 2009.

On the more serious side, the Trans Sport Show will also hold talks on tuning from Pacho Blanco of AutoPlus and on race car driving from Mike Tuason of TRS.

First held at the Shangri-La Plaza Mall, the Trans Sport Show in 1992 received 25,000 visitors for a nine-day display of more than 60 cars from roughly 30 exhibitors.

Organizers decided to move the event to the Megatrade Halls of SM Megamall to accommodate a higher number of exhibitors and guests in 1993. And though TSI readily admitted that "the show's visitor attendance reached a plateau a few years back," the group still expects over 35,000 people to come and see the display from this year's more than 100 exhibitors.

According to delos Santos, TSI is also planning to hold future Trans Sport Shows alternately between Megamall's Megatrade Halls and the Mall of Asia's SMX Convention Center to accommodate more cars and exhibitors. The Megatrade Hall's has the capacity for only 85 cars.

The Trans Sport Show runs from April 22 to 26.

Continue reading below ↓
Recommended Videos