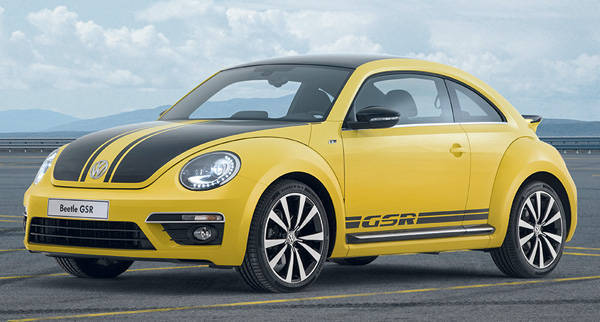 Exactly 40 years ago, in 1973, Volkswagen released a very sporty version of the classic Beetle: the Beetle 1303 S, fondly called the "Yellow/Black Racer." Today, the German carmaker has come up with a modern version: the Beetle GSR, unveiled this week at the Chicago Auto Show (February 7-18).
The GSR will also wear a two-color yellow-and-black paint job, just like the original. And because only 3,500 units of the 1303 S were sold, production of the new Beetle GSR will likewise be limited to the same number. The price in Germany: 30,300 euros (P1.67 million).
But while the 1303 S was shod with 15-inch steel wheels and 175-size tires, the GSR now boasts 19-inch "Tornado" alloy wheels and 235/40 tires. Inside, the GSR features R-Line racing seats, leather sports steering wheel (with R-Line logo and a limited-edition and serial-numbered badge), R-Line dashboard pad, GSR gear stick, leather handbrake lever, and black floor mats with contrasting yellow embroidery.
What's the performance like? Consider this: The 1303 S only had an engine output of 50hp. The GSR now has 207hp and a maximum torque of 280Nm. It takes just 7.3sec to accelerate from rest to 100kph, and hits a top speed of 229kph. Despite these fantastic figures, Volkswagen claims the Beetle GSR has an average fuel consumption of 13.7km/L. Not bad at all.
Continue reading below ↓
Recommended Videos
The Beetle GSR can be ordered either with the standard six-speed manual transmission or the optional six-speed, dual-clutch DSG gearbox.
Perhaps Ayala Automotive Holdings can bring in a few units?