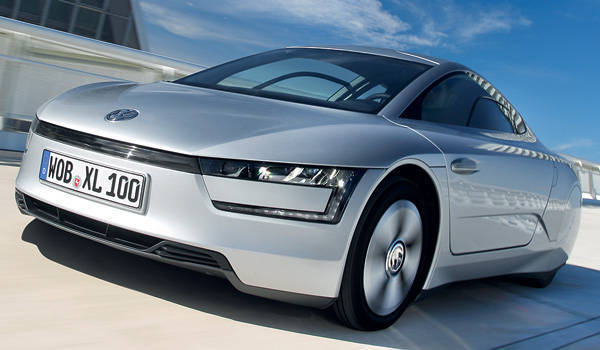 We've all heard of 40km/L hybrid cars, but a 111km/L one? Well, there will be one soon--in the form of the Volkswagen XL1, which you must have known in the past as the German carmaker's one-liter car (meaning, a car that could travel 100km on only one liter of diesel fuel). It will get even better, as Volkswagen claims the production version will cover that distance on only 0.9L of fuel. What's more, VW says the XL1 will be able to go 50km in all-electric mode. Wow indeed.
The XL1 will be powered by a lightweight plug-in hybrid system, which consists of a two-cylinder TDI engine (47hp), an electric motor (27hp), a seven-speed dual-clutch gearbox, and a lithium-ion battery.
To help achieve the most optimum fuel economy, Volkswagen gave the XL1 a low curb weight of 795kg, a near-perfect aerodynamics coefficient of 0.189, and a low 1,153mm center of gravity. VW says that, as a result, the XL1 can do a constant speed of 100kph using just 8hp. If needed, the car can reach a top speed of 160kph, and accelerate from rest to 100kph in 12.7sec, Volkswagen boasts.
More details have been provided by Volkswagen about the production XL1: It is 3,888mm long, 1,665mm wide and just 1,153mm tall. By comparison, a regular VW Polo is 3,970mm long and 1,682mm wide but significantly taller at 1,462mm. Even the Porsche Boxster, Volkswagen points out, is 129mm taller than the XL1. And so, the XL1 is able to slice through air with much less drag.
Continue reading below ↓
Recommended Videos
Is the VW XL1 something you would consider if and when Ayala Automotive Holdings brings it here?