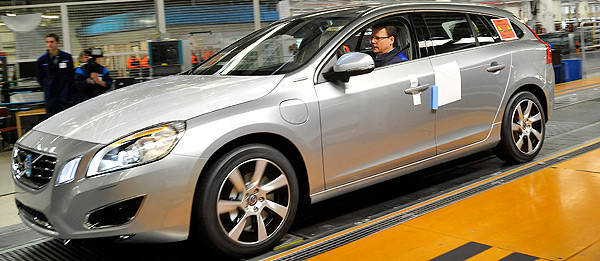 In December 2011, Volvo revealed the production version of its V60 Plug-in Hybrid and promised that its production would start in November 2012. Well, that time is now and Volvo has indeed begun production of the vehicle with the first customer deliveries happening in early 2013.
Production of the V60 Plug-in Hybrid, which is the world's first diesel plug-in hybrid, is done on the same production line as the regular combustion-engine-powered V60, V70, XC70, S80 and XC90 models at Volvo's Torslanda plant in Gothenburg, Sweden.
"We are first in the industry to integrate a plug-in hybrid in an established production flow together with other car models," said Volvo Car Corporation senior vice president for research and development Peter Mertens. "The integration in the standard production flow gives the plug-in hybrid buyer the possibility to choose in principle all options available for the standard V60."
To accommodate the production of the V60 Plug-in Hybrid into the standard production line, parts of the final assembly line had to be rebuilt and modified. In the end, the modified line made it possible to smoothly integrate the assembly of over 300 more parts that are included in the plug-in hybrid compared to a standard V60.
"The V60 Plug-in Hybrid is a unique car--a historic step--not only for Volvo Car Corporation but for the entire car industry," added Mertens. "The first year's 1,000-car batch has sold out even before the car reaches the showrooms and the order books for next year's cars are already filling up."
Continue reading below ↓
Recommended Videos