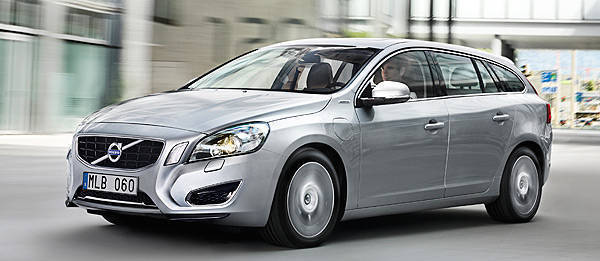 Volvo has revealed the production version of the V60 Plug-in Hybrid that will be launched in 2012. Production is scheduled to start in November of the same year.
"Our plug-in hybrid has received considerable attention since it was unveiled at the Geneva Motor Show in 2011. Now we're taking the next step by presenting the production model, which is graced with a distinctive profile featuring a spectacular silver color, an exclusive interior and generous standard equipment," said Stefan Jacoby, president and chief executive of Volvo Car Corporation.
The V60 Plug-in Hybrid is the world's first diesel plug-in hybrid and Volvo's most technically advanced model ever. At the touch of a button, the V60 Plug-in Hybrid's driving dynamics resembles either that of an electric car, a hybrid car or a muscle car at any given moment.
For the first 1,000 units, the V60 Plug-in Hybrid will only be available in just one color--Electric Silver. Other distinguishing features of the car are its aero-designed 17-inch wheels, integrated exhaust tailpipes and a number of bodywork features in glossy black like the grille and the aerodynamic front spoiler. A chrome "Plug-in Hybrid" emblem can also be found on the lower part of the tailgate with a smaller version of it on the front wings.
The interior of the V60 Plug-in Hybrid has black leather upholstery with contrasting stitches and inlays of blue-grey wood. Other distinctive interior details include a leather-covered steering wheel, specially designed mats and a gear lever knob with integrated indicator. The list of standard equipment includes features such as speed-sensitive power steering, electrically adjustable driver's seat, parking sensors front and rear, Bluetooth phone link, a high performance multimedia DVD audio system with a 4x40 W amplifier, eight loudspeakers and seven-inch screen.
ADVERTISEMENT - CONTINUE READING BELOW ↓
As previously reported, a five-cylinder 2.4-liter turbodiesel engine that produces 215hp and 440Nm of torque powers the front wheels of the Volvo V60 Plug-in Hybrid while the rear wheels will be propelled by a 70hp electric motor that draws its power from an 11.2kWh lithium-ion battery pack. Completing the car's drivetrain is a six-speed automatic transmission.
According to Volvo, an all-wheel-drive button activates the electrical four-wheel drive though instead of the mechanical power transfer of conventional four-wheel drive, a central control unit distributes the power between the diesel-driven front wheels and the electrically-driven rear axle.
Volvo claims that the electric four-wheel drive system has been designed to provide better grip when starting and when driving on slippery roads. However, owing to the electric motor's lower power, torque to the rear wheels is reportedly limited and four-wheel drive is active only up to 120kph.
When four-wheel drive is activated, the diesel engine operates continuously and the generator ensures that the charge level in the battery pack is sufficient to supply the rear axle with the necessary power. Since electric four-wheel drive is only activated by the driver when necessary, it is more economical than a conventional permanent four-wheel drive system.
[gallery]1117[gallery]