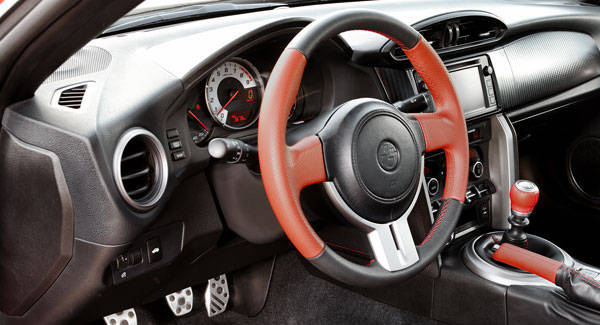 When we released the official price list for the Toyota 86 here, it was revealed that the top-of-the-line variant would be called "Aero" and that it would be priced at P1,860,000--P210,000 more expensive than the standard 86 2.0-liter AT (the Aero will also come with an automatic transmission). Very simply, we said that the Aero variant would come with "bodykit."
Some wondered afterward whether the Aero version's only special feature was a set of cosmetic bodykit. So we asked Toyota Motor Philippines.
Apparently, the Aero package will include the following:
* Exterior bodykit, including rear spoiler (wing), chin and side skirts;
* Leather seat material (the standard variant has fabric); and
* Red interior accent and stitching, most prominently on the steering wheel.
All other specs and features are shared with the standard variant, including the alloy wheels. By the way, the photo above is for reference only; the audio head unit of the Philippine-market 86 will be different (we'll post a separate story on this).
ADVERTISEMENT - CONTINUE READING BELOW ↓
So, do you think the above list of extras is worth the P210,000 premium?
ADVERTISEMENT - CONTINUE READING BELOW ↓
Recommended Videos