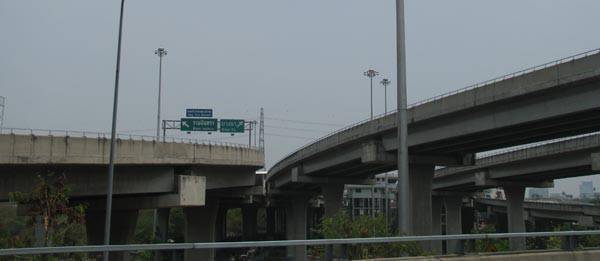 The Metropolitan Manila Development Authority (MMDA) has identified seven major roads, which will be widened and rehabilitated in line with an Urban Renewal Master Plan that aims to turn the metropolis into a "world-class, vibrant, safe and healthy" place by 2016.
These roads, which are up for improvement in two years, are the Epifanio de los Santos Avenue, Commonwealth Ave., C-5 or Carlos P. Garcia Ave., Marcos Highway, Quezon Ave., McArthur Highway, and R-10.
The MMDA is also planning to construct elevated roadways over C-5 and a tramway on EDSA, as well as integrated intermodal terminals with well-maintained and accessible station facilities like walkways and escalators in two to five years.
The "urban renewal" also includes the installation and modernization of traffic lights and closed circuit television cameras.
"We want to create a world-class, vibrant, safe and healthy metropolis by 2016 by implementing short- and medium-term programs. This we will do with the mayors as our active partners," said MMDA chairman Francis Tolentino. "We have to revitalize our central business districts, create better, safer roads, a land-and-rail mass transportation system, and other major face-lifting endeavors to address Metro Manila's rapid urban decay."
Valenzuela City Mayor Sherwin Gatchalian proposed that the funding for these programs be jointly financed by the 17 local governments in Metro Manila with some assistance coming from the Office of the President.
Continue reading below ↓
Recommended Videos
Do you believe we can actually see an improvement in Metro Manila by 2016?