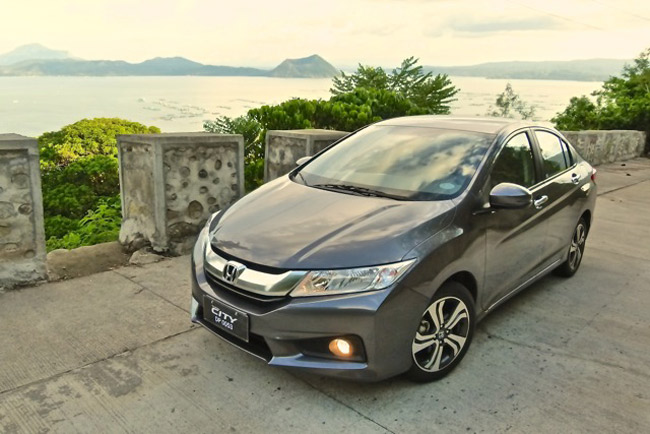 In 1997, the year I first drove a Honda City, I couldn't have imagined that Honda's entry-level sedan would be so good that I would actually consider it over pricier, larger compacts. From plain Jane to ugly duckling, then from sharp arrowhead to today's svelte, sleek suit on four wheels, the City has really come a long way.
Perhaps it reflects its ideal buyer: Hard-working Juan, who has toiled for many years, aspired for bigger and better things, and now wants a car that rewards him on a daily basis for all the sacrifices he's gone through. After a week with the City, miles and miles of urban commute and weekend family dates, I can truly, honestly say that whoever buys this car is in for a treat. It's not just a very good subcompact, it's a very good car, period. In fact, it outshines several larger, pricier compacts now.
ADVERTISEMENT - CONTINUE READING BELOW ↓
Going through the brochure doesn't give the car a fair assessment, although Honda has gone through great pains to make the P880,000 sticker price more palatable. This car has a seven-speed CVT and a 1.5-liter VTEC, dual airbags, ABS, power everything, automatic climate control, and multimedia stereo. The list is long and checks off all the boxes you can think of.
What is actually most impressive is not the comprehensiveness of its specs, but how everything just works seamlessly, beautifully together. With a decent budget and good suppliers, any diligent product planner can spec a car with all manner of goodies, but the net effect can look cobbled together; all he did was save you multiple trips to aftermarket stores.
With the City, you never get the impression that there's one single item that doesn't belong in it, or that it came from a factory other than Honda's. Many suppliers work together to piece together any car, but Honda has conjured a gem that looks and works all of a piece.
ADVERTISEMENT - CONTINUE READING BELOW ↓
Recommended Videos
When you get in, you settle down in a chair that has good back, side and thigh support ideal for long road trips, and which only takes several seconds to adjust to your size. Adjusting the sporty, three-spoke steering wheel likewise only takes a moment, and the thick rim is nicely textured so you naturally want to hold it at the 9 and 3 o'clock positions. Starting her up takes just several movements: Press the engine start/stop button, and lightly press the touchscreen panels for the stereo and climate control. Gazing at the dash with its mirror-like black surfaces, soft materials, and padded glove box cover is a pleasurable exercise. The instrument panel has those subliminal eco-coaching halos above the gauges, glowing green when you're light on the accelerator.
There just isn't a single surface or item that ruins the premium ambience.
Do you really need a touchscreen panel for the A/C? Not really, but it just looks so good, and the tactile pleasure of operating it just makes a simple commute more enjoyable. The stereo, on the other hand, is remarkable for its ease of navigation, long a sore point with many overachieving audio systems. Pairing your phone, selecting tracks, and adjusting settings are all accomplished with a logical interface, and the screen doesn't require a hard finger jab or wash out under direct sunlight. USB, HDMI and AUX ports allow for your choice of file access, and there are even two extra power outlets for the rear seat--great news for smartphone users who'll be sitting back there.
ADVERTISEMENT - CONTINUE READING BELOW ↓
On the serious hardware side, improvements are incremental rather than revolutionary. The standard 1.5-liter VTEC makes decent power and torque (118hp and 148Nm), but can't hope to match the punchiness of the Ford Fiesta Sport EcoBoost.
Instead, Honda aims for a more sublime driving experience with the City, pairing the 1.5 with a CVT and a generous seven-speed ratio spread through paddle shifters, and a sharp, precise handling demeanor. At wide-open throttle, the engine makes a nice, muted bark all the way up to the redline. Modulating the throttle is easy with the drive-by-wire tech, which incidentally also ties in with the "Econ" mode when you want to save on gas.
While the CVT automatically changes ratios for you in Sport mode at the redline, it also won't hesitate to give you a downshift on command as long as the higher engine speed is manageable. If its predecessor already set the bar for sophistication back then, this new City has sharpened the edge even more with lower noise and vibration, and increased drivability. Fuel consumption on my test, with plenty of enthusiastic driving and full-blast A/C in our infernal heat, still netted an easy 12.8km/L.
ADVERTISEMENT - CONTINUE READING BELOW ↓
On a tight set of switchbacks, going up or going down, the car provides a level of driver interaction and refinement that no other subcompact can match. The electrically assisted steering has just the right effort and reasonable feel, and the chassis hunkers down at speed and has well damped motions. A low window beltline and damn-near-panoramic windshield make it easy to place the car where you want it on the road.
And for those complaining about the rear drum-brake spec, truth to tell, they work just fine short of a racetrack, or in extremely wet and fast downhill conditions where brake fade would actually become an issue. For the kind of day-to-day driving a car like this will face, with occasional road trips and forays up your secret fun route, the little Honda has the capacity to elicit a lot of smiles per mile.
The car also makes the most of its dimensions with an impressively large trunk with minimal protrusions, and good leg- and headroom for two backseat passengers. Combine the latter with expansive windows and the car feels exceptionally roomy and accommodating, so long as you're not seating a third person on the center hump. Simple tasks are rendered painless, with features like a smart key so you never have to fish out the key fob from your pocket, a push-button trunk release so you don't have to grope below the seat for a lever, and a reverse camera with three settings. I don't really need these things, but I'll be damned if I don't appreciate them a lot.
ADVERTISEMENT - CONTINUE READING BELOW ↓
Finally, there is the simple, guilty pleasure of just looking at the car. The familiar arrowhead silhouette of the previous model has been preserved, now made more distinctive with character lines, creases, and flat-radius curves. True, the front fascia has a rather derivative look, but the best angle must be from the rear three-quarters view where it evokes a "baby Bimmer" stance. Finally, kudos to whoever designed the five-spoke wheels with their black accents and aero sweep. Shod with 16-inch Bridgestone Turanzas, they fit just right in the wheel wells and won't be an automatic candidate for an upgrade.
At its price point, no one will say that the City is cheap. It will even be a bit of a jump up from erstwhile buyers unaccustomed to a subcompact nearing the P1-million mark. It's not a rousing bang-for-the-buck deal, and isn't meant to be. Everything that has value has its price. With this Honda, paying the price opens the door to a level of satisfaction that only the sophisticated will understand.
ADVERTISEMENT - CONTINUE READING BELOW ↓
Photos by Andy Leuterio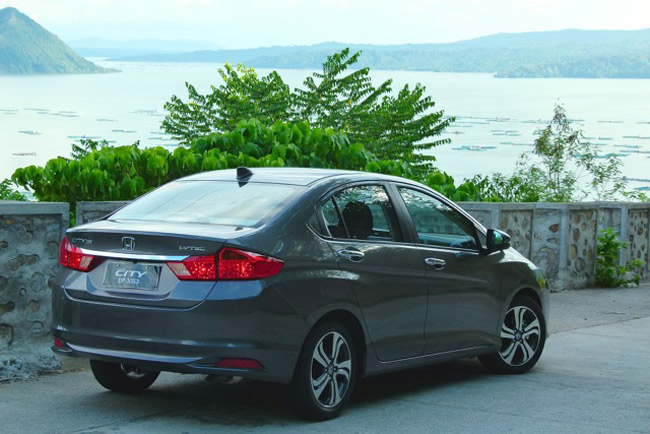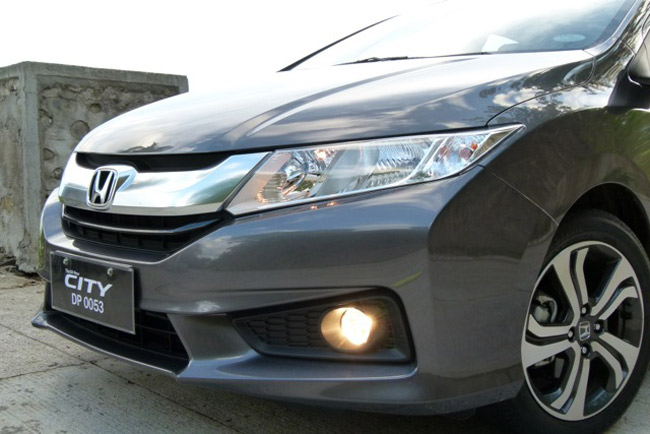 ADVERTISEMENT - CONTINUE READING BELOW ↓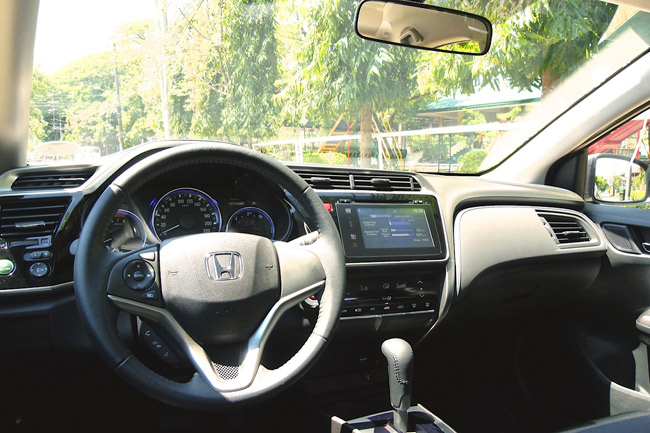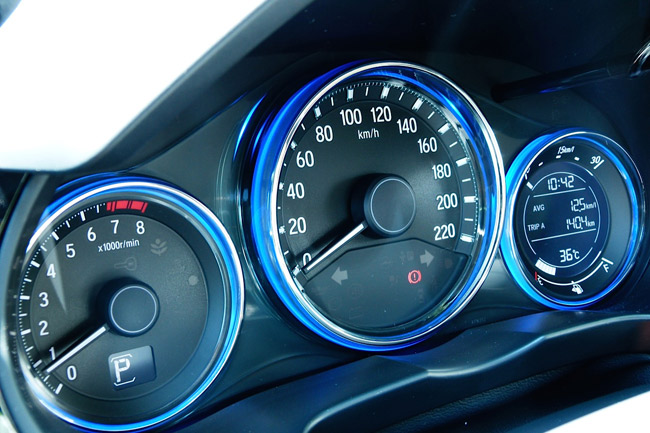 ADVERTISEMENT - CONTINUE READING BELOW ↓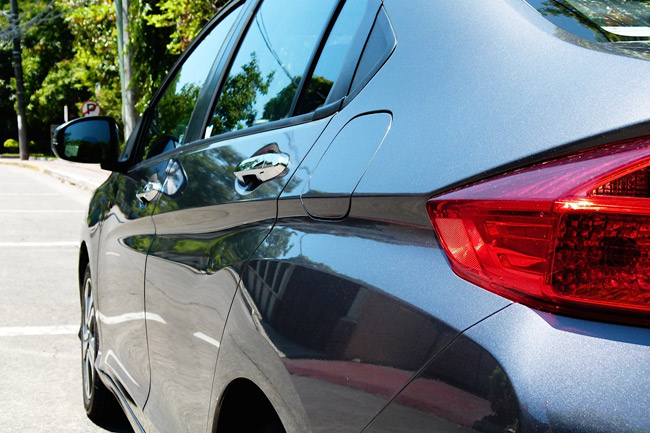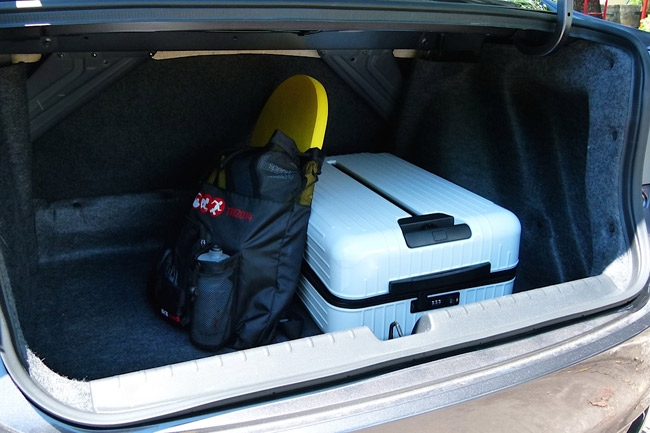 ADVERTISEMENT - CONTINUE READING BELOW ↓