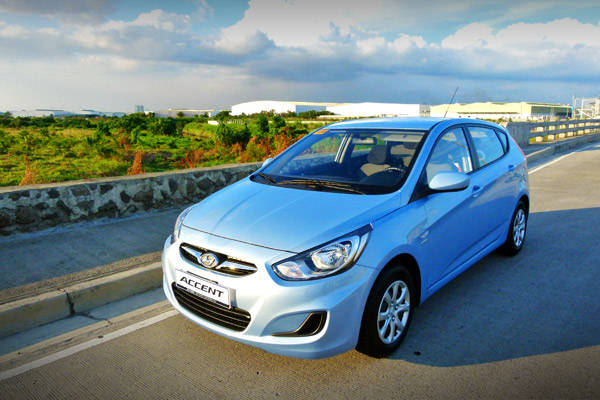 "Be careful what you wish for," goes that old adage. A few weeks ago, I raved about the Ford Focus's looks and handling, but ranted about what I deemed superflous features and a DCT I loved to hate. I wished for something simpler, more fun to drive and more involving.
Then comes this Hyundai Accent in the latest hatchback body style, with a stick and a diesel to boot. At P768,000, it's not exactly cheap, coming in P150,000 more than a bare-bones 1.4-liter Accent sedan, and poised to challenge traditional hatchback favorites like the Honda Jazz, the Toyota Yaris and the Ford Fiesta.
Rather than tell you right away what that kind of money gets you aside from the engine and the body, here are some of the things that you won't get:
ADVERTISEMENT - CONTINUE READING BELOW ↓
1. Alloy wheels. The stock set is your basic, 14-inch steel rims with hubcaps, shod with cheap 70-series Kumho Solus tires. Oh, dear.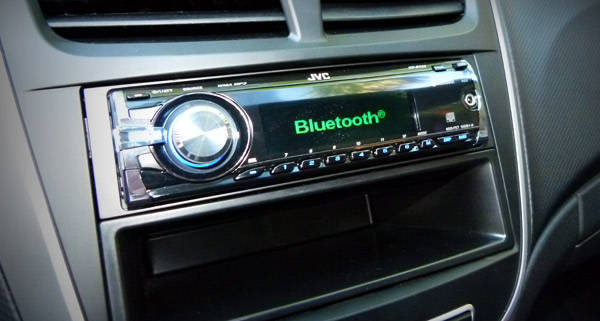 2. A nice stereo. Yes, the OEM head unit has Bluetooth and can take in your USB, but it's a '90s-looking design with the tictac-sized buttons and an ugly screen. It persistently cycles through several colors and messages, most of it inscrutable under harsh sunlight, and defies being set to a standard screen display. Maybe there was a button to lock it, but I really couldn't figure it out.
ADVERTISEMENT - CONTINUE READING BELOW ↓
Recommended Videos
3. A suspension with some meat. Okay, that's a little too harsh. But the stock, comfort-biased setup gives up the ghost too easily, rolling in the corners, porpoising on the bumps, and generally having a flaccid feel that should be just fine if you like to drive nice and slow all day long.
Except, of course, here's why that won't happen much: The car is a lot of fun to drive.
Much (all?) of the credit must go to that drivetrain: a 126hp 1.6-liter CRDi matched to a six-speed manual. A four-speed variant with better wheels and some more features goes for P868,000. The Accent is the only B-segment hatch that offers such a configuration, and it easily outguns every other gasoline-fed competitor in its class. The closest one is the 121hp, DCT-equipped Fiesta Sport, but even that can't hold a candle to the amount of twist that the Accent can muster: 260Nm from 1,900rpm to 2,750rpm versus 148Nm at 4,050rpm for the Ford. Comparing manuals to manuals, the 1.4-liter Focus Trend only has 95hp and 124Nm of torque. With a curb weight of 1,235kg, the CRDi must pull around just 9.68kg per horse.
ADVERTISEMENT - CONTINUE READING BELOW ↓
Not quite the spirit of the Civic SiR there, but you'd be surprised how sprightly a torque-rich hatch can be.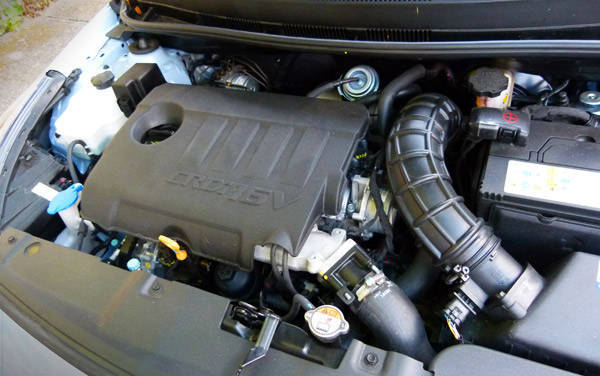 On the road, the paper specs hold up to real-world driving. The car practically squirts out of corners and jumps from the green light, the stick shift a willing accomplice albeit feeling a little bit ropy. It will be too easy to get caught for speeding on the highway with this car as there is no cruise control, and it easily builds up speed quietly and effortlessly. At idle, the engine clatter gives it away as a diesel, but at speed it's just a decently muffled rumble you can aurally tune out after a few hours.
ADVERTISEMENT - CONTINUE READING BELOW ↓
Since the cockpit of the car is workman-like rather than artful (there are some hard plastic surfaces that will make you wince), you'll be more tempted to make the drive itself interesting rather than distract yourself admiring the interior. Or by fiddling with the stereo, or texting while driving, which you shouldn't do anyway.
Anyway, I can see enthusiasts buying this car and driving it to an inch of its life. Perhaps Hyundai scrimped on the features to keep the price down, but it still has some basic safety features like all-disc brakes, ABS and a driver-side airbag. Traction control? Nope. Reverse camera? Fog lamps? You'll have to get those as dealer accessories. One thing you'll wish you could change but can't unless you're willing to lose the airbag--not to mention mess with the wiring--is the steering wheel. The three-spoke unit has redundant controls for the stereo, but I prefer something with a better tactile feel and finish than the hard plastic used. The cloth seats could also use some more support and firmness so you don't move around so much tossing the car around.
ADVERTISEMENT - CONTINUE READING BELOW ↓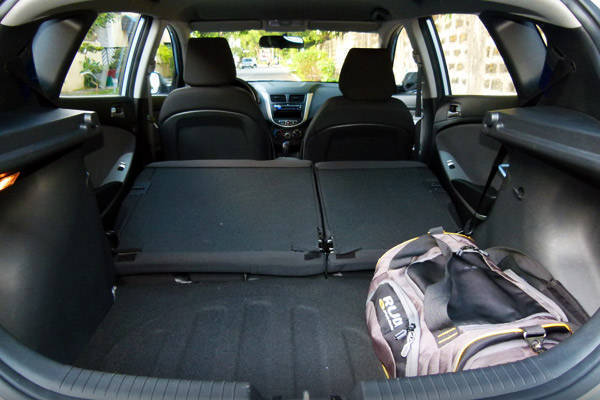 As for the hatch body style, it's safe rather than stunning, and the extra room afforded isn't that much more than you could get with the regular sedan. It's actually 255mm shorter than an Accent sedan, although it has an identical wheelbase. The Jazz with its ULT seats is still the minivan of hatches, and the Fiesta Sport is still the sexiest.
ADVERTISEMENT - CONTINUE READING BELOW ↓
And yes, here is the CRDi's trump card, the one which should endear itself to penny-pinching customers and cost-conscious fleet managers: stellar fuel economy. My "good citizen" driving mode averaged 20km/L, but my "closet hooligan" technique coupled with about half an hour idling in a parking lot brought it down to 15.2km/L. I am sure many other drivers can get better out of that car than I can.
Meanwhile, enthusiasts looking for an inexpensive car for errand duty that can also double as a pseudo-sports hatch should consider this Accent, so long as they're willing to pay a little more in aftermarket upgrades. Just swap the wheels, tires, shocks and springs for something more serious. Get a better-looking stereo, and you're set.
Photos by Andy Leuterio