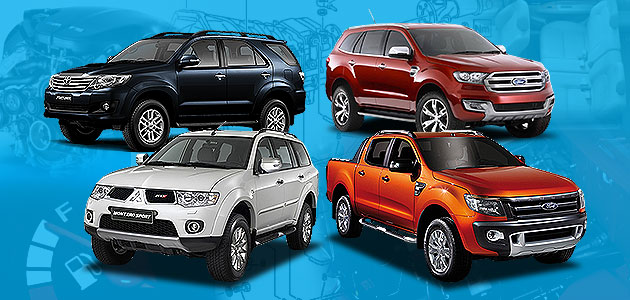 Good day, sir Botchi. I would like to ask your help in choosing a family vehicle. We will use it for driving from Cavite to Manila for work, and sometimes for out-of-town vacations. We are four in our family--two adults and our parents. This will be our second vehicle. Our first one is a Toyota Hilux 3.0 MT.
Our choices include the Toyota Fortuner, the Mitsubishi Montero Sport, the Ford Everest and the Ford Ranger Wildtrak. My mother wants the Fortuner. But it's already old, and compared with its competitors, it is the smallest and has the weakest engine. Is its ride quality the same with the Hilux? We'd like to get the manual-transmission variant of any of the vehicles (except for the Ranger). We will pick the vehicle with the best engine, best ride quality, best fuel efficiency, best interior space and best technology.
Wilson Estacion
Wilson, thank you for spending the time to e-mail us. We're always more than willing to help you guys out!
You have an odd mix of vehicles you're looking at buying: a pickup and three SUVs. Since you mentioned the best, let's try to define what's best.
The Ford Ranger Wildtrak 3.2 has arguably the best engine: five cylinders, 200hp and 470Nm of torque, mated to a six-speed automatic with 4WD. Now, that is tough to beat! Unfortunately, the Ranger really drives like a truck, is as big and unwieldy as a truck, and the rear seats are tight considering it's such a huge truck. But you've got a pickup bed big enough to hold your own tea party, with both the highest bed payload and the highest towing capacity as well as the tallest fording depth.
Continue reading below ↓
Recommended Videos
The Toyota Fortuner has arguably the best resale value of the lot. It's a Toyota, so it's as reliable as death and taxes. The 2.5-liter D-4D engine, now with a VNT turbo and an intercooler, packs only 144hp to the gunfight. A huge jump from the original pre-VNT and intercooler 2.5, which only came with 102hp, but compared with the Montero Sport's 4D56 and especially the Ranger's Volvo-based five-cylinder mill, it still has a lot of rice to eat to match up. The top-spec 3.0-liter D-4D is much better at 164hp, but it has to make do with an outdated four-speed automatic transmission, which doesn't help its cause. So yes, the Fortuner will be slow in this company.
The Mitsubishi Montero Sport doesn't particularly shine in a single category, but is very close to being well-balanced in terms of abilities: a decently powerful and very responsive engine mated to an equally responsive five-speed INVECS-II automatic transmission; decent interior space (the Fortuner has slightly better headroom, though); and very good cargo space at the back should you fold the seats flat to the floor. That the pricing is impressive as Mitsubishi has a lot of variants (manual and automatic) and trims (2WD and 4WD), means you will find a variant that truly suits your needs and matches your budget. Resale value is pretty good, too, although the Toyota is still better.
One last comment about the Montero Sport: Don't believe in rumors about "sudden unintended acceleration" as it is, in my experience, pure hogwash. There, I've said it, so put that thought away for good.
Servicing for the Mitsubishi and the Toyota are comparable, but I'm unsure how much Ford charges for servicing its diesel vehicles. There will be a queue for the Ranger Wildtrak as everyone seems to want that monstrous five-cylinder engine!
As for news on the all-new Ford Everest, Ford unveiled a close-to-production concept at the 2014 Bangkok Motor Show recently, which looks like a brute! Expect the same powertrain combination as the Ranger, but with improved interior refinement and amenities, without forgoing the butch off-road image. Sources say Ford plans to officially unveil the all-new Everest in the ASEAN market between September 2014 and May 2015, but it's unclear how soon we will get it on our local Philippine roads as demand will be very strong in larger markets abroad.
Rumors abound that the next-generation Everest will have a slightly longer wheelbase compared to its Ranger kin, will have next-generation Ford SYNC 2 multimedia integration, and will boast a larger eight-inch touchscreen, coil-sprung rear suspension as opposed to the Ranger's leaf springs, and an interior more posh than the Ranger's utilitarian cabin.
I hope this helps. Good luck and God bless!
Botchi Santos
Consumer Editor
Do you want Botchi to help you pick the right car? Send your inquiry to topgear@summitmedia.com.ph.
Artwork by Lloyd de Guzman
[poll]529[poll]