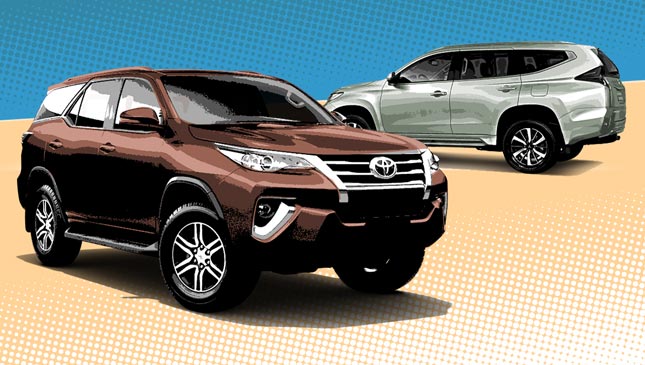 Hi, Botchi. I intend to purchase an SUV very soon to replace our 2013 Toyota Fortuner, and have short listed two: the Toyota Fortuner 2.4 V AT and the Mitsubishi Montero Sport GLS Premium.
I have always been a Toyota person, because of the brand's reliability, high resale value and ease of maintenance, but I wouldn't mind owning a car from another brand as long as it is reliable and its maintenance is also at par with Toyota.
ADVERTISEMENT - CONTINUE READING BELOW ↓
Would appreciate your help.
Thanks,
Gerald
Hi, Gerald. Between the two SUVs you have shortlisted, I would pick the Mitsubishi Montero Sport. Why? Here are the reasons:
* better value for money because it is cheaper spec for spec, and Mitsubishi usually throws in more discounts and freebies;
* units are more often than not readily (spec, and trim color, etc.) available compared to the Fortuner;
* the Montero Sport's 2.4 MIVEC diesel engine is more powerful, plus the eight-speed automatic gives it better responsiveness and acceleration, not to mention real-world fuel-efficiency; and
* the Montero Sport is the lightest in its segment, which aids fuel efficiency, acceleration, braking, and cornering.
I admit that the Montero Sport's interior is a tad less roomy compared to the Toyota Fortuner, but the Montero Sport is also more car-like to drive. But rest assured, if you do get the Toyota Fortuner, you won't regret it either in the long-run.
ADVERTISEMENT - CONTINUE READING BELOW ↓
Recommended Videos
But before pulling the trigger, I suggest you check out the Nissan Terra, an all-new Navara-based SUV. This new midsize SUV player has a price range of P1,499,000 to P2,096,000. See it, check it out, and try it out.
In closing, I suggest you try everything on the road. Despite us being objective in all our reviews, we will always have our priorities and biases. What works for me might not work for you. We're just here to help you make a more informed and educated decision, rather than simply be swallowed up by the hype.
Good luck, and happy car-shopping!
Botchi Santos
Consumer Editor