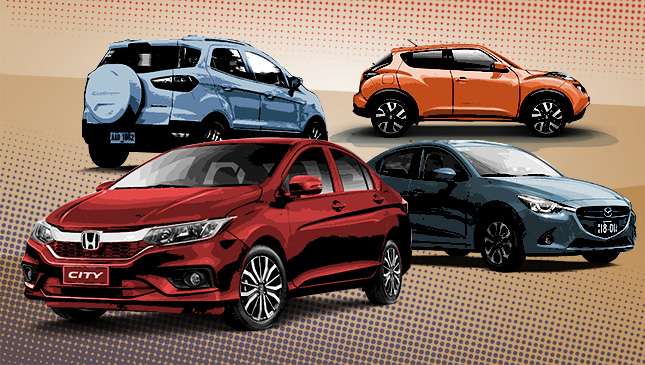 Good day, sir. Just want to ask if it's a good decision to buy the Ford Ecosport Trend AT to use as an Uber. How about the Nissan Juke, Honda City or Mazda 2? What are their pros and cons should we choose to buy one of them? Which car would you recommend based on fuel efficiency, performance, and maintenance cost?
ADVERTISEMENT - CONTINUE READING BELOW ↓
Hoping you can enlighten us regarding which vehicle we should purchase. Your help will be much appreciated. Thank you.
Sincerely,
Menchu M.
Hi, Menchu! Thanks for sending us an email. Regarding your choice for Uber, arguably the best type of vehicle to use is a common model precisely because parts will be plentiful and relatively affordable when looking through third-party suppliers. Know-how in terms of fixing and servicing the car will be more widespread and allow you to pick from a wider variety of independent car repair shops, too. Also, it will be easier to sell in a few years.
In the list that you gave, the Honda City is the most common car. Since it is made locally, parts will be easier to find and should be cheaper versus cars that are rarer and made abroad.
I dislike the Ford EcoSport because the dual-clutch transmission delivers a slightly jarring and harsh drive--especially when moving from dead stop on an incline. The Nissan Juke is a really fun compact crossover, but the rear seats are tight and cargo space out back is practically nonexistent. The Mazda 2 is also tight, something Uber riders won't appreciate.
ADVERTISEMENT - CONTINUE READING BELOW ↓
Recommended Videos
Aside from the City, the Hyundai Accent in diesel guise makes for a really good and economical car that's also very enjoyable to drive. The City and the Accent would be my top two choices if you'll be sticking to that budget range. Oh, and of course my ever favorite Honda Jazz, which will be even more practical than the City because of its hatchback body that allows you to dump more things in the back and pile them up. It looks good, too!
Lastly, if it will be a purely business-related car, consider the Toyota Vios and Toyota Avanza. Both do seem a tad boring, lacking some style and pizzazz, but they're very reliable, affordable and quite cheap to maintain. Toyota is after all, a legend when it comes to durability and reliability.
I hope this helps. Good luck on your choice and be safe on the road!
Botchi Santos
Consumer Editor
ADVERTISEMENT - CONTINUE READING BELOW ↓
UPDATE as of June 11, 2018: Buying a brand-new car is no easy task. Forking over the down payment and committing to a monthly installment for a few years is a big step, and one that shouldn't be taken lightly. Luckily, getting a car is actually affordable for most budgets right now. Here we've compiled a list of the best cars you can get for P10,000 or less a month. Each loan runs for five years and has a 10% downpayment agreement. If you're able to set aside around P13,000 a month for your vehicle, you'll already have a number of quality options available to you. With that in mind, we've compiled a short list of cars from a variety of segments which you can pay at more or less this rate over a span of five years. We've set the downpayment at 10% using a loan calculator.