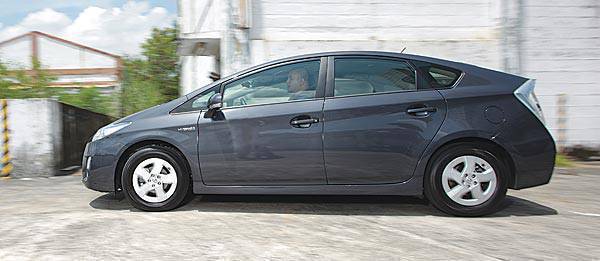 It was a moment of lunacy. I was in another car with our online managing editor Barbara Lorenzo when we saw a Toyota Prius on EDSA. "Prius!" we yelled in unison. I was elated to see a Prius out in the open, and it dawned on me just how few of them were on the road. Toyota says only nine Prius cars have been sold since the hybrid went on sale here in June (as of press time).
Sad as this info may be, I also understand the challenges faced by prospective Prius buyers. One of the questions we got when we test-drove it was: "How much?" The other query was: "WTH is that?" For the unit cost of a single Prius, you can purchase either two Honda Jazz hatchbacks (with change), an Audi A3 or a Mitsubishi Montero Sport 4x4 (with lots of accessories). The list goes on.
Another possible challenge is the fact our market is conservative and unimaginative when it comes to automotive design. They prefer clean, pleasing car designs that look good but don't stand out. You don't have to look beyond the Toyota lineup, ironically, to see examples of vanilla styling (Vios, Camry, Innova—bestsellers all).
ADVERTISEMENT - CONTINUE READING BELOW ↓
The Prius thankfully doesn't subscribe to such design concessions. Its looks vacillate between a sedan and a hatchback, and people get turned off with what they don't understand. But I like this car. The designer's pencil (or computer mouse) created clean strokes that are as pleasing to the eye as they are friendly to the wind. The Prius's 0.25 coefficient of drag is a result of Toyota's efforts to create the most aerodynamic car shape that can be mass-produced. Less wind resistance means the car needs less power to get it moving. Thus, it requires less fuel. It's refreshing to see a car design dictated by function, without pandering to compromise.
Then there's the technological hurdle: People aren't sure what the Prius is or how a hybrid works. Toyota says some even thought it was a plug-in electric car. So here's the lowdown one more time...
The Prius's power source— what Toyota calls the Hybrid Synergy Drive (HSD)—is a full hybrid system, with a 1.8-liter gasoline engine and an electric motor alternately propelling the car at any given time. The car carries a sealed nickel-metal-hydride battery pack for the electric motor. This is in contrast to so-called mild hybrids, where a small electric motor only complements the main gasoline engine and cannot power the automobile by itself. An example of this is the recently launched Mercedes-Benz S400 Hybrid, the only other hybrid car sold here through official channels.
ADVERTISEMENT - CONTINUE READING BELOW ↓
Recommended Videos
The HSD uses a computer to manage the Prius's two power sources as it sees fit. It runs solely on electric power at start-up; it uses both the engine and the motor during acceleration; it alternates power sources when cruising; it recharges the batteries when braking through regenerated energy (the same KERS technology in Formula 1); and it shuts off the engine when the car is at rest, to save fuel and reduce emissions.
The beauty of the Prius is that you can ignore everything I said in the previous paragraph because it will do all the thinking for you.
Inside the cockpit, the Prius is not luxurious, but it's certainly comfortable. The difference in quality versus Thailand-made Toyotas (the Prius is made in Japan) is palpable. There is no traditional gauge cluster with dials for speed and engine rpm; what you see is a wide multi-information display that shows speed, fuel level, selected gear, and various graphics depicting fuel-efficiency and indicating which power source is currently running. It might just be my inner geek, but the display isn't confusing at all. It doesn't bombard you with info—it just politely presents you with data.
ADVERTISEMENT - CONTINUE READING BELOW ↓
It's here that the impressive turns into the amazing. This hybrid has a heads-up display (like a jet fighter) that projects the car's speed and hybrid info onto the windshield. And using what Toyota calls a Touch Tracer, brushing your thumbs lightly against the steering wheel buttons will show the functions on the display in front of you, suspended on a separate layer of glass in front of the main display. You can control the audio and the air-conditioner, and check fuel consumption without looking down at the steering wheel.
Above the starship-like blue shift knob is a row of buttons. There's a parking button that acts in lieu of the handbrake. There's an EV button for running on battery power until it runs low or the driver steps hard on the gas. There's an Eco button for conservative performance, and there's also a Power button for aggressive driving.
When you start the car, the main display lights up and then... nothing. At this stage, it's just the electric motor running and the silence is disconcerting at first.
ADVERTISEMENT - CONTINUE READING BELOW ↓
The drive itself is a mixed bag. Acceleration is surprisingly aggressive when you mash the pedal and both powerplants engage at the same time. With a net hybrid output of 134hp, there's more power here than in the 1.8-liter Altis. But the Prius isn't tuned for spirited driving, as its tires, suspension and brakes will remind you if you push it. The body leans a lot in the corners; the grip loosens quickly like the touch of a clammy handshake; and upon stopping, you can almost feel that the regenerative disc brakes are not in a hurry to scrub off speed because they're busy sending energy to the battery.
Then there's the vaunted fuel economy. Driven normally, the car got almost 19km/L when we first tested it for our July 2009 issue. The United States' EPA figures place the fuel consumption at more than 21km/L. While outstanding, those figures will never justify the P2.25-million price tag from an economic standpoint. You will save more buying a subcompact and using the leftover money for gas.
ADVERTISEMENT - CONTINUE READING BELOW ↓
Why a Prius, then? Of course, using less fuel—not saving money—will reduce emissions and help the earth. But we don't even have to go there. What Toyota has created here is a car that breaks ground in design, engineering and drivability.
Cars have been assembled using the same formula ever since Karl Benz's Motorwagen came out in 1888, with one internal combustion engine and four wheels. Succeeding models merely got better accessories.
Toyota's tree-hugging Prius is the point in automobile evolution where it simply isn't a car anymore—it's a hybrid, with the technology to harness and maximize two power sources to give us the comfortable mobility we want, while lessening the impact on our planet's resources. It's the car equivalent of having your cake, eating it too, and then licking the icing off your fingers.
I hope to see more Prius cars on our roads. It's not the most affordable or practical of choices, but we're entitled to bouts of lunacy sometimes.
ADVERTISEMENT - CONTINUE READING BELOW ↓
Source: Top Gear Philippines, November 2009
[gallery]533[gallery]