Ultimately, the decision on what car to buy comes down to price. Forget fancy features, mind-boggling performance, and segment preferences: If something's out-of-budget, it's usually out of the question—lest you end up financially handicapped for the better part of five years.
That said, the Geely Coolray Sport is one of the hottest up-and-coming subcompact crossovers currently available. The Sport variant, in particular, is an enticing proposition thanks to its combination of robust performance and hi-tech features. At P1.198 million, it's also emerged as an alternative to more expensive albeit bigger crossovers like the Mazda CX-30, Subaru XV, Honda HR-V, and the similarly-priced Ford EcoSport.
Price-wise, the Coolray definitely has something going for it—but can it offer enough to take on something from a larger segment, though? The MG RX5 1.5T Alpha DCT, a compact SUV, is slightly pricier at P1,298,888. Thing is, it checks one box the Coolray simply can't: Space.
So, two vehicles from neighboring segments carrying similar price tags. This should be fun, don't you think?
Styling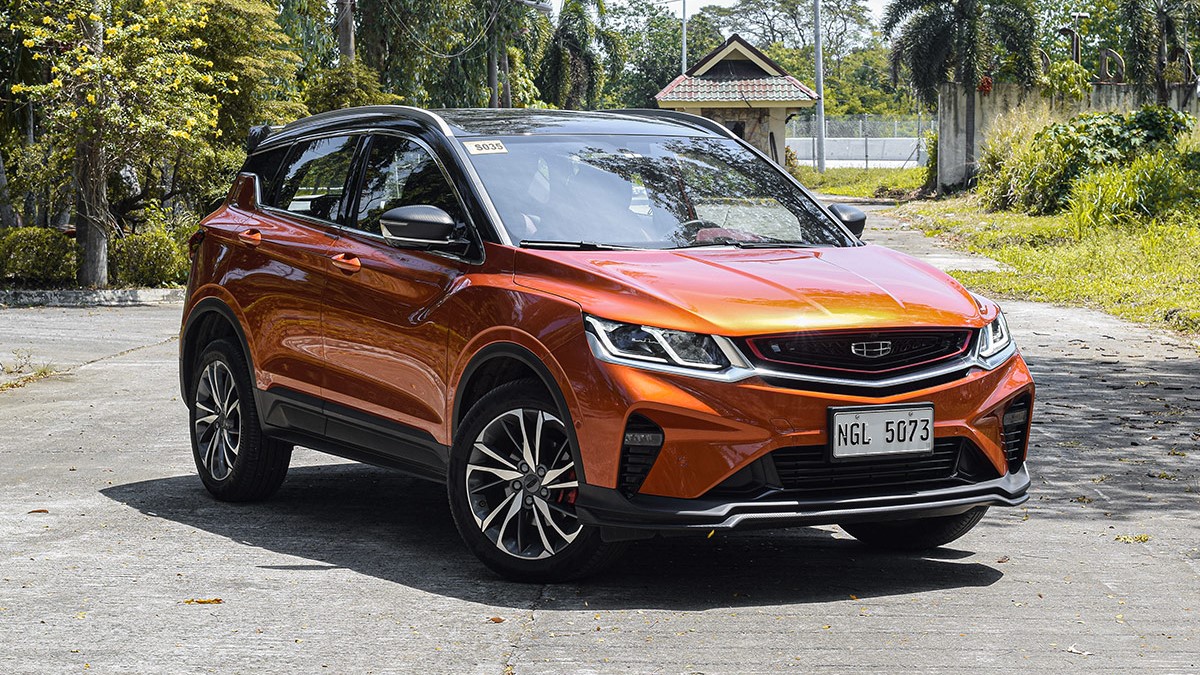 Continue reading below ↓
Recommended Videos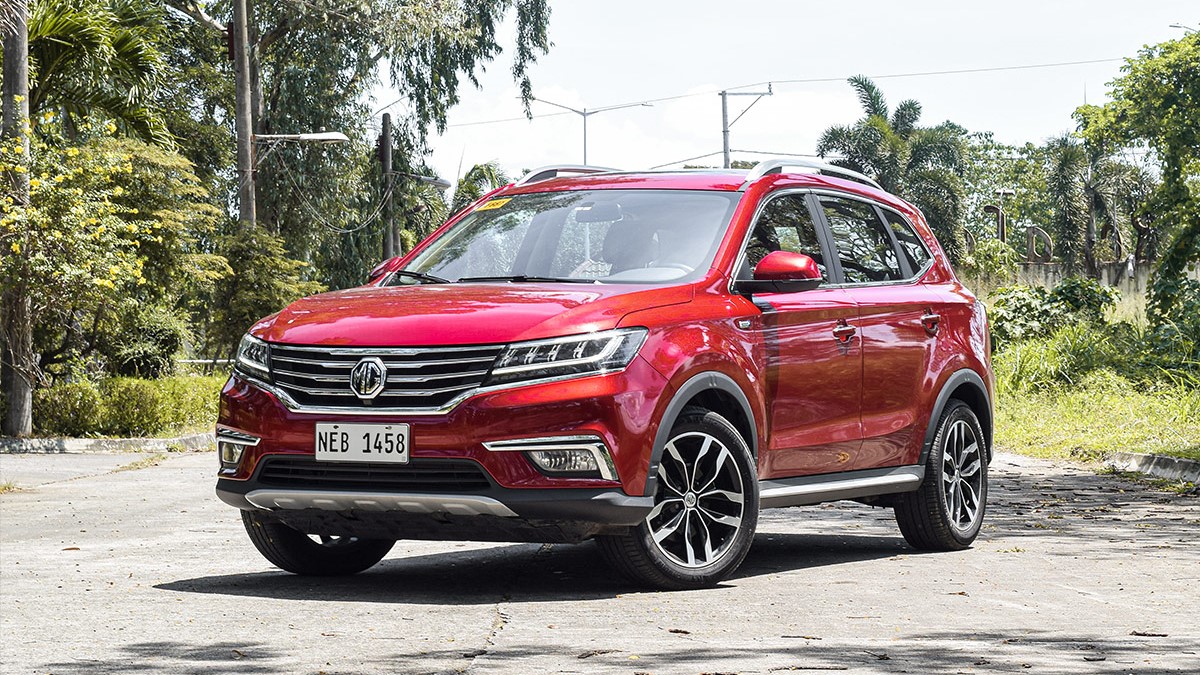 Drei: This is a tough one, as I consider both vehicles easy on the eyes. Ultimately, though, I'm going to have to go with the RX5 here.
The Coolray does look sportier, thanks to its energetic orange paint, tapered roofline, angry headlights, spoiler, and details like the red trim on the front grille and faux carbon fiber side mirror housings—I just prefer the RX5's more subdued appearance ever so slightly.
The large grille, elegant use of chrome, straight lines and clean surfaces—from some angles, the RX5 looks almost Germanic. Again, though, this was a very close one for me to call.
Leandre: The RX5 and the Coolray fall on opposite ends of the spectrum. On one hand, you have MG's subtle and classy design while on the other, you have Geely's aggressive and sporty styling. As for me, I prefer the latter.
I'm not a fan of faux carbon-fiber trim or even spoilers, but Geely's execution of both works nicely for me. I wouldn't mind rolling through town in the RX5, but I just simply like the Coolray's flair better.
| | | |
| --- | --- | --- |
| STYLING | Geely Coolray | MG RX5 |
| Drei | 4 | 5 |
| Leandre | 5 | 4 |
| Total | 9 | 9 |
Interior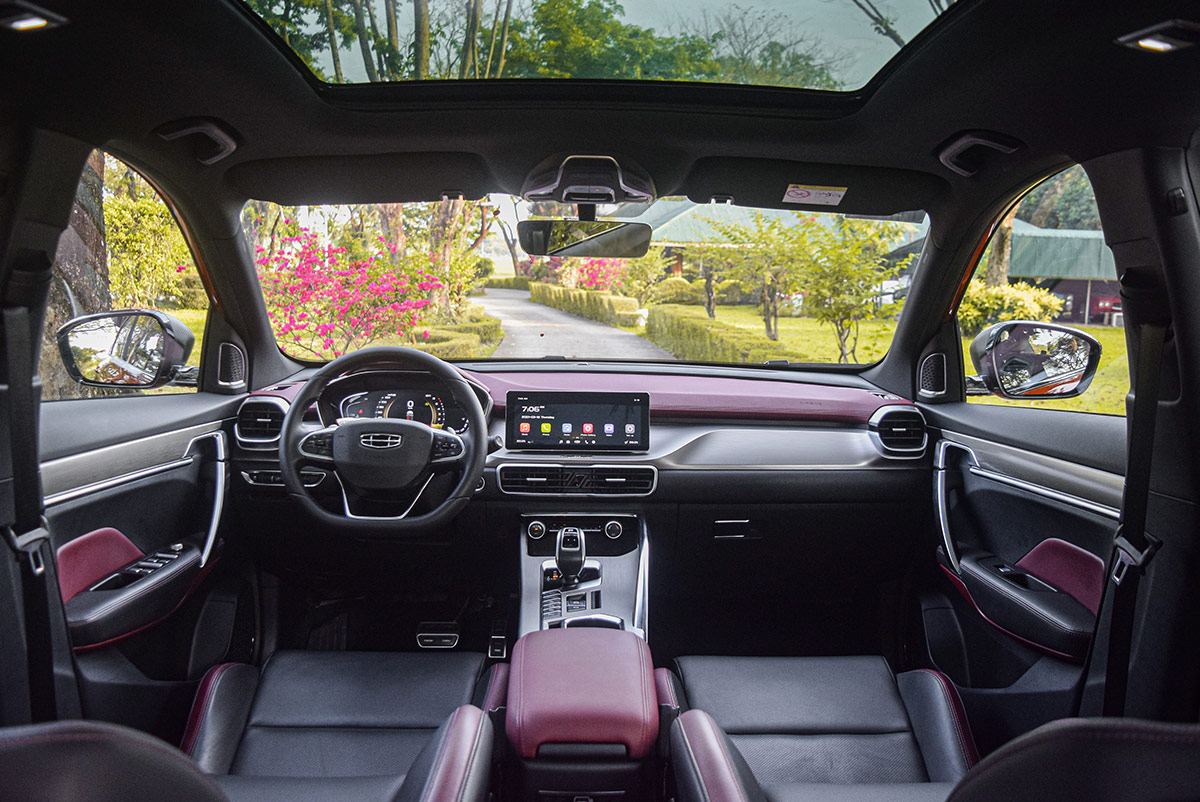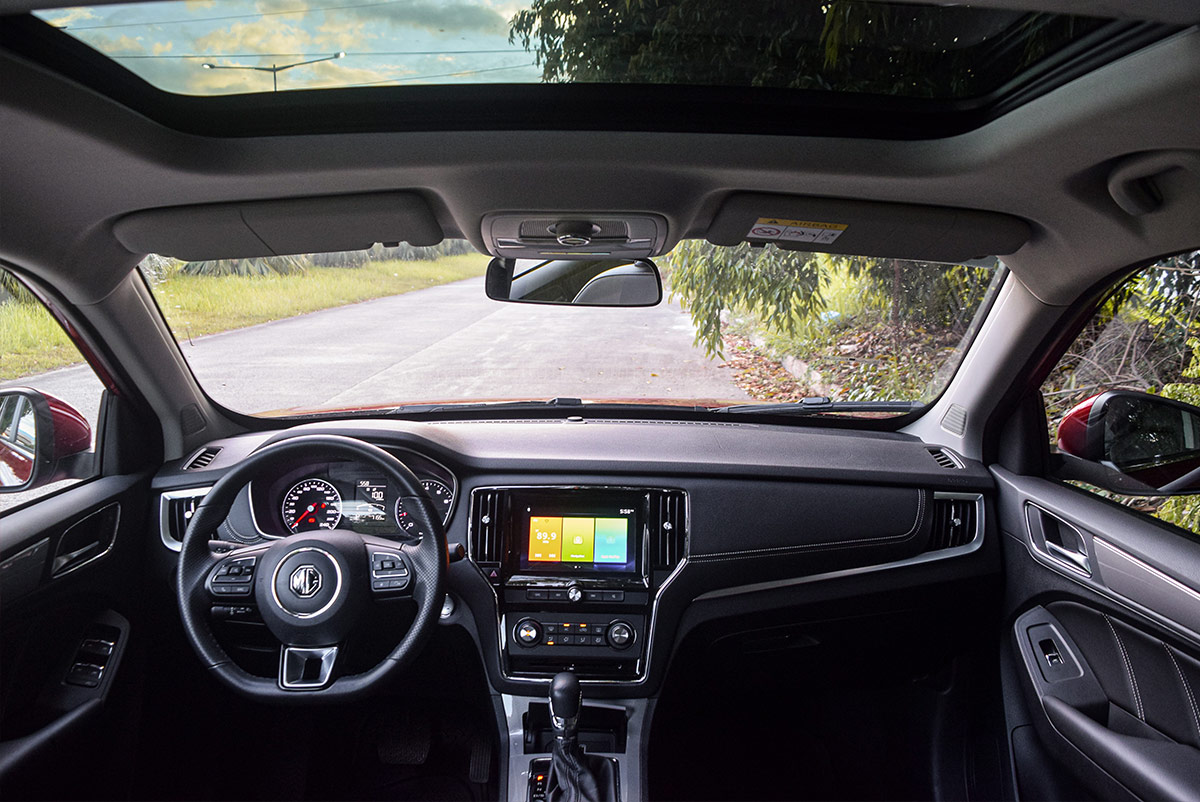 Drei: Again, this is tough. These cars' interiors couldn't be any more different from each other, but I'm definitely digging both vibes.
The Coolray carries over its energetic exterior into the cabin, which features a playful mix of colors and some generous use of faux aluminum trim. Soft-touch materials come in an attractive red hue, while a flat-bottom steering wheel adds a nice bit of sportiness to the equation. This cabin isn't perfect, though, as some of the components are obviously more plastic than they're made out to be (a good knock or two will reveal this).
The RX5, meanwhile, gets a much more subtle cabin with minimalist design choices and a stealthy overall vibe. There's a lot less to take in here, but everything kind of feels sturdier than in the Coolray and, obviously, there's a hell of a lot more space.
Winner? In terms of aesthetics, I'm leaning towards the Coolray. Practicality-wise, though? I have to give it to the RX5. And since I fancy myself a utilitarian, I'm giving the slight edge to the latter.
Leandre: The differences in exterior styling are also apparent inside the cabin. The RX5 has this simple, laid-back interior while the inside of the Coolray feels a lot more flaunty. This time around, though, I'm going with the RX5.
Not merely because of the design—it's a bit of a tie for me in that department alone—but because of the sheer amount of space the RX5 offers. I know the RX5 is bigger than the Coolray, but at the end of the day, it's the roomy interior that does it for me.
| | | |
| --- | --- | --- |
| INTERIOR | Geely Coolray | MG RX5 |
| Drei | 4 | 5 |
| Leandre | 4 | 5 |
| Total | 8 | 10 |
Engine performance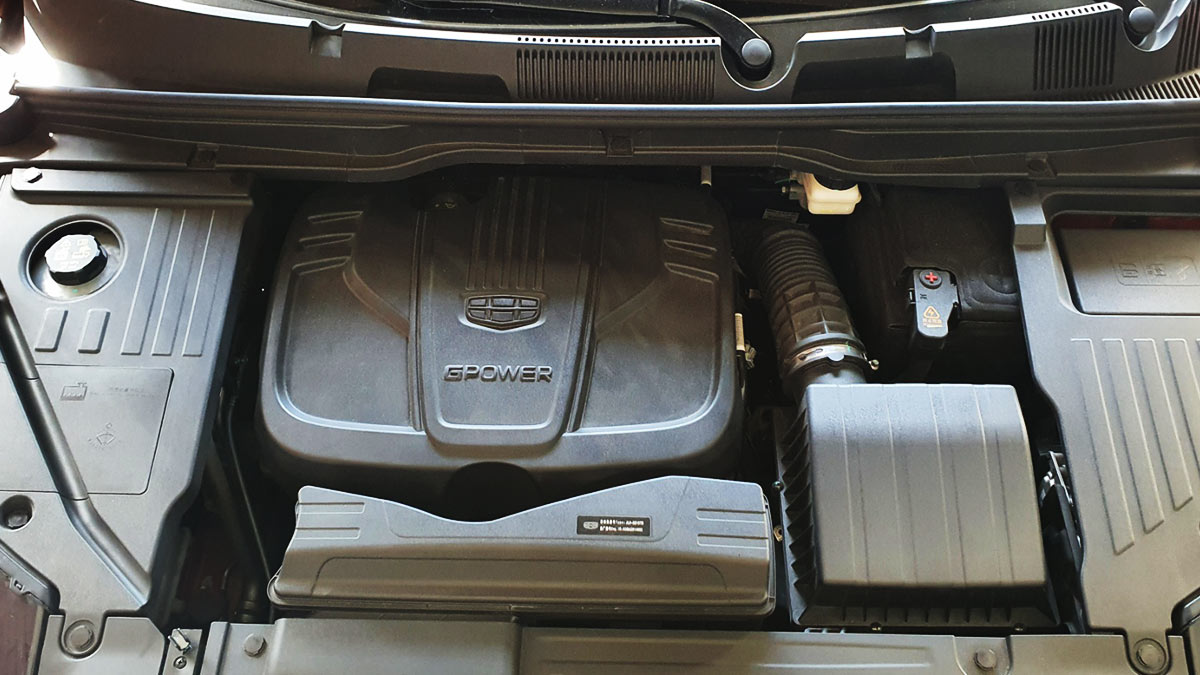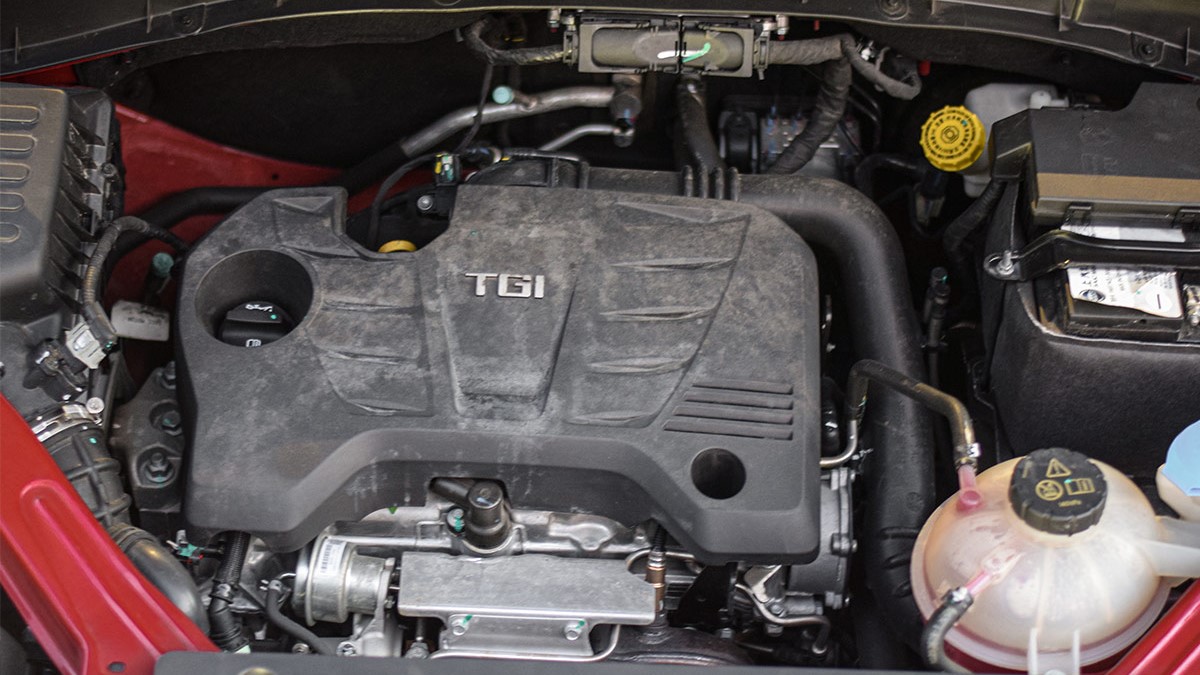 Drei: The Coolray, hands down. You know how we were going on about the RX5 being bigger and roomier a while ago? Well, there's a drawback to that.
The RX5 packs a 1.5-liter turbocharged engine with 162hp and 250Nm of torque, while the Coolray comes equipped with a 1.5-liter turbocharged gasoline that does 175hp and 255Nm. Yes, despite its advantage in size, the RX5 is at a disadvantage in power—and all that extra weight becomes apparent when you're behind its wheel.
Don't get me wrong, the RX5 is fine. It has a decent amount of pull on the expressway, and it has more than enough oomph to keep up with most other vehicles. It's just that the Coolray is so much zippier and more engaging, with better throttle response and paddle shifters. The Coolray easily beats the RX5 in this department.
Leandre: The RX5 has an incredibly punchy engine, I'll give it that, but if you look at the numbers, the Coolray actually has the 13hp and 5Nm advantage. While that may not seem like much, the numbers advantage is more apparent on the road.
Having more power while carrying significantly less weight, the Coolray, to no surprise, is quicker off the line and gets to 100kph faster than the RX5. I did find through my testing that the RX5's engine is more economical, but the difference isn't enough for it to be the better unit overall.
| | | |
| --- | --- | --- |
| ENGINE PERFORMANCE | Geely Coolray | MG RX5 |
| Drei | 5 | 4 |
| Leandre | 5 | 4 |
| Total | 10 | 8 |
Ride and handling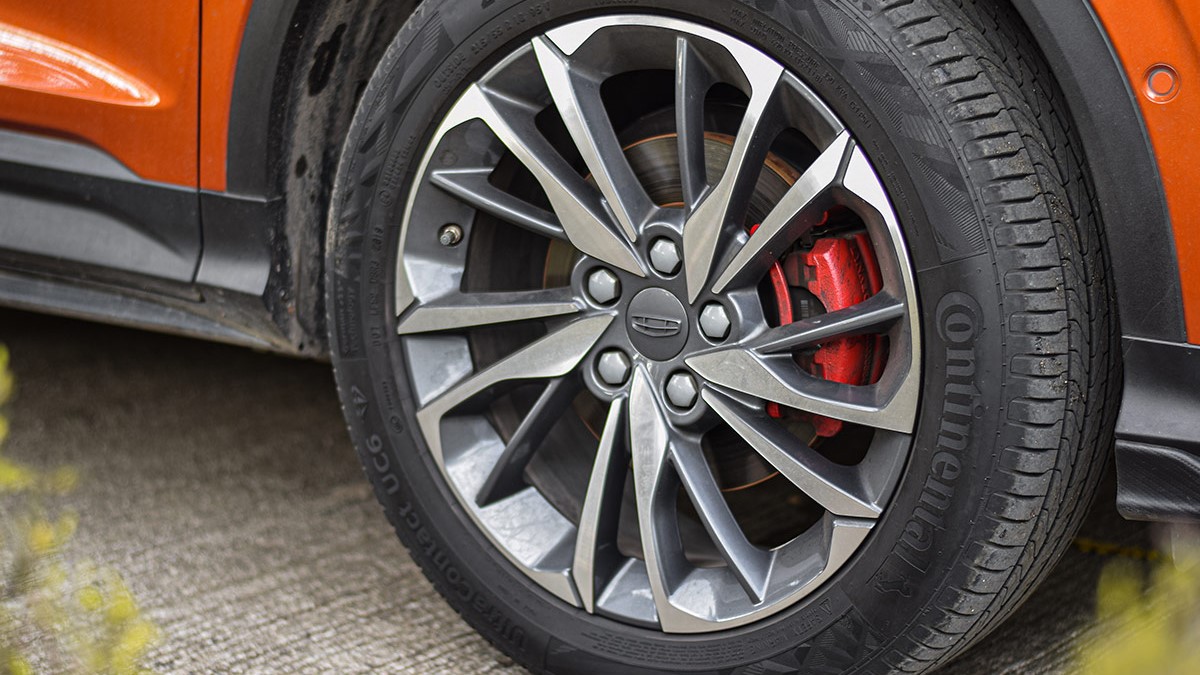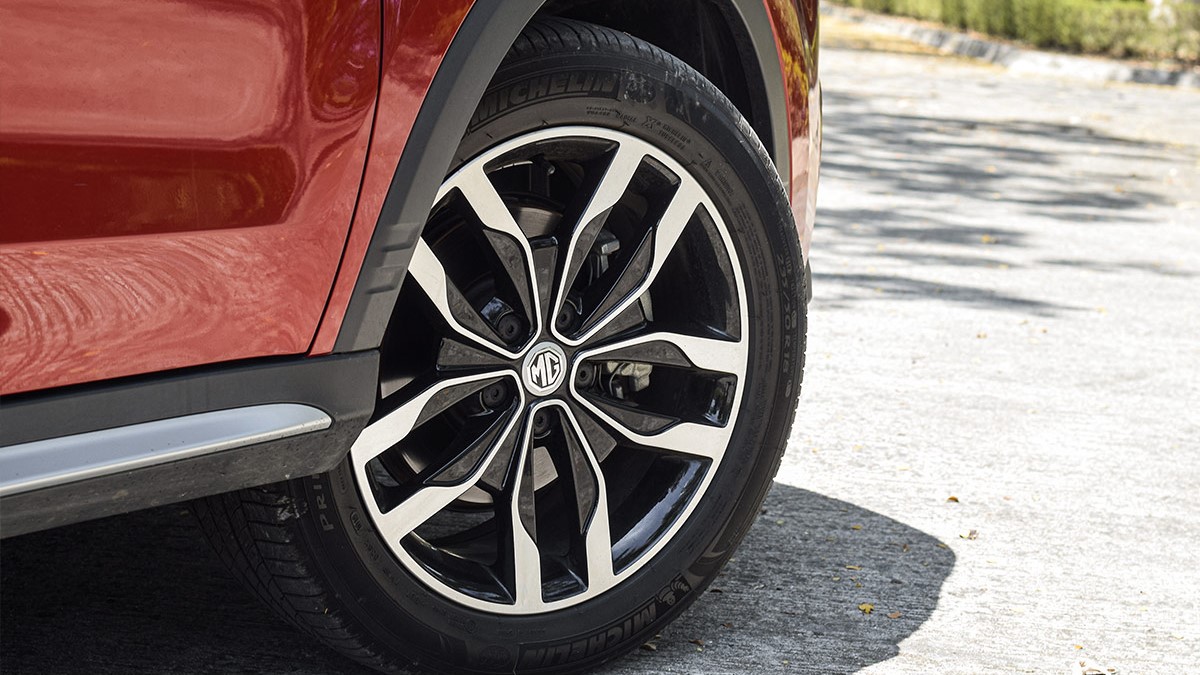 Drei: Again, another point to the Coolray. The RX5 handles just fine and pretty planted in most conditions, but the weight of the steering wheels does tend to feel a little too light for my taste out on the expressway. From observation, the RX5 does seem to handle road imperfections better, but I'd trade this quality for the Coolray's steering response any day of the week. The Geely's compact size and great handling just make for a much better drive.
Leandre: What the RX5 slightly lacks in oomph when put against the Coolray, it makes up for in ride comfort. The Coolray handles better especially with those paddle shifters available, but the RX5 has a softer, floatier ride. And for me, when it comes to vehicles like these, comfort is king.
| | | |
| --- | --- | --- |
| RIDE AND HANDLING | Geely Coolray | MG RX5 |
| Drei | 5 | 4 |
| Leandre | 4 | 5 |
| Total | 9 | 9 |
Extra features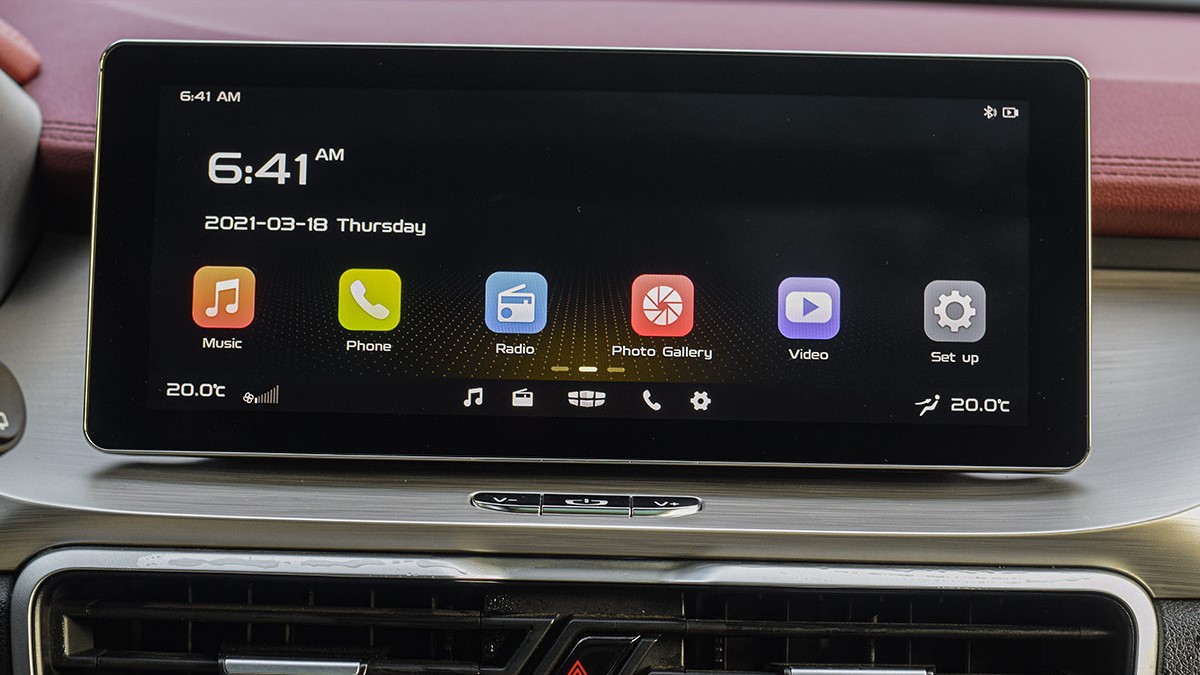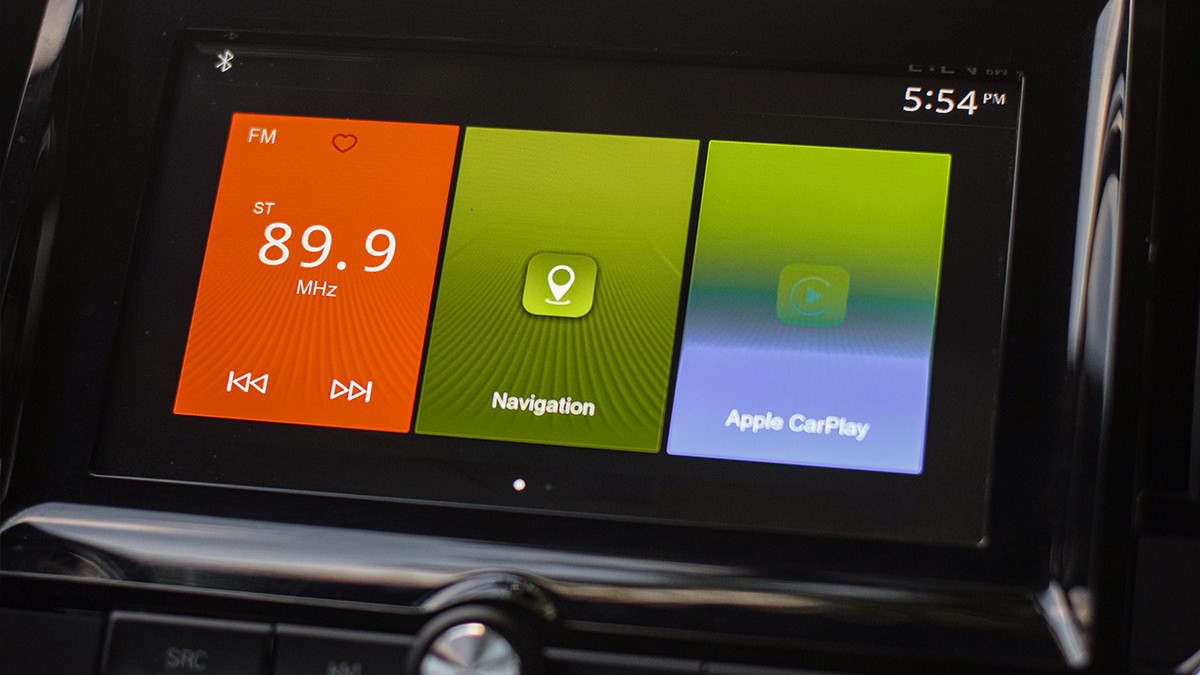 Drei: Man, the Coolray really just came out of nowhere to take this Big Test didn't it? All-digital instrument cluster, 360-degree camera, an incredibly sharp and intuitive touchscreen infotainment system, a built-in dashcam, and the ability to park itself?
The RX5 covers all the basics, with features like a push-to-start ignition, electronic handbrake, cruise controls, and auto-hold. But the Coolray just takes things a step further in this department. The point goes to the Geely and it's not even close.
Leandre: Simply put, the Coolray has more toys than the RX5. It has a nifty automated parking assist and a fully digital and customizable instrument cluster, so this has to be the sure pick, right? Not really. For me, it's closer than what others might think.
See, unlike the Coolray, the RX5 has Apple CarPlay, and this is something I find more useful (even if I'm an Android user) than any of Geely's extra features combined. Also, will I really be using the Coolray's automatic parking feature at all? Not really. To me, it feels like a novelty I can easily live without.
But putting my personal biases aside, I have to hand it to Geely in this department. Even without smartphone mirroring, it just trumps the RX5 when it comes to added niceties. Besides, the Coolray has a much better sunroof in my opinion.
| | | |
| --- | --- | --- |
| EXTRA FEATURES | Geely Coolray | MG RX5 |
| Drei | 5 | 4 |
| Leandre | 5 | 4 |
| Total | 10 | 8 |
Verdict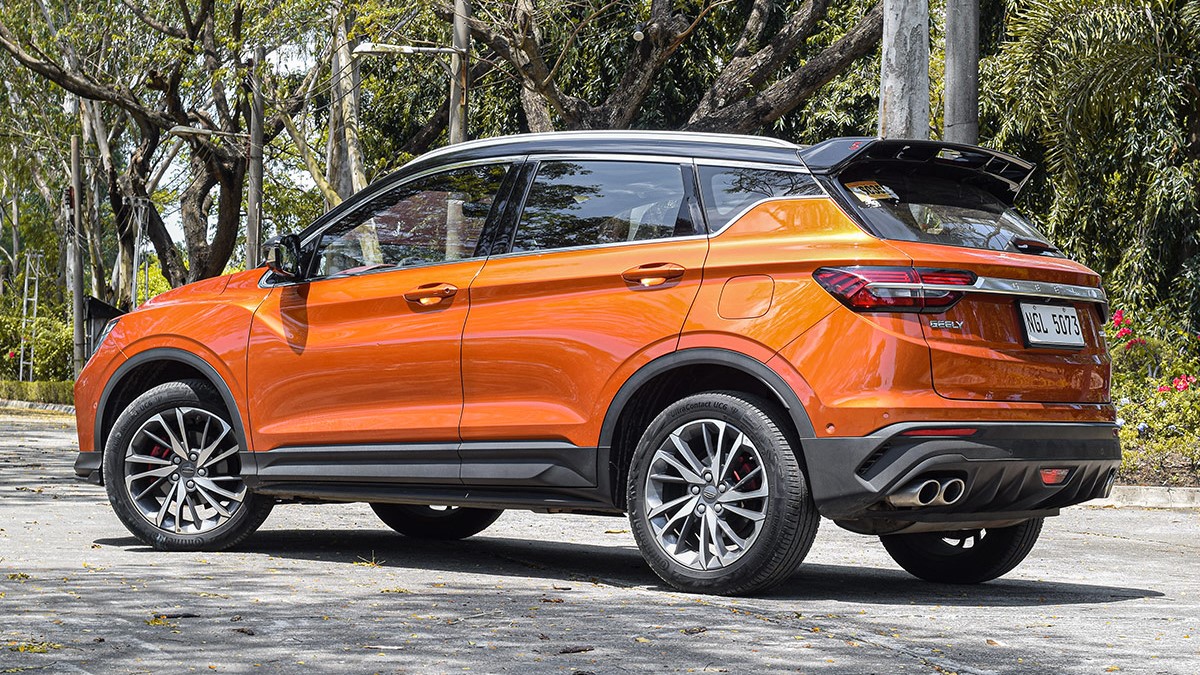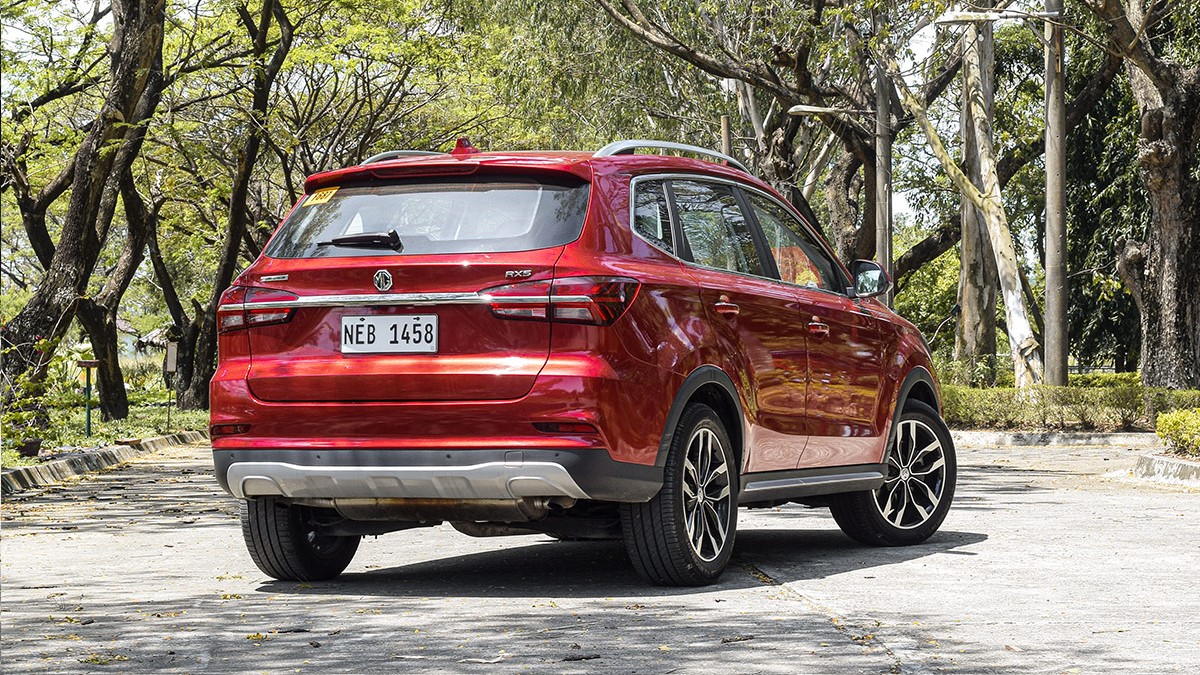 It was a close one, but ultimately the Coolray comes out on top. If we're being honest, though? You aren't losing with either model here.
If you need room and practicality, go with the RX5. MG's compact SUV offers space the Coolray simply cannot match. Looking for a more engaging drive? Then the Coolray is your best bet. It's sportier in both looks and feel, and carries an incredible amount of features for its price. Do you agree with these results?
| | | |
| --- | --- | --- |
| VERDICT | Geely Coolray | MG RX5 |
| Styling | 9 | 9 |
| Interior | 8 | 10 |
| Engine performance | 10 | 8 |
| Ride and handling | 9 | 9 |
| Extra features | 10 | 8 |
| Total | 46 | 44 |
SPECS: 2021 Geely Coolray Sport DCT
Price: P1,198,000
Engine: 1.5-liter turbo gasoline I3
Power: 175hp @ 5,500rpm
Torque: 255Nm @ 1,500-4,000rpm
Transmission: 7-speed dual-clutch
Drive layout: FWD
Seating: 5
SPECS: 2021 MG RX5 1.5T Alpha DCT
Price: P1,298,888
Engine: 1.5-liter turbo gasoline I4
Power: 167hp @ 5,600rpm
Torque: 250Nm @ 4,400rpm
Transmission: 7-speed dual-clutch
Drive layout: FWD
Seating: 5