What is it?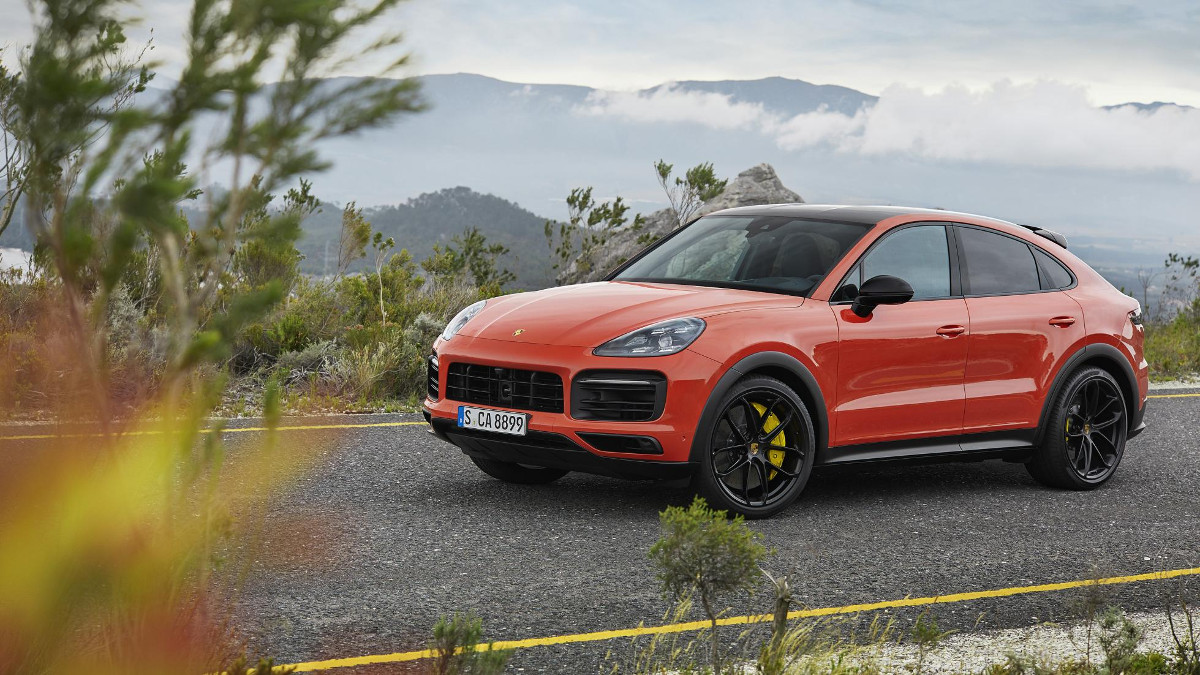 A totally pointless addition to the automotive landscape. Or the Porsche you've been waiting years for. Which way you swing—and we hardly suspect you dwell in the middle—will depend on how you view the modern phenomenon of the SUV coupe.
But all subjective baggage needs to be left resolutely at the door; the sheer sales figures and profit margins achieved by chamfering off your 4x4's roofline and sportifying its looks cannot be argued with, no matter how much of an enthusiast's brand you are. In truth it's amazing it's taken Porsche, one of the pioneers of the quick crossover, so long to produce one of these things.
ADVERTISEMENT - CONTINUE READING BELOW ↓
The Cayenne Coupe arrives a year into the Mk3 Cayenne's life, and while the engineering tweaks are as exhaustive as you'd expect from Porsche, the concept is easy to grasp. Take one Cayenne, drop the roof a bit.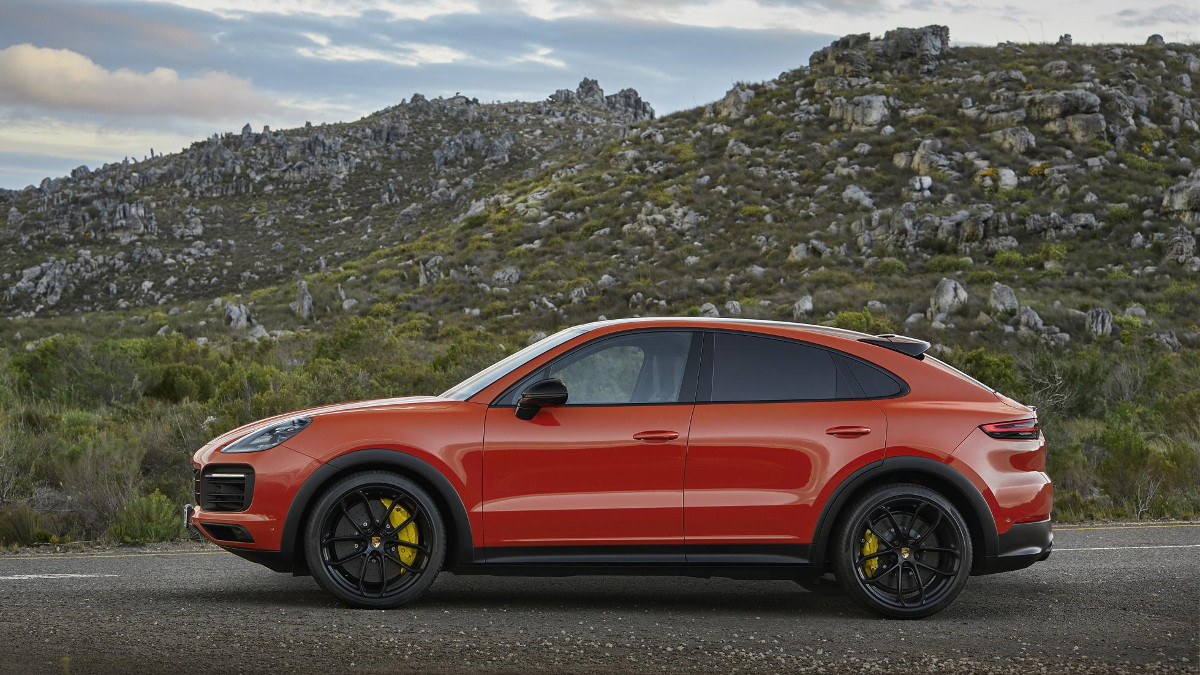 The rear accommodation is now a pair of sculpted sports seats as standard, but you can spec a three-seat bench back in if you need it. The roof is vast panoramic glass as standard, but can be switched to sculptured carbon if you're worried about a drastically raised center of gravity. Beyond that there's a dizzying array of chassis and tech options to spend hours of your time (and thousands of your pounds) configuring online, many of them designed to short cut the dynamic penalties a car so big and heavy can't help but incur.
ADVERTISEMENT - CONTINUE READING BELOW ↓
Recommended Videos
It's a tiny bit longer and a weeny bit heavier than a regularly roofed Cayenne, and in turn slower by the most marginal (and least relevant) of whiskers. Power currently comes from a mix of turbocharged petrols. There's a choice of two V6s, in the 335hp Cayenne and 434hp Cayenne S, and a V8 in the shape of the 542hp Cayenne Turbo. Top speeds range between 250kph and 300kph, 0-100kph times between 6.0 and 3.9 seconds. They all use eight-speed automatic gearboxes and there are no diesels, but you can expect hybrids to follow fairly shortly.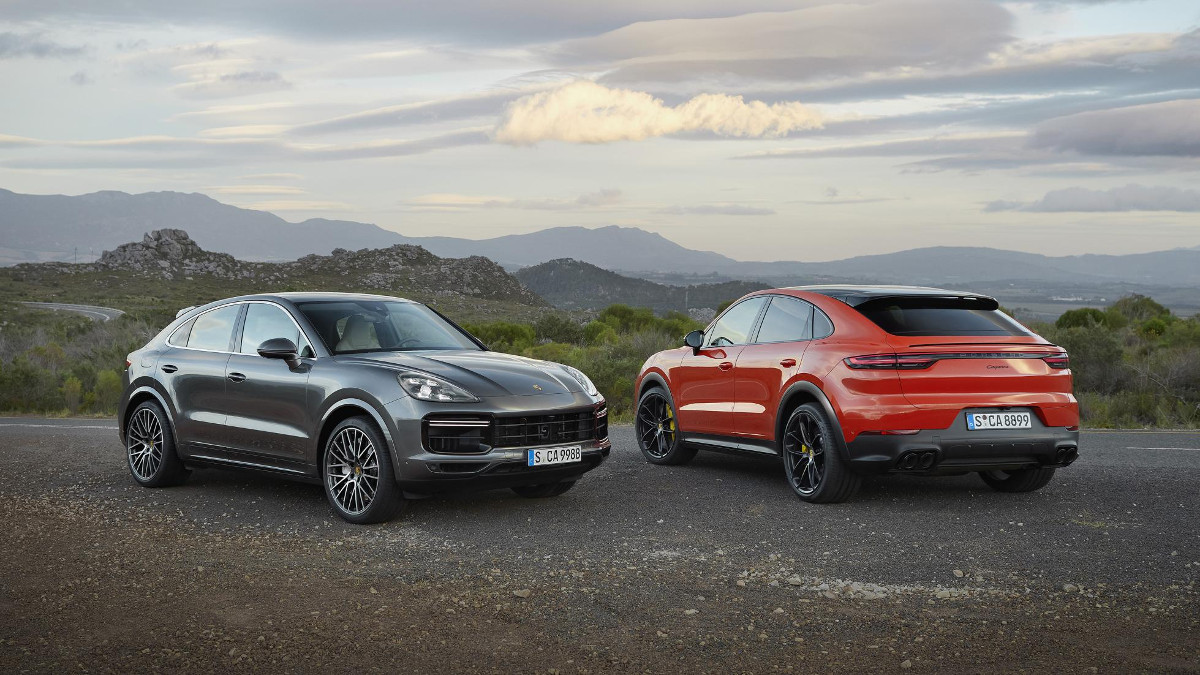 ADVERTISEMENT - CONTINUE READING BELOW ↓
Worried the sloping roofline will sever headroom in the back? Porsche has lowered the back seats by 30mm, even though the roof's only dropped 20mm. Worried the aerodynamic profile's gone skew-whiff? Porsche has added another rear spoiler, so as well as the roof there's now an active device on the tailgate. Told you the engineering was exhaustive.
Naturally, the sportier, more stylish Cayenne is also pricier and to the tune of around £4,000 (P265,000), the exact figure depending on which version you've picked, though you do get stuff as standard that's optional on regular Cayennes. Prices start at a mite over £62,000 (P4.1 m) for the base V6, topping £100,000 (P6.65 m) for the Cayenne Turbo. So is it worth the extra outlay?
On the road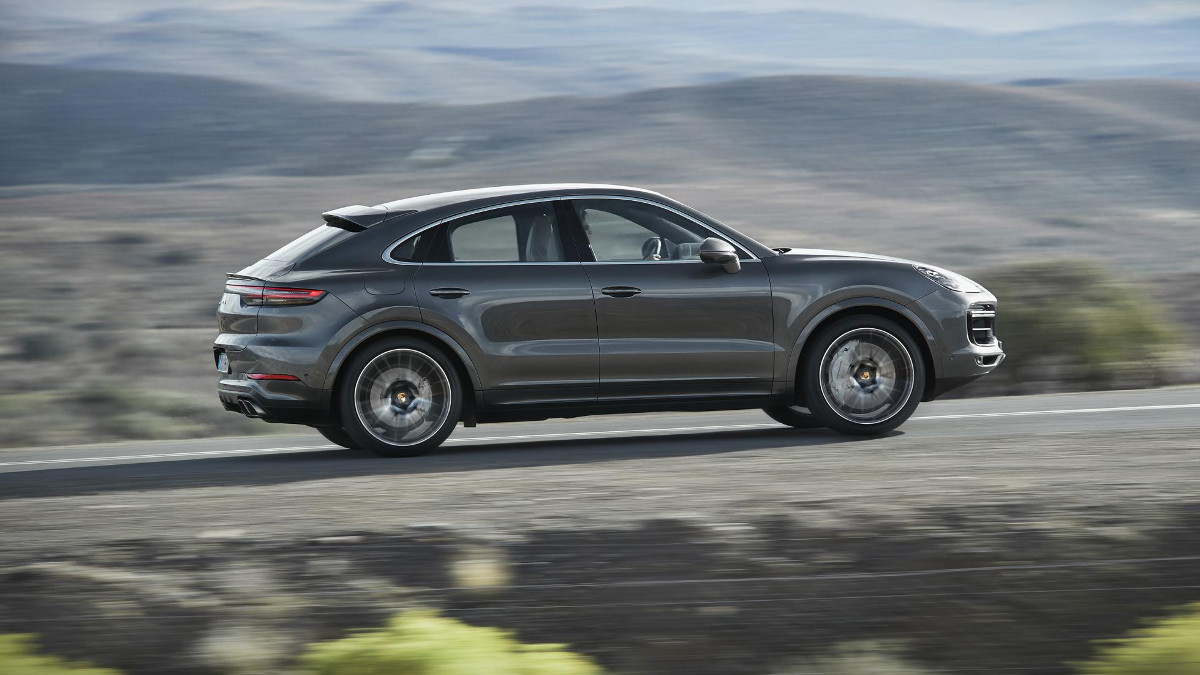 ADVERTISEMENT - CONTINUE READING BELOW ↓
While the Coupe gets a wider track and different aero over a standard Cayenne, it also weighs a bit more, so any changes over its more practical sibling are probably only made clear by driving them both back to back. And very enthusiastically, at that. In short, this feels just like a Cayenne always has, which is to say a freakishly deft car for its size and easily one of the most driver-appeasing SUVs on sale.
With a big caveat. All the best tech that Porsche has deployed to tease such agility out of a big car is optional, with rear-wheel steering an especially crucial £1,448 (P96,000) extra. Without it, the Cayenne feels every bit of its two tons and enormous girth, but the way it tucks into turns and resists understeer with the RWS options box ticked is staggering. If you're driving it keenly you'll need the much pricier carbon ceramic brakes, too. Without them you'll be far too aware of each and every one of this car's numerous kilos after only a few corners.
ADVERTISEMENT - CONTINUE READING BELOW ↓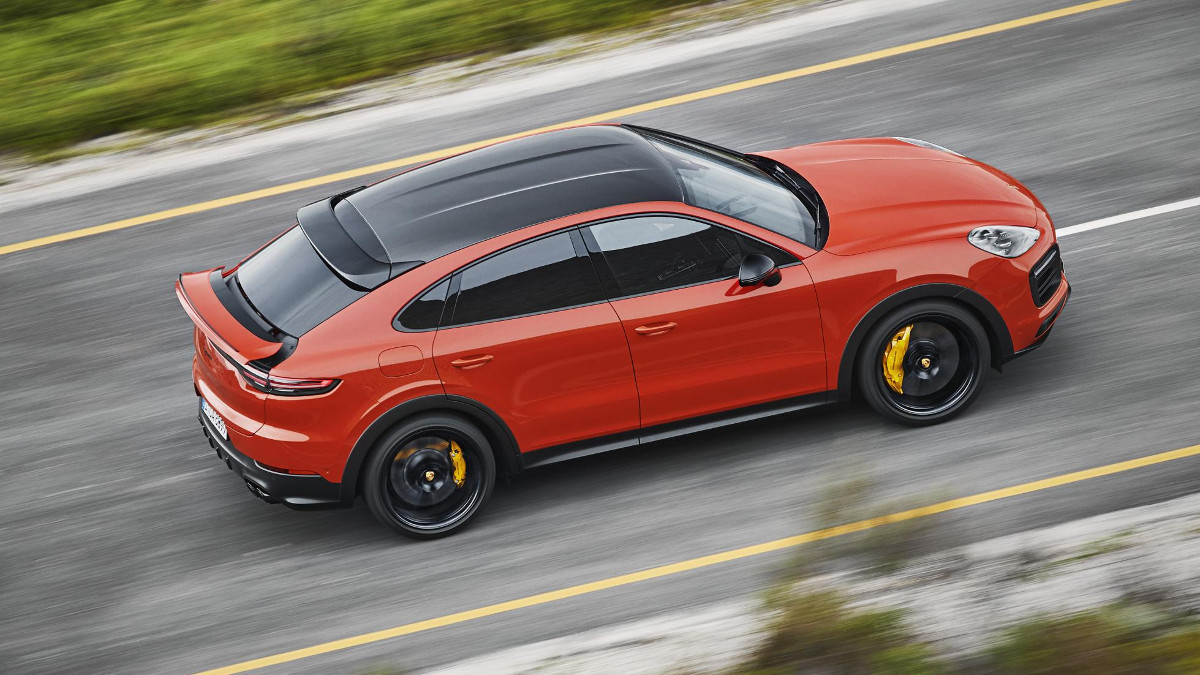 Which brings us to engines. If you want to fully dig into the Cayenne Coupe's lavish excess, you'll need the top spec Turbo. A V8 just sounds and feels correct in a car of this heft and its heroic levels of torque (770Nm from just 2,000rpm)—plus the overlaying of muscle car rumble with Darth Vadar-esque turbo whoosh—is joyously childish in a car so incongruously large. If you want to experience the thuggish, occasionally oversteery nature the very best performance SUVs exhibit, the Turbo is undoubtedly the one to have.
ADVERTISEMENT - CONTINUE READING BELOW ↓
But if you don't—and let's face it, you should buy an M5 or E63 AMG if that's your top priority—then the Cayenne S, with its 434hp V6, is a real sweet spot in the range. Its engine loves to rev and sounds fantastically natural as it does so, even with the sports exhaust fitted. No wanton pops, crackles or electronic nonsense here. It's a touch lighter than the V8 and hardly much slower in the real world. Worth a try, at least. The base V6 is pleasantly brisk, too, but lacks the shock and awe buyers of these cars surely seek.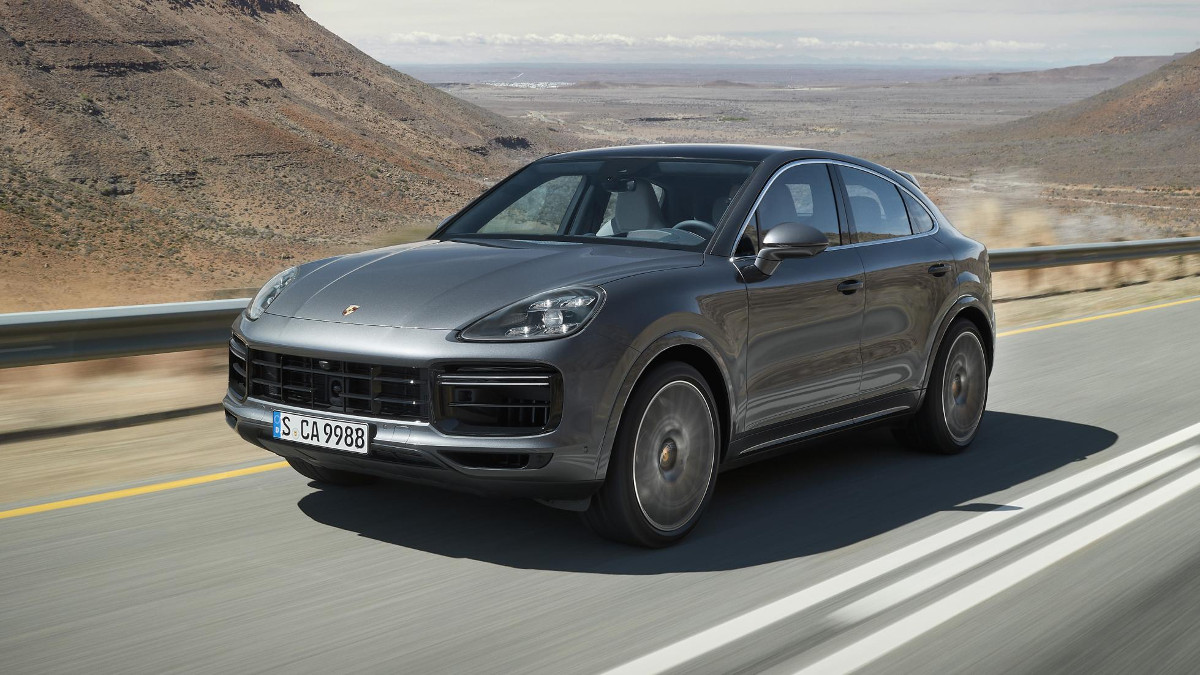 ADVERTISEMENT - CONTINUE READING BELOW ↓
Across the engine range, though, the love that Porsche lavishes on all of its cars is evident. The steering is absurdly communicative for a car of such practicality, though while you may be utilizing its chattiness to manage oversteer in a 911 or Cayman, it's more likely understeer here.
The brakes, too, are progressive and communicative in a way many owners may never fully appreciate, the pedal telling you so much about the grip underfoot as you heave into a turn. People who really care have developed this car. Even if they'd probably rather have been making something with a GT prefix on its badge.
On the inside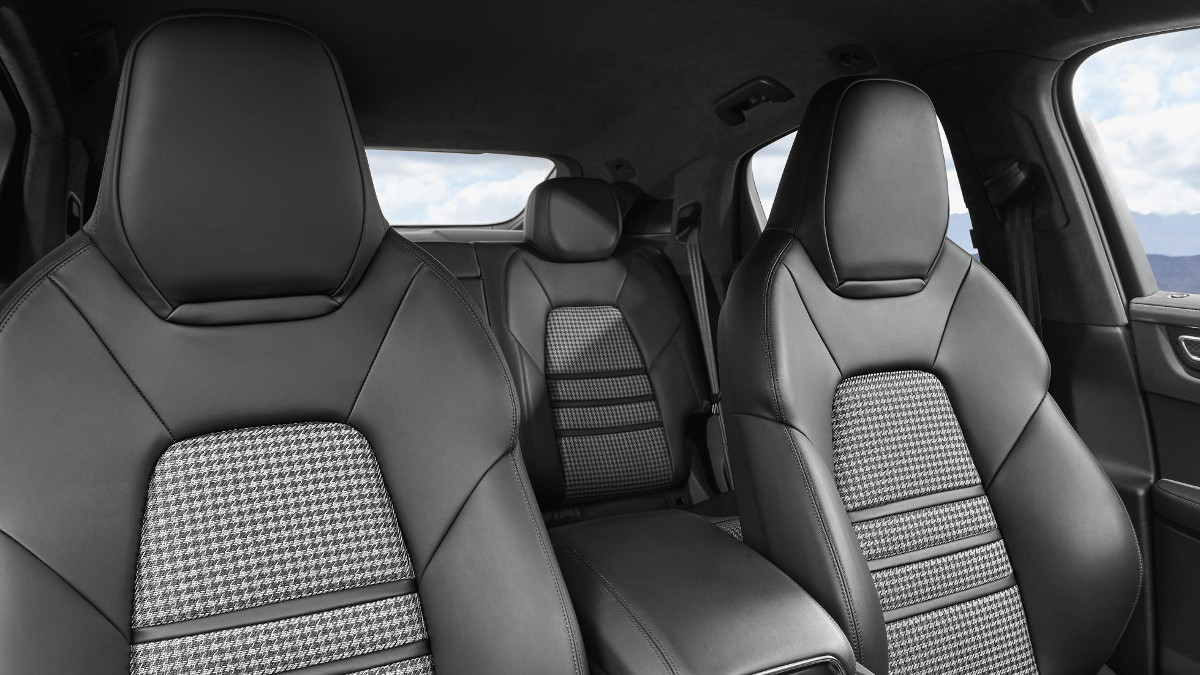 ADVERTISEMENT - CONTINUE READING BELOW ↓
It's wise to start at the back, for that's where the Coupe differs over lesser Cayennes. While the Panamera's recently added Sport Turismo variant brought space alongside its svelter looks, the opposite has happened here.
The roof has dropped 20mm over the rear passengers' heads, and while their seats have been dropped accordingly, headroom does present itself as an issue for anyone measuring six feet or more, who'll find their head brushing the ceiling in a way it doesn't in a standard Cayenne. For anyone else, it should be cavernous.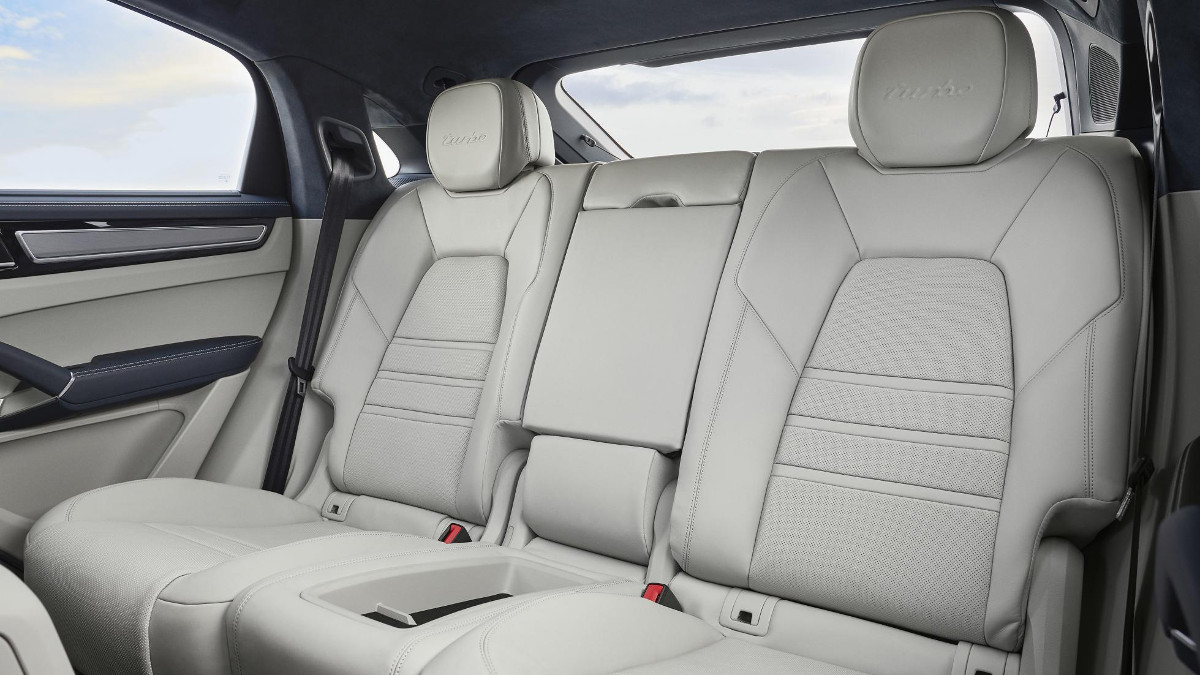 ADVERTISEMENT - CONTINUE READING BELOW ↓
The total boot capacity is down 145 liters with the seats up, 170 liters seats down, though at around 1,500 liters in the latter state it's still pretty roomy. Albeit with a fairly high floor for loading stuff onto.
If you want five seats, you can't have the carbon roof, which only comes as part of an incongruously named 'Lightweight Sport Package' that shaves arguably negligible kilos from a two-ton-plus SUV. You want a lightweight sporty Porsche, go buy a GT3.
In fact, trim and color options are dizzying, with Alcantara and leather seemingly ready to be draped alternately across every surface bar the windows. You even get a 911 R-esque houndstooth cloth pattern in the middle of the seats if you've spec'd the lightweight pack. Y'know, just to really stick two fingers up to the purists. It does look damn good, mind, especially with a suede-like steering wheel before it.
ADVERTISEMENT - CONTINUE READING BELOW ↓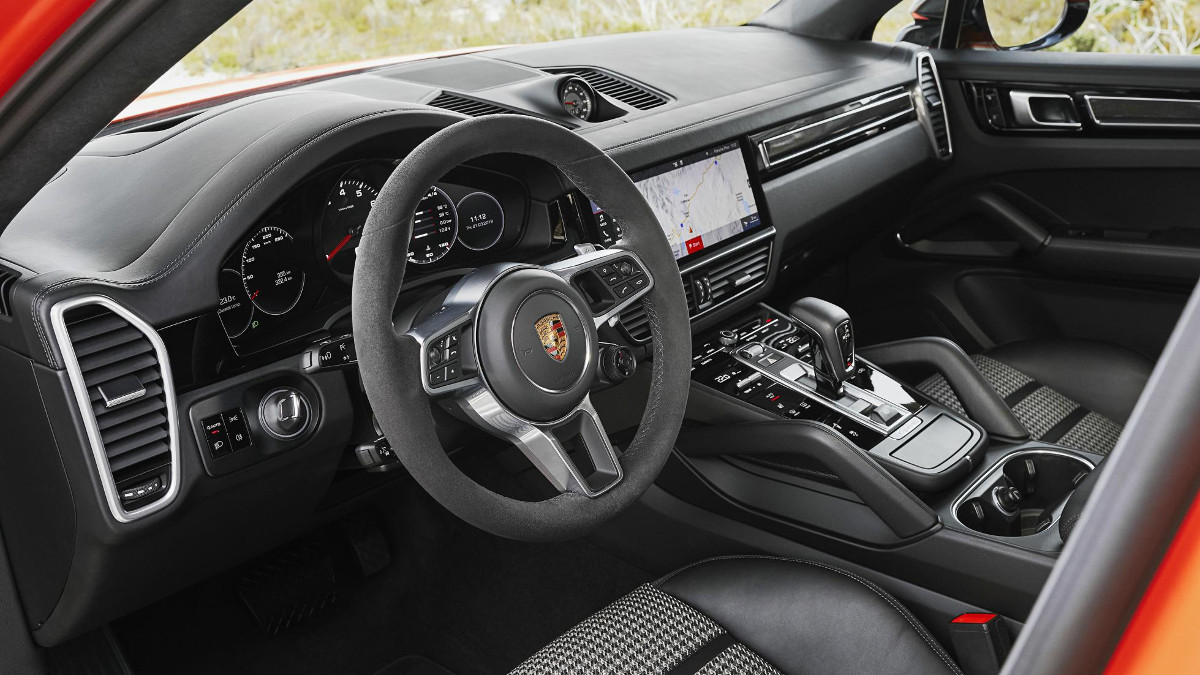 Up front, like all Cayennes, there's a mixture of glossy, haptic-feedback buttons and touchscreen functionality. It's all a bit dizzying at first, with much to get your head around, but spend a few hours in the car and you ought to suss out what's what. The widescreen nav display is especially satisfying, though it's not as traffic smart as the best phone apps.
ADVERTISEMENT - CONTINUE READING BELOW ↓
In keeping with its enthusiast ethos, Porsche has stuck with a fixed analog rev counter slap bang in the middle of the dial display, and much of the digital display around it is configurable to your needs and desires. A head-up display is optional and perhaps wise if you're to avoid troubling yourself with all the readouts you can have staring back at you from behind the steering wheel.
Options and costs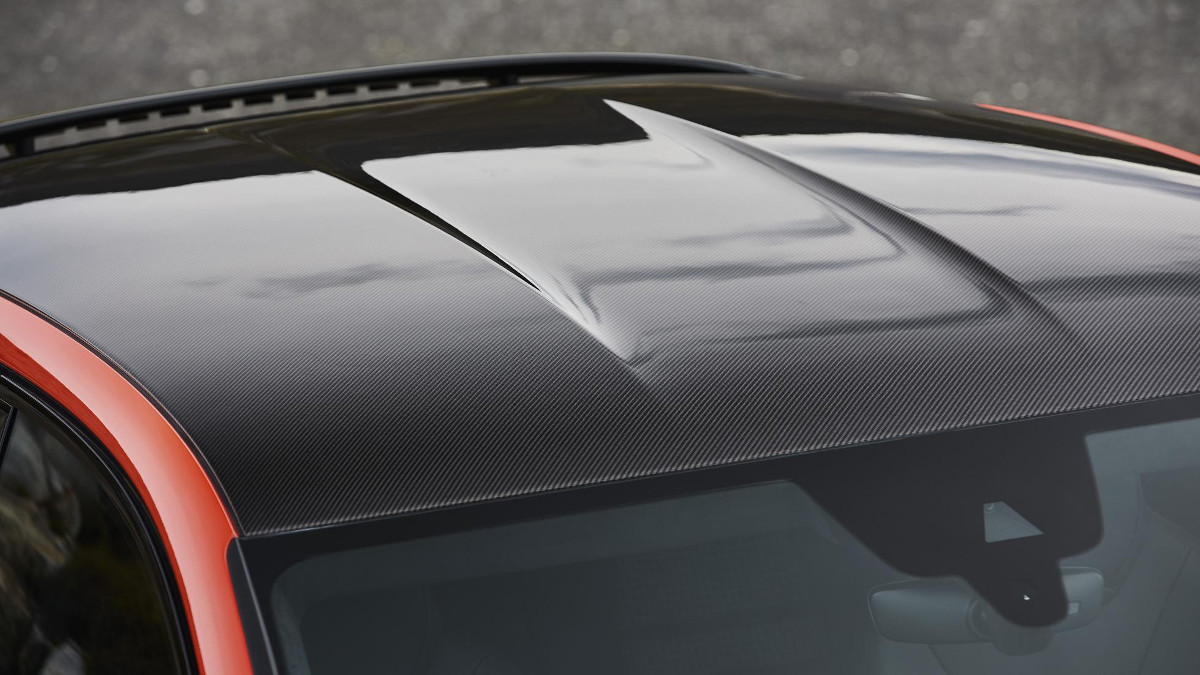 ADVERTISEMENT - CONTINUE READING BELOW ↓
Spec'ing a Cayenne Coupe looks complex enough to give anyone a headache. Chief is working out whether you want four or five seats; the latter can't be twinned with that Lightweight Sport Package (and hence the carbon roof), but if you're thinking of occasionally carrying an extra person then carting around the 22kg that kit saves will hardly be a concern.
Over and above a standard Cayenne, the Coupe gets front and rear parking cameras, Sport Chrono (and its adjustable driving modes) and adaptive suspension as standard, helping justify its additional cost.
But Porsche is otherwise as stingy as usual with the options. Ceramic brakes, four-wheel steering, torque vectoring and a sports exhaust are all optional, even on the top-spec Turbo. It'll enlarge your bill by nearly ten grand if you want them all.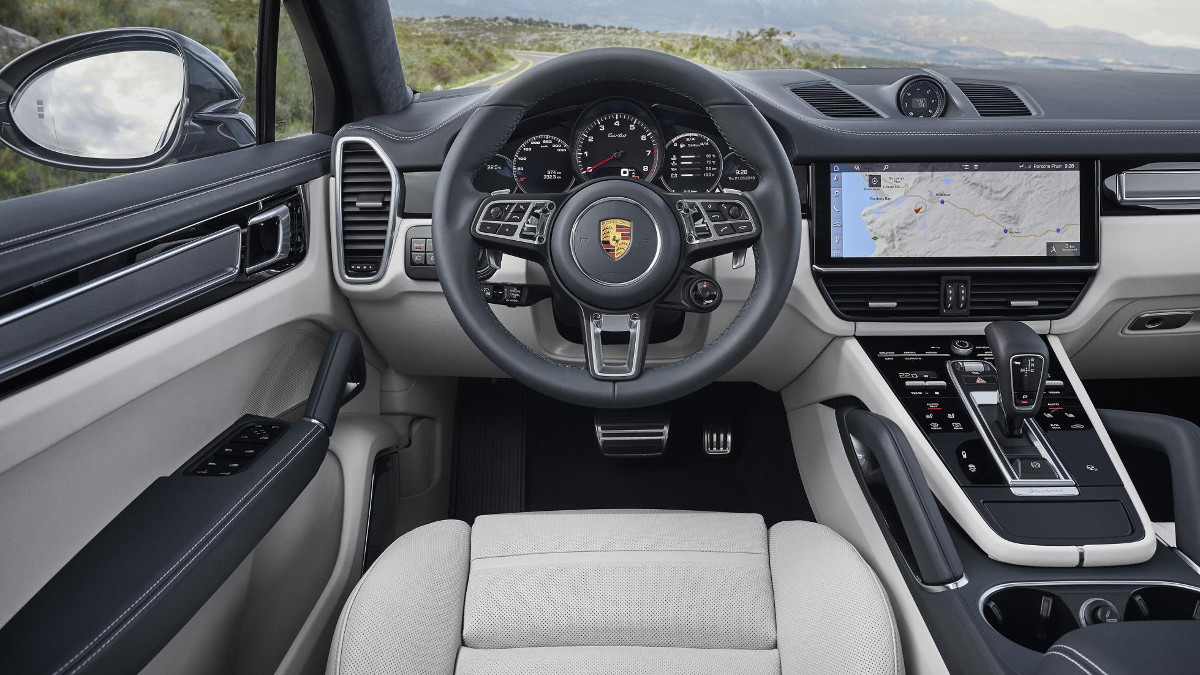 ADVERTISEMENT - CONTINUE READING BELOW ↓
Four-wheel steering is a modest addition on top of the asking price and will likely have the most tangibly positive effect in real-world driving (likewise adding it to a standard Cayenne will replicate much of the Coupe's supposed additional sharpness), but you'd be wise to beef up brakes if you plan on actually hustling your Cayenne along regularly, too, even if the ceramics are a major outlay. As much as six grand depending on engine variant.
Final thoughts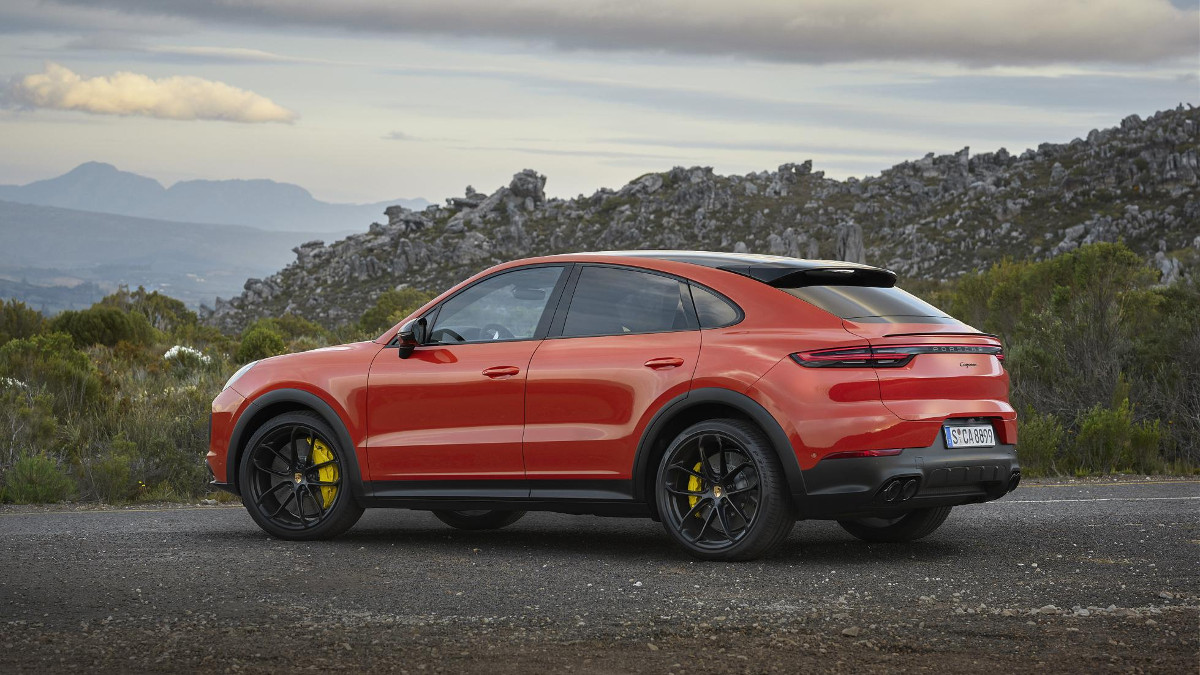 ADVERTISEMENT - CONTINUE READING BELOW ↓
Objectively, this is a stupendous achievement, another large, very heavy SUV that genuinely drives with sports car (ish) vigor. So long as you've ticked the right chassis options, mind.
Subjectively? That's your call. If the swelling ranks of low-slung SUVs haven't grotesquely offended you then this could be the Cayenne you've been waiting for, a long 11 years after the BMW X6 first arrived.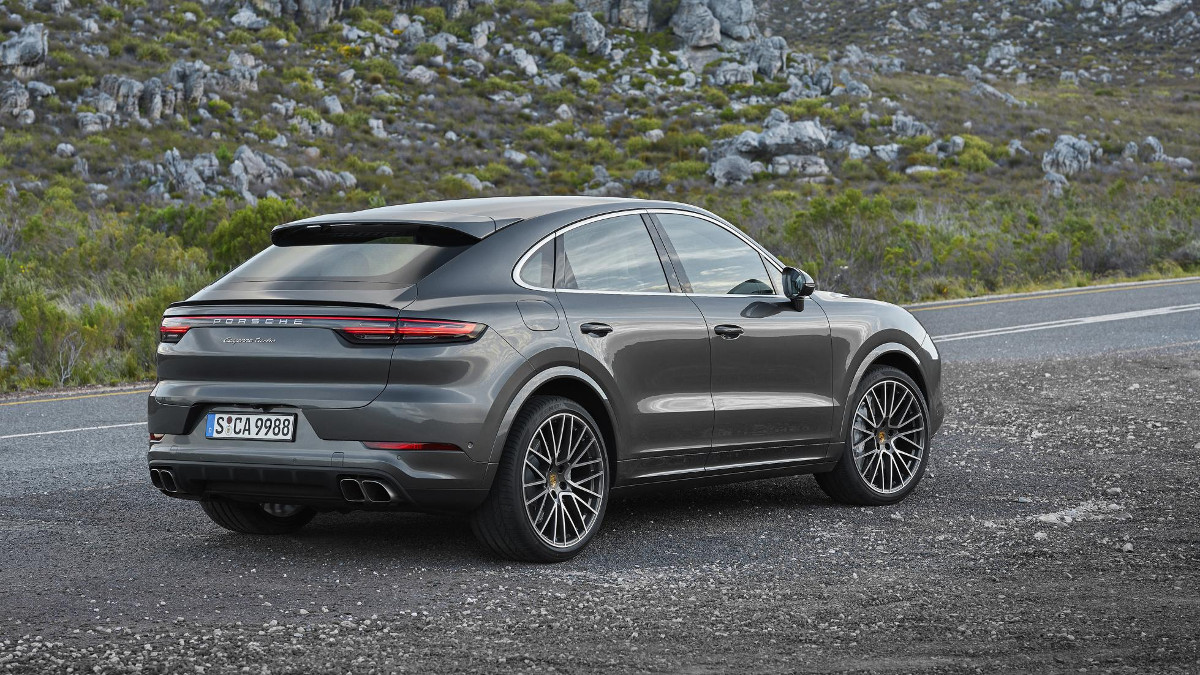 ADVERTISEMENT - CONTINUE READING BELOW ↓
NOTE: This article first appeared on TopGear.com. Minor edits have been made.