What is it?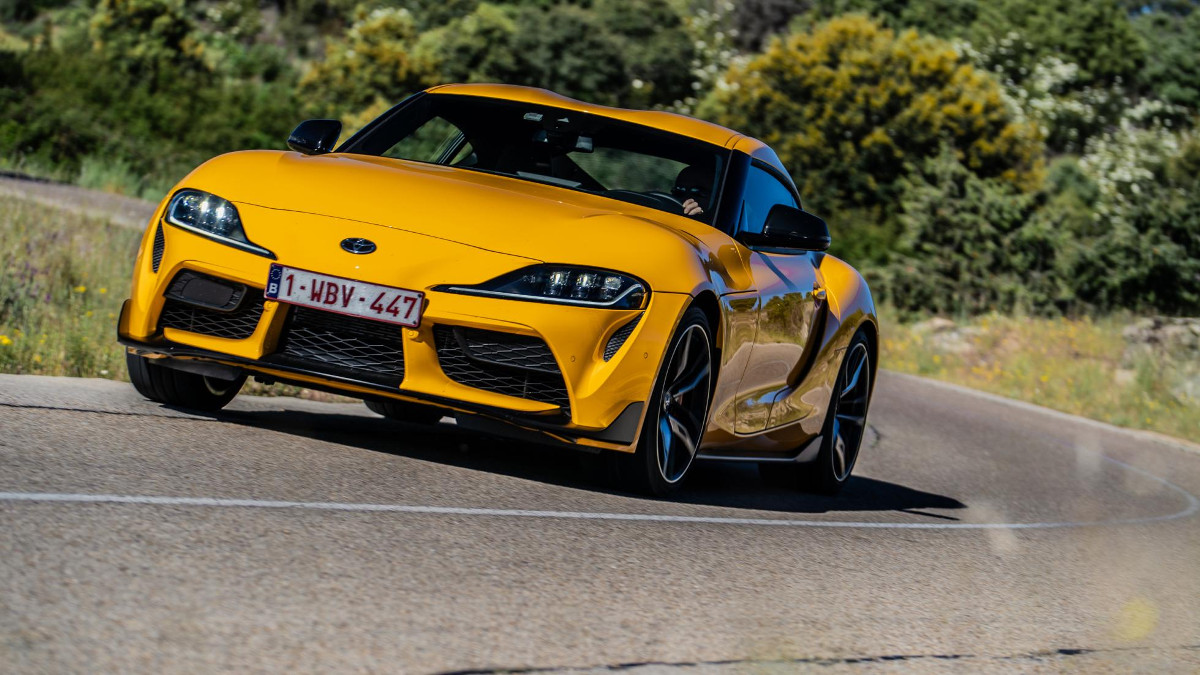 A car that's been seven years in gestation. Twenty-one years since the badge last appeared. Yet still it resonates. Supra. We first had it confirmed at the Detroit Motor Show back in 2014, when it was called the FT-1 Concept. Since then, much controversy. Mostly as a result of Toyota's partnership with BMW.
Underneath, the Supra shares a platform, running gear, engine, gearbox, and large chunks of the interior with the latest BMW Z4. Another example of Toyota partnering with other marques to make the economics work (see also 86/Subaru BRZ, and Aygo/Peugeot 108/Citroen C1).
But this partnership is different, because the Supra matters. It's not a run-of-the-mill hatchback or a newly introduced small coupe. The Supra badge has history, a history that places it front and center in Japanese car culture alongside the Honda NSX and the Nissan GT-R.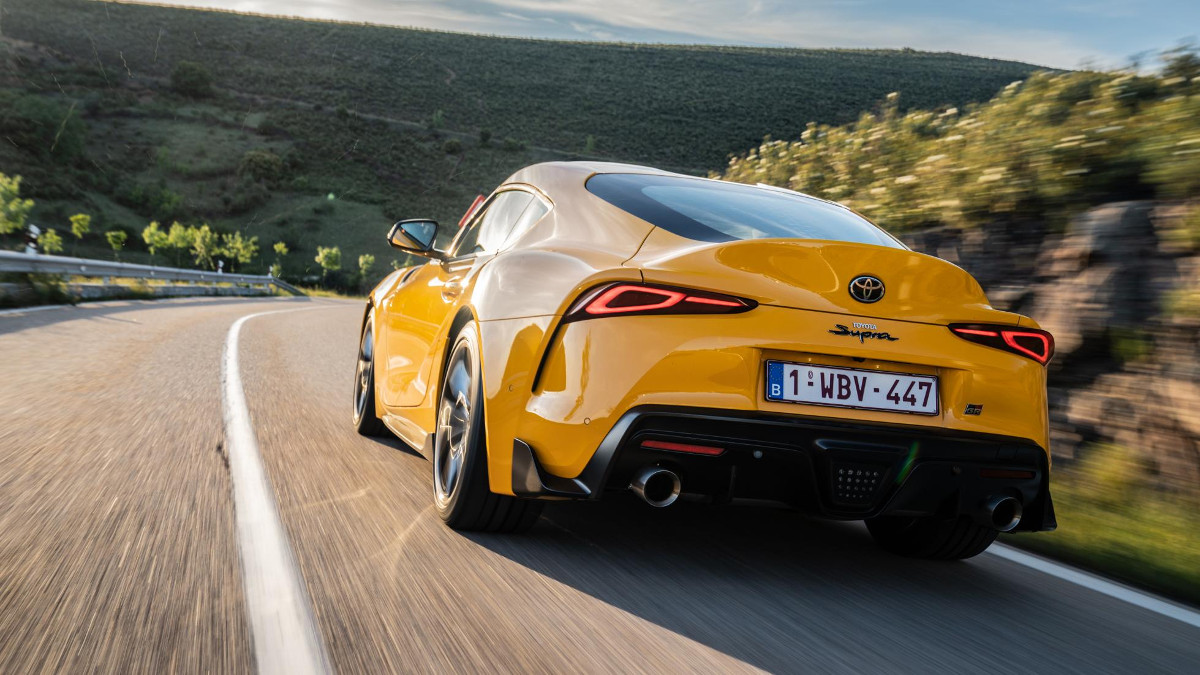 ADVERTISEMENT - CONTINUE READING BELOW ↓
It's a car about which the president of the company, Akio Toyoda, a known petrolhead, has said, "Supra is like an old friend that holds a special place in my heart," and yet rather than building a bespoke halo car from scratch, the world's largest car company has chosen to ship in large chunks of a moderately well-regarded German roadster. And build it in Austria.
Of course, Toyota's version is different, but here's the crux: Toyota has history with the straight-six layout. The new Supra would have to use it. But Toyota doesn't build them anymore, and doing so, according to chief engineer Tetsuya Tada, would have needed not only an all-new engine design, but a whole engine plant. Not viable. So they needed a partner, and as far as straight-sixes go, BMW is about the only option.
The Toyota and BMW teams then worked together to develop their ideas into a prototype, based around a 2-Series coupe with a shortened wheelbase, nicknamed Fullrunner. This was driven by the boards of BMW and, after being shipped to Japan, the boards of Toyota. It was given the go-ahead, and the two teams separated and developed their cars themselves. Tada-san only drove a Z4 just before it went into production.
Enough background. The Supra is better-looking than the Z4, no doubt about it. It's well proportioned and voluptuous; you know exactly where the engine is and which are the driven wheels. But step up close. See the vents on the hood, the doors, under the headlights, and the taillights? They're fake. All of them.
ADVERTISEMENT - CONTINUE READING BELOW ↓
Recommended Videos
Under the hood sits BMW's B58 single-turbo 3.0-liter straight-six, retuned by Toyota, but still developing identical power figures (335hp and 500Nm of torque) to the Z4 M40i. This is sent to the rear wheels via an eight-speed automatic transmission. Nil to 100kph takes roughly 4.5sec, top speed is 250kph. Only two seats inside, hatchback trunk at the rear. The body is more rigid than the Lexus LFA's, weight distribution is 50:50.
Leaving aside the BMW controversy, you've got to admit it looks good on paper.
On the road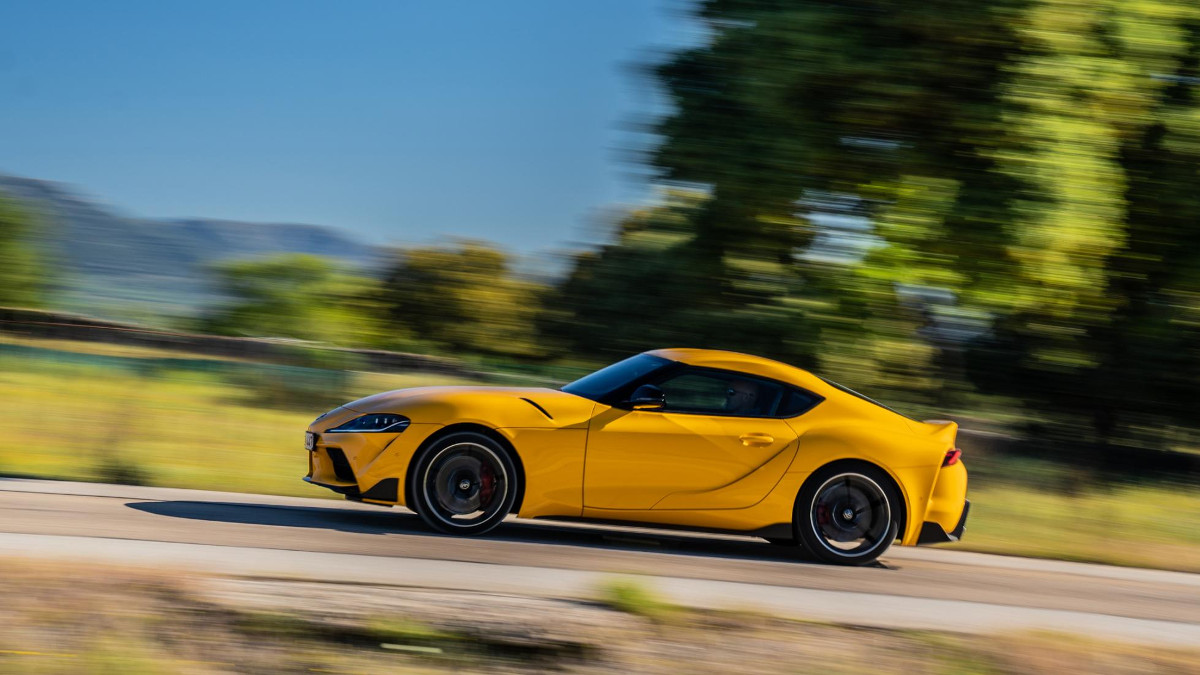 ADVERTISEMENT - CONTINUE READING BELOW ↓
It's really good to drive. Cue relief. It's crisp, responsive, well-connected, confidence-inspiring, and quick. If you're considering a Porsche 718 Cayman, then you really should drive a Toyota Supra. The BMW Z4 isn't really a rival—too much of a cruiser (the dynamics are sharp enough, but the image and attitude aren't) and hardly a looker. It was Toyota that demanded the short wheelbase that's done the BMW no favors.
It's the fact that Toyota has been able to take the same mechanicals as BMW and shape them into a proper sports car that's perhaps the most impressive aspect of the Supra. But it's not all completely successful, so let's start there. The eight-speed automatic just about passes muster as a sports transmission, but it's a close-run thing. Requested paddle downshifts can be a fraction delayed, upshifts can surge.
Similarly, the engine: plenty of midrange shove, but not much point venturing beyond 5,500rpm. Nor that much further before the auto change up point at 6,500rpm, either. The brakes (vented, but not cross-drilled; no ceramic option) do fade, and could be more precise underfoot.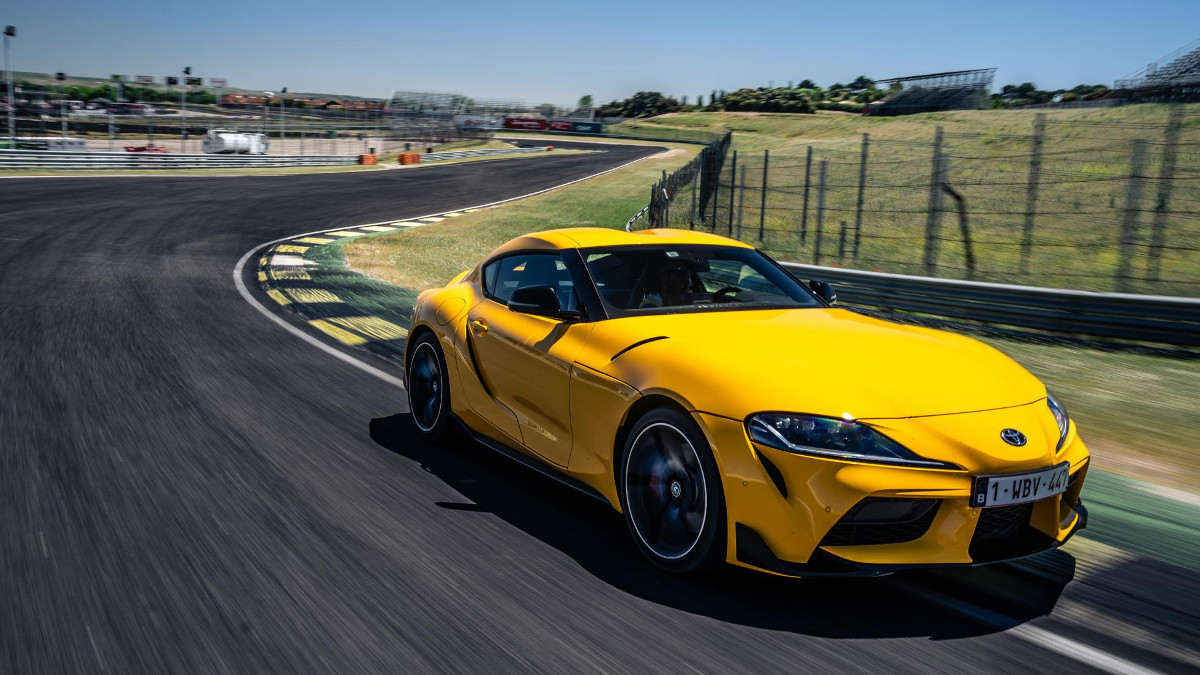 But the good stuff dominates. Here is a car that's really well-connected. The front wheels unfailingly go where you aim them, and the rear axle is communicative and well-supported. What this means is the Supra moves into corners well, and gets out of them well, too. Actual steering feel? Not really, but the steering setup in Sport (that or Normal are your only choices) is lovely, well-weighted, and responsive. It's too light in Normal. Turn-in is positive, roll is very well-contained, and overall, the car feels agile, almost as if it has four-wheel steering (it doesn't), thanks to the short 2,470mm wheelbase.
It's friendly over a wide range—you can choose to brake deep into an apex, or you can go in gently and power out. Nothing much flusters it. It doesn't succumb suddenly to either understeer or oversteer, because there's enough information coming to you that you're already on top of the situation. If you do choose to, er, exploit the edges of the performance envelope, you'll be glad to hear it settles into oversteer with aplomb, has enough power to perform in third gear, enough lock to save most blushes.
On to more relevant things. It rides calmly. This is surprising. Given the Supra's accuracy, you'd imagine it to be potentially brittle, but actually it flows along, relatively undistracted by lumps and bumps. Each wheel is very well-controlled. Nor is NVH an issue. You could easily imagine settling in for a long trip. It's certainly quieter on the road than a Cayman, more settled than a BMW M2 Competition, if not as deft as an Alpine A110.
ADVERTISEMENT - CONTINUE READING BELOW ↓
Which brings me on to weight. It's not Alpine light obviously, but it's more agile than the 1,495kg curb weight would suggest. I'd guessed 100kg less before reading the literature. And before you ask, it's 115kg lighter than the equivalent Z4, the 1610kg M40i.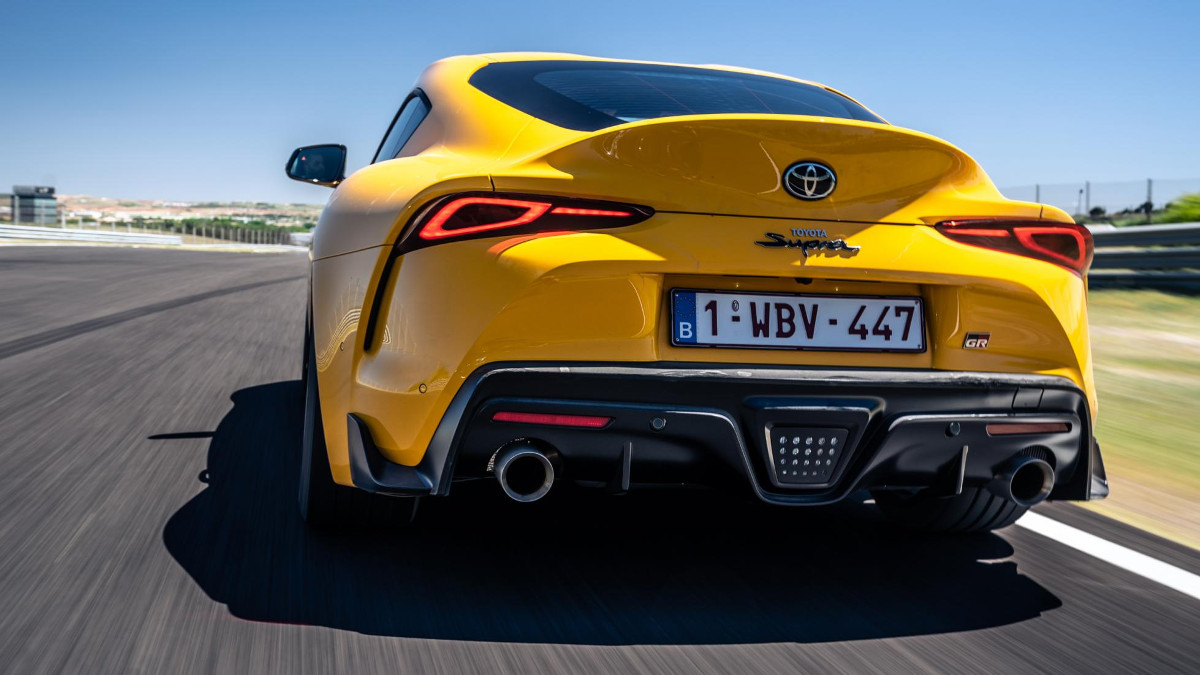 Okay, that's got that out the way. Taken in isolation and ignoring lurking elephants, the Supra is great to drive. I deeply enjoyed it, wanted to spend more time in it. But it doesn't half-feel like a BMW. It's the engine that does it. Toyota claims to have worked on the torque characteristics and so on, but the noise, the feel, the interaction is pure BMW. Engines are often what we fall in love with and Japanese straight-sixes have a reputation to uphold, the old Supra's 2JZ unit especially.
What price individuality? If you've never driven a recent BMW turbo—or something Japanese with a straight-six—you'll take this motor at face value and enjoy it (the Supra's certainly not short of pace), but if you care about the back story or have driven a 335i, I think you're going to feel puzzled.
And this complex gestation has another victim: charisma. Great cars are often great because they're flawed or highly individual, but the Supra feels confused—part-German, part-Japanese, not quite knowing what it is. Still, it does drive well.
On the inside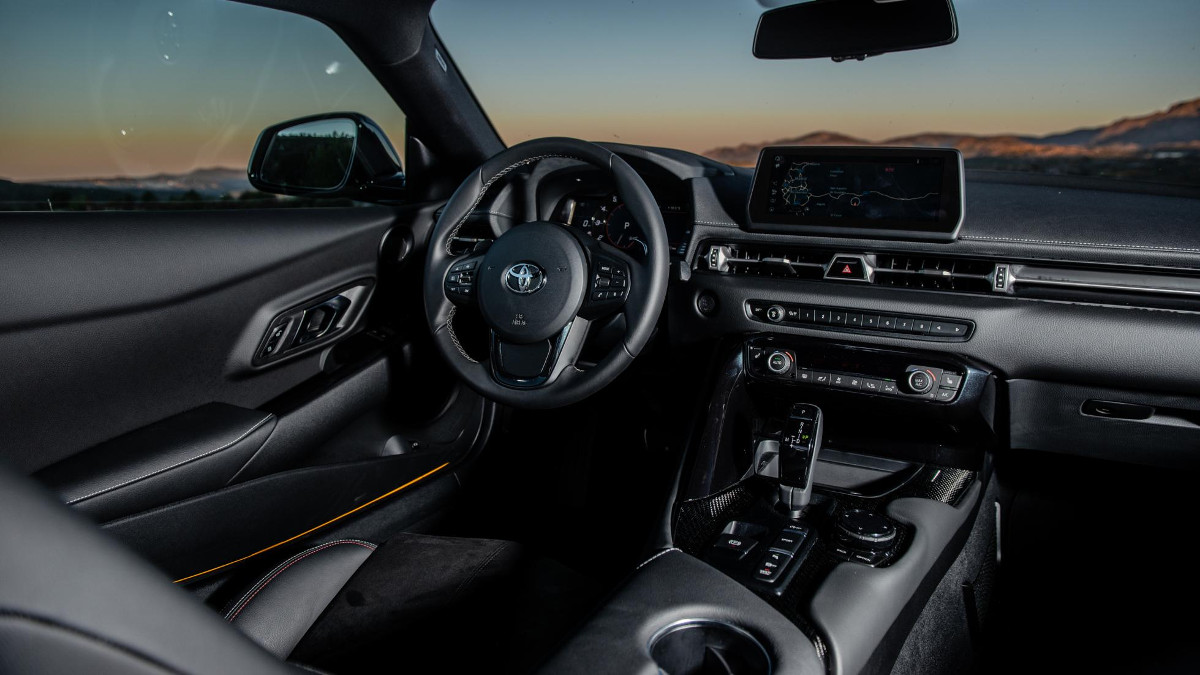 So here's the thing. We can forgive the BMW engine. But it's hard to forgive the cabin. The Supra is a BMW inside. This means it's got material quality and tactility it wouldn't have had otherwise, and some people will see that as a plus. And once again, if you aren't familiar with BMW, it's not going to offend you. But here's Toyota, the world's largest car company, having to wedge in large chunks of BMW switchgear. It's just odd.
ADVERTISEMENT - CONTINUE READING BELOW ↓
There's a reason, unsurprisingly: The engine can't come solus—you need all the management software with it. Which means you have to have iDrive. Which means you have to have the screens, which means that—unless you're prepared to spend millions and millions—you have to have the typefaces and so on.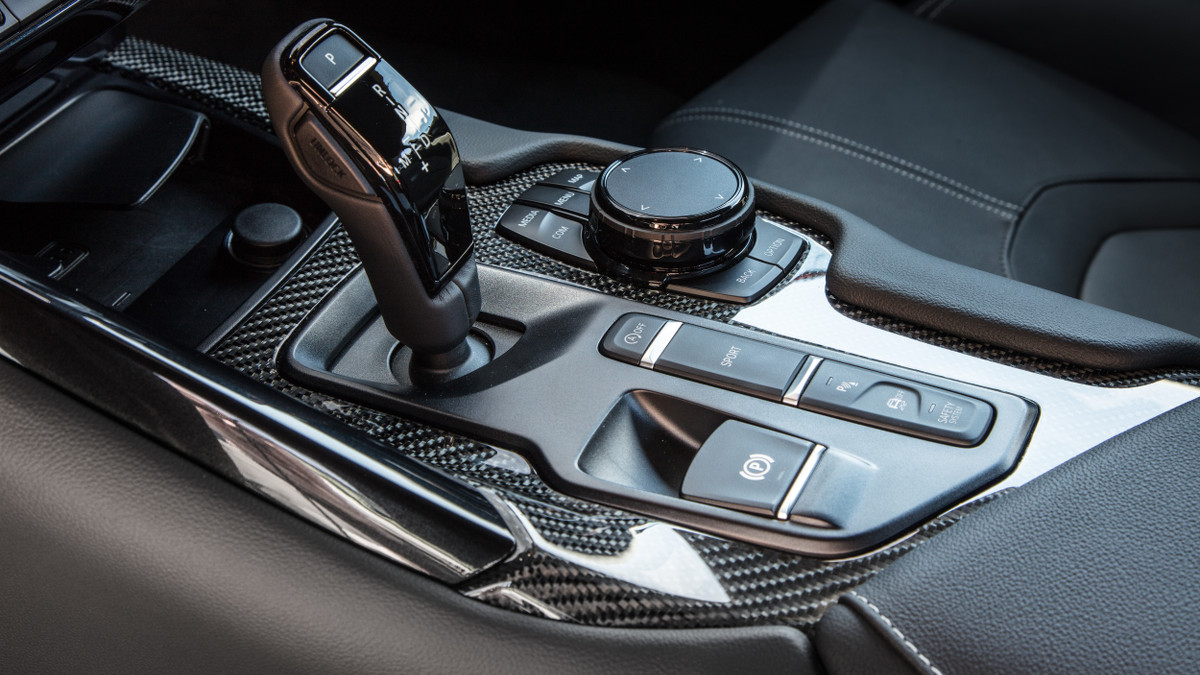 Toyota looked at doing it, and did do it for the safety alerts in the Supra. That alone required rewriting 20,000 lines of code. The complications of platform sharing in the modern age are ridiculous. The rev counter is Toyota's own, the steering wheel definitely isn't. Same goes for the heating controls, the graphics, the USB slots, the switchgear, the door handles, and so on.
Ignoring the BMW influences, then: The driving position is great. You sit low, the standard seats wrap around your back a treat (they have adjustable side bolsters, but the seat bases aren't so impressive). Over-the-shoulder visibility is horrible, but elsewhere, it's good enough. Two people have space inside, and the rear cargo area is much more generous than the 290-liter claimed volume suggests. A bit of jiggling has the parcel shelf out and you can always rest long loads on the bulkhead fire extinguisher, can't you?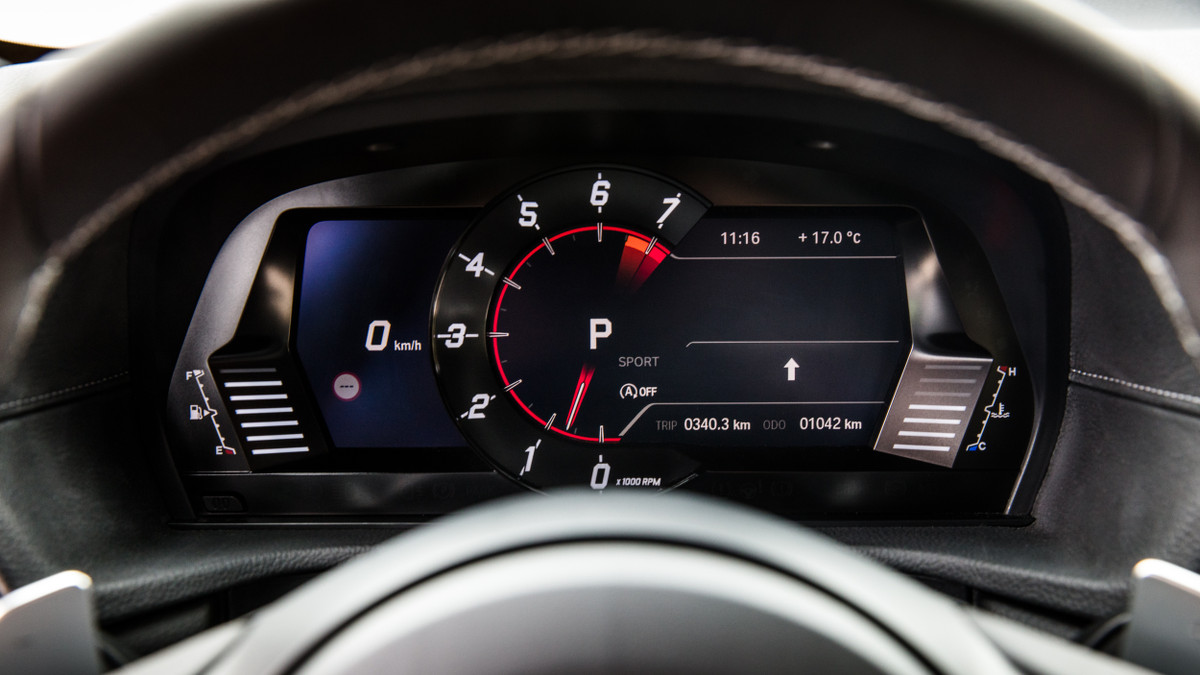 The infotainment is intuitive (if it had been Toyota's, it wouldn't have been), and kit levels are good. Base versions in the UK get a rear camera, electric alcantara seats with heating and cooling, 10-speaker audio, a satnav, adaptive LED lights, adaptive suspension, an active differential, and adaptive cruise, but 99% of buyers are expected to spend extra for the Pro. Be the 1%. The leather seats are inferior to alcantara and the head-up display is a distraction.
Final thoughts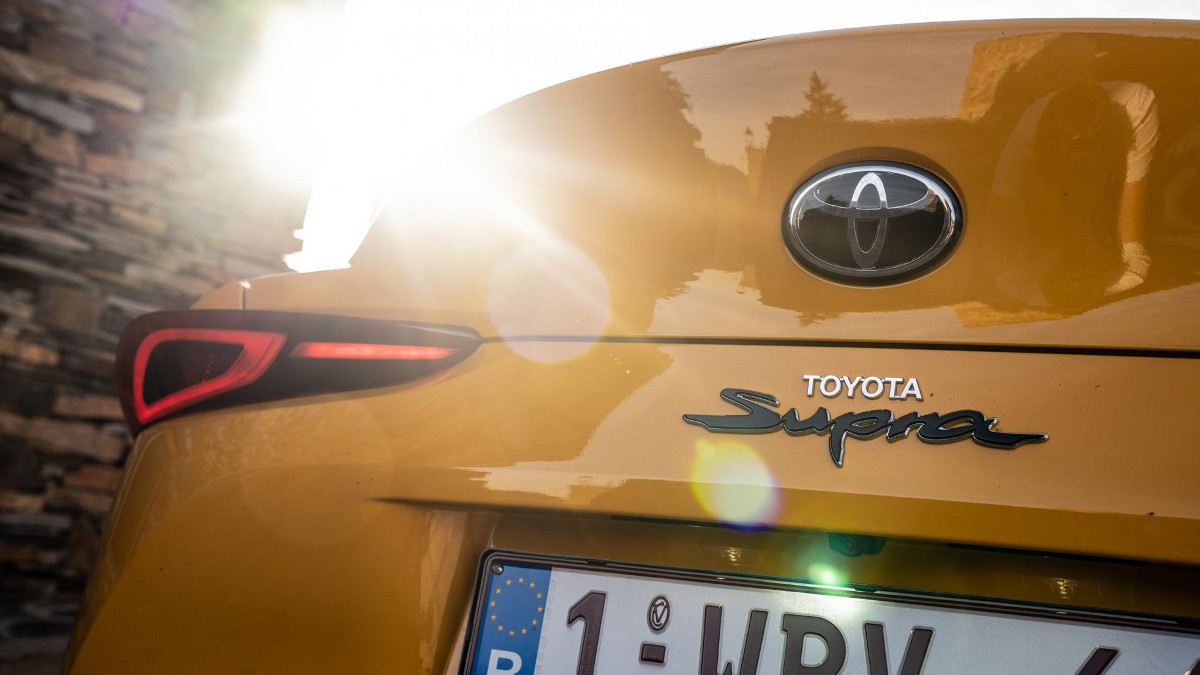 ADVERTISEMENT - CONTINUE READING BELOW ↓
Toyota builds a better BMW. It's impossible to separate the new Supra from its underpinnings—not least beause they stare you in the face when you get in. But equally, that opening statement holds true: Toyota has built a very talented driver's car.
It's as if its engineers, having been landed with a package of BMW bits, squared their shoulders and decided to prove a point. It might not be the most charismatic car (how could it be with its confused upbringing?), but it does know how to get down a difficult road. Or around a track. Or along a highway.
It's a very complete coupe. Big enough inside, well-equipped, handsome, rapid, and good-natured. It's grownup yet compact, agile yet smooth. It's a clever piece of engineering. A car you'd enjoy driving anywhere, a car that probably strikes the best compromise of GT and sportiness of any car in its class.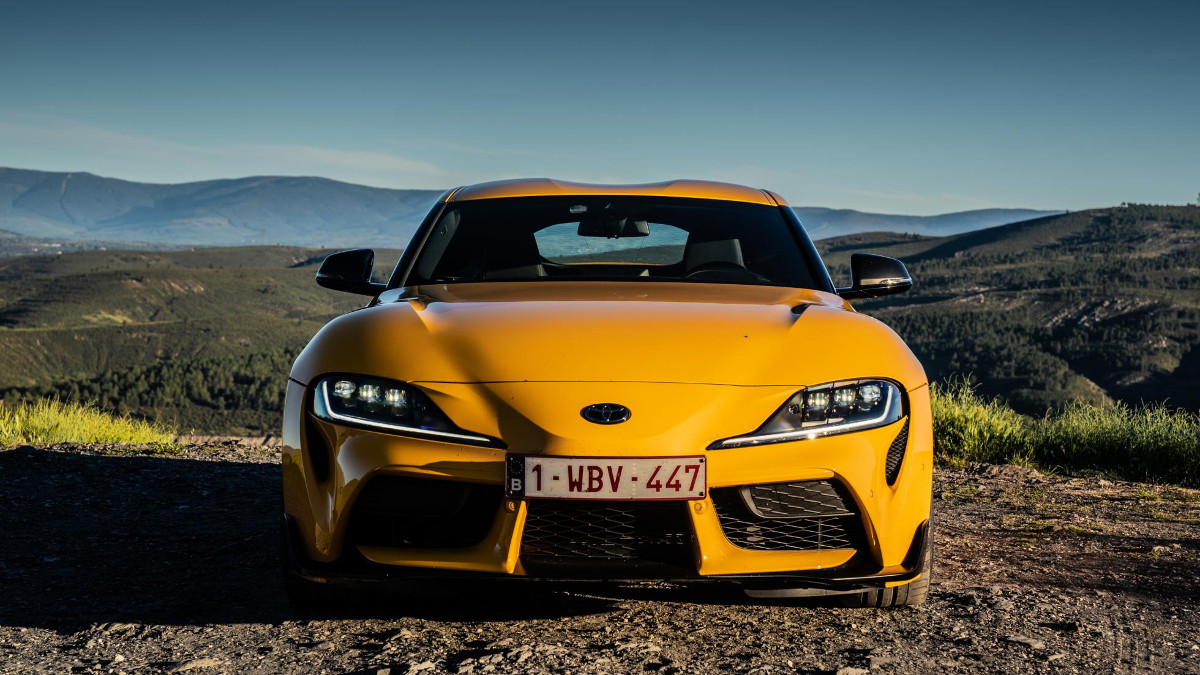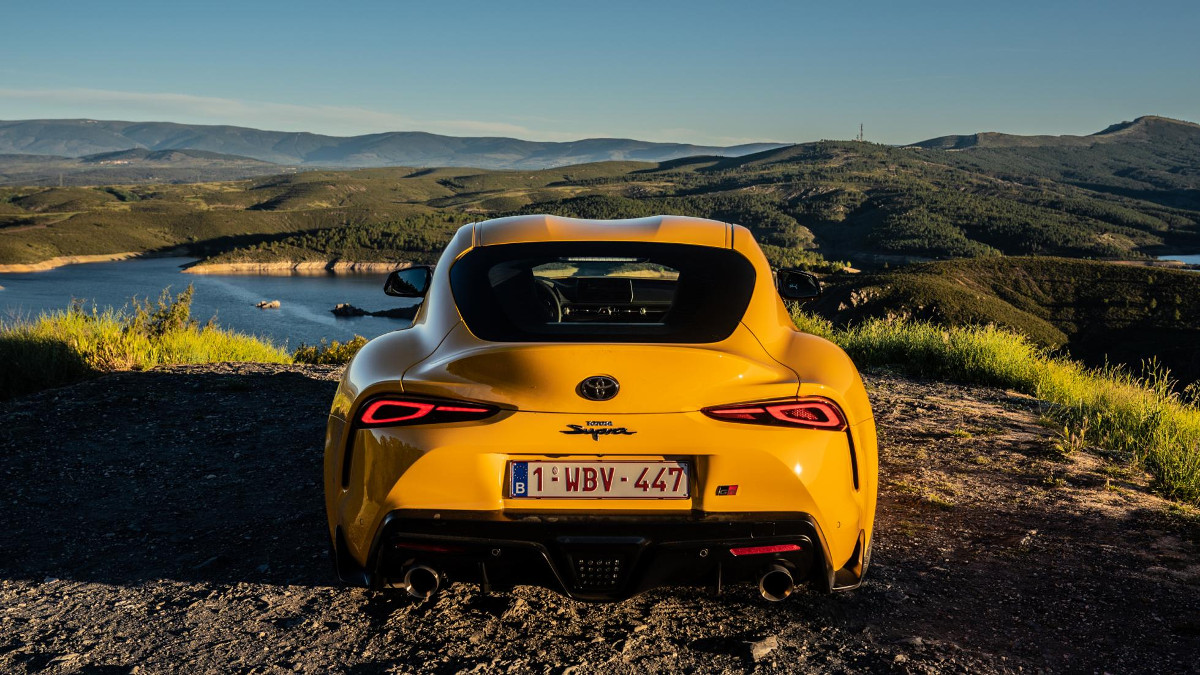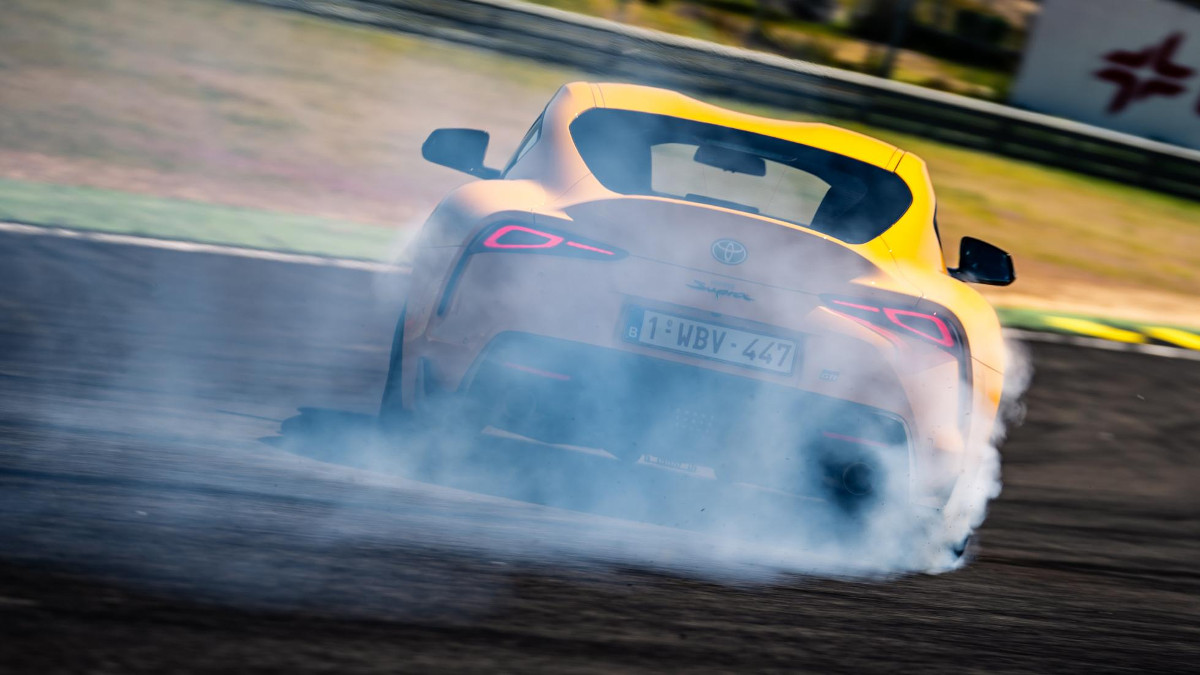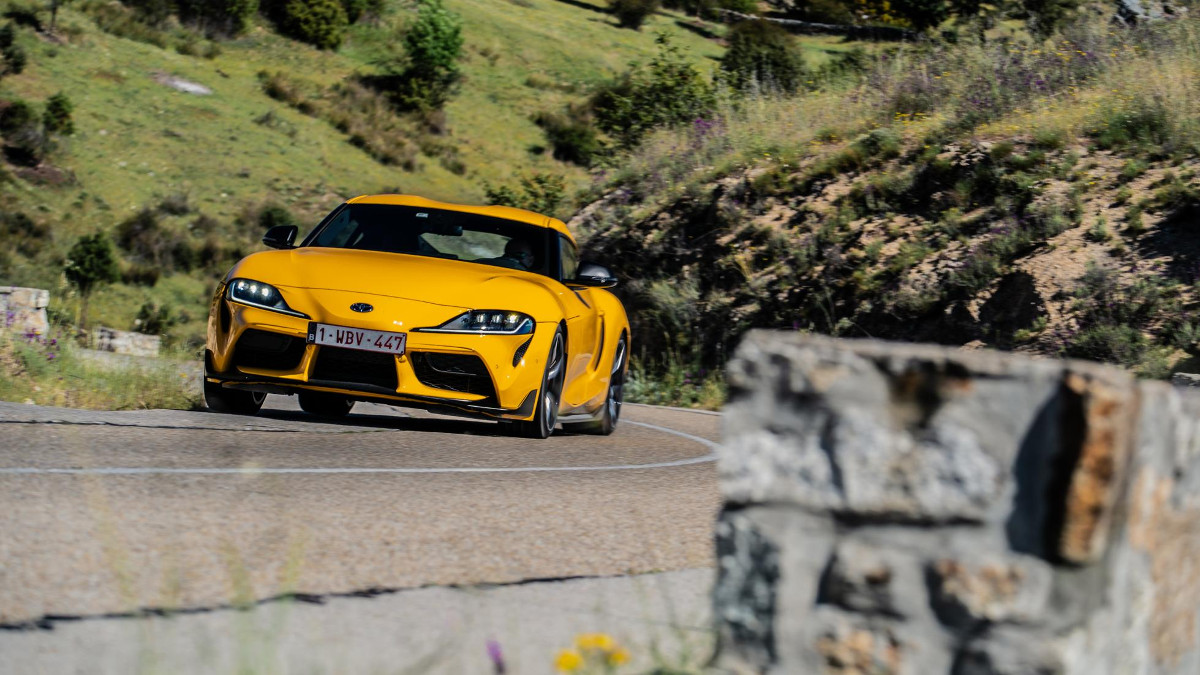 ADVERTISEMENT - CONTINUE READING BELOW ↓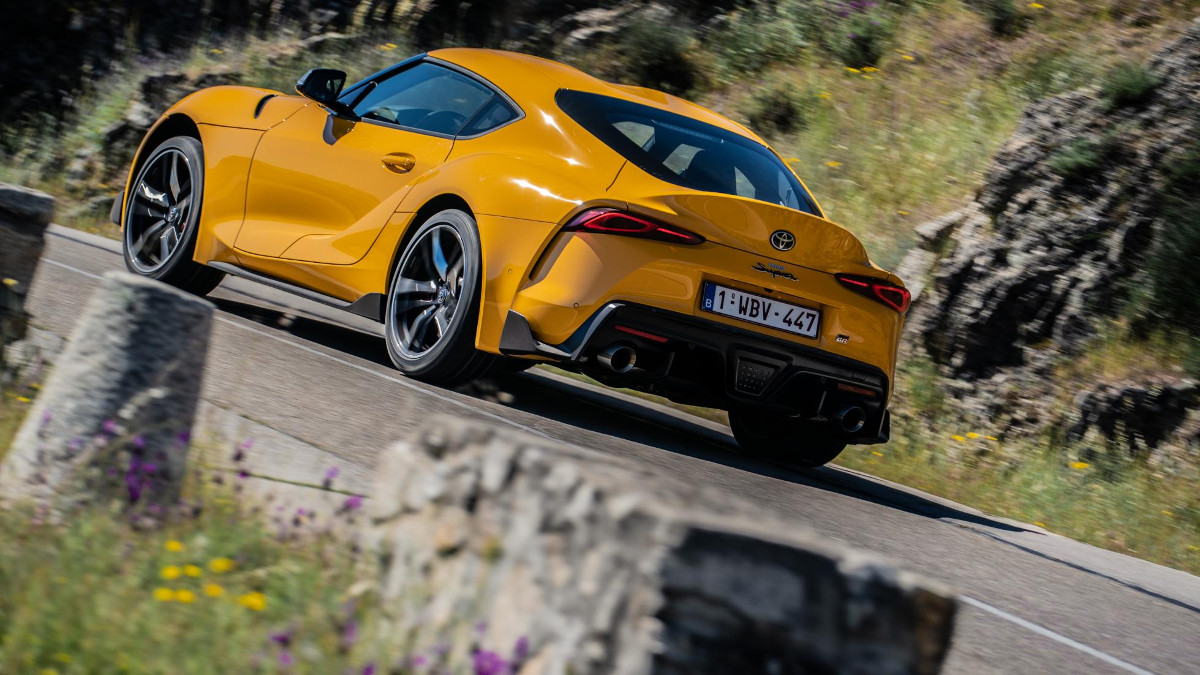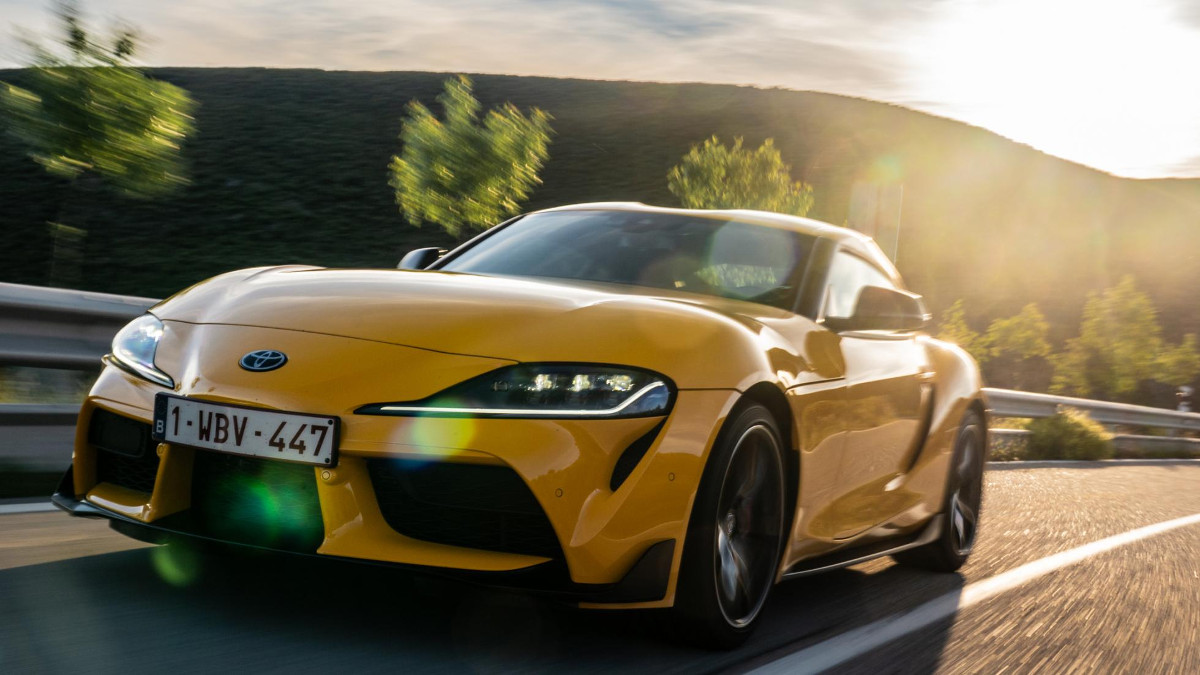 NOTE: This article first appeared on TopGear.com. Minor edits have been made.