I have always wanted a Jeep Wrangler. Jeep is just one of those brands that exudes personality in a way that makes other marques go green with envy. Of the cars I've driven, the Wrangler is also the one that has garnered by far the most attention from the opposite sex. Yes, for many of my girl friends, this vehicle is their ultimate car crush.
What makes it so special, though? It stems from the extremely rugged, go-anywhere, do-anything looks. Basically it's Henry Cavill in car form. The question is, is this worthy of the Justice League? Or is it just Batman v Superman all over again?
To help us answer that, Jeep lent us the Wrangler for a weekend with one slightly huge caveat: We were not allowed to take the off-road machine off the road—a move akin to the carmaker shooting themselves in the foot.
The problem here is, like all cars, off-road vehicles like the Wrangler are built on compromise. What makes this thing an absolute beast off-road frankly makes it terrible to drive on the road. Alas, that is the hand we were dealt, so let's see if this iconic 4x4 can cut it on sealed surfaces.
Continue reading below ↓
Recommended Videos
Styling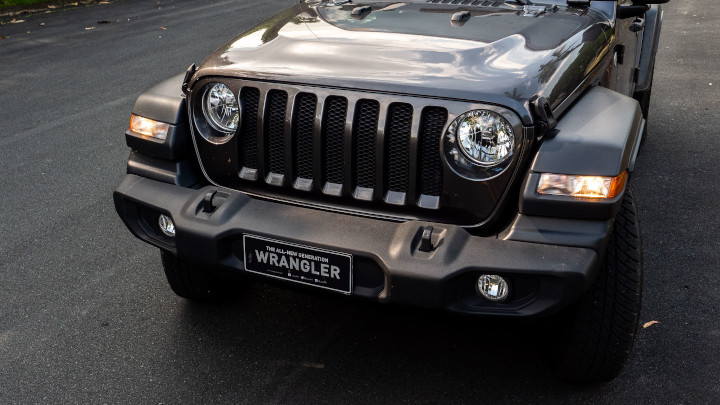 In a word: rugged. Any way you look at it, the Wrangler embodies machismo. Like a bodybuilder, it flexes in the most important of places. The grille is the same iconic shape that graces the front ends of even its half-breed cousins plying Blumentritt and Aurora. The fenders reach out and threaten to snag cars that are careless to get too close. The almost-vertical windshield has been a staple for the model since its early beginnings in World War 2.
The Wrangler eschews practicality and places its spare tire where it should be, on the rear split tailgate. The boxy Jeep is a marvel to behold, easily showcasing what every off-roader wishes it could look like when it grows up.
The doors and the roof are completely removable for that genuine Jeep experience. While the front section of the roof can be removed in seconds with a few easy levers, the roof from the second row to the rear requires some tools as well as a second set of hands for support.
Overall, this is the most butch vehicle you can buy, and judging from my friends' reactions, as 'laglag-panty' as a car can get, allegedly.
Interior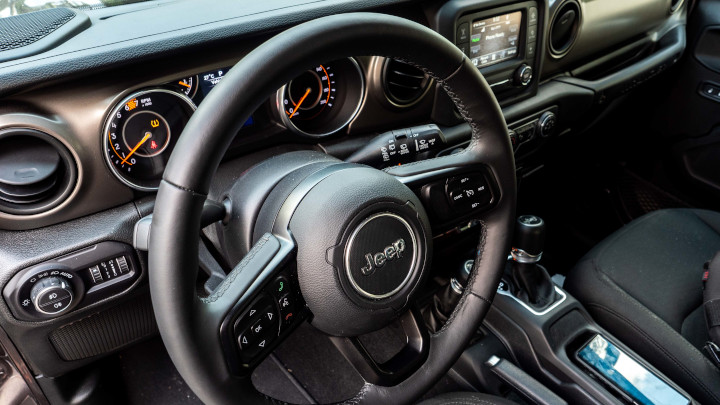 While the interior materials aren't that great, the choices of plastics and rubber do make the cabin seem more rugged than that of your average car. While a bit tame, there are some nice touches that make the Wrangler stand out—for instance, some of the buttons and switches have an image of a Jeep on them instead of a regular car. Cute.
Sadly, that attention to detail is let down by the limitations of having a car whose roof and doors are designed to regularly come off. The door electronics are haphazardly wired up to the side of the door, and actually rub against your leg as you drive (annoying). While I understand this is to make disconnecting them easier, I feel it could have been done with a little bit more finesse.
The seats are a bit firm, but are generally acceptable if a bit upright for my liking. It does offer a commanding view of the road, but it starts to wear thin after a few hours of driving.
Engine performance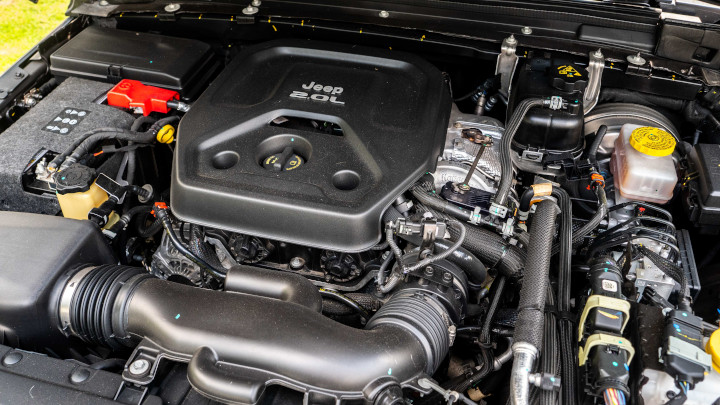 There's really not much to say about engine performance. The Jeep has a 2.0-liter turbopetrol engine with around 268hp and 400Nm of torque. It is mated to an eight-speed automatic transmission and four-wheel-drive system. The combination is perfectly adequate.
Power is good for overtaking, and while the car is definitely the farthest thing from a sports car, it is enough to make you forget that the older Jeeps were equipped with more covetable six- and eight-cylinder engines.
Ride and handling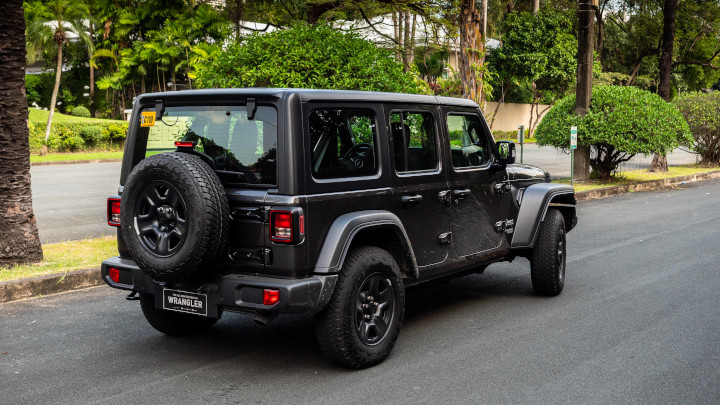 Since we were not allowed to take the Jeep off-road, this section is entirely from an on-road perspective, which is unfortunate because the vehicle was borderline undrivable. Everything that makes the Wrangler great to drive on the toughest of off-road trails makes it awkward and uncomfortable on the highway.
On the highway, the electro-hydraulic recirculating-ball power steering—which works great at dampening off-road bumps—feels...in a word, vague. The steering is so loose that you can wiggle the tiller quite hard at 100kph and the vehicle wouldn't even flinch. The result is that you're constantly correcting the steering as you bounce from end to end of your lane like a bowling ball with the gutter aids turned on. This alone makes the Jeep a hard car to recommend for city slickers.
The suspension, which is designed to cope with crazy rock steps and rutted trails, is similarly vague on sealed surfaces. While firmer than the underpinnings of older SUVs, it would benefit from a bit of a firming up (as long as we aren't talking about going off-road).
Finally, while the upright windshield and the fenders look cool, they cause an insane amount of wind roar at any speed above 80kph. It sounds louder than some motorcycle helmets I have used, and it makes for an unpleasant experience.
Frankly, this being an on-road review of an off-road machine, the vehicle's lackluster performance is unsurprising. I can only hope we have the chance to test the Wrangler in its element, but as it stands, its ride and handling on-road makes this Jeep a definite no-go if you never plan on taking it off the beaten path.
Extra features
Another sticking point with the new Wrangler is the questionable specifications of this particular variant.
Firstly, how can a car at this price not have a backup camera? This is especially egregious as your rear visibility is taken up by your spare tire. Yes, some would argue that the car is equipped with parking sensors anyway, but to them, I say: How can the most entry-level of Kias and Toyotas have backup cameras, while this P3,590,000 premium SUV does not?
Also, the infotainment setup—Jeep's in-house Uconnect system—is quite dated. There is no Apple Carplay or Android Auto, and the screen is so low-resolution that you would wish you had splurged for the higher-end sound system when spec'ing yours out. At the very least, the eight-speaker sound system is remarkably competent—handy when you need to crank it up to drown out the wind roar at speed.
Finally, for a vehicle touted as 'Trail Rated,' this vehicle is a bit lacking in off-road features. While I understand that this is the entry-level Wrangler, the only off-road features the car has are a 4WD transfer case and a low-range gearbox. The space for all the high-tech sway-bar disconnect switches and the center and rear lockers is just a cubby hole in this model—a stark reminder that you've bought the entry-level Jeep.
Verdict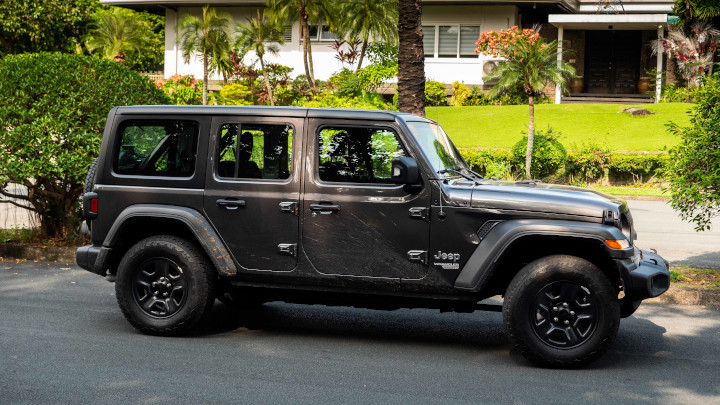 I really, really, really wanted to love the Jeep Wrangler. Nothing comes even remotely close to it in terms of its macho aura, but—and it's a big but—having only tested the car on-road, I have to say it's a fish out of water.
Its road manners are questionable and this breaks my heart, because as special as it is to look at, the Jeep was handicapped by limiting its experience to highways and sealed surfaces.
I expected Superman, but this was more Clark Kent: slightly awkward and unremarkable. Until we can test this car off-road, the highway will remain the Jeep's Kryptonite.
SPECS: 2020 Jeep Wrangler Unlimited Sport 2.0T
Price: P3,590,000

Engine: 2.0-liter turbopetrol I4

Power: 268hp @ 5,250rpm

Torque: 400Nm @ 3,000rpm

Transmission: 8-speed automatic

Drive layout: 4WD

Seating: 5
Score: 14/20