What's this?
A contradiction. It's the humblest Porsche Cayenne Coupe. Not the Cayenne S Coupe, nor the Cayenne Turbo S Coupe e-Hybrid Coupe S Turbo-ey-turbo S thingy.
Just Cayenne Coupe. Sportiest Cayenne body style (20mm lower, 18mm wider at the rear) with the weediest powertrain.
So it's all show and no go?
Is it even that showy? Sure, Lava Orange paintwork and 22-inch rims (both fitted to the test car at vast expense) don't exactly melt the Cayenne into the scenery, but the raw bodywork handles the conversion from family SUV to needless, wannabe-coupe miles better than the laughable BMW X6 or the hideous Mercedes GLE Coupe. This just looks like a bigger Macan. Which is fine.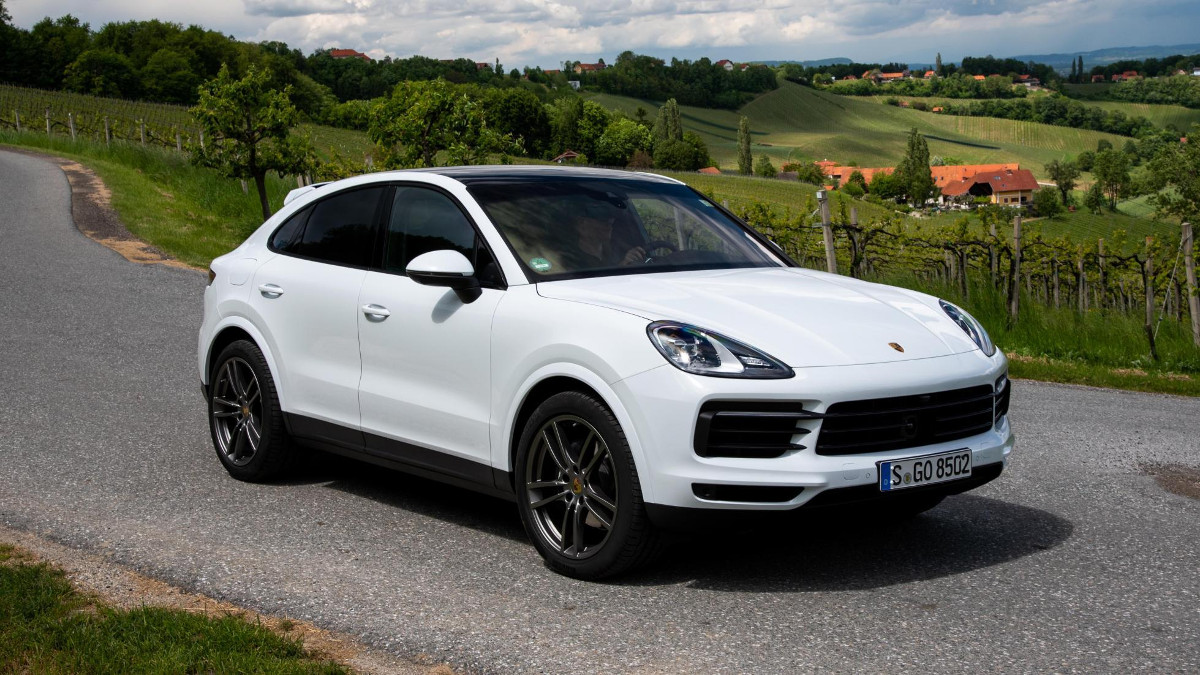 Continue reading below ↓
Recommended Videos
It's not that much less practical, either. The rear seats are slung lower than in the normal Cayenne, so there's no notable headroom sacrifice. The trunk is shrunken, but flip the seats down and there's still enough room for a full-size mountain bike. With both wheels attached. I tried it, it fit.
Porsche may have been tardy to the coupe-SUV trend—not that we're complaining, take all the time you need—but it's turned up late and built the least annoying one.
In fact, the only bugbear courtesy of the squatter bodywork is the letterbox rear window, and dreadful over-shoulder visibility. Inevitably, there are many cameras on the options list to help paper over that common-sense chasm.
You've avoided the question.
Getting there, promise. Anyway, the Cayenne Coupe starts at £62,129 (around P4.04 million), and now that Porsche is a diesel-free company, the basic engine is a 3.0-liter single-turbo V6 gasoline. As this is a car from the VW Empire, it's an engine you can come across in the Panamera, and in the old (pre-diesel) Audi S4 and S5. Confusingly, it's also in the smaller Macan S, with a bit more power.
Anyway, it eventually develops 335hp if you're prepared to rev it out to 5,300rpm, and it'll carry on making 335hp all the way to 6,400rpm. If you can't be bothered, maximum torque lands almost immediately after setting off—1,340rpm, in fact—and hangs on in there until 5,300rpm. That's a colossal torque band—without colossal torque. You make do with just 450Nm.
Sounds perfectly healthy to me...
Hmm...335hp and 450Nm is a decent serving of poke when you're talking about, say, a modern hot hatch or a small sports sedan.
But this car weighs, before options, 2,050kg. I'm prepared to bet that the test car—with its super-deluxe electric seats, monster wheels, motorized soft-close door latches, and height-adjustable air suspension—was a bit weightier still. And that flab smothers the power.
So it's a quick-looking car that's slow?
It's not slow. That'd be harsh on a machine that, I do believe, can indeed achieve 0-100kph in 6sec, and go on to 240kph.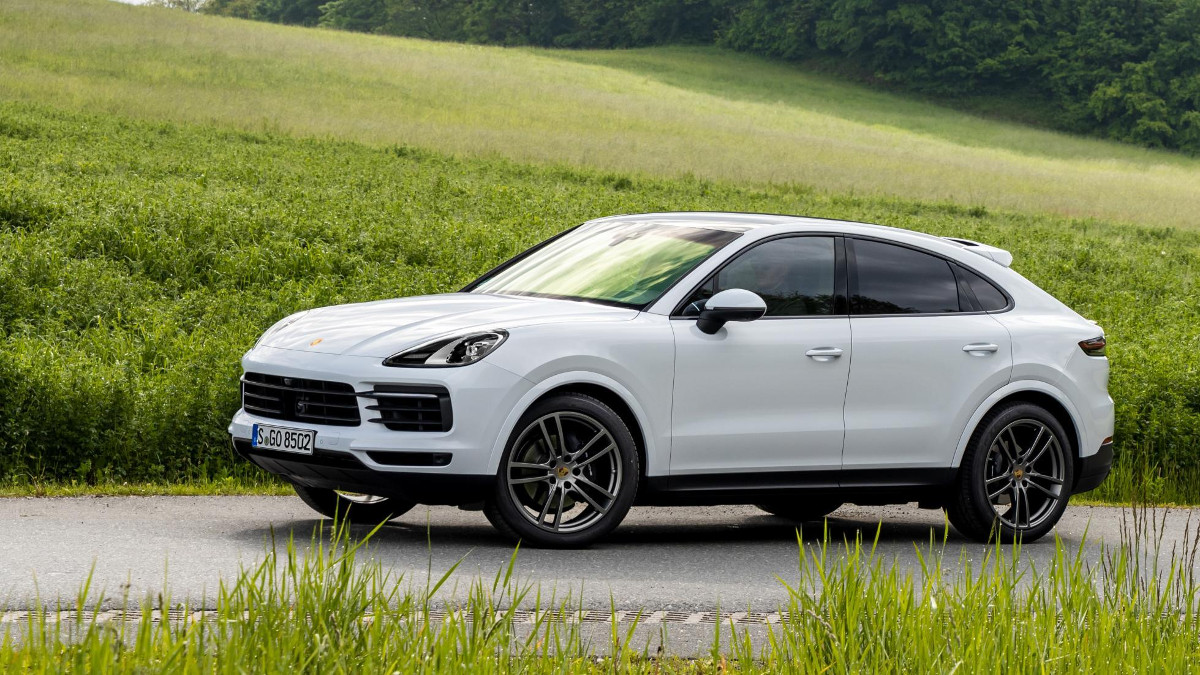 It's just the sheer effort required to get the thing to hurry up. Until driving this Cayenne, I'd never found a reason for the Sport Chrono pack's 'Sport Response' boost button to exist, beyond marketing gimmickry. In this, it's actually handy to prime the motor and gearbox for max-attack, just to make sliproads less dicey.
And there's a noise issue. Sans a sports exhaust, this V6 sounds reedy. It's not enjoying being worked hard.
So no, not 'slow'. But it'll get hot and bothered if you drive it with the gusto usually associated with the owners of expensive German coupe-esque SUVs—the type of people who will not be impressed if they get mugged by a Hyundai i30N.
Bet it's rubbish at corners, then?
Here's the freakish thing, and what makes the underwhelming motor more of an anchor: It ain't. It's sensational. Sure, sporty 4x4s are nothing new now, but a Cayenne is still a bit of a palette cleaner when it comes to this odd little cul-de-sac of cars.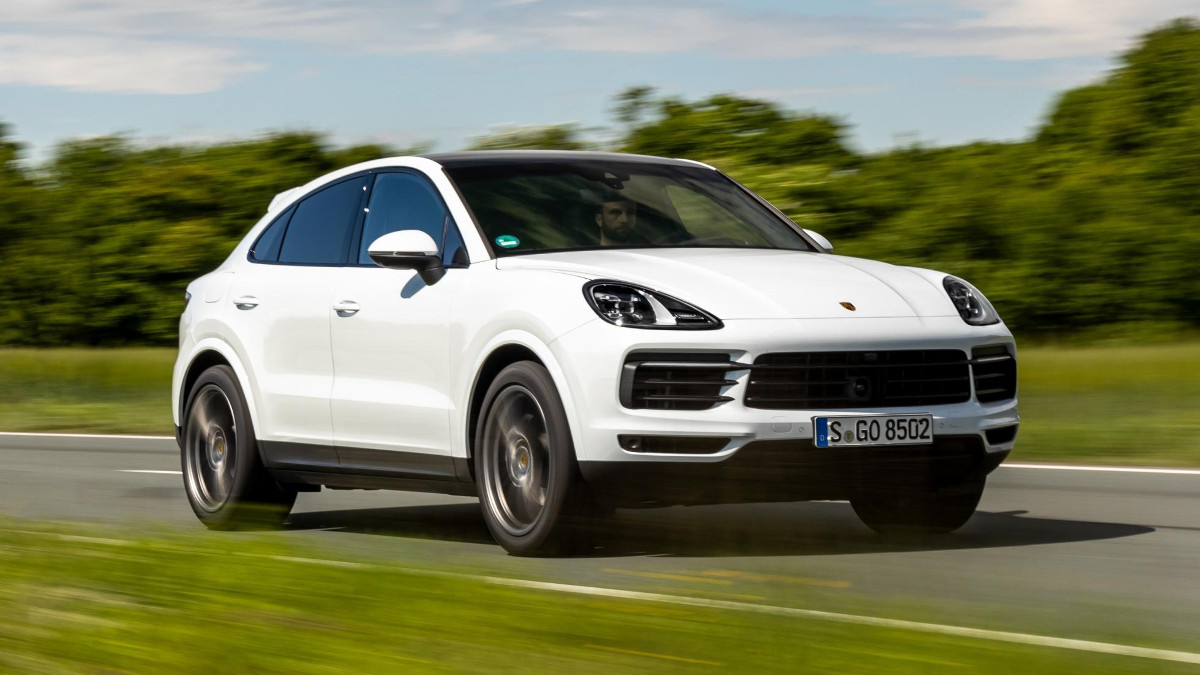 In an ideal world, we'd all drive a Ford Fiesta every month to remind ourselves how good a simple supermini can be, then a Lotus Elise to rediscover true balance and steering feel, and lastly a 2019 Porsche Cayenne to marvel at what clever Germans can do with two-ton-plus SUVs. It's incredible.
Does it feel more sorted than a normal Cayenne?
Don't be ridiculous. The center of gravity is minutely lower, the Coupe's actually a touch heavier than a normal Cayenne, and the track width is a smidge fatter. Anyone who claims they can tell the Coupe is a night-and-day, more-talented B-road blaster than a regular Cayenne needs to have a word with themselves.
That said, what a machine. I ran out of bravery before I discovered what cornering speeds the front axle isn't game for. The test car did without 48V anti-roll bars and rear-wheel steering. Depending on Porsche's air suspension for its handling sports, it was easily good enough. It's mighty. It'd be a weapon with more power. It's so agile—so much so I'd have bet good money on the car being fitted with rear-wheel steering. And lost it.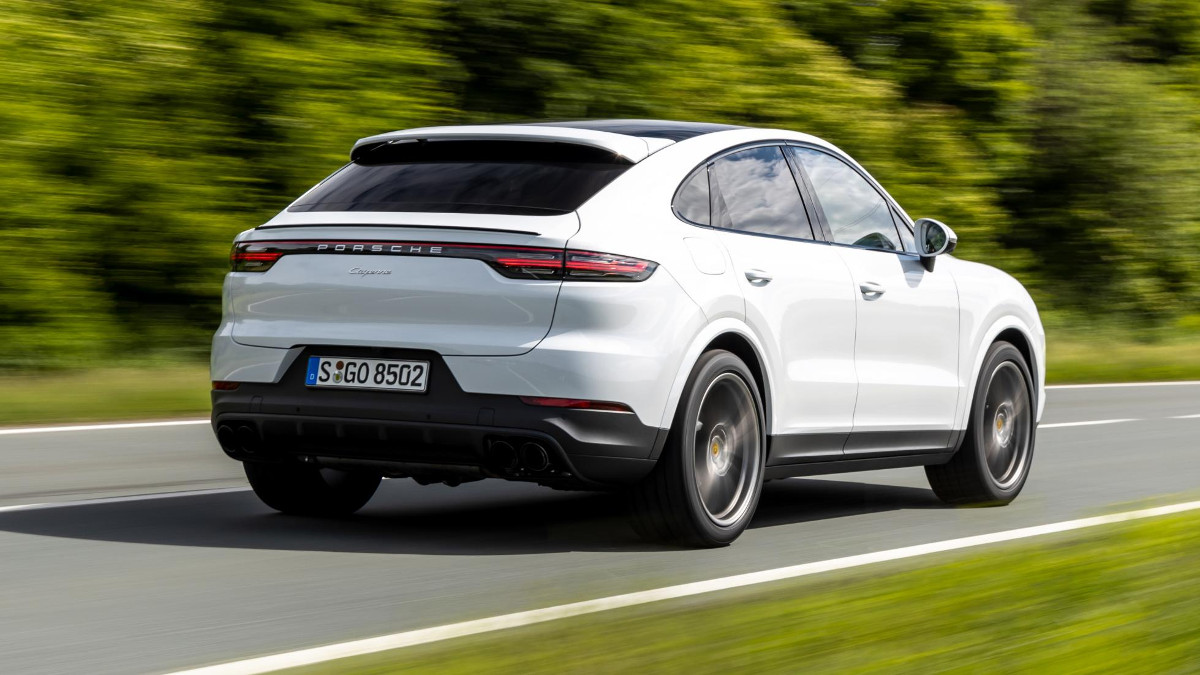 It doesn't roll, it doesn't pitch, and even with massive rims fitted, it rides better than an F-Pace on 20-inchers. The wheel control is sublime. I know, nerdy comment. But it's a nerdy car. Be nice to nerds. Only people with enormously powerful brains can dream up cars that hide their size and weight this well.
Until they're going in a straight line, at least. Anything else?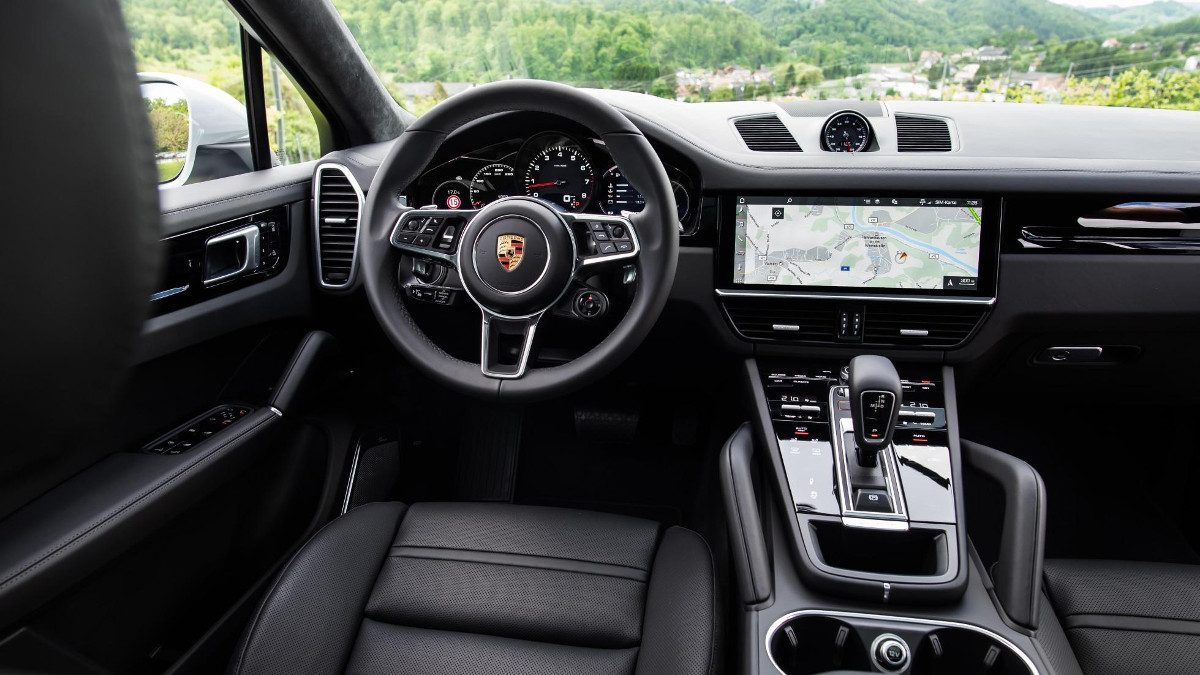 The steering doesn't need to be so heavy at town speed, but whether you're mooching or
marching on, the gearbox is sensational. Utterly world-class. The cabin feels more expensive than a Bentley Bentayga's, because there's less plastic on show. Whoops.
Definitely spec the 2+1 rear seat—it's a no-cost option that makes this bulky behemoth much easier to justify. And definitely talk yourself into the £74,000 (roughly P4.81 million) Cayenne S Coupe. Not just because this base car only did 8.9km.L, so it's hardly cheap and cheerful to run.
The 'S' means 434hp and 550Nm, and this car deserves it.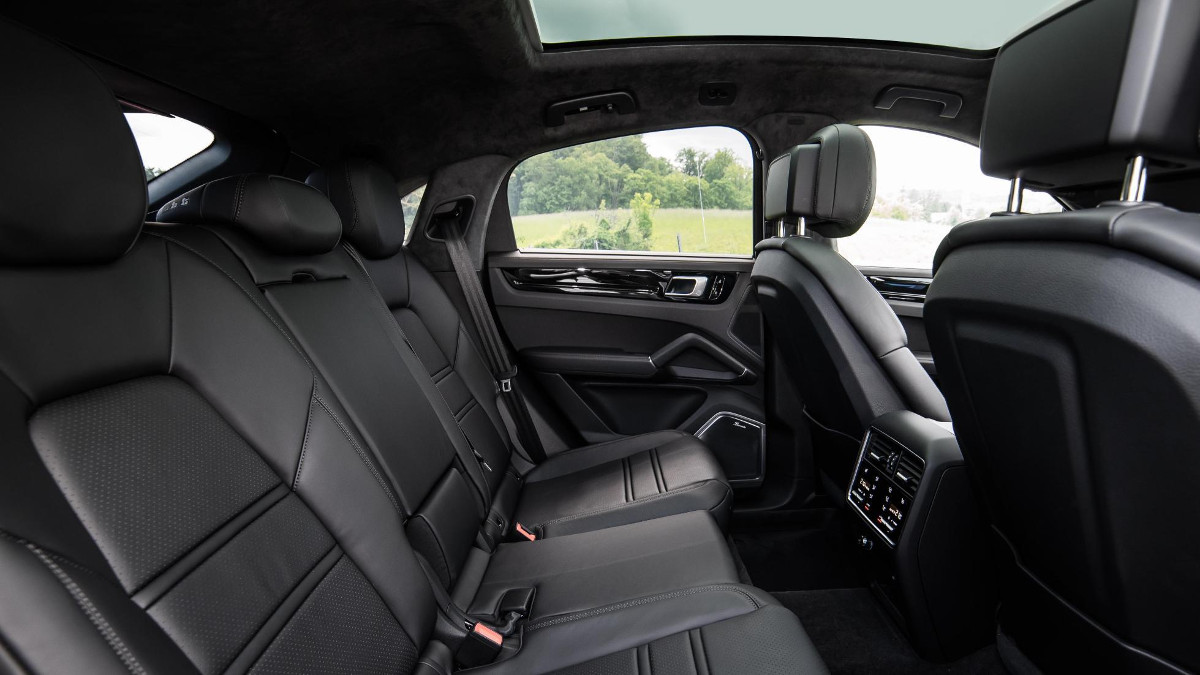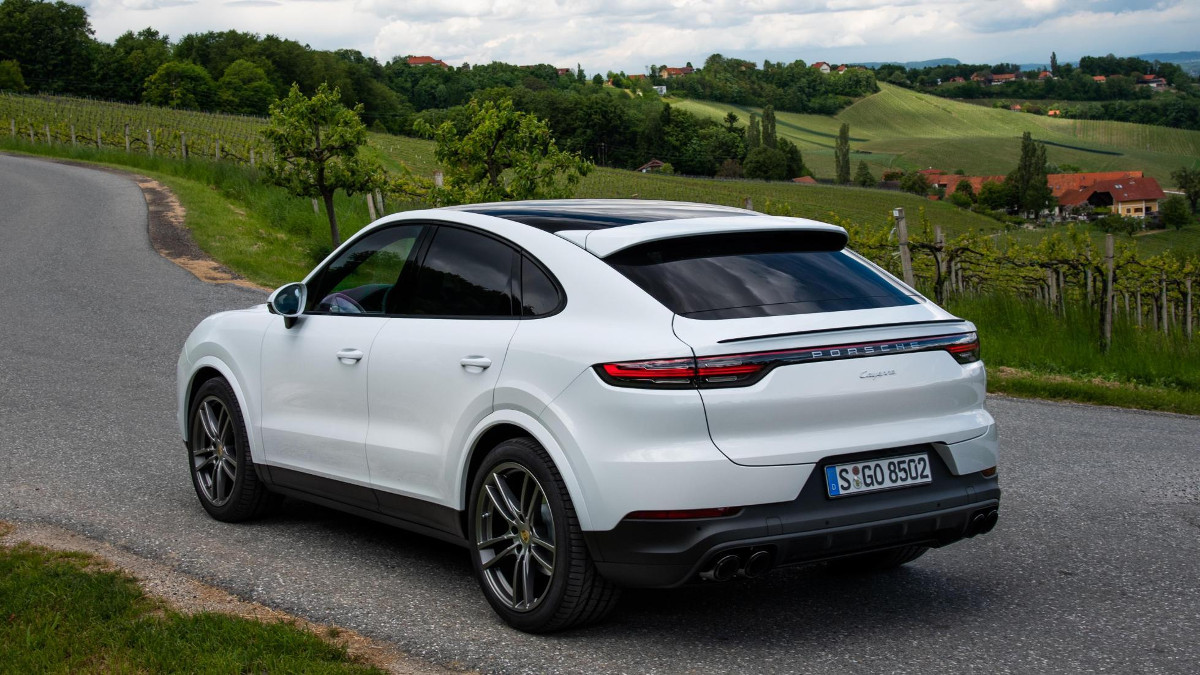 NOTE: This article first appeared on TopGear.com. Minor edits have been made.