So boxy. So cute. So...exclusive? How can a P1-million SUV be considered exclusive? Well, that's because as of this writing, you have to wait around eight months for one if you order now.
The Suzuki Jimny has been on sale for more than a year and we're still smitten. But so are a lot of potential customers and there's only so much supply. Only one factory in Japan churns out Jimnys for the world, and demand is far from sated.
Will a review extolling how good it is help alleviate your craving for this cute-ute? Probably not, but we still wanted to borrow it for ourselves. My apologies if we drum up even more hype and make that waiting time longer.
Styling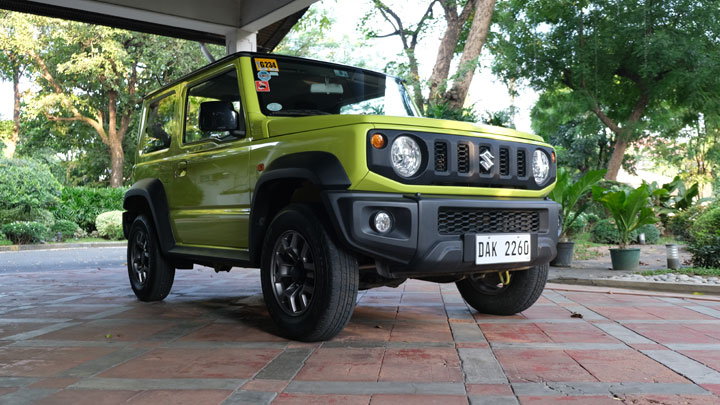 ADVERTISEMENT - CONTINUE READING BELOW ↓
The Jimny is one of those vehicles that's pointless to assess aesthetically. You look at it and you're either smitten or not. It doesn't look better in the metal because it looks just as good in photos.
It's basically a small metal box on four wheels, with a face that connects visually to the first-generation Jimny. The wheel wells stick out of the body, almost inviting the owner to consider aftermarket options. The body panels are flat, with plain creases as design features. The look is so simple, it almost seems as if the designers were lazy. But the end result is nothing short of brilliant.
The design reflects the Jimny's purpose: to be a no-nonsense SUV. As with Muji furniture, the Jimny's appeal lies in its purity and simplicity. Even if I'm not a fan of this bright green color, the body shape still wins me over.
ADVERTISEMENT - CONTINUE READING BELOW ↓
Recommended Videos
Interior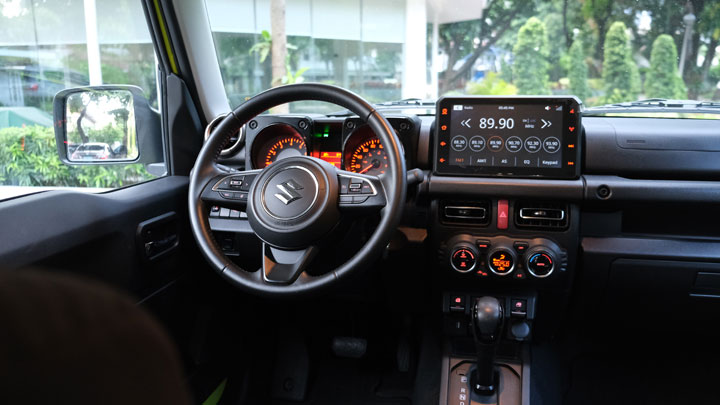 I would call the cabin utilitarian, but that implies a lack of beauty, which isn't true. Like the exterior, the interior's charm lies in its rugged appeal. There's black plastic everywhere that seems easy to wash, although I honestly didn't try it out for myself. The dashboard features exposed screws, and a handlebar is placed right in front of the front passenger.
ADVERTISEMENT - CONTINUE READING BELOW ↓
With its amber-colored gauges, the cabin almost seems anachronistic, like it doesn't belong in 2020. The main signs of its modern production are the large infotainment display and the digital automatic climate controls. The seats are fabric and decently bolstered. The seat material is pliant and is comfortable for long-distance driving. The A/C is so cold, I only set it at 24 degrees—any lower and it would give me the chills.
The Jimny may be small, but its square dimensions made it easy to stretch the cabin space to its full potential. My large body fit in the driver's seat perfectly. I wish the steering wheel adjusted for reach and not just rake, but I was still able to find a good driving position. Our 5'11" news editor Andrei was able to fit in the back, although only for short rides. You can seat four average-size Filipinos in relative comfort with a bit of luggage space in the back, or you can fold down the rear bench to accommodate two adults and cargo—but you can't have four adults plus a spacious cargo area, obviously. That said, this proves that the Jimny is more than capable of fulfilling the 'utility' in SUV for many people.
ADVERTISEMENT - CONTINUE READING BELOW ↓
Engine performance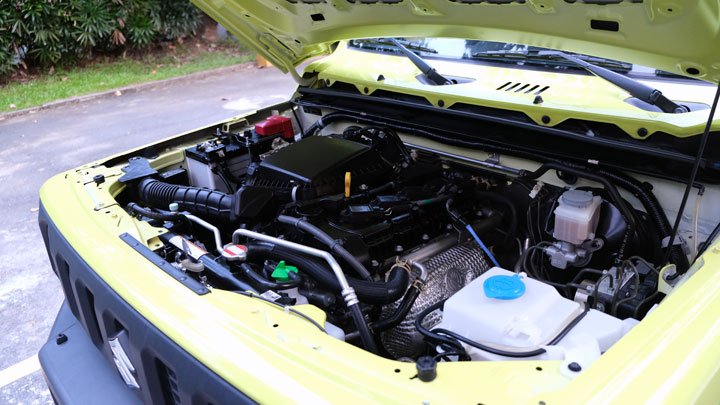 A naturally aspirated 1.5-liter in-line-four may not be impressive overall in 2020, but in the Jimny's petite 1,110kg frame it's a load of fun. The new engine is certainly a step up from the previous generation's 1.3-liter mill.
I was more apprehensive about the four-speed automatic transmission because I've tested the five-speed manual variant, and that was enjoyable to drive. Thankfully, the automatic gearbox can make good use of the 100hp and 130Nm when moving about in the city. It can be exciting even, as you give it a little gas and the small SUV surges forward. On the expressway, it can also cruise steadily at 100kph, although I didn't push it to go faster than that.
ADVERTISEMENT - CONTINUE READING BELOW ↓
For moving around the city, there's more than enough power to motivate the Jimny. You will get the acceleration you need most of the time, but most of the grunt is at 4,400rpm. With its light body, I would characterize the Jimny as nimble, but not as athletic as a car with a similar power-to-weight ratio—whatever that car may be.
Unfortunately, I was not able to check my fuel consumption (sorry about that), but in our review of the manual Jimny variant, we were able to get about 12km/L. The automatic variant should not be far off.
Ride and handling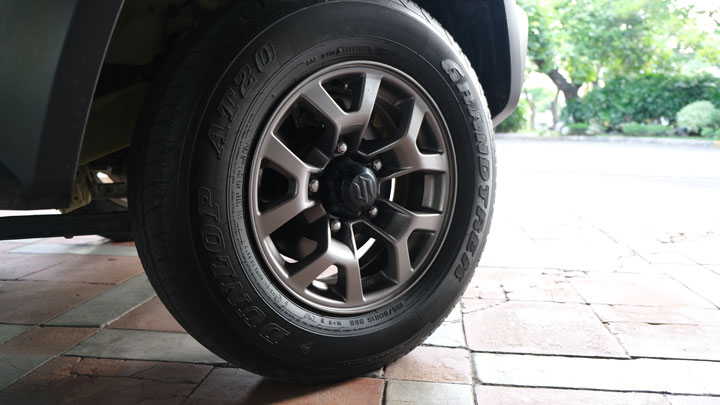 ADVERTISEMENT - CONTINUE READING BELOW ↓
In some ways, the Jimny is perfect for the broken and pockmarked surfaces that Metro Manila passes off as roads. It has 210mm of ground clearance, and, more important, a 28-degree approach angle and a 49-degree departure angle. What this means is that uneven ramps, craters, and badly designed parking curbs won't bother this Suzuki. Just point the lovely steering wheel—which has audio and cruise-control buttons—where you want to go, and don't worry about scraping your bumper or under-chassis.
I like how soft the Jimny's ride is. Combined with the well-padded seats, you feel a sense of insulation from the bumpy outside world. I noticed that the Jimny doesn't grip perfectly when you take a corner too fast or you make a sudden maneuver, and I dig that about it. It's not like there's a lot of inertia to propel you forward. The transmission, chassis, and engine are in sync, so I didn't feel a loss of confidence. That bit of slipperiness even added to the fun behind the wheel.
ADVERTISEMENT - CONTINUE READING BELOW ↓
I didn't want to push my luck with quarantine restrictions, so I wasn't able to take the Jimny off-road. But you can check out our off-road editor's very capable take here.
Extra features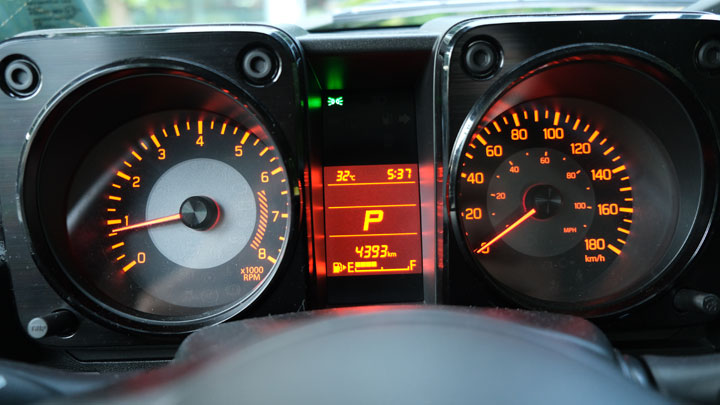 The most modern feature of the 2020 Jimny is the nine-inch infotainment system in the middle of the dashboard. In the top GLX variant I have, there's an additional clinometer, compass, barometer, and altimeter. They're nifty and useful if you plan on going off-road, but I would have swapped all of that for Apple CarPlay or Android Auto functionality.
ADVERTISEMENT - CONTINUE READING BELOW ↓
Sadly, the Jimny is still bereft of these essential smartphone interfaces. Newer Suzuki models like the Ertiga have Apple CarPlay already, so I think all the Jimny needs is a simple update to get seamless smartphone connectivity. And boy, does this Suzuki need it. With its upright surfaces, recessed A/C vents, and small cabin, it's nigh impossible to find a stable spot for your phone.
Verdict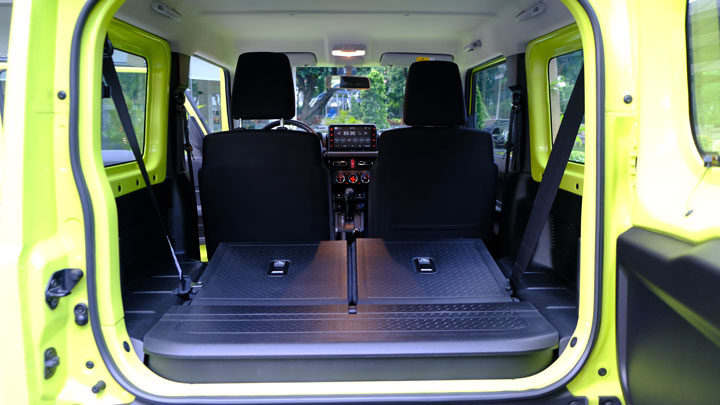 ADVERTISEMENT - CONTINUE READING BELOW ↓
The Jimny is clearly not a regular point-A-to-point-B car. You have to want it, adore it, to wait so long after you make a reservation. And that's a shame because it's hard to think of another vehicle that can take you from city streets to expressways to the mountains with ease. This little SUV can take you anywhere—as long as it's just you and a companion and cargo, or you and three average-size friends.
It is an automobile with a clear purpose: to continue the Jimny tradition of being the best SUV it can be. However this time its appealing design has burdened it with the trappings of desirability. Customers who will never think of going off-road now have it in their sights, and that's fine.
Is the Jimny worth the months-long wait? Only the potential buyer can answer that. We all have different EQs. But if you ask me if it's a good vehicle, I say yes. It has a back-to-basics charm and the mechanical talent to back up its good looks. And it's just a damn fun ute.
ADVERTISEMENT - CONTINUE READING BELOW ↓
SPECS: 2020 Suzuki Jimny GLX A/T
Price: P1,175,000
Engine: 1.5-liter gasoline I4
Power: 100hp @ 6,000rpm
Torque: 130Nm @ 4,400rpm
Transmission: 4-speed automatic
Drive layout: 4WD
Seating: 4
Score: 19/20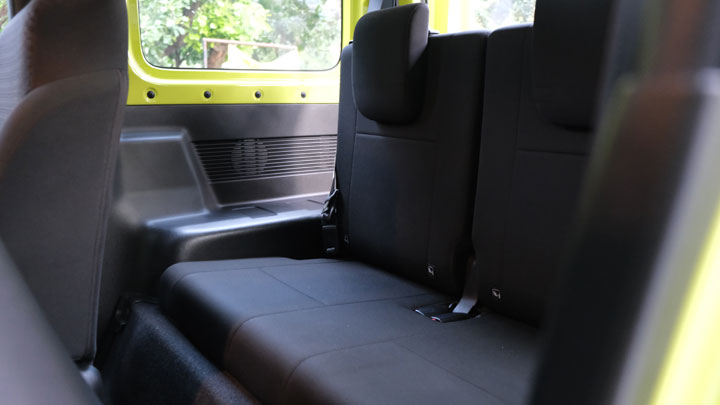 ADVERTISEMENT - CONTINUE READING BELOW ↓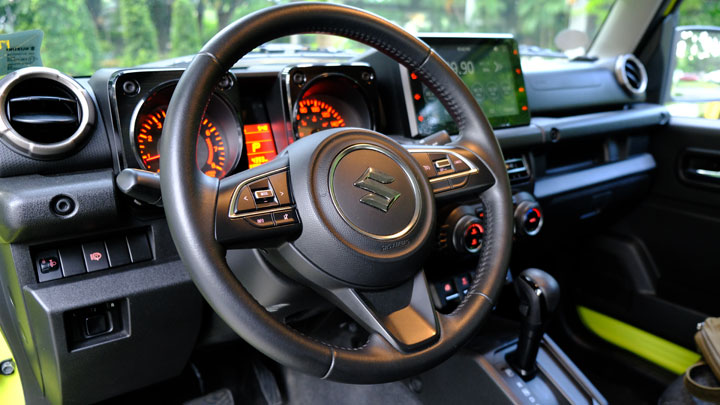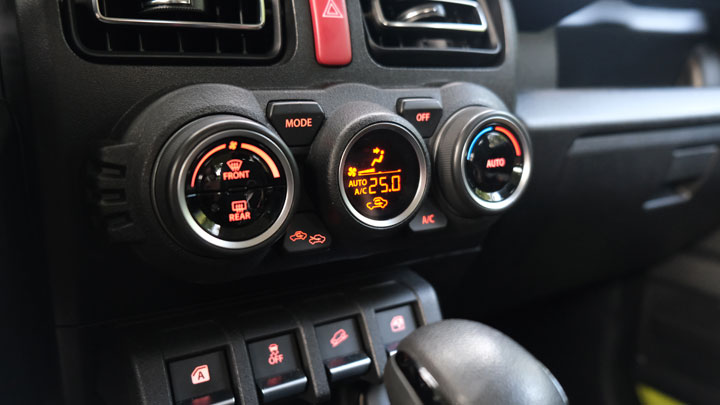 ADVERTISEMENT - CONTINUE READING BELOW ↓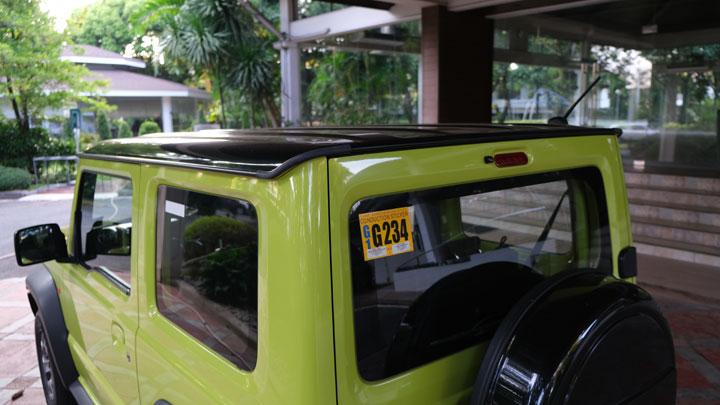 ADVERTISEMENT - CONTINUE READING BELOW ↓