Given the state of Metro Manila's roads, the state of Philippine weather, and the sad state of our traffic management, some would say an SUV is the best choice to drive in this country. With it, you'd have the toughness to tackle our roads, you'd be blessed with better flood-fording capability, and you'd have an advantage of mass and durability should you ever find yourself in a traffic altercation involving much bigger vehicles.
But there's always a compromise, isn't there? Refinement, driving dynamics, looks, and sheer road presence aren't easily as achievable with an SUV, and If you'd rather spend your SUV money on something that will pamper you, then I'd like to offer you a peek at the 2021 Honda Accord EL Turbo.
Styling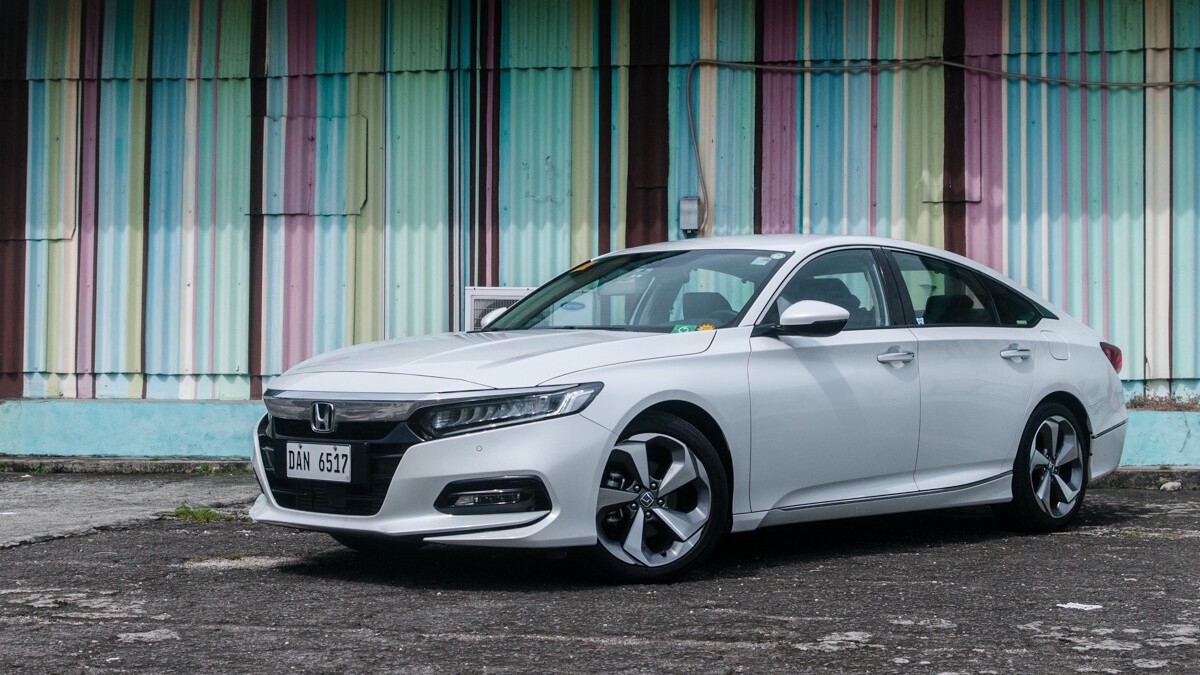 There's something absolutely arresting about how this car is shaped. Of all the Accord models I've seen on Manila roads, this is the best-looking by far. The fastback styling is a big leap from the restrained design execution of past models (I'm looking at you, seventh- and ninth-gen).
It works so well because, off the bat, I'm reminded of a certain luxury sport fastback of Teutonic descent, and so I'm immediately struck with a sense of strength, luxury, and refinement. It also looks like Honda's designers have pulled off a subtle upgrade from the 10th-generation Civic's styling to bring about more maturity to the Accord, thus paving the way for the 11th-gen Civic's new looks. Compared with the current Civic, the Accord is much easier on the eyes, and modernizes the car without making it look either boring or too aggressive. My only real gripe is the heavily chromed grill, which I find excessive and distracting because it takes away from the beautifully designed headlamps and front fascia.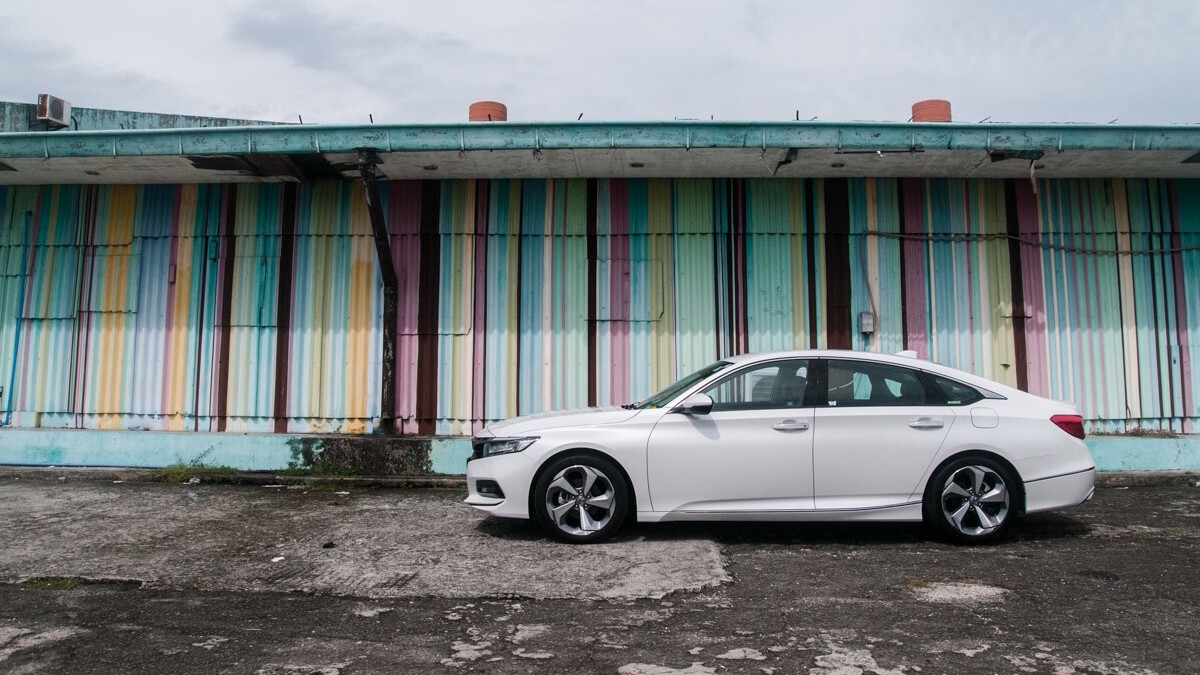 In my opinion, the side view of the car is the best way to appreciate the new Accord. It's simple and sleek, and has the right amount of angles and edges. The 18-inch wheels fill up the arches nicely; plus, I love how the accent on the rocker panels gently angle up to meet the rear bumper accents.
Meanwhile, the new taillamps do a decent job of carrying the design language, though personally, I wish those tails were a bit shorter. The whole thing is a wonderful exercise in stepping out of one's comfort zone and succeeding to find a meaningful accomplishment.
Interior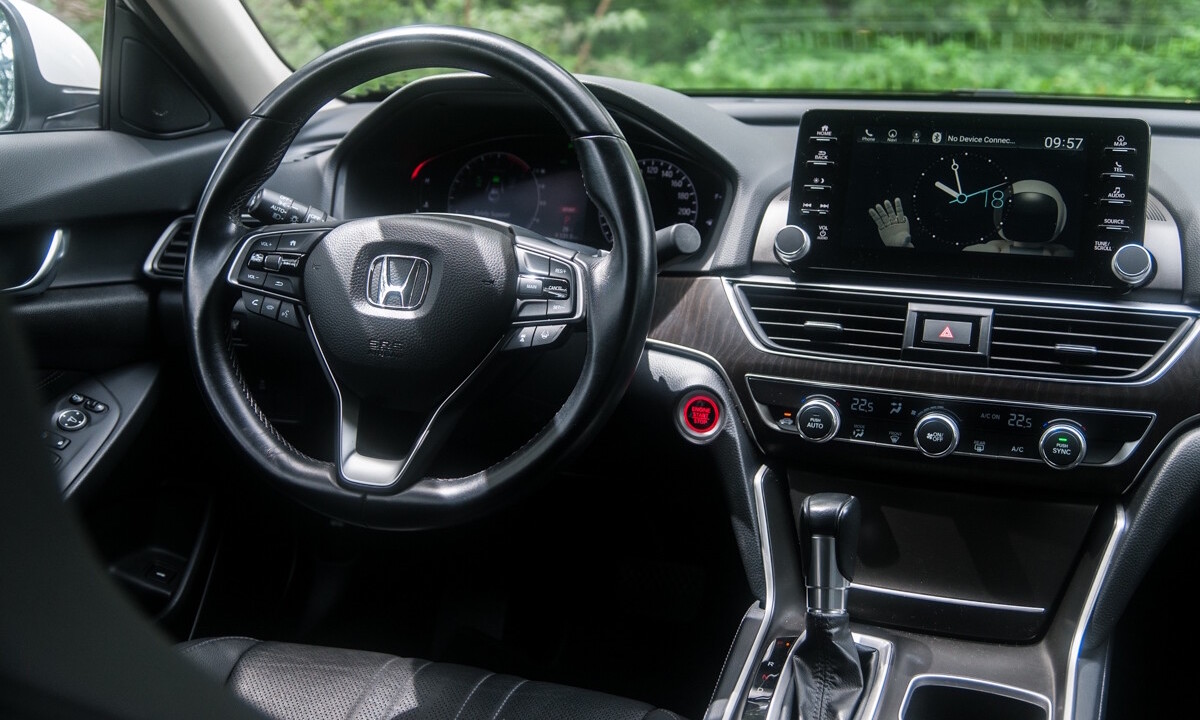 With the Accord being marketed to a more mature, more affluent market, it's no surprise the main buzzword for the interior in the advertising literature is 'luxury.' The inside is almost all-black, but it's anything but plain. There's an abundance of black leather adorning the beautifully shaped seats, topped off by gorgeous-looking headrests. The wood trim and the aluminum accents succeed in giving the interior a more premium feel. So do the dual-mode HVAC controls that are a joy to operate. Who doesn't love chunky, clicky knobs that give off a satisfying glow?
The part-analog, part-digital gauge cluster is also a nice touch. Two-thirds of the left side of the cluster is purely digital, and though dominated by the tachometer, it also serves as a multi-mode information display. When Sport mode is activated, the tachometer condenses to bring the redline closer to the driver's line of sight, all the while bringing up a boost gauge. This also engages two red spots on the corners of the cluster to remind you of what mode you're in.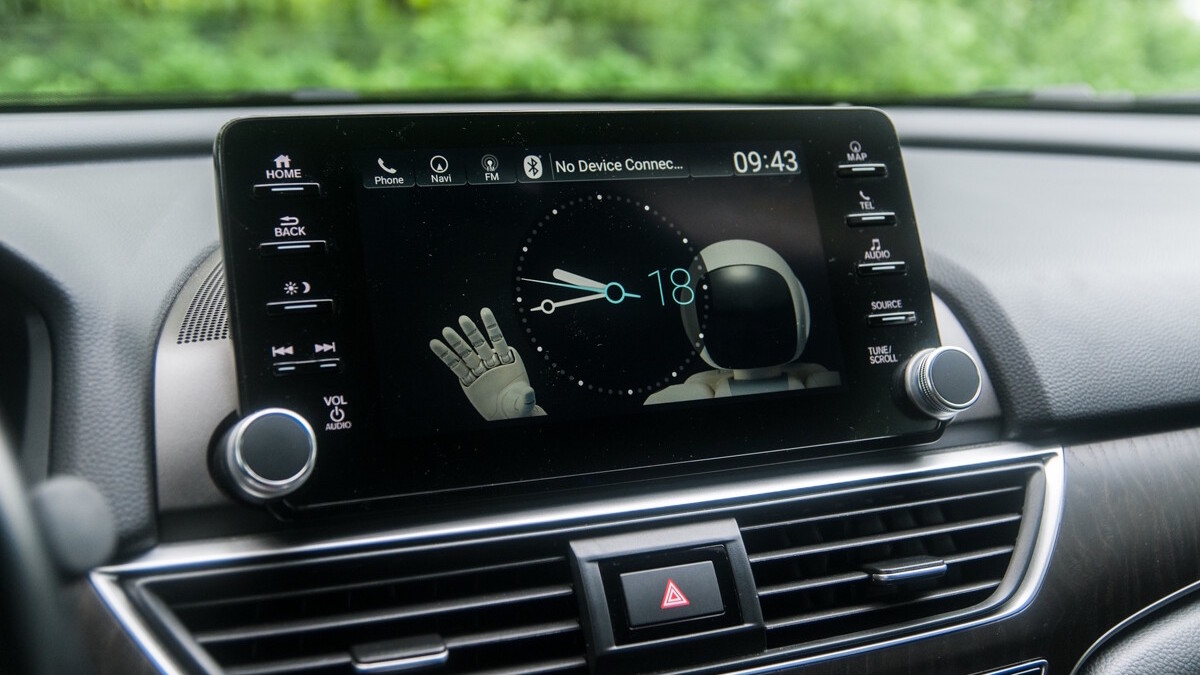 The eight-inch touchscreen entertainment cluster is probably one of the best I've operated, as it also has tactile buttons and knobs that make sightless control adjustments a breeze. An eight-way electrically adjustable driver's seat is standard, as is a four-way electrically adjustable passenger's seat.
Engine performance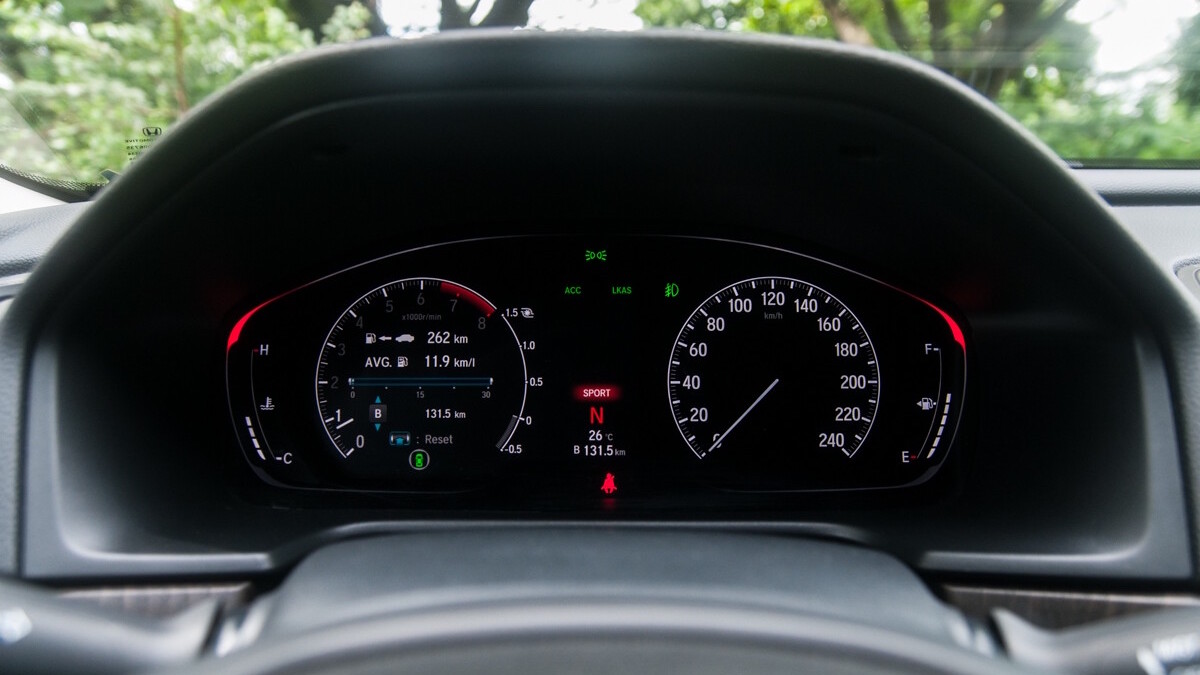 The L-Series engine under the hood proves to be one of the hidden gems of the Accord. A seemingly unlikely candidate on paper for a car this big, in real life, it's quite the charmer. The L15BG wows with good numbers, with 187hp at 5,500rpm and 243Nm of twist at 1,500-5,000 rpm, but what's more impressive is the way the engine feels under your foot.
It's got a good balance of power and refinement, and even a hint of sportiness that comes out in Sport mode. Kudos to Honda for making sure that a little 1.5-liter turbopetrol engine wouldn't feel inadequate in such a big car. The smooth-as-silk, vibration-free four-pot gives off the perception that it's a bigger engine, and honestly, I like it better than the 2.4-liter in-line-four it replaces in the old Navi-S Accord, which I tested and wrote about a few years back.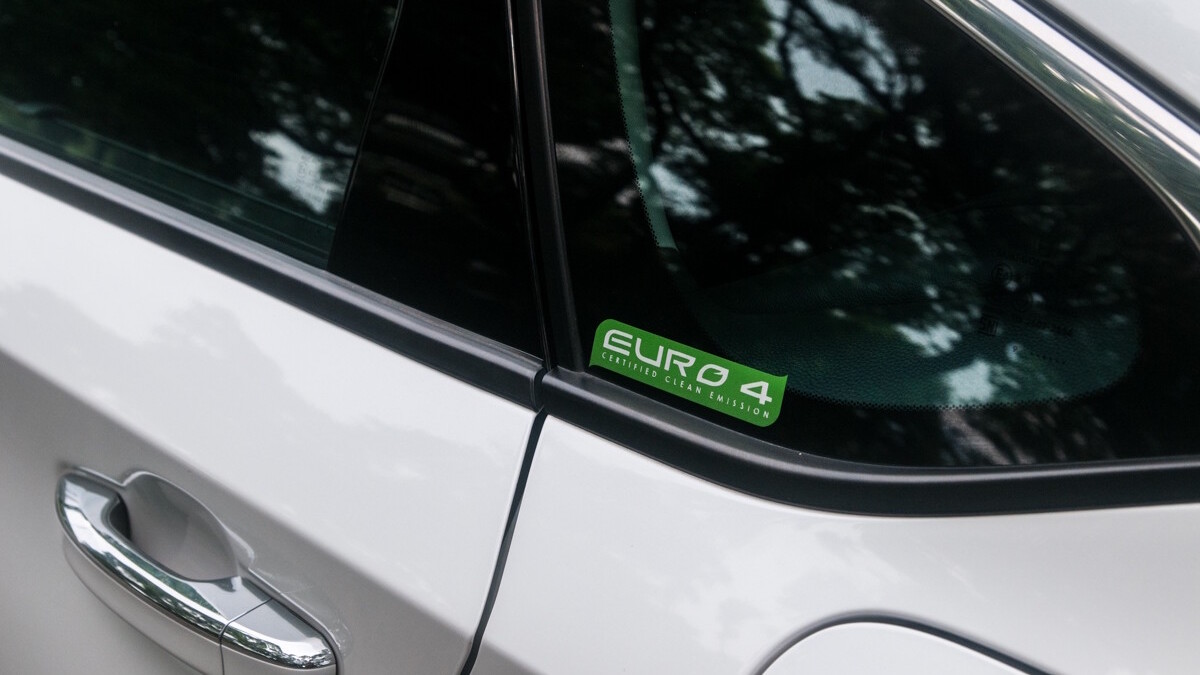 The whole drivetrain is set up for more fuel economy rather than power, so I understand the use of a CVT. But I feel that a standard auto 'box would have benefitted the engine so that more of the power in the upper range of the band could be put down. I feel that this would have made for a more dynamic driving experience. Sport mode and paddle-shifting helps, but the rubber-banding on the CVT is immediately apparent when pushed.
But these times call for a smarter approach, and like I said, I understand why Honda put in a CVT because the fuel-economy figures back it up. A 43km drive in the city netted me a 7.7km/L average in Eco mode; a trip up to Pampanga saw an average of 16km/L with the adaptive cruise control set to 100kph in mixed Eco and Sport modes; and mixed city-highway driving averaged around 10km/L in Eco mode.
Ride and handling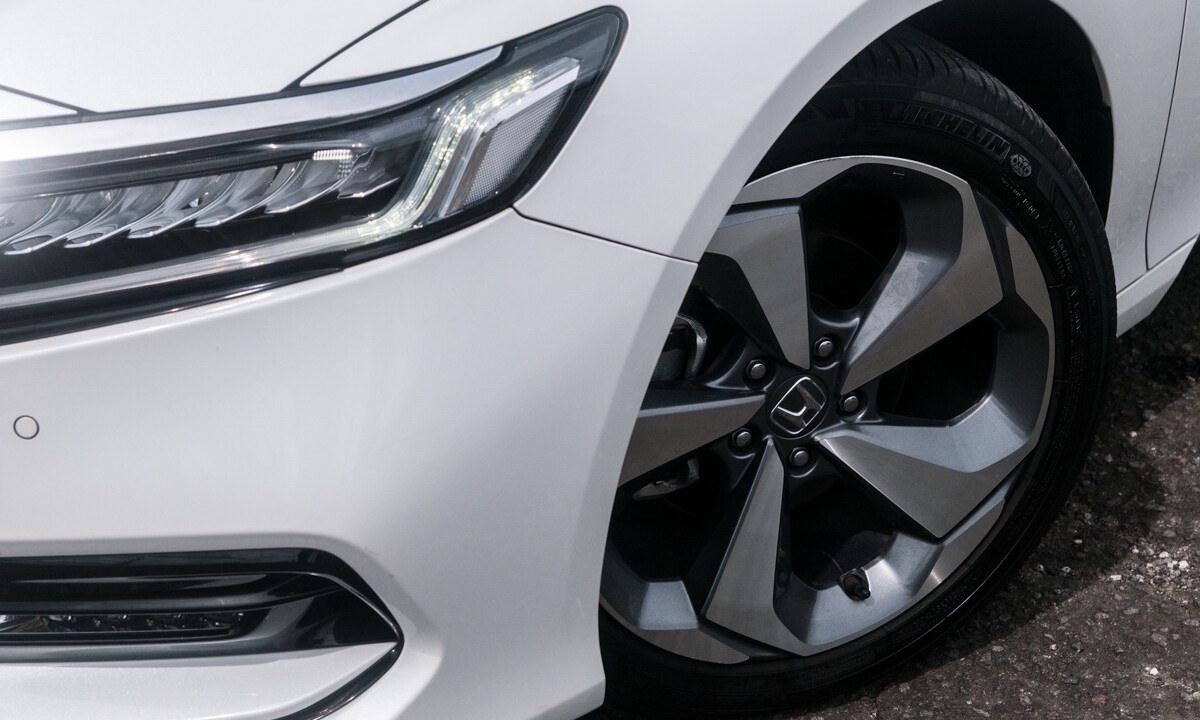 The old Accord felt like it was a passenger's car, like you had to be sitting in the back to appreciate the space and the experience. This new one, however, feels more like a driver's car. It definitely drives like a lighter car, is more present in terms of power delivery, and feels as taut (if not better) than the model it replaces. The handsome 18-inch wheels shod in Michelin 235/45 R18 tires provide a good, quiet ride and are helped along by the MacPherson front and multilink rear suspension to provide a comfortable ride.
NVH suppression in this car is excellent, and I had zero incidents where I'd be startled by potholes or uneven roads. Soft thuds, that's all I got. There is a fair amount of body roll, and this is something you'd literally feel in the seat of your pants owing to the wide seats, but the car does a fair job of staying agile enough through S-bends and camber switches. Honda also trimmed down the weight of the car by reformulating its mix of high-strength steel and using structural adhesives, but it also managed an increase in rigidity, which results in a car that drives much lighter, and much more agile, than it looks.
Extra features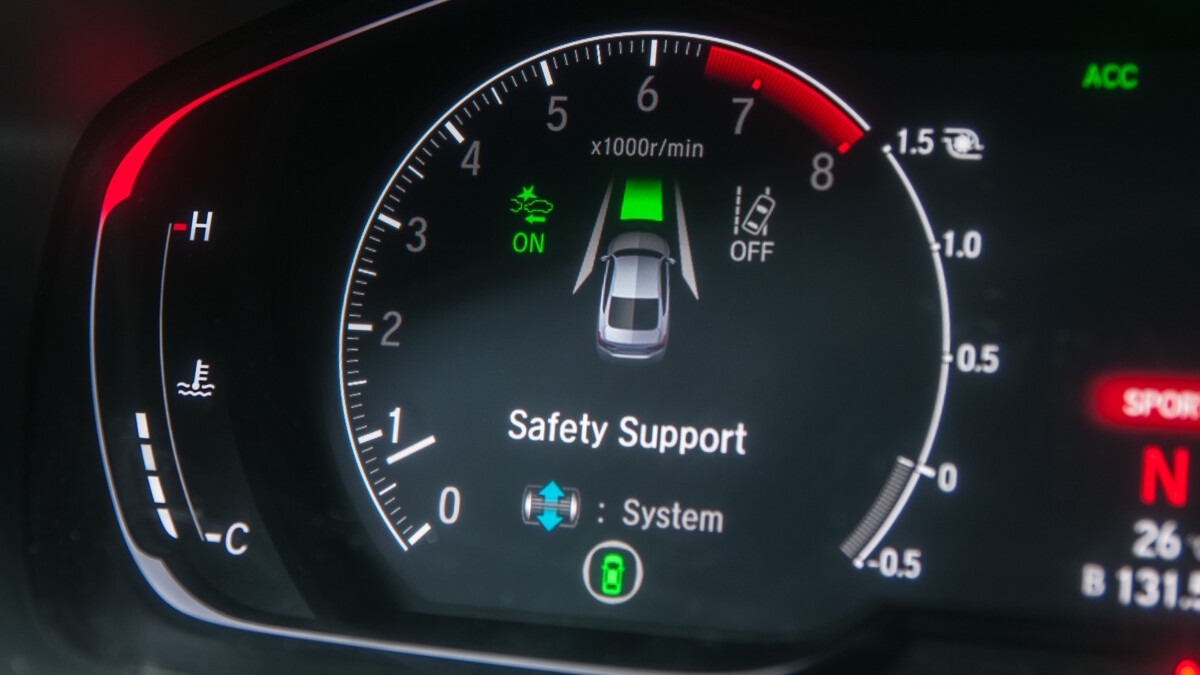 Although the Accord has most of the bells and whistles you usually find in a midsize executive car, part of what you're really paying for is the Honda Sensing suite. It includes features like road departure mitigation, lane-keep assist, forward collision warning, and collision mitigation braking.
But for me, the real star of the show is adaptive cruise control with low-speed follow, which enables you to keep the system on even when the car in front of you comes to a full stop. This feature is a godsend when driving in and around the city and keeps away leg fatigue in slow-moving traffic.  Of note, too, is the auto high beam feature of the car, which uses a windshield-mounted camera to toggle your high beams if needed.
Verdict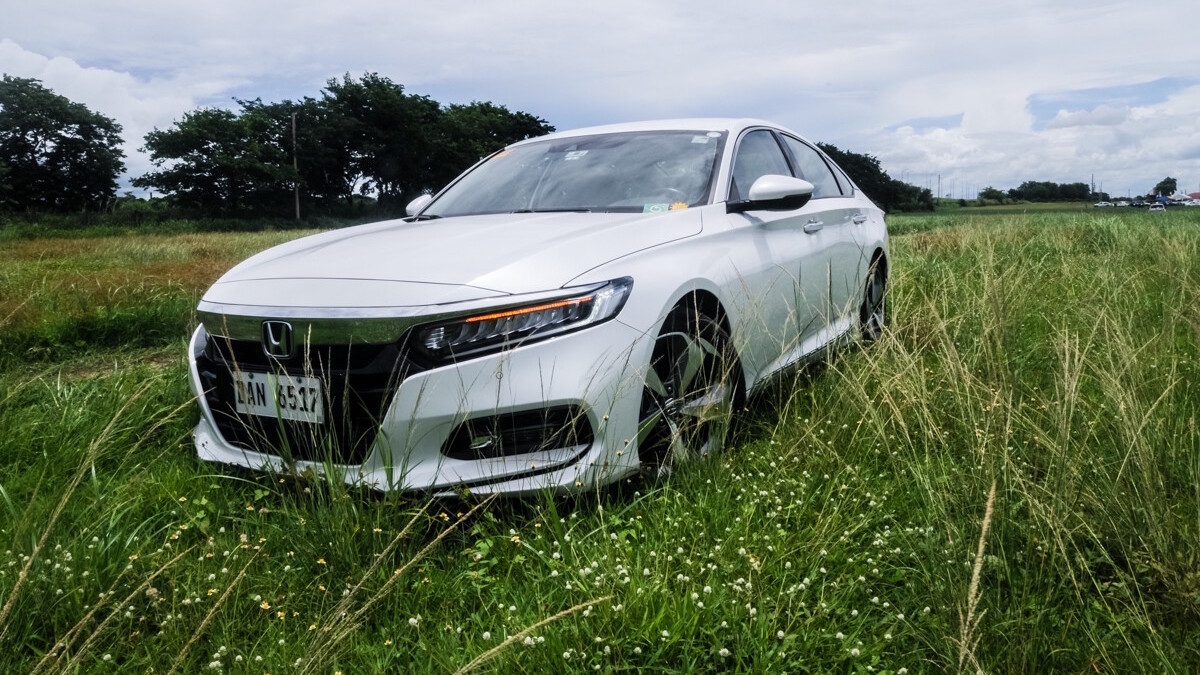 The Accord EL Turbo is a great driver's car, where the experience of refinement, luxury, safety, and power all come into play when you strap yourself in behind the wheel. It is by far one of the best-looking in its class and has the manners, civility, and smarts to make it a great choice as an executive car. The only question you'll need to ask is if you're willing to pay the P2.308 million to experience it.
Make no mistake, though: This is not a sports performance vehicle, and to ask that of it would be totally missing the point. What this car is good at is elevating the driving experience to a point of zero stress, and with maximum safety and convenience. Keep that in mind and you'll be able to enjoy the car to its fullest.
SPECS: 2021 Honda Accord EL Turbo CVT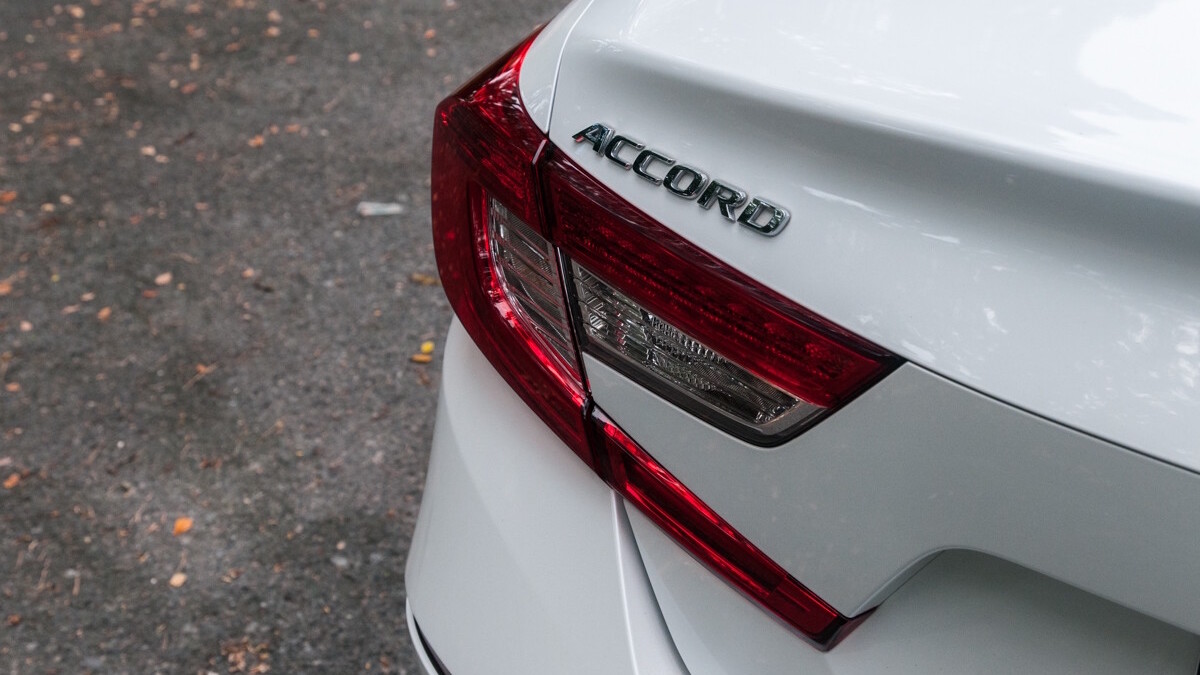 Price: P2,308,000
Engine: 1.5-liter turbopetrol I4
Power: 187hp @ 5,500rpm
Torque: 260Nm @ 1,600-5,000rpm
Transmission: continuously variable
Layout: FWD
Seating: 5
Score: 17/20