It's been a long time coming, but it's finally here: the all-new D-Max. A truck whose development spanned several years' and millions of kilometers' worth of testing and prototyping—and it shows. From the moment you start up the engine and take a tug at the steering wheel, it feels nothing like the old one. But in a sea of all-new me-too diesel competitors, can Isuzu's newest entry shine?
Styling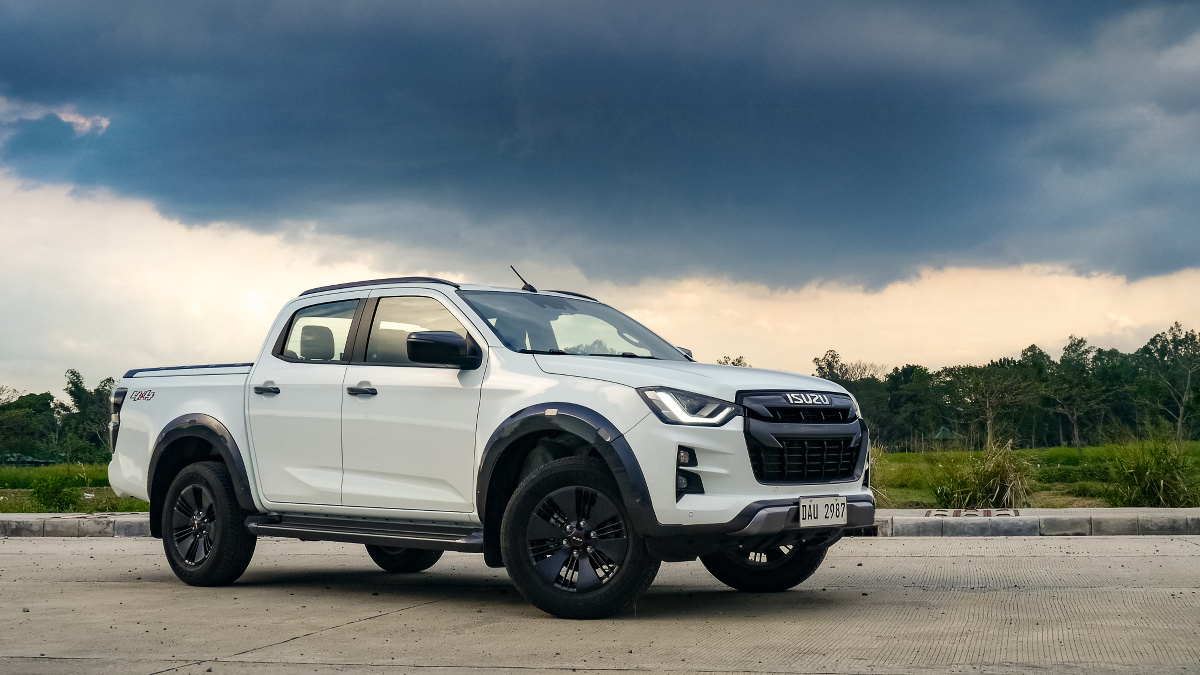 ADVERTISEMENT - CONTINUE READING BELOW ↓
Even with completely new panels and light fixtures, the new truck looks unmistakably like a D-Max, its toothed grille, carved tailgate and greenhouse looking very similar to the old car. But it's all couched in slightly more aggressive sheet metal, with a taller hood, more assertive body cuts, and shapelier fender flares replacing the chunky, bulbous ones on the old truck. The new model is slightly shorter and slightly wider, with an aggressive stance that reminds me a lot of the current Ranger. This is a very vertical truck. Big 18-inch wheels look just right under the plastic flare extensions, but it looks like you can fit a lot more tire if the need arises.
Interior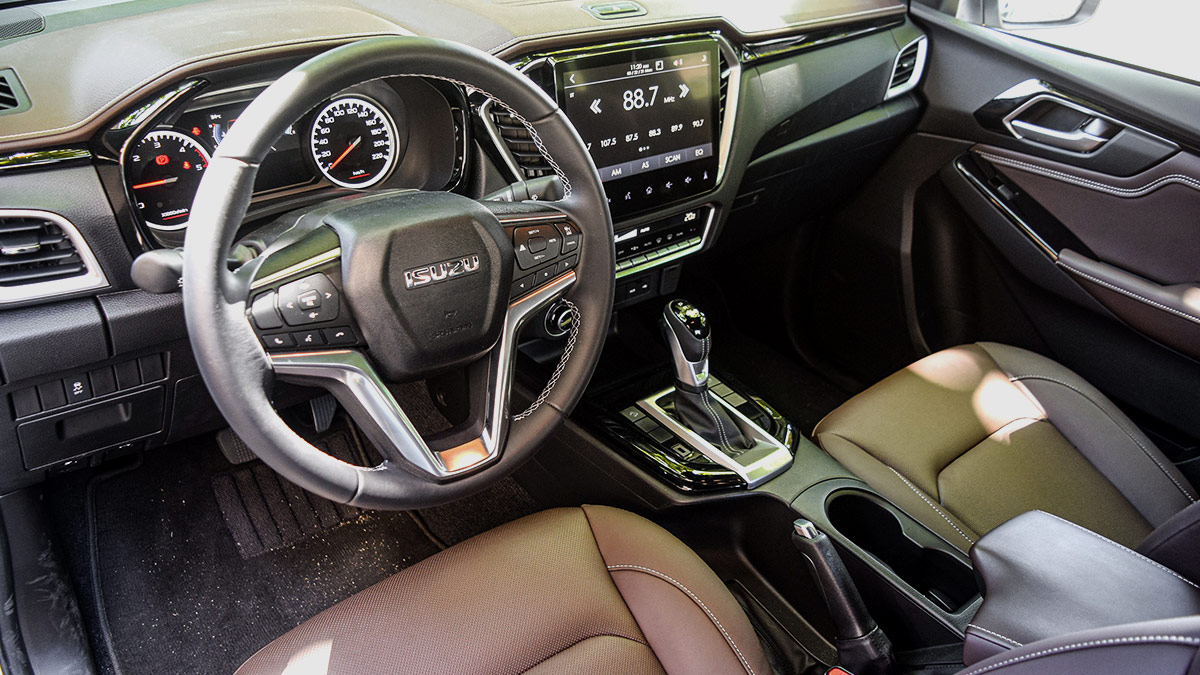 ADVERTISEMENT - CONTINUE READING BELOW ↓
Recommended Videos
While the lightweight doors don't shut with the reassuring thud of a luxury product, such annoyances fade as you soak in the D-Max's impressive interior ambience. Apart from the logo on the wheel, everything else all new. Gone are the acres of gray plastic, the giant A/C knobs, and the clunky armrests, replaced by something you might find on a nice crossover. While there's still bare plastic here and there, it is textured in fine grain or hidden under faux-stitched faux leather.
Luxurious-looking winged seats are also covered in faux leather, but with real stitching. They're nice to sit in, the wings giving great lateral support. While a little more lumbar support wouldn't go amiss here, the wide range of electric seat adjustments and the tilt-and-telescope steering make it easy to find a comfortable driving position.
There's storage everywhere, including a discreet dash-top box that you really shouldn't forget your cellphone in on a hot day, double gloveboxes, air-vent cupholders, a big center bin, and even lidded storage bins under the rear seat. That rear bench is wide and generous, with improved legroom, a higher knee point, and rear A/C vents. Those vents do poke into the kness of the center passenger, who's also leaning against a giant foldable armrest, but everyone else will be feeling mighty comfortable in here.
ADVERTISEMENT - CONTINUE READING BELOW ↓
Engine performance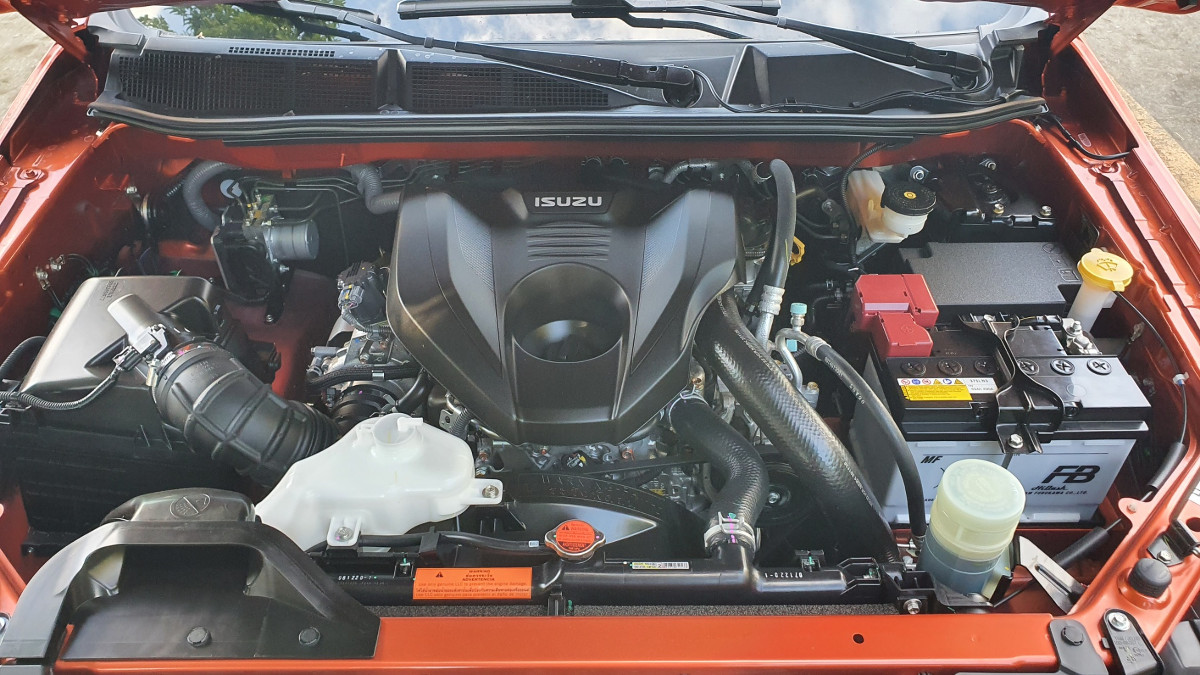 However good the new interior is, the biggest headline is the new 4JJ3-TCX four-cylinder diesel engine. While it shares its bore and stroke with the venerable 4JJ1, everything else is different. An all-new block, cylinder head, and lightweight pistons make it more efficient. Double scissors gears reduce timing-chain noise. And a 2,500atm high-pressure fuel system and a new variable geometry turbo increase output to 187hp and 450Nm of torque.
ADVERTISEMENT - CONTINUE READING BELOW ↓
With a six-speed automatic, this allows for 0-100kph in just 10.1sec, on a less than ideal surface. A massive improvement over the old 3.0, and squarely in the hunt against the bi-turbo Ranger Wildtrak. The six-speed shifts cleanly and smoothly, but the dramatic ramp-up of torque as the engine pulls up to 2,000rpm rocks you back with each shift. Power is a bit soft over 3,500rpm, but I doubt anyone will have trouble overtaking with this motor!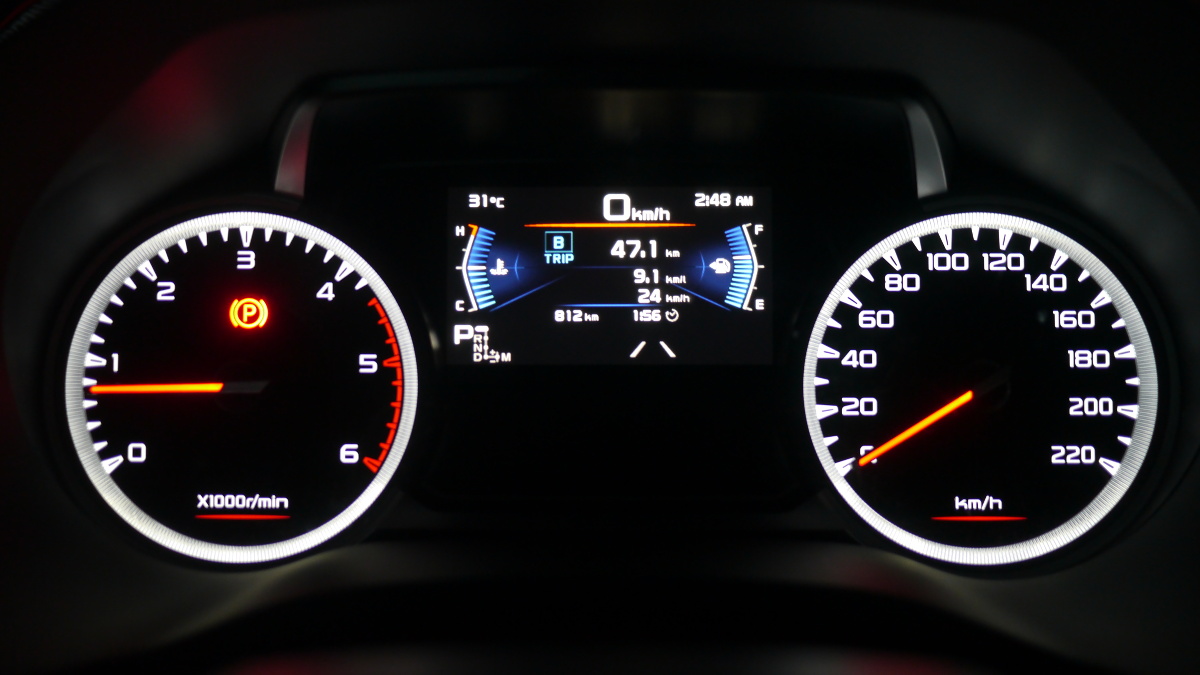 ADVERTISEMENT - CONTINUE READING BELOW ↓
Throttled back, the new engine can feel a bit lazy, loping along quietly just off-idle at the speed limit. It's too early to talk about fuel economy, but the heavy 4x4 system seems to limit highway economy at 80kph to the 17-18km/L range. We'll know more when we get our hands on a 4x2 unit, but that's fair for an automatic 4x4.
Ride and handling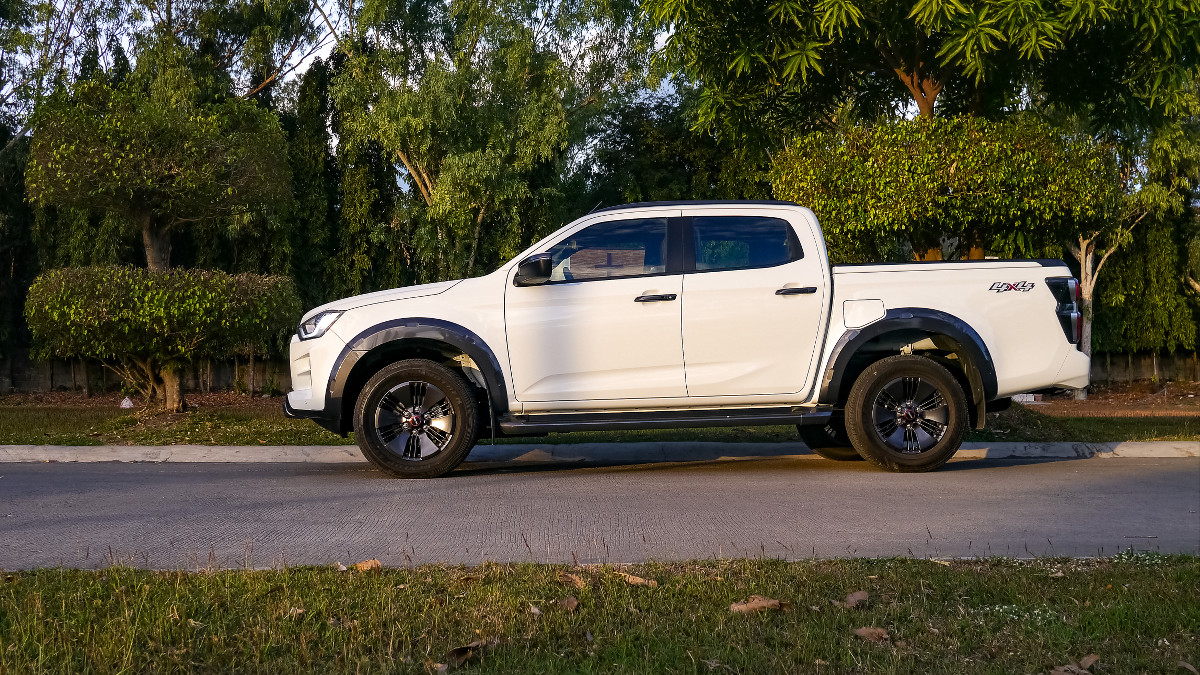 ADVERTISEMENT - CONTINUE READING BELOW ↓
That heavy 4x4 system makes the ride a bit stiffer than optimal, but the lighter aluminum driveshaft, reduced rear leaf-spring elements, and revised shock mountings help keep the rear axle planted over bumpy roads. We didn't have much chance to try out the 4x4 system itself. We did drive in the dirt, but not on anything challenging enough to require 4WD. Tight turns are no longer the arm-twirling exercise they once were. While steering ratio is still a rather large 3.8 turns lock-to-lock, a revised front suspension geometry make for a tighter turning circle and quicker steering response. The hydraulic steering isn't as finger-twirl light as in the Ranger, but it's much lighter than before, with consistent response and assist, even when doing a twenty point turn on a narrow trail!
Four-high on-the-fly is easy with the electronic switch, but we did notice a smidge of differential binding at full steering lock, so it's strictly off-road only. Given the general competence of the system, we don't doubt it'll be great when going deeper off-road, especially with the impressive 800mm wading capability and improved approach and departure angles, but that's a story for another time.
ADVERTISEMENT - CONTINUE READING BELOW ↓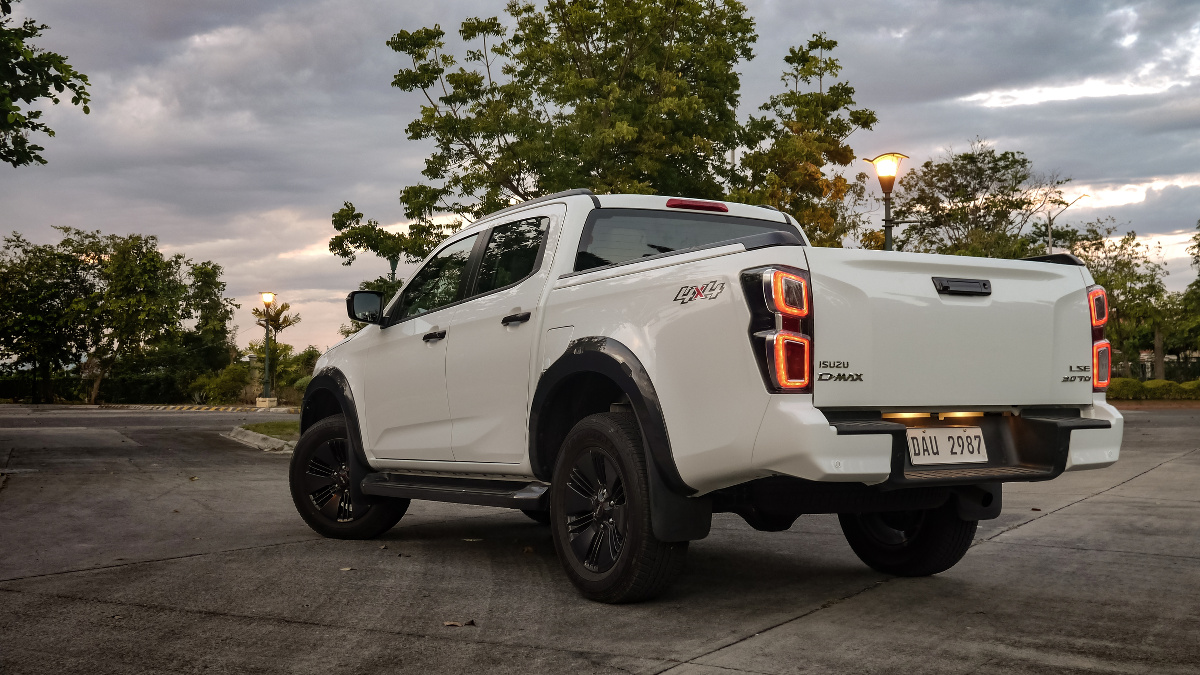 Back on the road, the chassis remains level and stable, even in high energy maneuvers. Gone are the boat-like dynamics of old, replaced by new-truck competence. It's still not class leading, but it wouldn't be embarassing to pit against the sportier trucks in the class. Big 265/60 R18 Dunlop Grand Trek tires tackle high-speed corners with nary a complaint. From experience, they're also pretty good in the wet, too. The big headline here, however, is the new Smart Duo Camera system, which runs both the adaptive cruise control and lane-departure warning systems, taking a load off the driver on long trips. Unfortunately, without an electric steering rack, there's no lane-keeping assist—yet.
ADVERTISEMENT - CONTINUE READING BELOW ↓
Around town, that fancy camera works with front and rear proximity sensors to help you navigate chaotic city traffic. With no sensitivity control for the alert systems, the beeping can get a bit annoying, but you're glad it's there every time another motorist buzzes you as you're backing out of a parking spot. Granted, Nissan and Mitsubishi also feature automatic braking, but their systems don't have the same area coverage and response that Isuzu's has. The system scans for possible collisions ahead, behind, and off to the side, and doesn't hesitate to apply the brakes if an errant driver cuts in front of you suddenly, or if it senses you're about to turn in on another car—or, more important given the changing makeup of city traffic, on a vulnerable cyclist or scooter rider. It's this extra feature that helped the D-Max clinch a perfect five stars on the Euro NCAP safety test, the toughest in the world.
ADVERTISEMENT - CONTINUE READING BELOW ↓
Extra features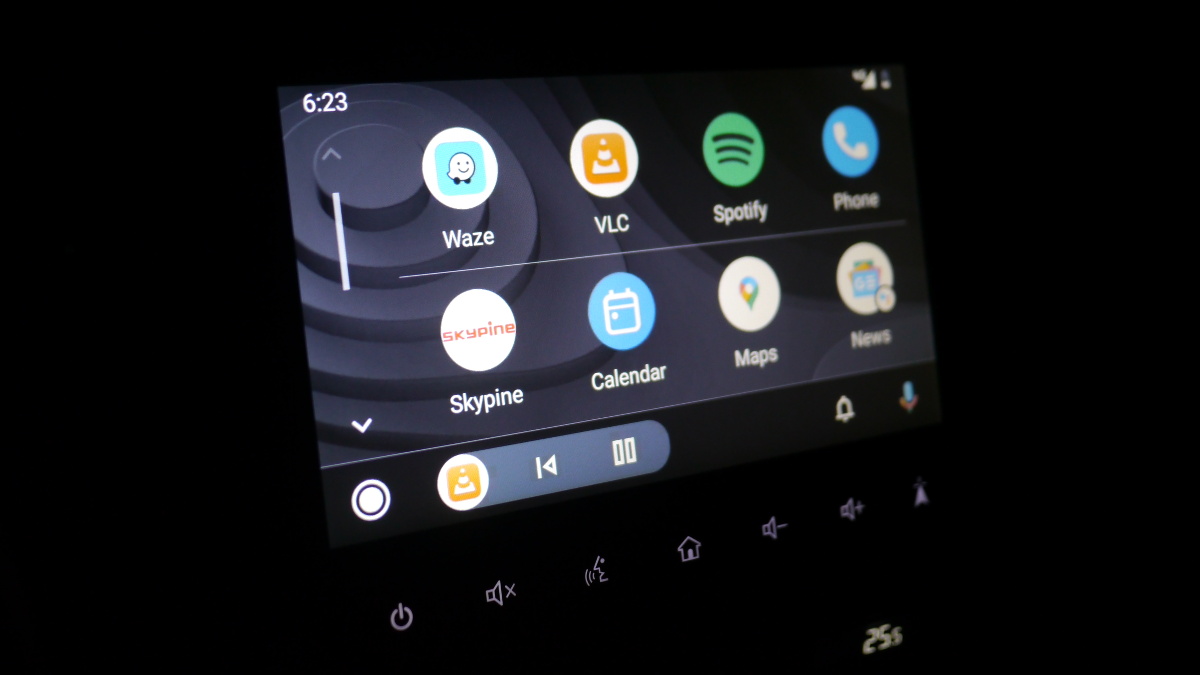 Aside from the extra active safety kit, the D-Max LS-E comes with electronic stability control, seven airbags, and Isofix child-seat anchors in the rear, all contributing to that astounding NCAP score. It also features a rather large 10.1-inch touchscreen that, while not branded, at least comes with Bluetooth, Apple CarPlay, and Android Auto. Which means smartphone-sourced music and navigation and messaging, hooray. Sound is also pretty good, though how much better the LS-E's eight-speaker system is over a six-speaker setup isn't quite clear. The music itself is, however, and hot-swapping between your music and navigation apps via the integrated smartphone controls is a snap.
ADVERTISEMENT - CONTINUE READING BELOW ↓
The system also comes with its own internal navigation system and a clinometer for those off-road jaunts that you probably won't be taking in a brand-new truck.
Verdict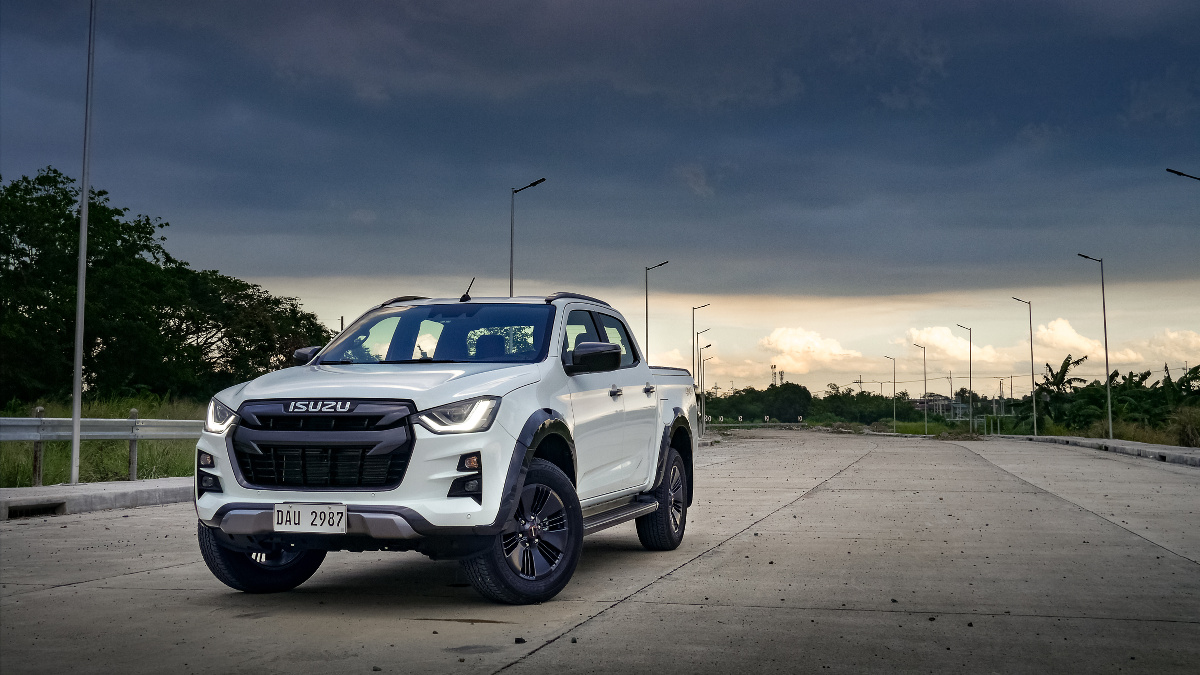 Isuzu's all-new D-Max is a big step up for the brand, finally matching the frontrunners in terms of power, refinement, and equipment, while still maintaining the brand's core strengths of durability and economy. Beyond that, the Smart Duo Camera system and the revised chassis give it a leg up over the competition in terms of safety. No other truck can claim a five-star rating on the Euro NCAP, lacking the level of active safety that Isuzu has. Sadly, the system isn't on all D-Max variants, but if all you want is a tough, powerful, working truck, that base 3.0 LT goes for P200,000 to P500,000 less than any other 190-200hp competitor.
ADVERTISEMENT - CONTINUE READING BELOW ↓
If, on the other hand, you're looking for a capable and comfortable 4x4 for family use—which may sometimes involve letting less experienced family members in the driver's seat—then the D-Max LS-E is the safest truck on the market at the moment. Both for you and for everyone else you share the road with.
SPECS: Isuzu D-Max LS-E 4x4 2021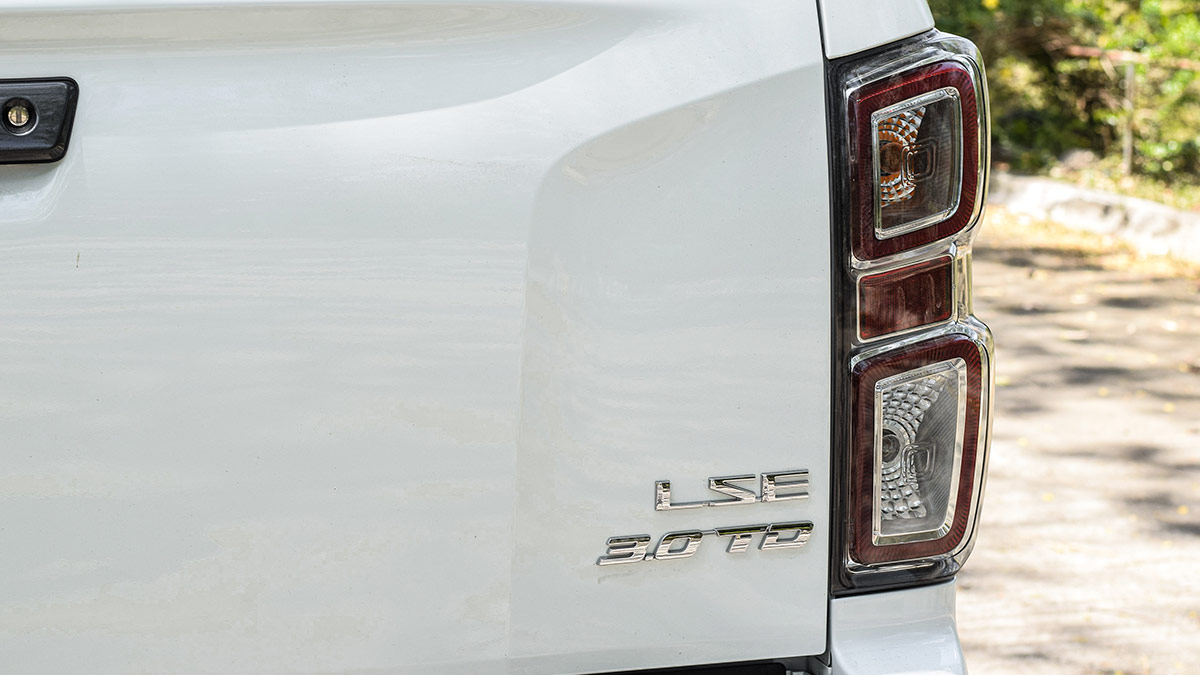 ADVERTISEMENT - CONTINUE READING BELOW ↓
Price: P1,835,000
Engine: 3.0-liter turbodiesel I4
Power: 187hp @ 3,600rpm
Torque: 450Nm @ 1,600-2,600rpm
Transmission: 6-speed automatic
Drive layout: 4WD
Seating: 5
Score: 19/20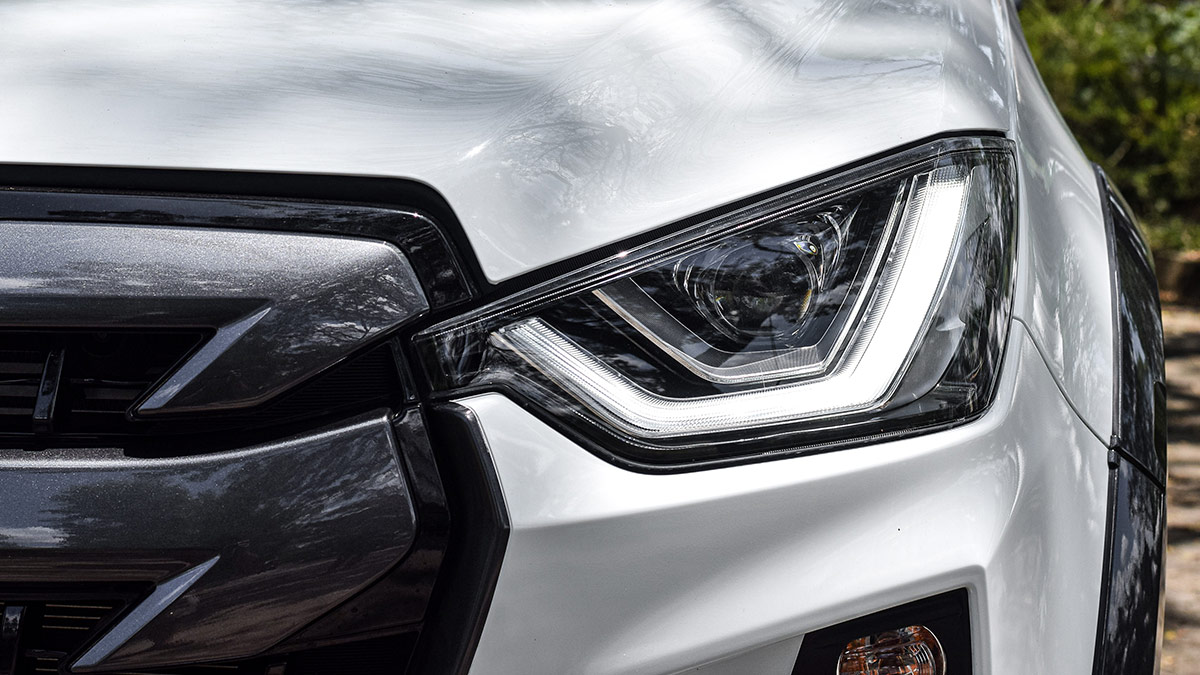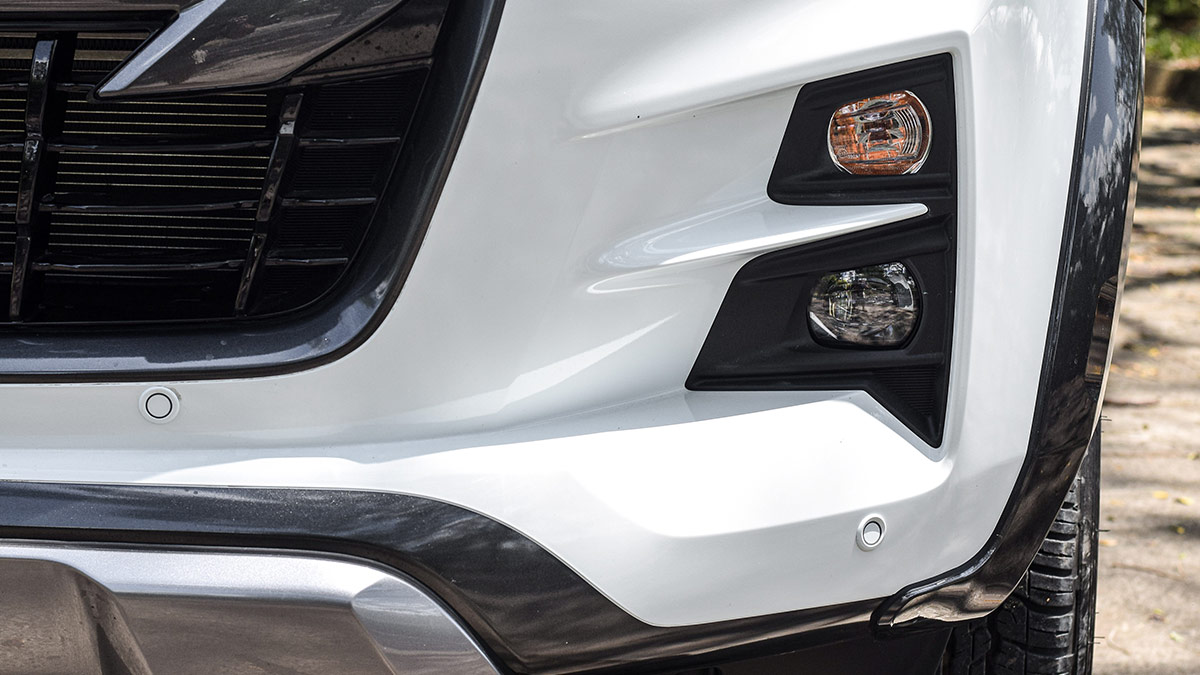 ADVERTISEMENT - CONTINUE READING BELOW ↓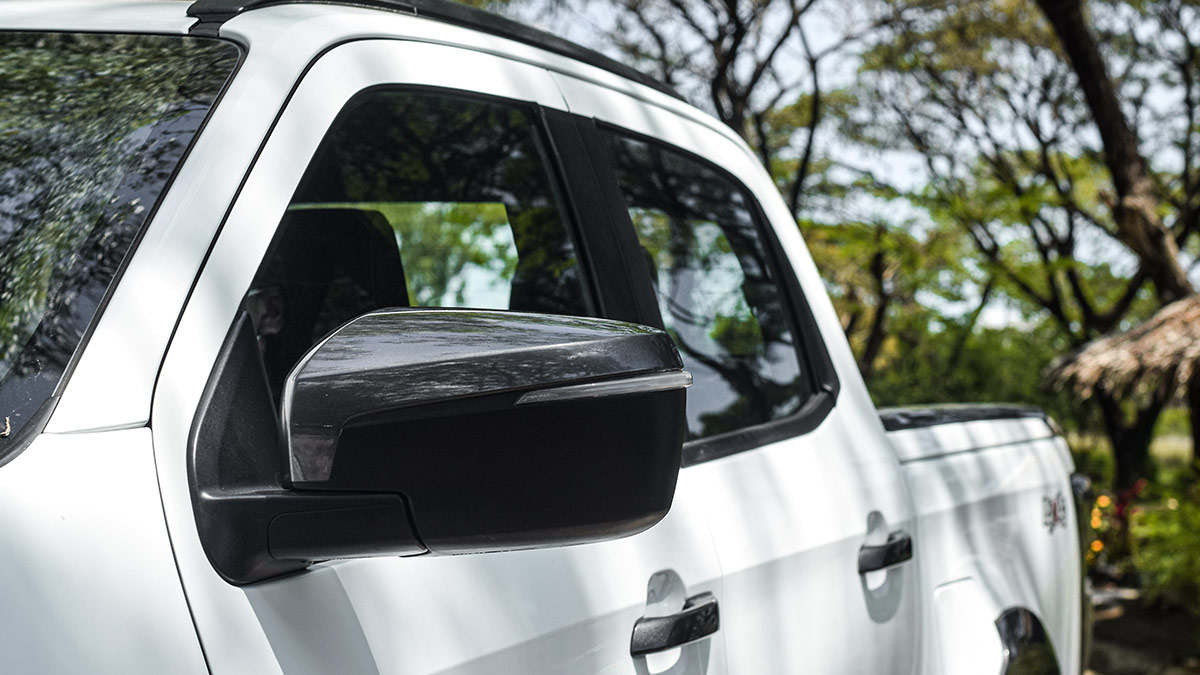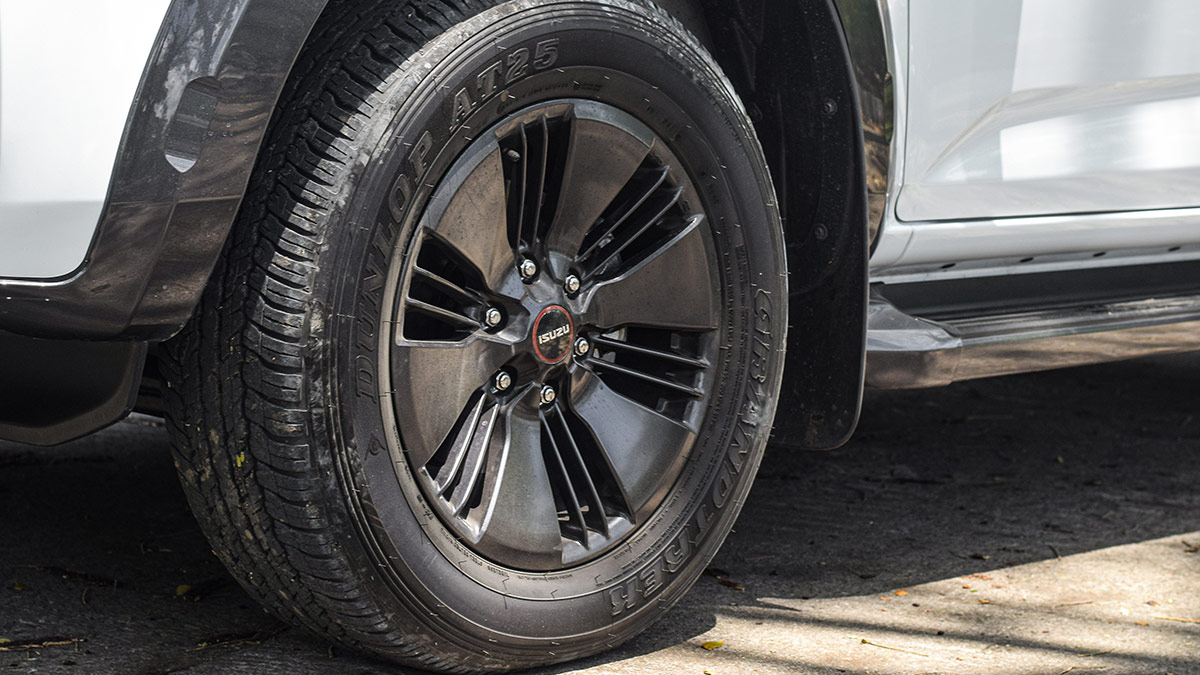 ADVERTISEMENT - CONTINUE READING BELOW ↓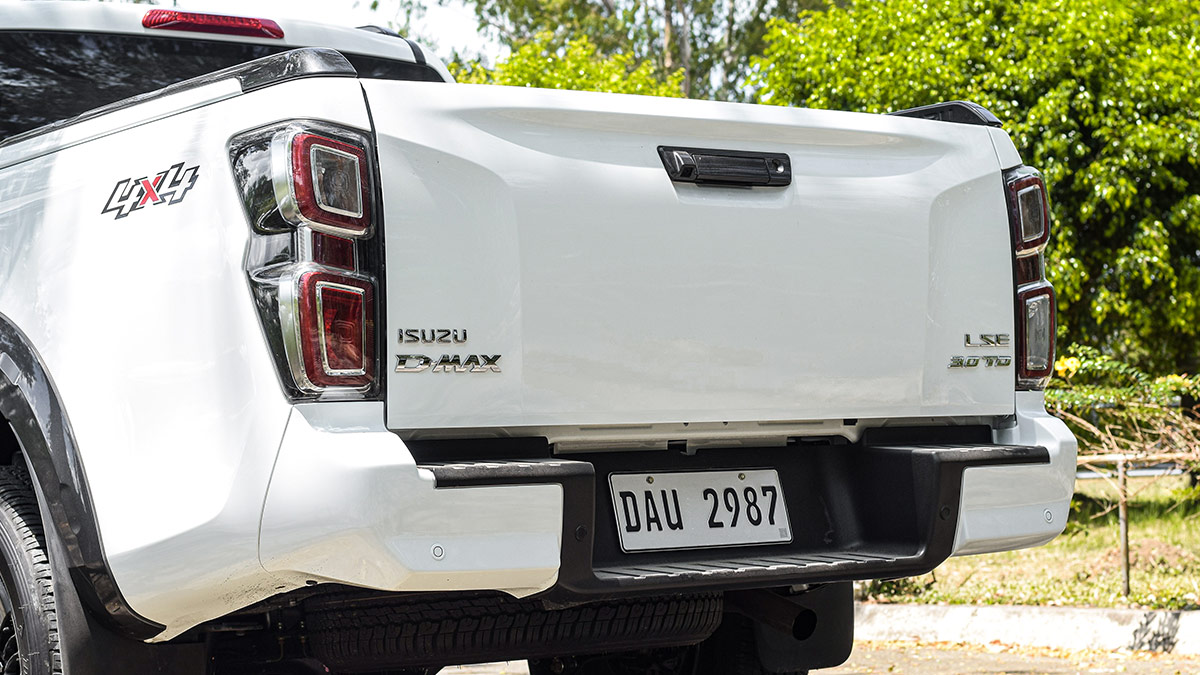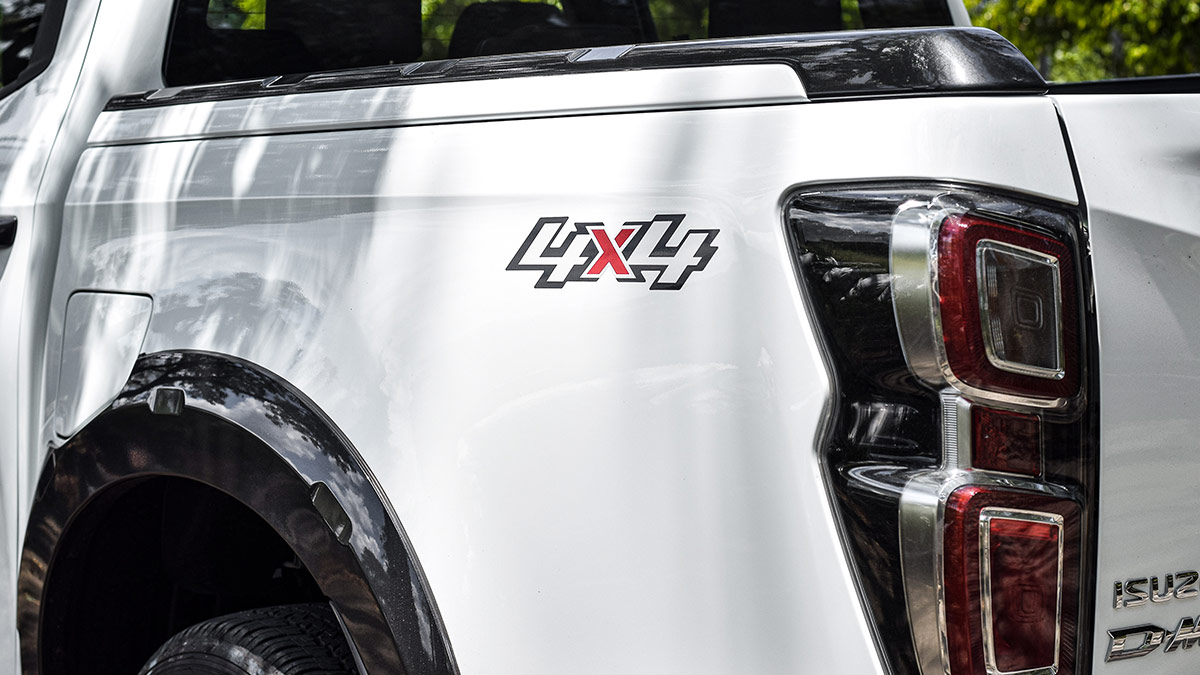 ADVERTISEMENT - CONTINUE READING BELOW ↓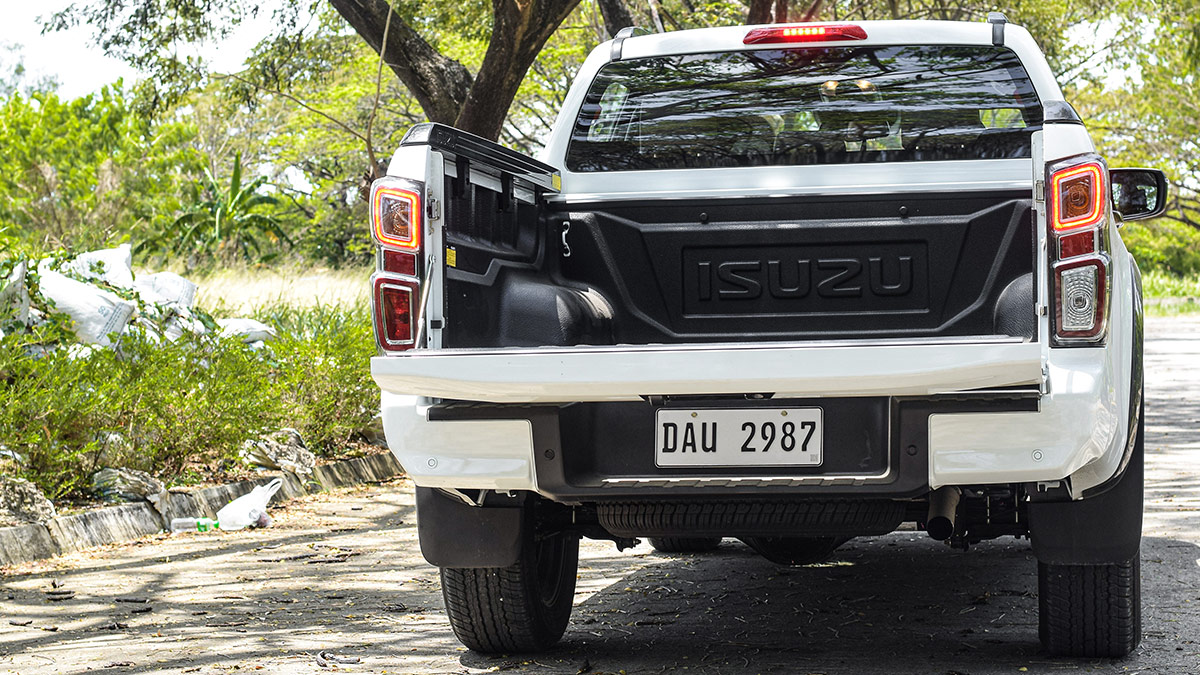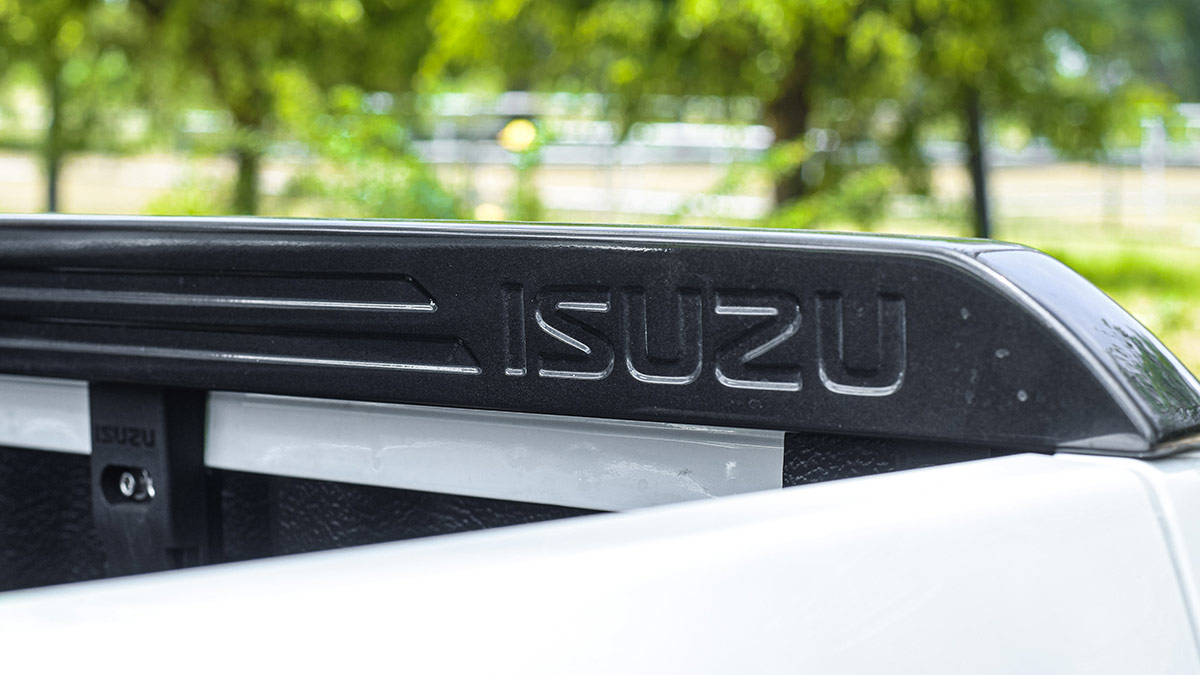 ADVERTISEMENT - CONTINUE READING BELOW ↓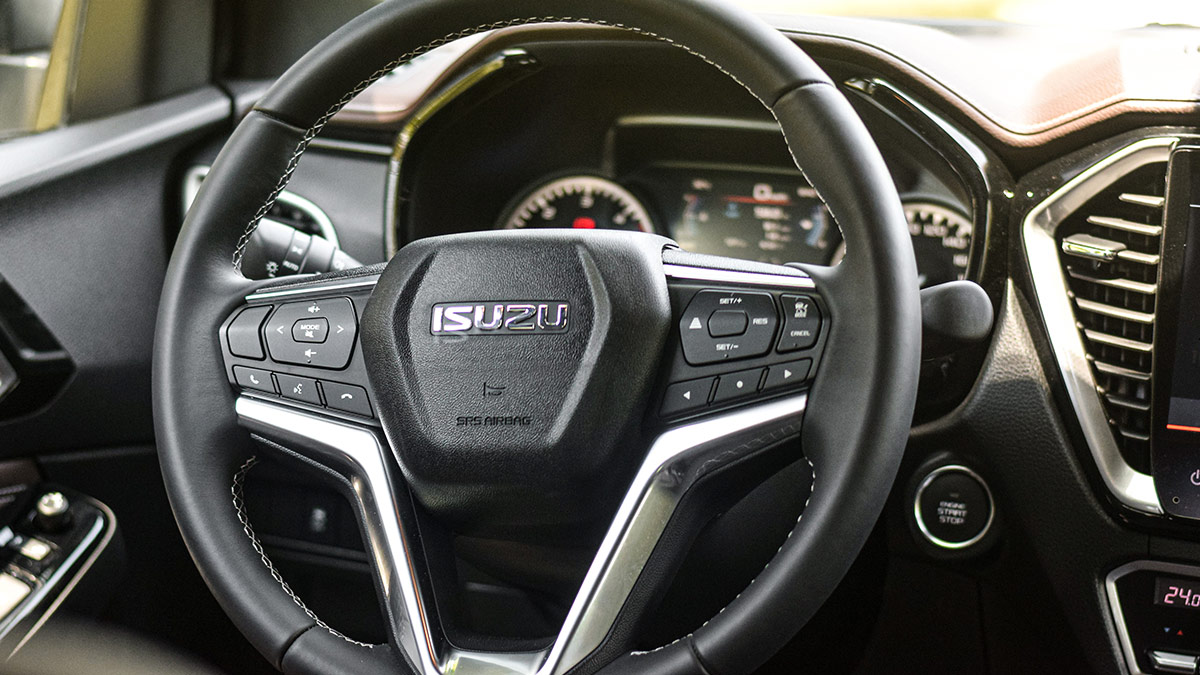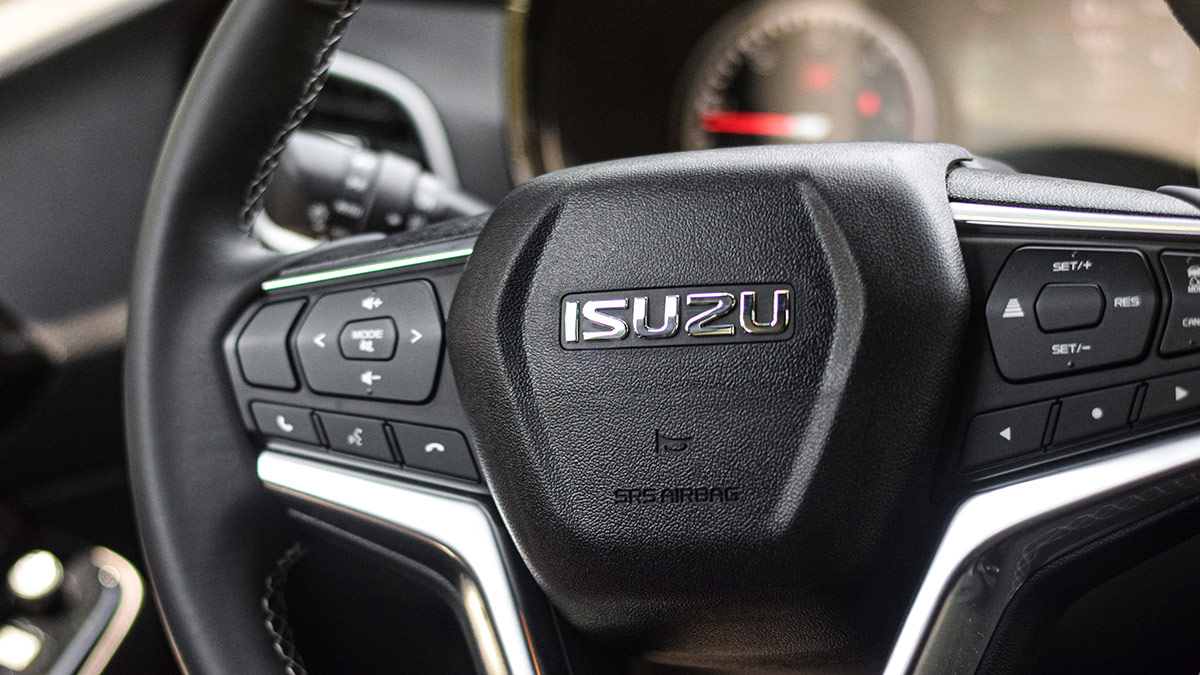 ADVERTISEMENT - CONTINUE READING BELOW ↓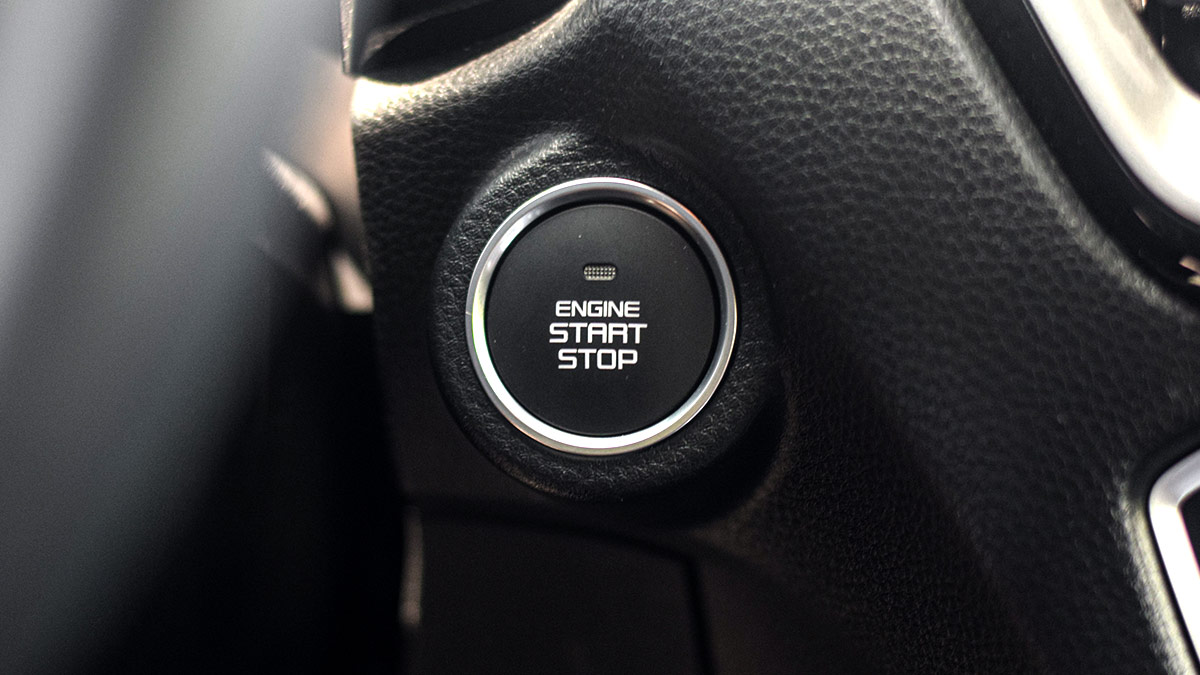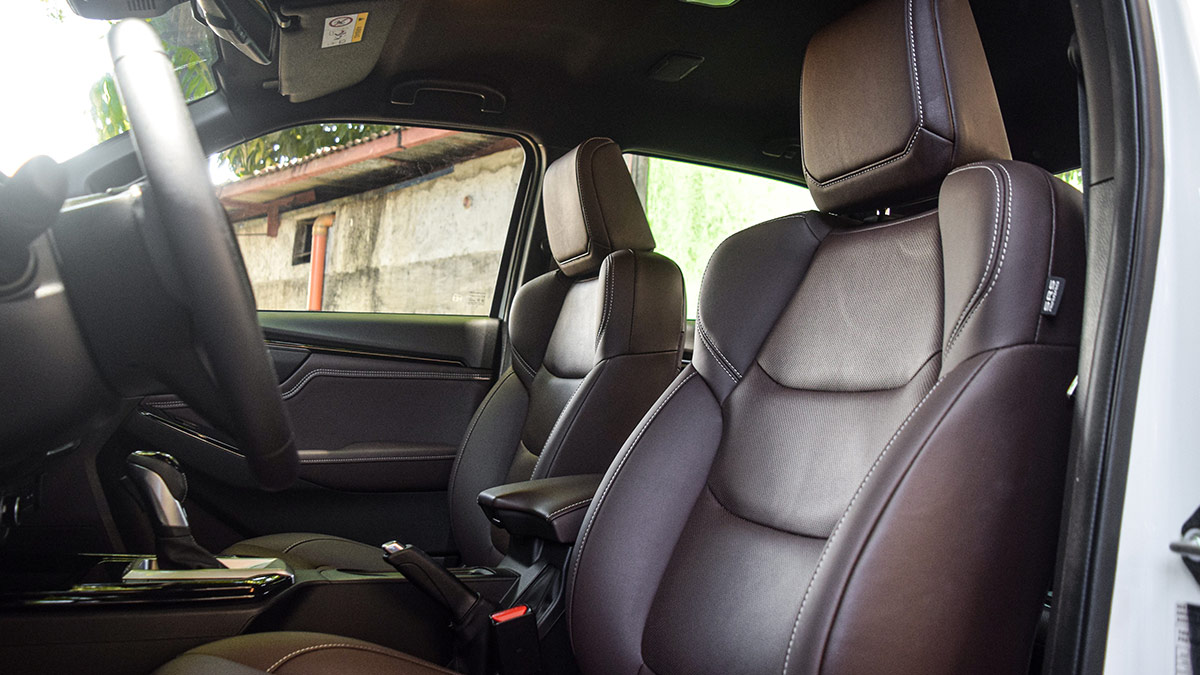 ADVERTISEMENT - CONTINUE READING BELOW ↓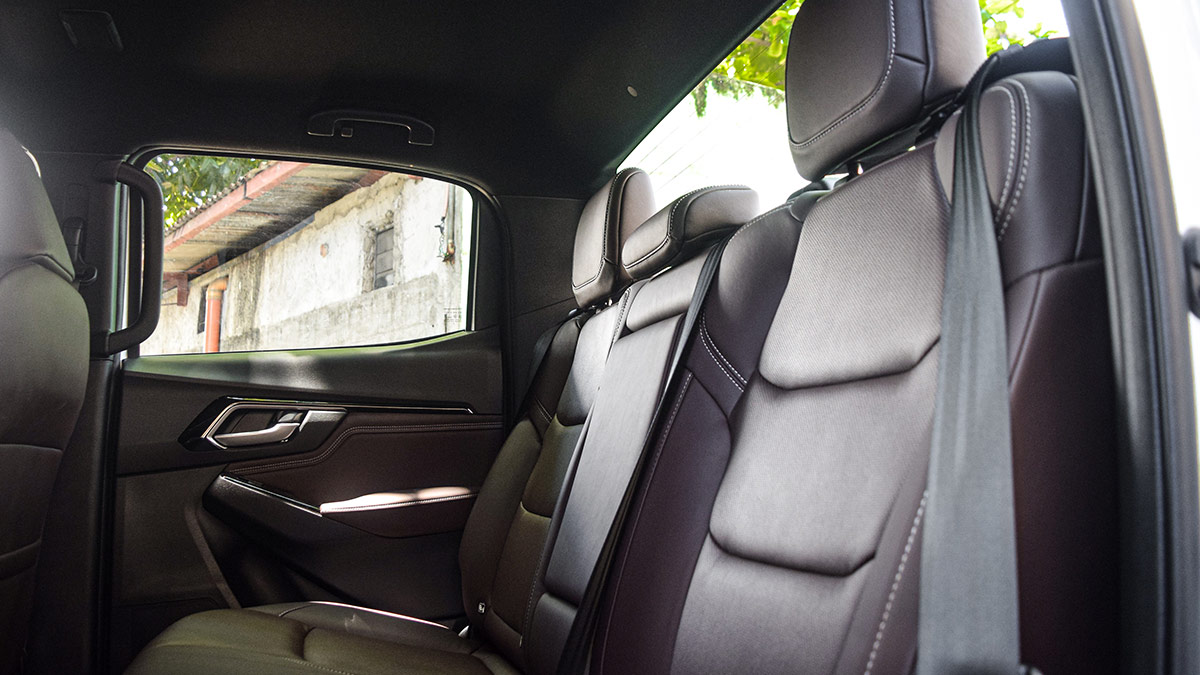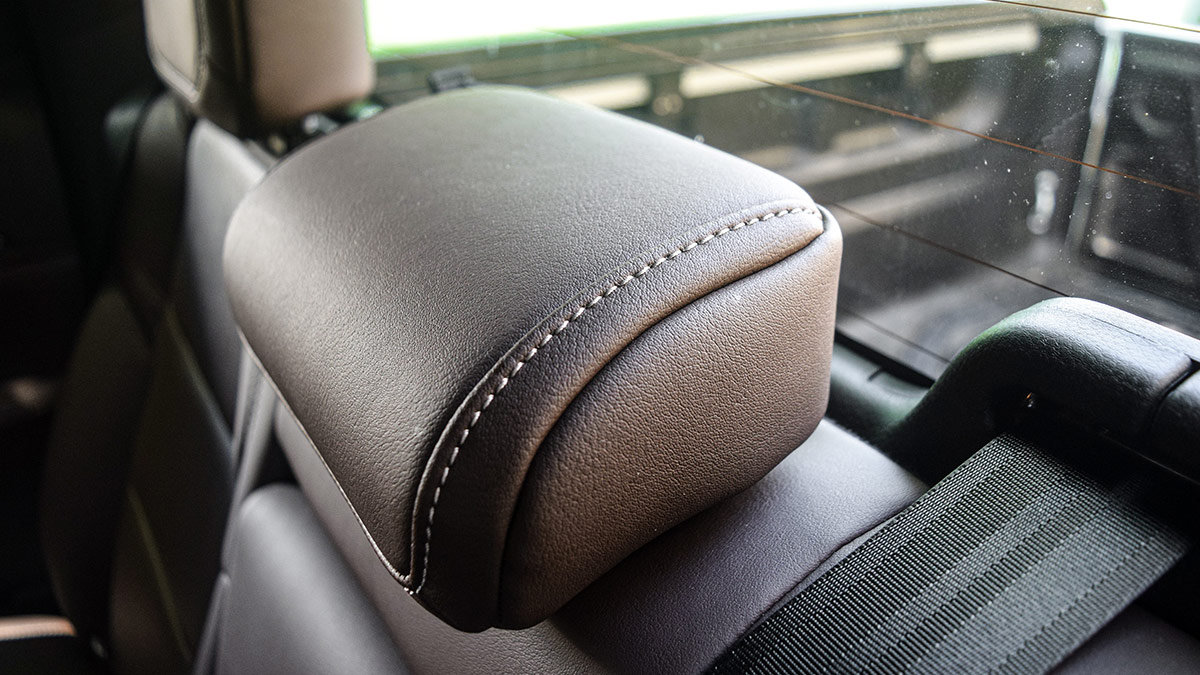 ADVERTISEMENT - CONTINUE READING BELOW ↓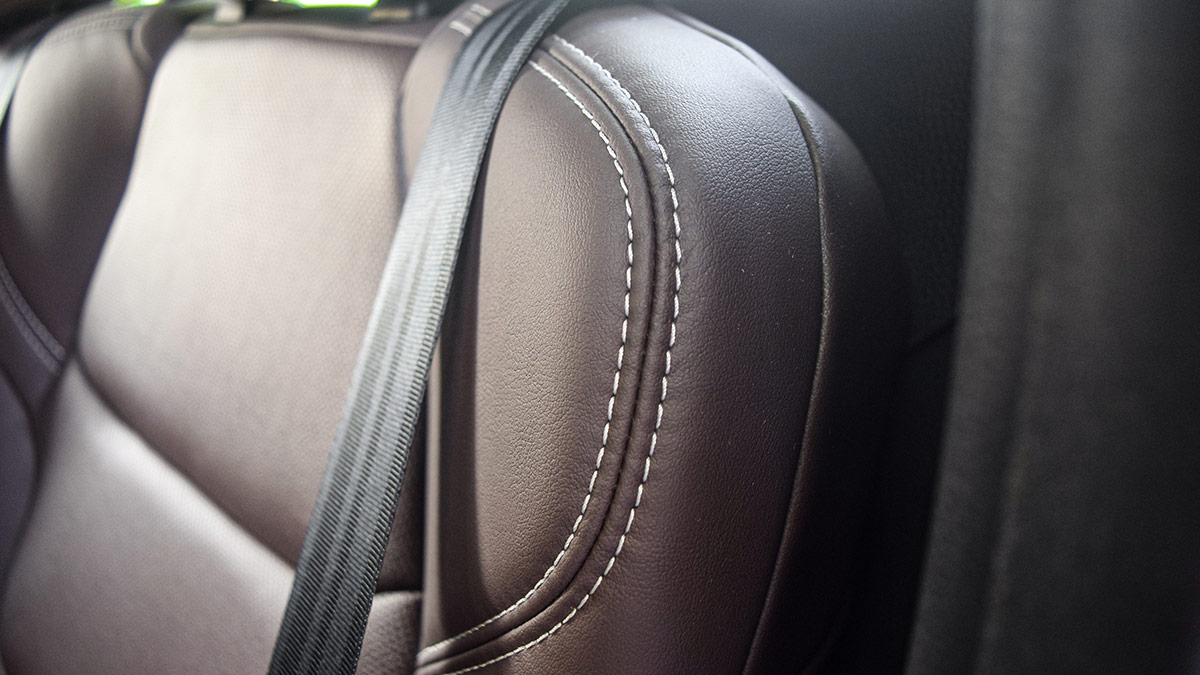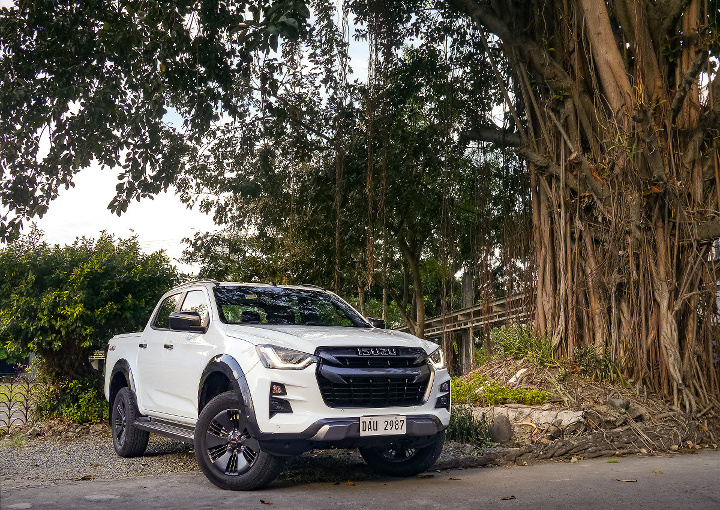 ADVERTISEMENT - CONTINUE READING BELOW ↓