It's been over a decade since I last drove a Mazda CX-9. That first-generation SUV was a revelation for a mass-market crossover, its rorty V6 and keen driving dynamics rivaling that of the vaunted BMW X5. But its premium aspirations were too far a reach for a market that still viewed Mazda as just another mass-market carmaker.
Fast-forward to 2021, and Mazda's image as a premium alternative to the common car is more widely accepted. Does this make the case for the current CX-9 stronger? And is there room for it in a lineup that already includes a more affordable midsize seven-seater in the guise of the CX-8? Let's find out.
Styling
Continue reading below ↓
Recommended Videos
Initial impressions: The Kodo-inspired CX-9 doesn't look much different from other Mazda crossovers. Bright LEDs set in jewel-like clusters. Restrained brightwork. Sensual, fluid sheetmetal. The extra width and length over the CX-8 give it a more aggressive, more hunkered-down stance compared with its more upright sibling, but there's little here we haven't seen elsewhere in the brand's stable, albeit with minor variations.
The handling of the headlight-grille intersection doesn't feel as nuanced as that of the CX-8, but the rear end feels much better fleshed out, as the CX-8's rear is a bit understyled—if such a thing is possible for a Mazda! Still, the two cars are so similar that it's difficult to see why the CX-9 should cost so much more. Mazda's fault, really, for making its regular cars look so damn good.
Interior
The interior, on the other hand, leaves you in no doubt as to the CX-9's luxury aspirations. There's a rich assortment of colors and textures, real brushed aluminum, rich auburn-colored napa leather, and even—gasp—real satin-finished rosewood, carved into sensuous shapes that will feel instantly familiar to keen guitarists. Familiar because they're supplied by guitar-maker FujiGen. All illuminated by subdued blue LED accent lights and diffuse white LED pin lights. Where other Mazda interiors feel like expensive office furniture, this is more like a posh speakeasy. All that's missing are the fine whiskey and cigars. Not that there are any ashtrays or lighters for those cigars. We checked.
There is, however, a 12V socket hidden in the passenger footwell, for that dashcam you're never going to unplug. More accessible are the USB and fast-charging sockets in the console box under the leather-topped center armrest between the deeply recessed front buckets. You sink into those seats rather than sit on them, all-electric adjustment and a telescopic steering column allowing you to dial in the perfect piloting position.
While the cabin is not quite as expansive as in some bigger, more upright midsize SUVs, there's a lot of room here for everyone except third-row passengers. And although you get more headroom than in the CX-8, you still have to fiddle with the second row quite a bit to find the perfect balance of shared legroom.
Ignoring that, the CX-9 is certainly a luxurious proposition for carrying four to five people in perfect comfort. And with the third row folded, you get a cargo bay so deep, you have to climb bodily in to reach stuff up against the second-row seatbacks.
Engine performance
The turbocharged 2.5-liter Skyactiv engine under the hood has a lovely diesel-like swell of torque, that doesn't let up until the transmission grabs the next gear. Despite the rather modest 227hp output, 0-100kph is dispensed in around 7.9sec—a second and a half quicker than the old V6 CX-9 or the outgoing 2.3-liter EcoBoost Explorer. All thanks to the lighter Skyactiv chassis and the excellent engine response aided by the dynamic-pressure turbo system. With 420Nm on tap from as low as 2,000rpm, you can cruise at just off-idle at 80kph, allowing you to eke out 14-16km/L despite the CX-9's imposing size. This is a huge step up from the first-gen V6, which struggled to even hit 10km/L on the highway. It's even impressive compared with the lighter non-turbo CX-8.
Unfortunately, that extra weight and power tells in the city, where fuel economy hovers at 4-6km/L. And the turbo engine's diesel-like rush comes with a diesel-like character. There's a considerable pause before the turbo kicks in if you're trying to overtake on the fly, and power drops off steeply after 5,000rpm. An extra gear or two wouldn't go amiss here, to smooth out the lumps in the performance. But the responsive shifting algorithm and the impressive torque should prove more than adequate for any but the most dedicated of petrolheads.
Ride and handling
While the CX-9 isn't as easy to thread through traffic as the CX-8, its low hood and surprisingly big side windows make it easy to stay out of trouble. For difficult bypass lanes and tight parking, the switchable 360-degree camera helps, but you still give a little prayer each time you've got to parallel-park those big 20-inch alloy wheels against a curb.
The 255/50 Bridgestone Ecopia tires wrapped around them seem like an odd choice for an SUV this potent. Sure, they're relatively quiet and contribute to the decent highway economy, but they lack the bite to rein in the power. Even with all-wheel drive, full-bore acceleration can feel squirrely, G-vectoring or not. And there's no disguising the extra bulk and the softer suspension set compared with something like a CX-5. On the bright side, while those big wheels clomp a bit at low speed, the CX-9 steam-rolls all road imperfections on the highway, floating like a proper luxury SUV should.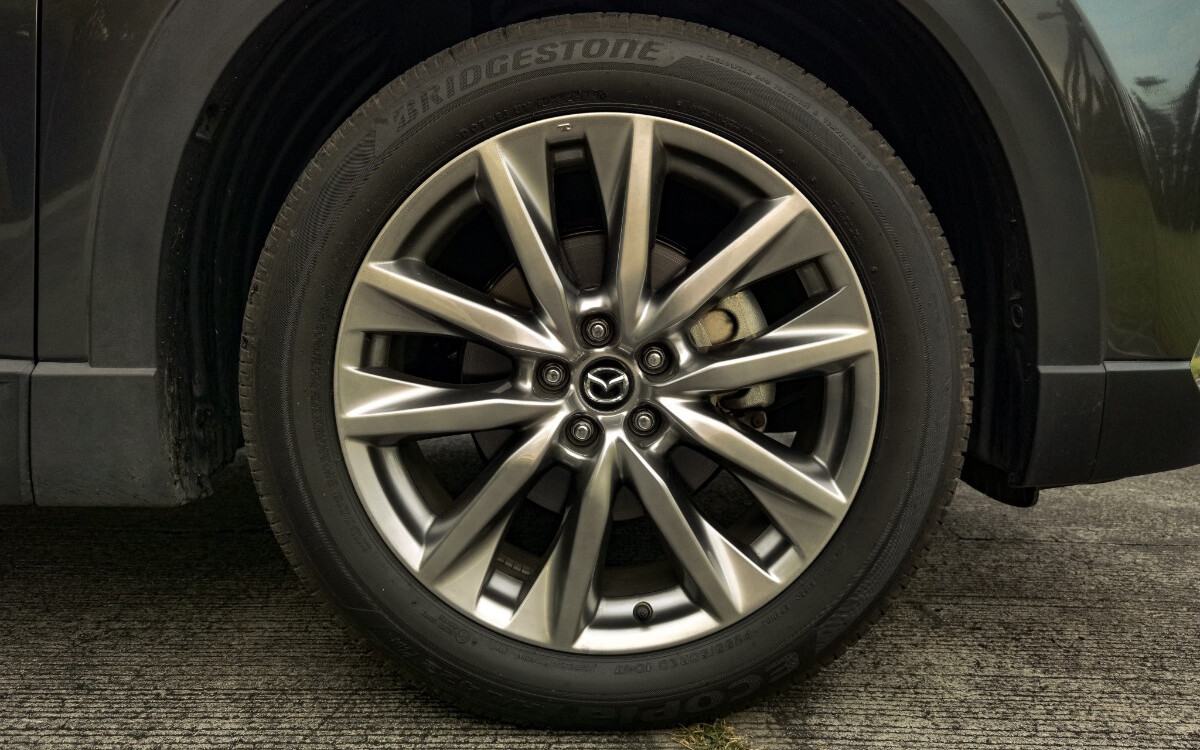 And come the twisty bits, the big Mazda is still leagues ahead of other cars in the class in terms of driving dynamics, with light, tactile steering, a responsive front end, a keen, centered balance—especially for a transverse-engined crossover. Just as with its predecessor, it feels closer to something like a BMW X5 than it ought to. It might even be—blasphemy—more fun to drive than the regular X5, if not as powerful or invigorating as something like an X5M.
Extra features
As befitting its premium positioning, the CX-9 comes with a powered tailgate, a sunroof, rear window shades, multi-zone A/C, ventilated and power-adjustable front seats, and USB charging points liberally sprinkled everywhere. Have I mentioned the front-seat ventilation? Where most similar systems mildly warm or cool your backside, this feels like a wall A/C going full blast up the back of your shirt.
On the infotainment side, you get a fantastic 12-speaker Bose system as well as Apple CarPlay and Android Auto integration. The standard Mazda control-puck interface, however, is starting to feel a bit unsuited for smartphone mirroring. That said, these are things that you do—or should—set and forget at the start of each journey. For safety's sake.
And for extra safety—and peace of mind—the CX-9 gives you six airbags, Isofix mounting points for child seats, dynamic stability control, adaptive cruise control, lane-keep assist, cross-traffic alert, and blind-spot monitoring. That last one is of particular importance when maneuvering out of parking spaces, given the limited rear visibility with all three rows up.
Verdict
So, does the CX-9 make any practical sense versus the CX-8? Not really. It only carries one extra passenger, and the extra cargo space is offset by the CX-8's standard roof rails. And the smaller Mazda is a better fit for tight Asian streets. But from a purely emotional standpoint, the CX-9 pushes all the right buttons. Better, faster, harder, stronger. While the bulk of Mazda's large crossover sales over the past year may have gone to the CX-8, there's quite a number of luxury buyers who've taken the plunge with Mazda's flagship model.
And who can blame them? Where the old CX-9 aspired to premium status, the new one embodies it fully. In a market niche populated by legacy platforms, boat-like driving dynamics, and more fake wood than a plastic plant store, the CX-9 sets a new standard for affordable luxury.
SPECS: 2021 Mazda CX-9 AWD Signature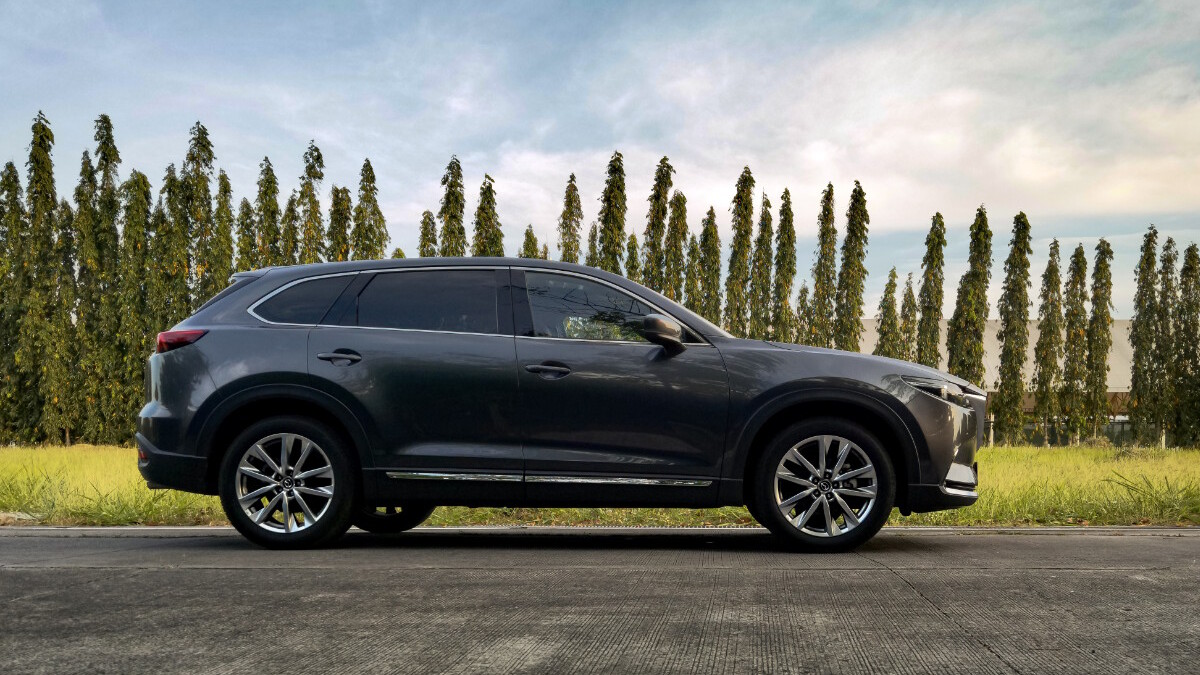 Price: P2,950,000
Engine: 2.5-liter turbopetrol I4
Power: 228hp @ 5,000rpm
Torque: 420Nm @ 2,000rpm
Transmission: 6-speed automatic
Drive layout: AWD
Seating: 7
Score: 19/20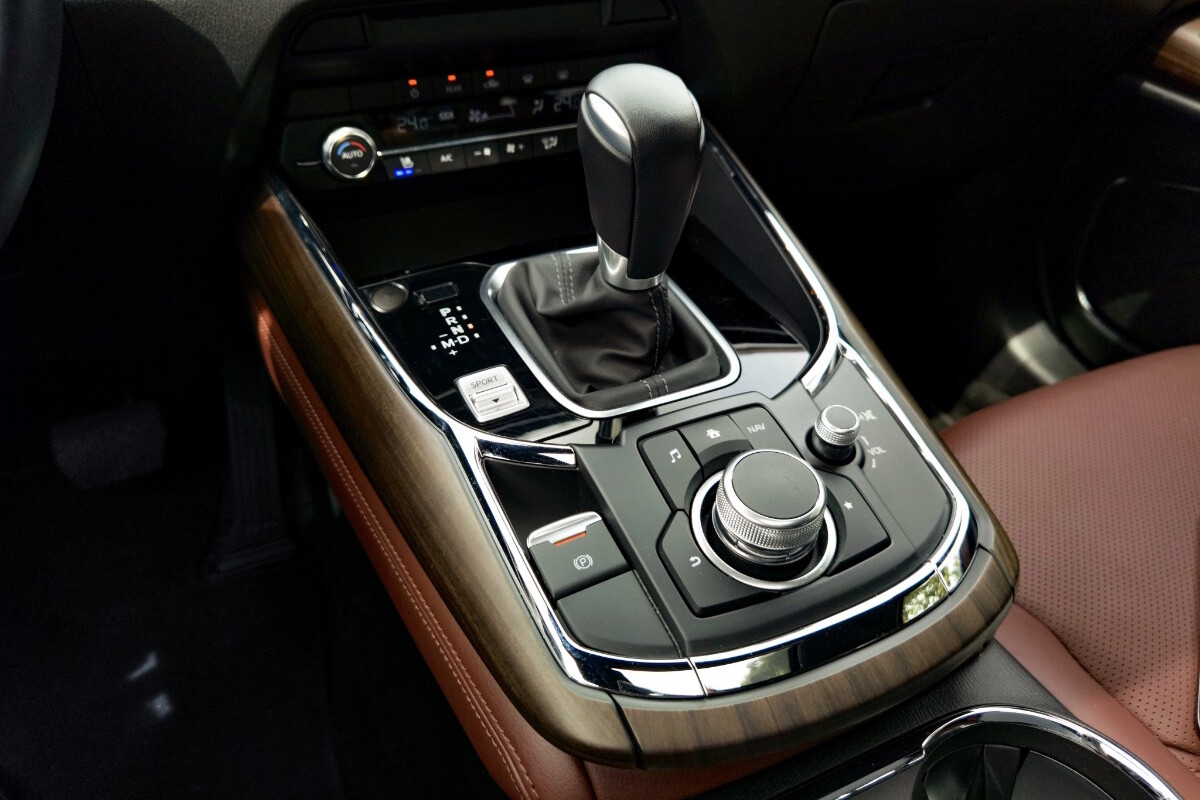 Top Gear Philippines is now on Quento! Click here to download the app and enjoy more articles and videos from Top Gear Philippines and your favorite websites.