Let's not use the words 'new Defender.'
Let's not. This is not the new Defender, but it's an old Defender with much newness. In fact, every single component—every last nut and washer—is either new or better than new. Or different from new—upgraded and modernized to suit the owner's inclinations.
So a restomod?
Arkonik will restore a Defender, so it's not much modified. That'll cost you something not unadjacent to £100,000 (around P6.68 million).
Most buyers then commission a cornucopia of mods on top. That adds about the same sum again if they really go to town. As has happened with this one.
This one?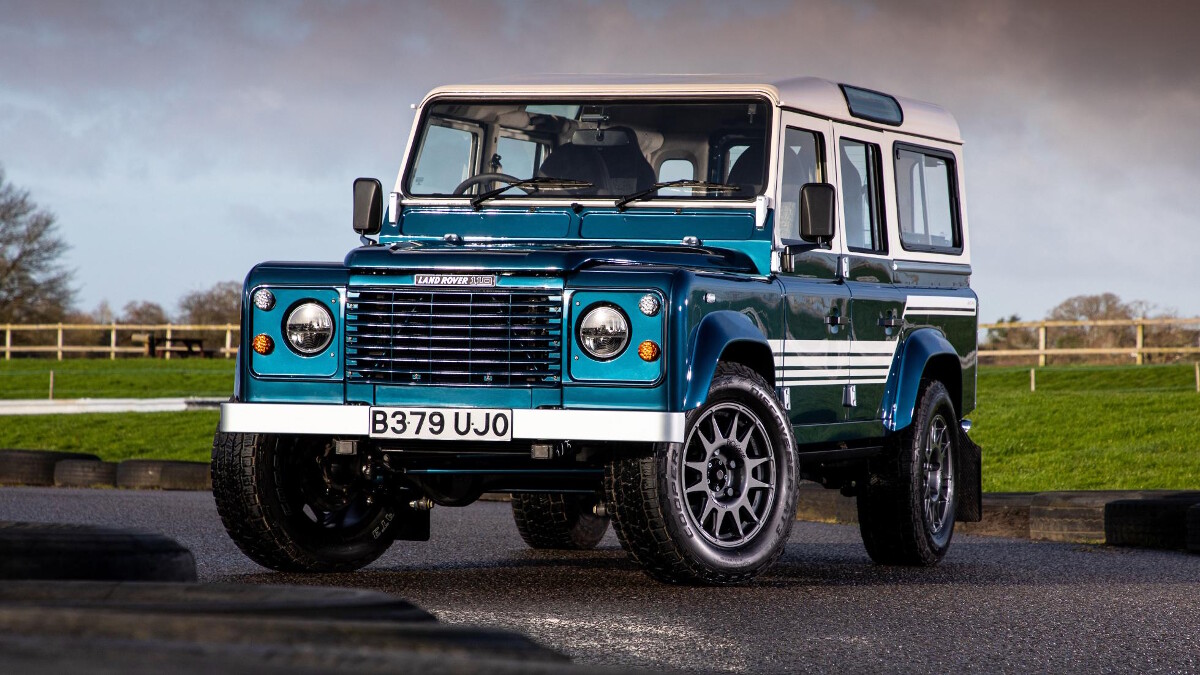 Continue reading below ↓
Recommended Videos
This is the heart's desire of Arkonik founder Andy Hayes. He began in 2006 by restoring an '80s V8 long-wheelbase blue Defender as a pastime while laid up after a motorbike accident. It turned into a business, doing 270 vehicles since 2006. Hayes now employs 70 people in a cluster of light industrial units among the fields and lanes of Somerset.
This blue Defender is a tribute to Hayes's original vehicle. It, too, is blue, a 110, and a V8. But not the sort of blue paint that ever came out of Solihull. It's impossibly, deeply glossy like a tropical lagoon. The V8 isn't your Rover, either: It's a 430hp Chevy LS3 6.2-liter V8.
I'm not familiar with Arkonik. Should I be?
The 2009-2010 recession killed demand in Britain, which is why Arkonik pivoted to North America. To sell into the US, the vehicles must be more than 25 years old, with an age-appropriate engine. So, Arkonik has spotters all over the sunnier climes of Europe on the lookout for old donor Land Rovers to buy—diesel or V8. They're brought back to Somerset and transformed.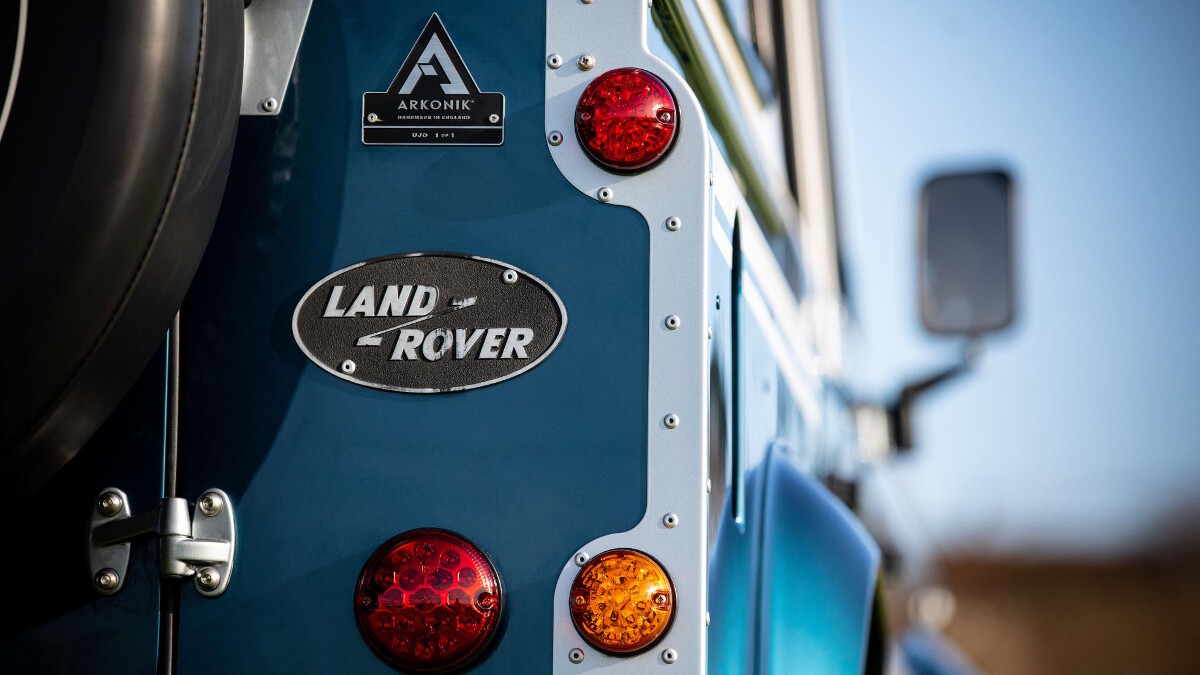 Even a relatively standard Arkonik gets a completely rebuilt chassis, an all-new rear body (out of thicker aluminum than originally), new wiring loom made on the premises from premium parts, and a completely rebuilt engine, with just the block, head, and crankshaft revived from the donor.
Actually, one other component of the original vehicle survives: the chassis plate with VIN. Without that, the shiny yet quarter-century-old Defender wouldn't slip past the USA's hawk-eyed import inspectors. Although once it's arrived, engine swaps are allowed and Arkonik sometimes flies its craftspeople out there to replace the immaculately restored TDI with...an LS3. Told you these were high-dollar trucks.
Why are we here now?
With interest in all things Defender going generally ballistic, Hayes now sees potential for Arkonik to start selling here. This particular blue Land Rover is designed to make some noise about that. And make some noise it does.
So what's it got?
The most notable change is that Chevy LS3 engine and its 6L80E six-speed automatic transmission, mated to the rebuilt Land Rover 4WD system with high-low transfer box. Sounds come courtesy of a Magnaflow stainless-steel pipe system.
Ridiculously rapid, then?
Well, considering it started life in 1984 with about 135hp and now has 430hp, what do you think? Even though it's probably about two tons, it's able to dispense considerable—although not ridiculous—shove in the back, raising the voice of a dragon as it goes. The brand-new transmission sometimes coughed its shifts in my drive, but its electronics should adapt over time to correct that.
Wouldn't fancy that in an normal 110 chassis.
This isn't normal. Controlling it all we find a Bilstein and Eibach spring-and-damper pairing, and it's lowered—but less than you might expect. Anti-roll bars are stiffer, of course, and the bushes are SuperPro poly jobs. Eighteen-inch Cooper all-terrain 265/65 tires connect it to the ground.
Reining back that thrust are Tarox six-piston brakes. They do a stout and progressive job.
Does that manage to keep the show on the road?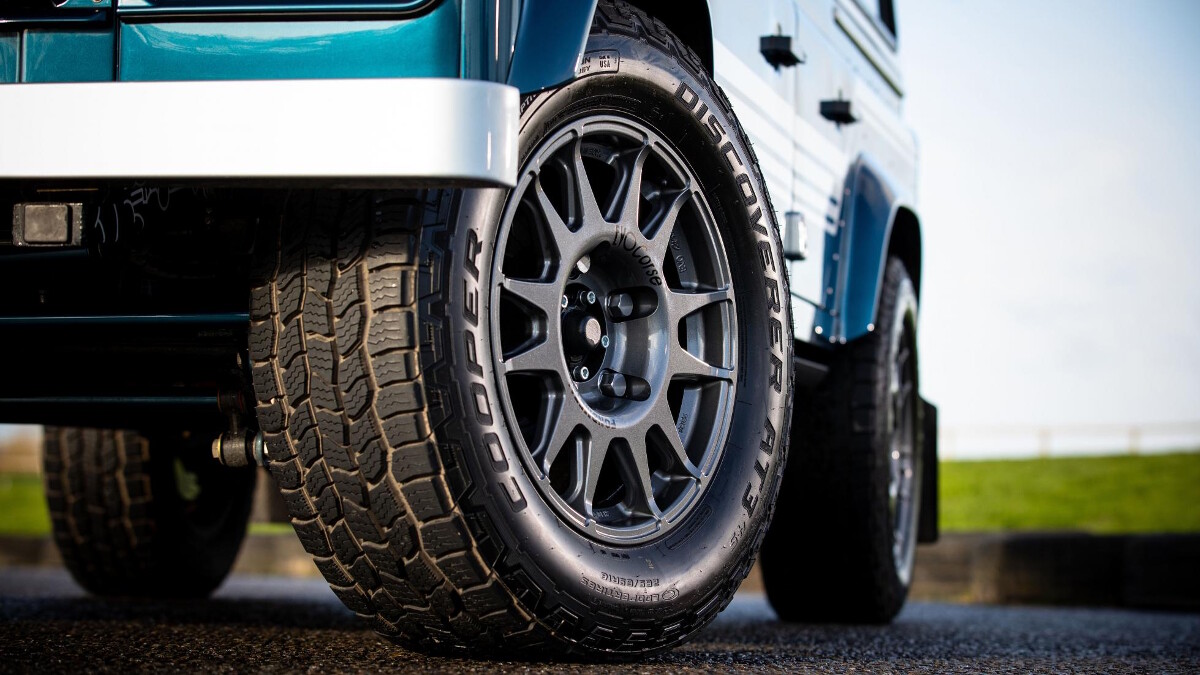 There's an agreeable and perhaps surprising suppleness to the suspension. It's not the crashy mess that sometimes emerges when tuners over-stiffen old live-axled vehicles like this. Bumps don't punish you, and don't badly knock the Defender off-course.
Look, it's never going to disguise the heavy-metal live axles down there, but it won't try to kangaroo off the road. The most satisfying approach is just to dip your toe into the well of performance, the V8's muscle caressing you forward while never getting near its maximum effort.
I'd spec a smaller steering wheel. You're arriving at corners at a drastically different pace than the one the steering was designed for. So, you've got to do a lot of wheel-twirling, and do it fast. A smaller one would sharpen up the perception, as well as giving you more elbow- and knee room.
What about the decor?
Outside, even the chassis has been artfully graffiti-signwritten, and it's lit by underbody blue LEDs that clearly enjoy stretching any definition of taste. Headlights are LEDs, door handles are billet-aluminum.
Inside, it's brown leather and tweed, with seats for eight (most of them heated) and a neat aircon. Most striking is a bespoke new instrument panel replacing the cheapo dials that were a hangover of the '70s facelift.
But to return to where we started, it's still...an old Defender.
Yes, and here we get to the weighty mental baggage I carried with me to Arkonik.
I love the basic Land Rover. Learned to drive in one. But it was a tool, lovable because it was so well-used and well-suited to the job. But I had no illusions about the cramped driving position, the messy controls, the noise, the roughness, the useless side-impact protection, and all the rest.
The danger with dollying up a Defender is that the further you go, the more painfully the dollied-up bits clash against the original remainder. And to an extent, that applies here, although at least the original remainder is beautifully polished.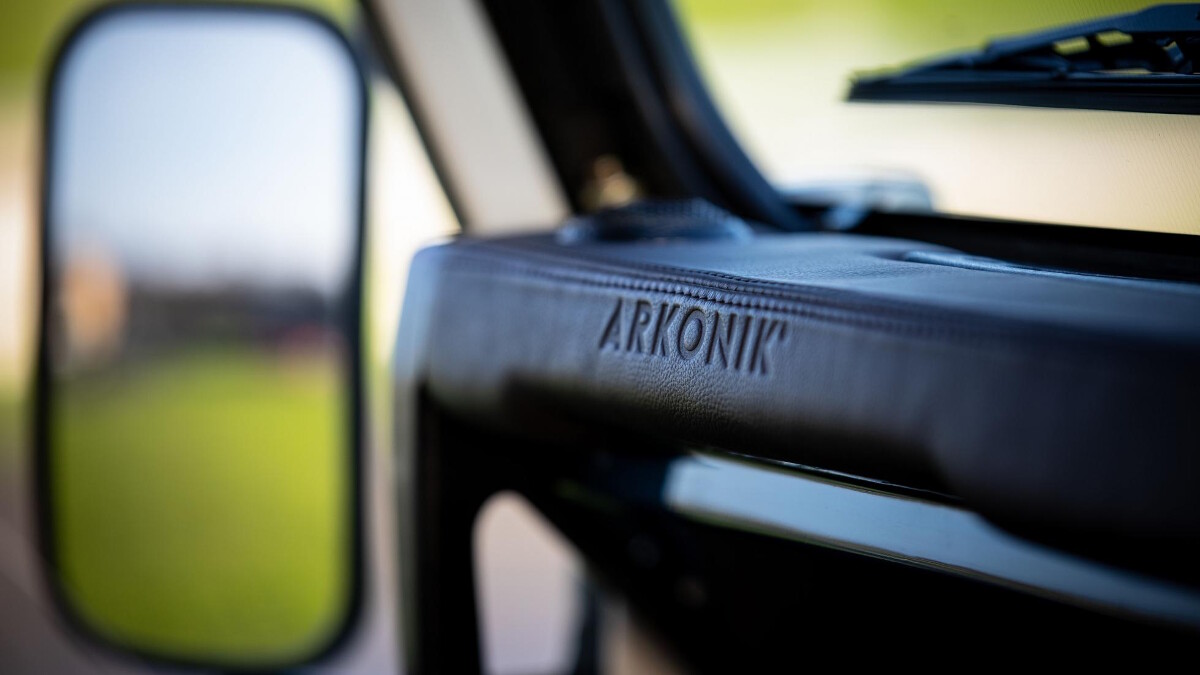 And yet...Andy Hayes is a sentimental individual and he articulates a poetic-spirited narrative to justify a £180,000 old truck. He loves the Defender. But not blindly. He likens its flawed character to our flawed human selves.
And that's the mindset he applies to the people who work here: He nurtures them as individuals, to get the best from them. The best being something very, very good indeed. A tour of the Arkonik workshops reveals craft of a stupendously high quality and consistency.
You're buying a vehicle that can go anywhere, tow anything, shrug off defeat. A vehicle with a heart and a soul. And it carries the hearts and souls of the men and women who built it. Built it just for you.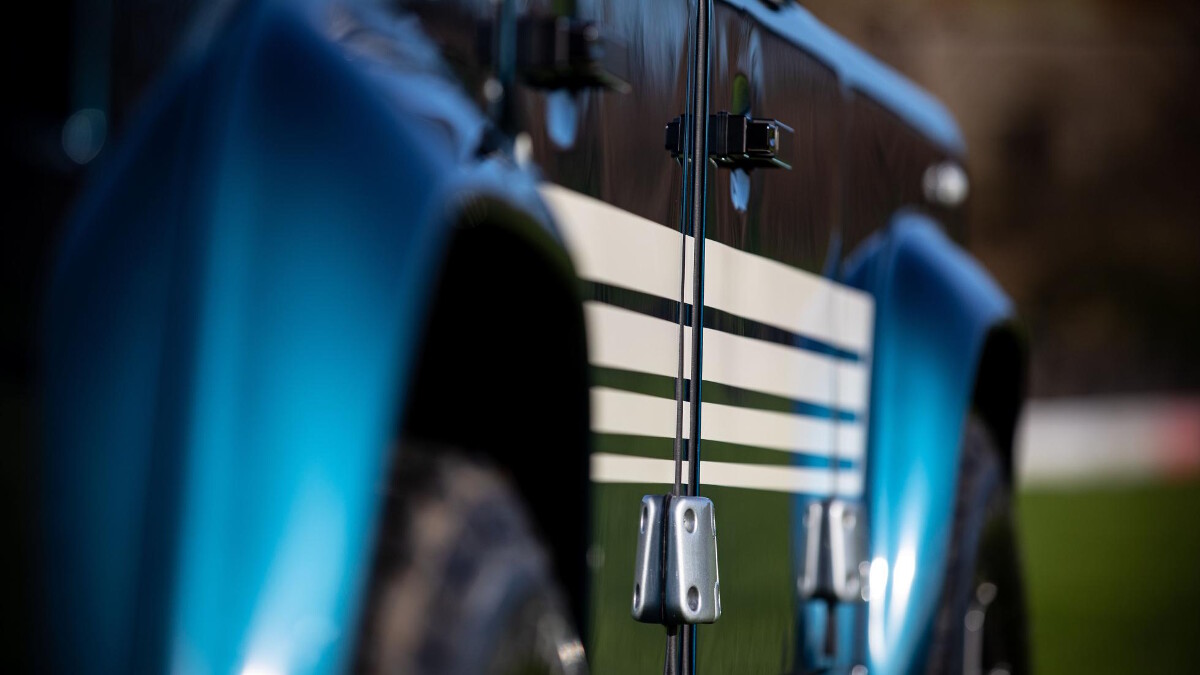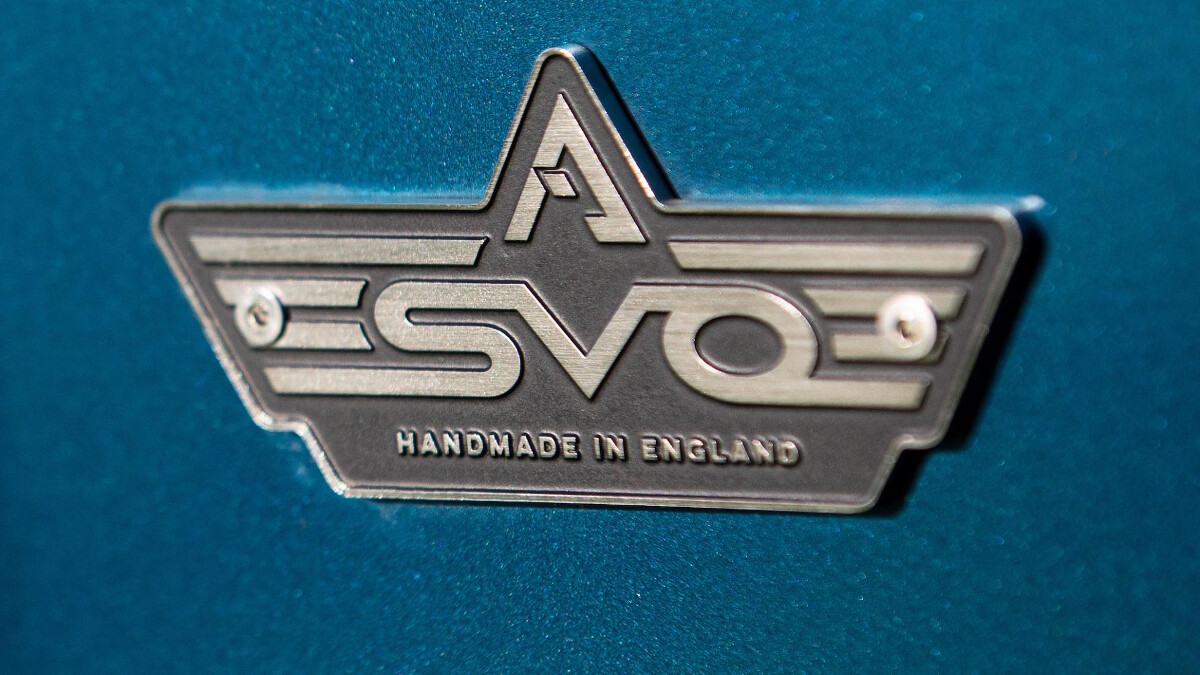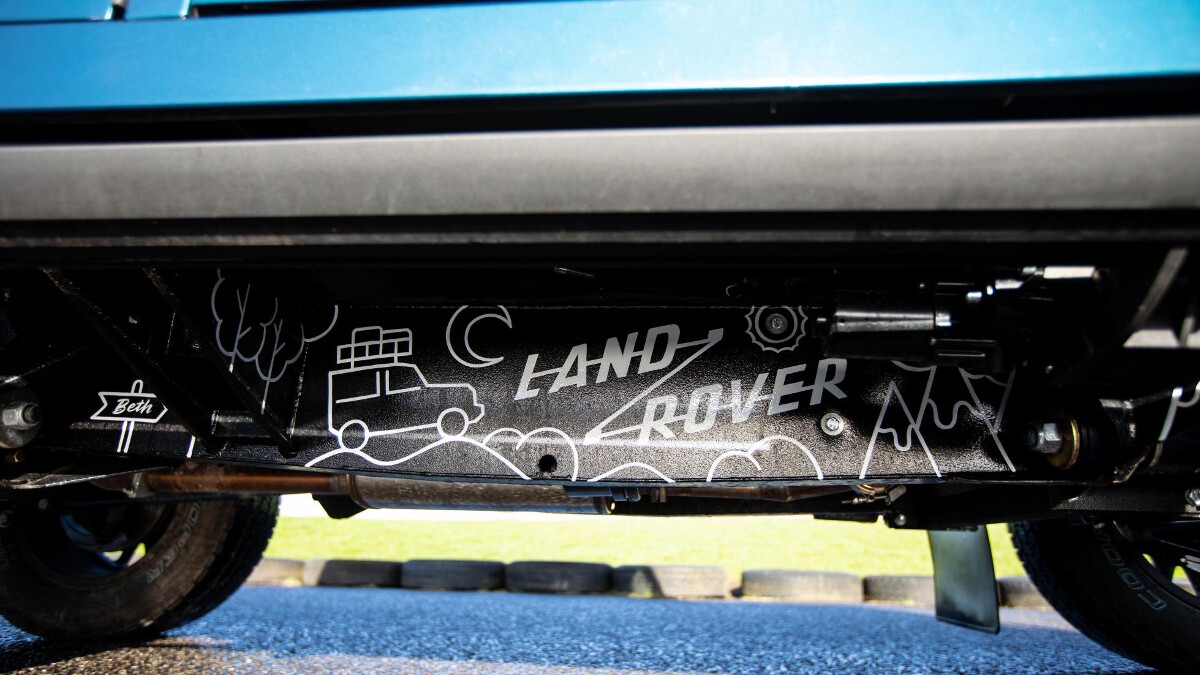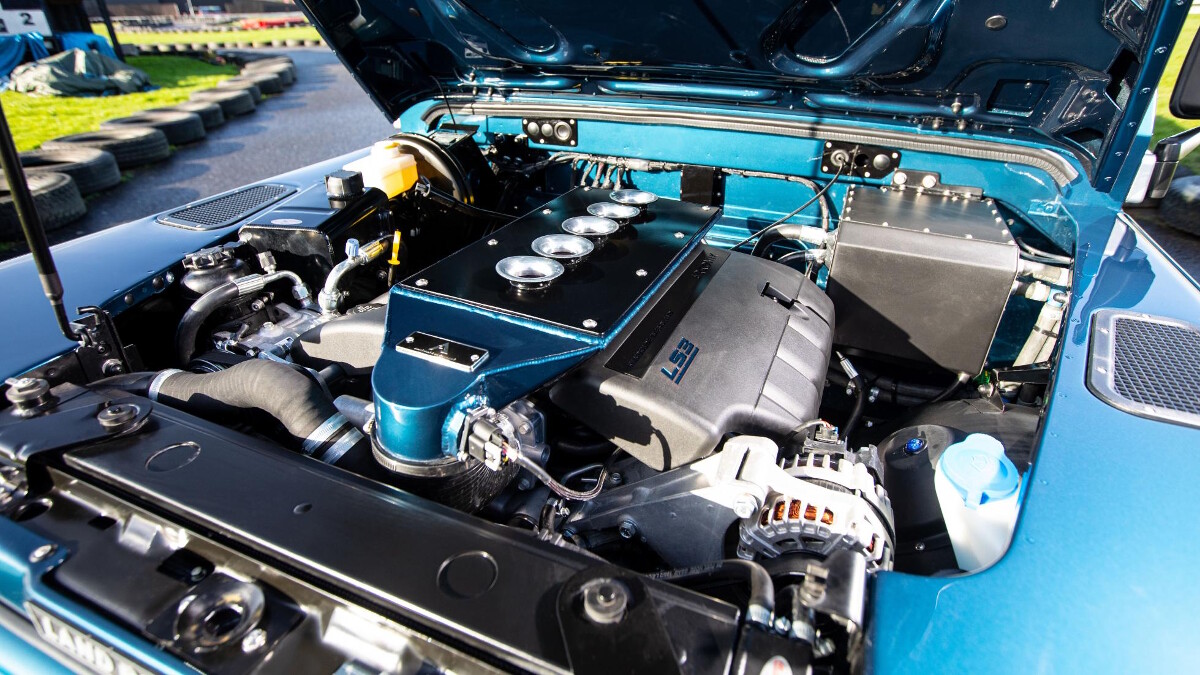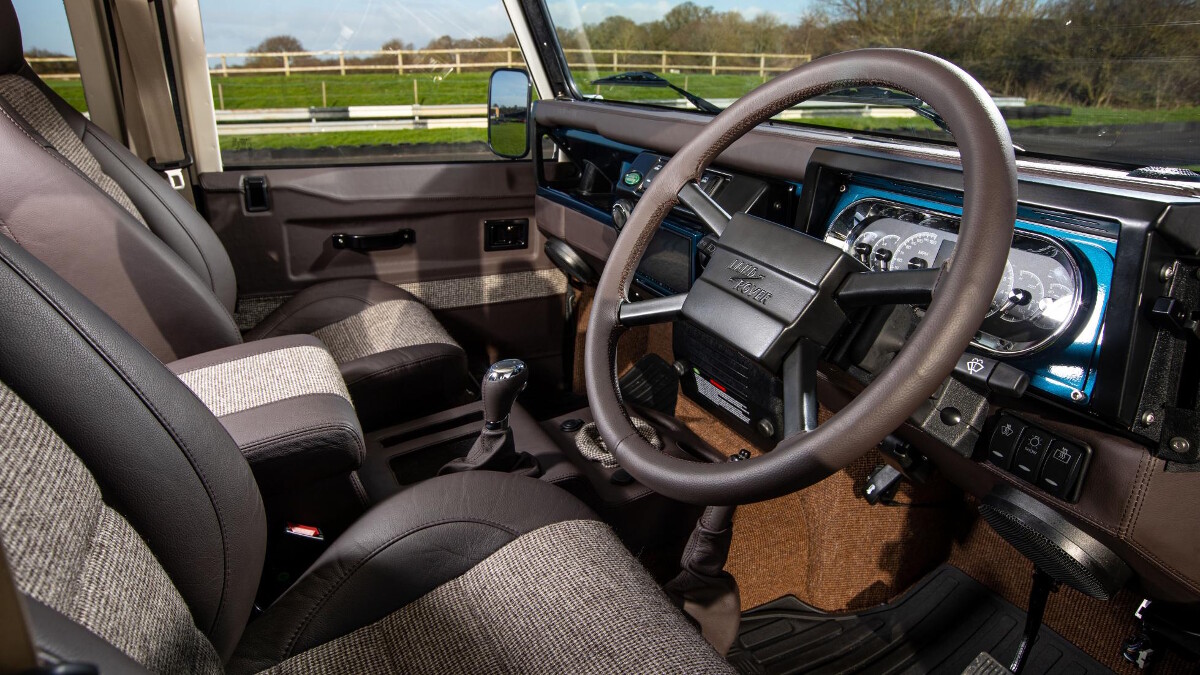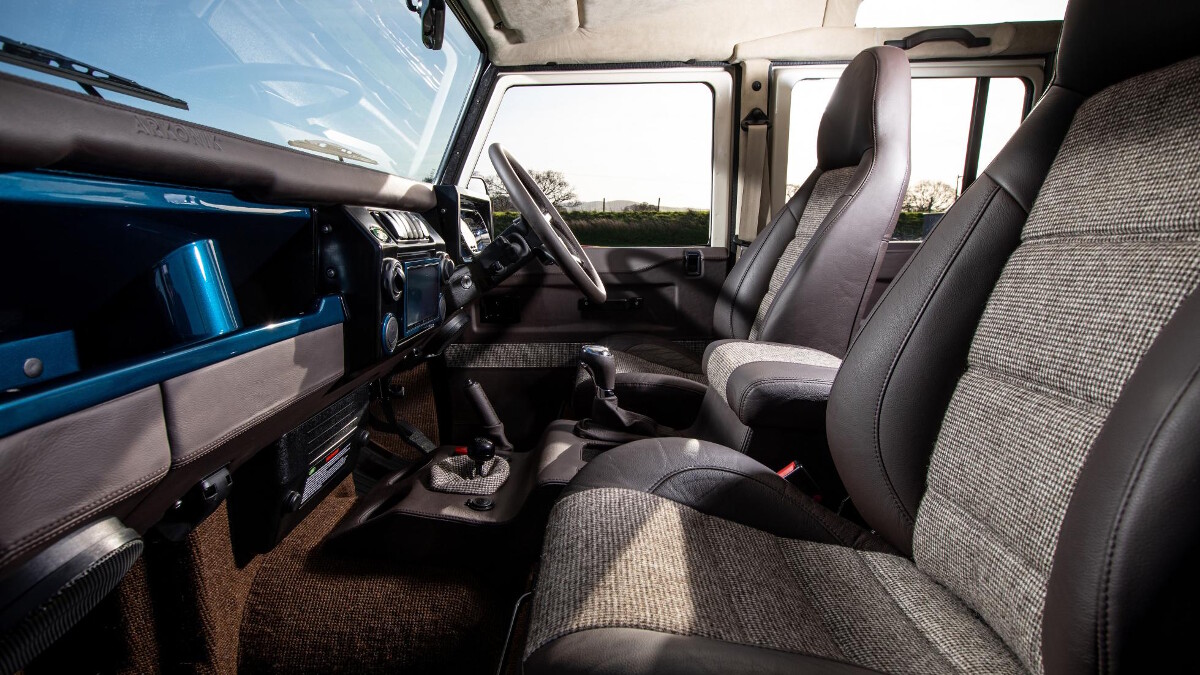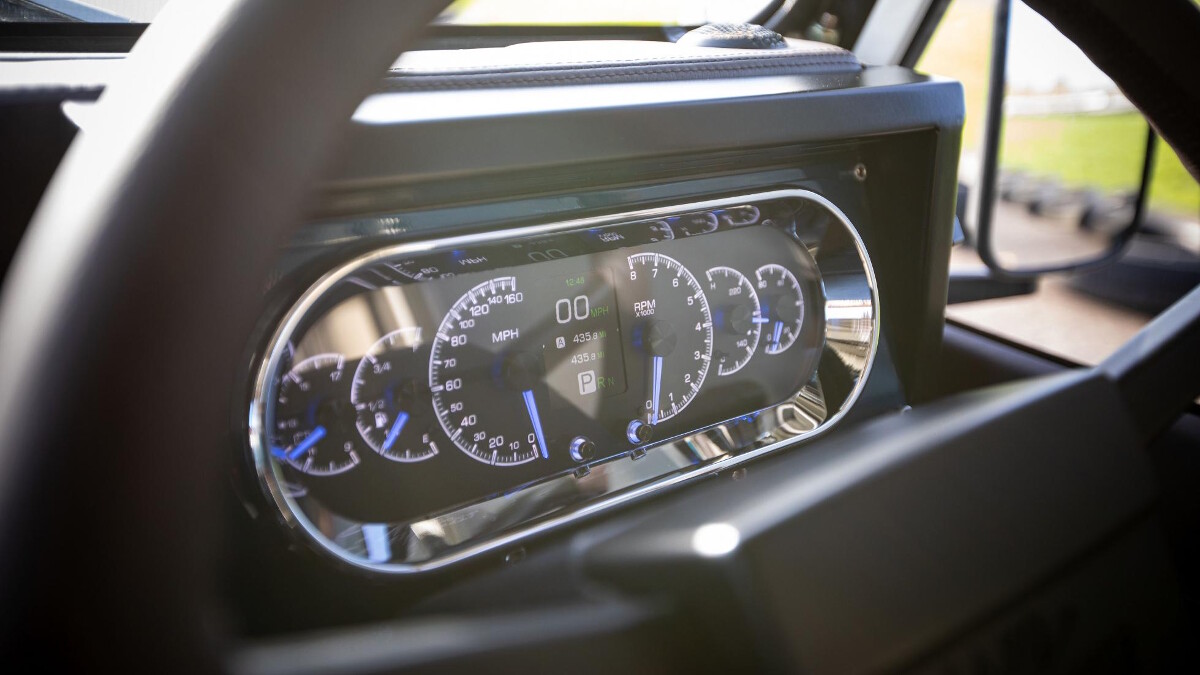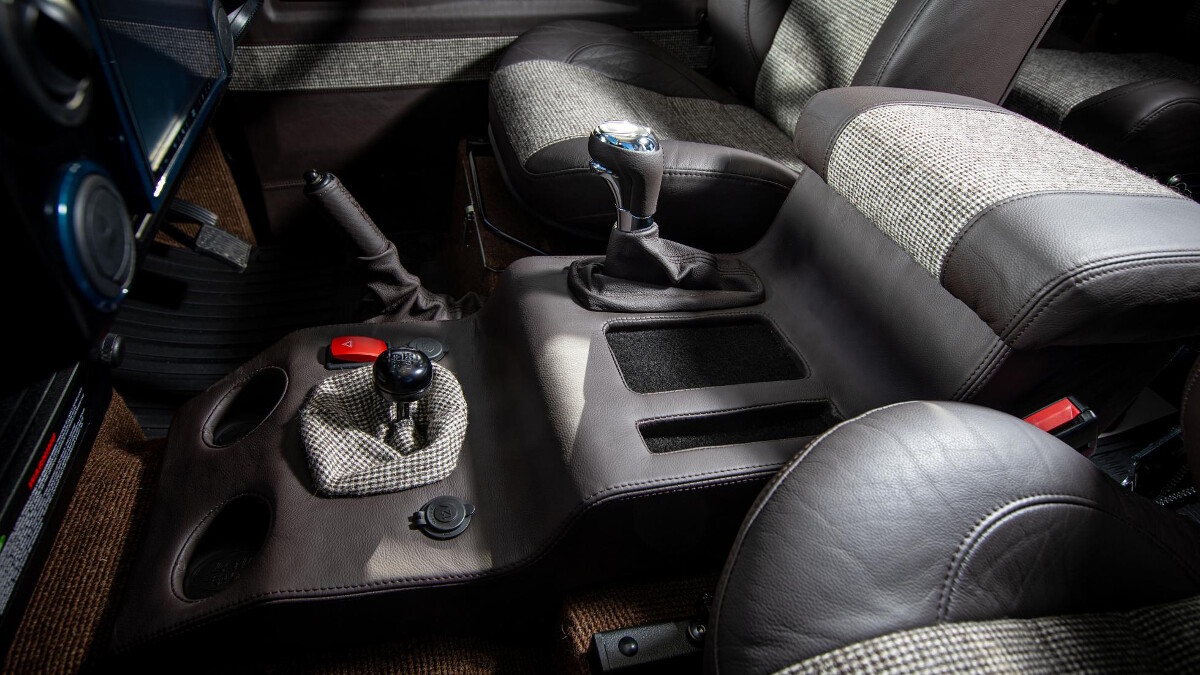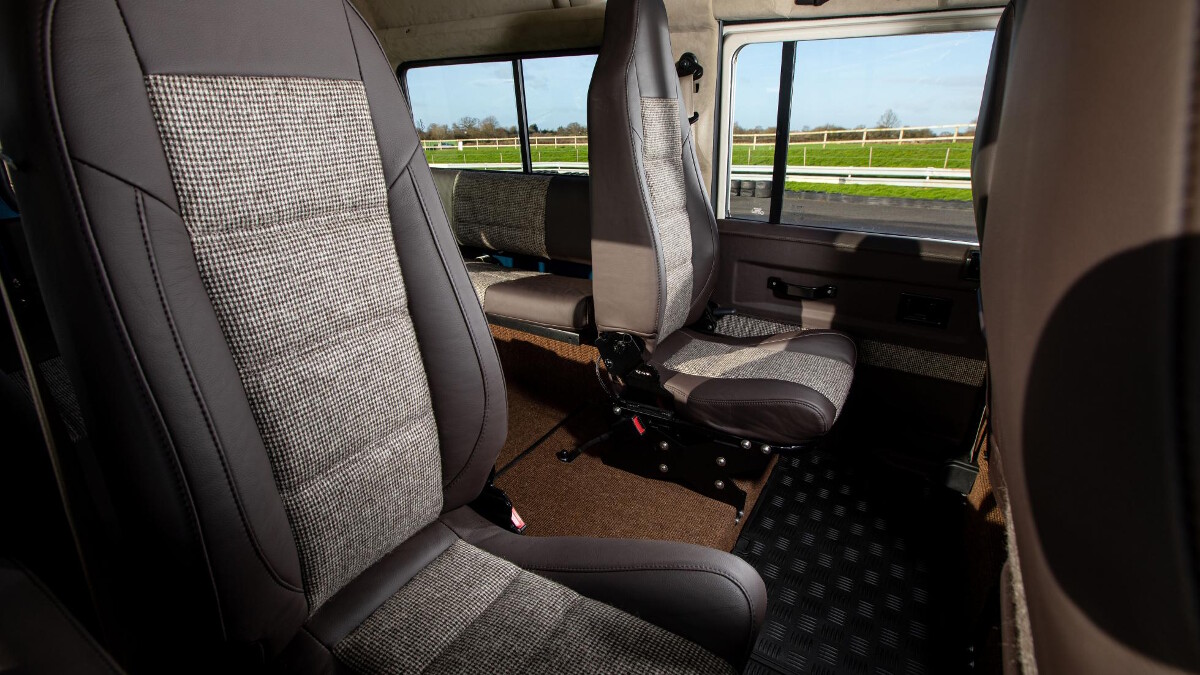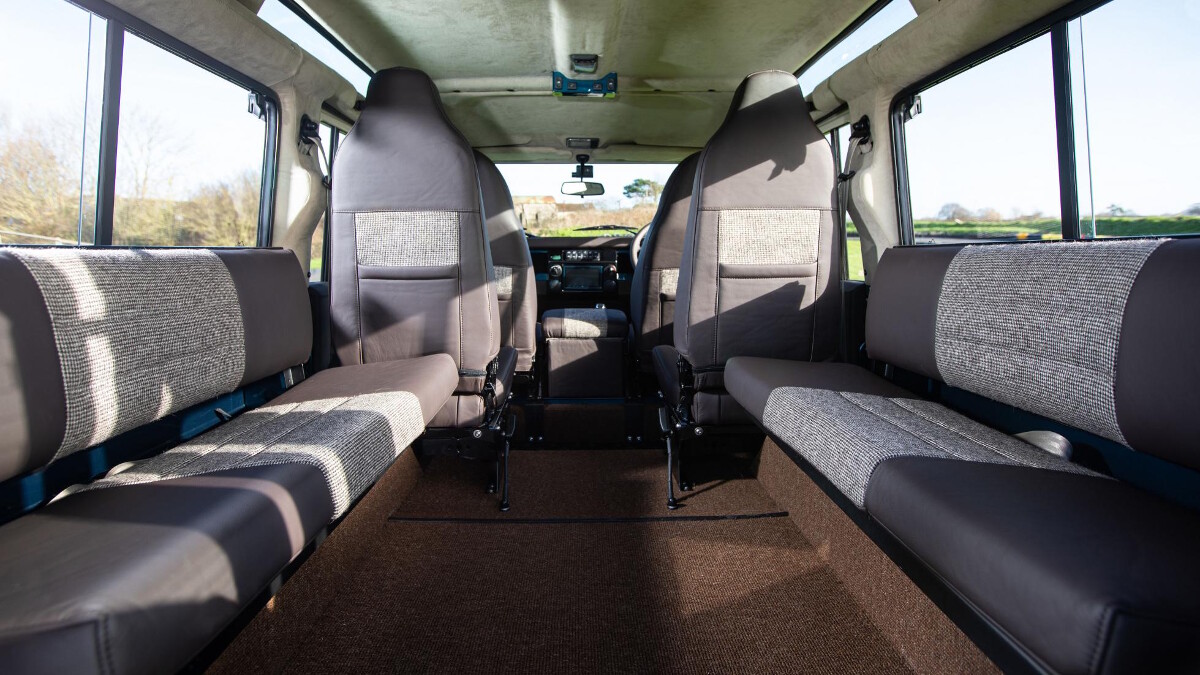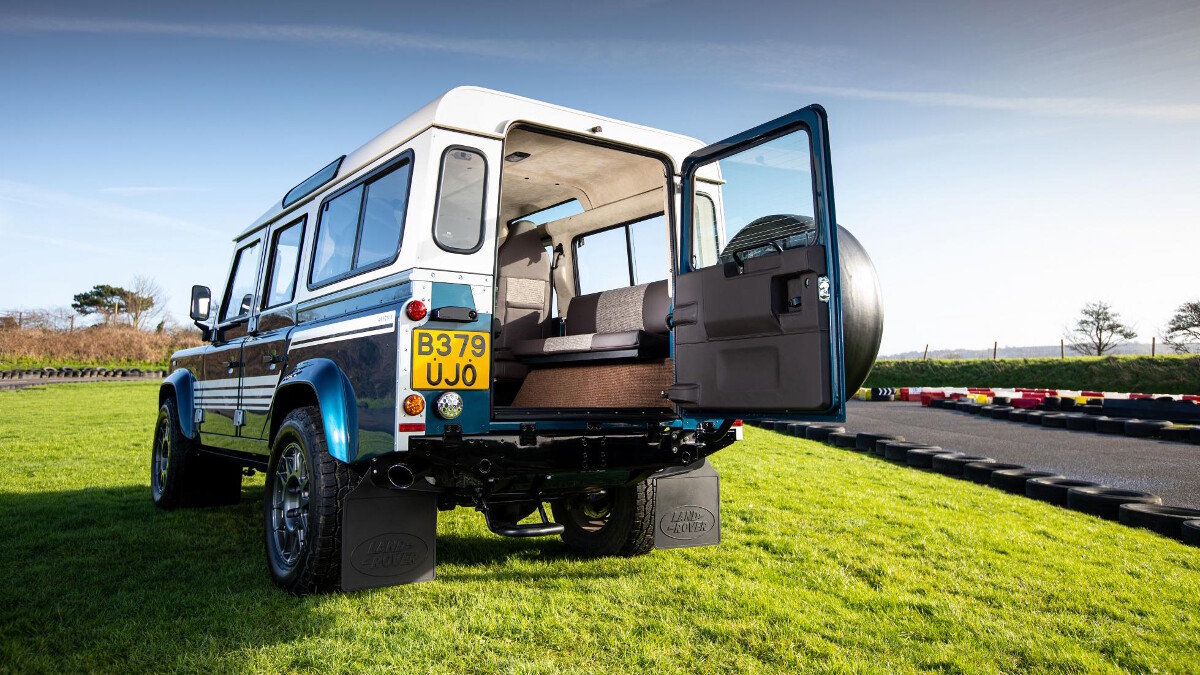 NOTE: This article first appeared on TopGear.com. Minor edits have been made.