While the number of small, affordable seven-seater SUVs has increased in recent years, it hasn't stopped carmakers from targeting other, possibly overlapping segments that have performed well in the past, such as subcompact crossovers. With Kia Philippines ramping up its mass-market attack, it's been bolstering its lineup with more models to tick all the boxes it needs to tick, crossovers included.
This is the Seltos, whose name—maybe not so coincidentally—starts with the same letter as more than a few of its stablemates. It's the latest model in Kia's lineup—in a packed segment, no less—so let's find out what it has to offer.
Styling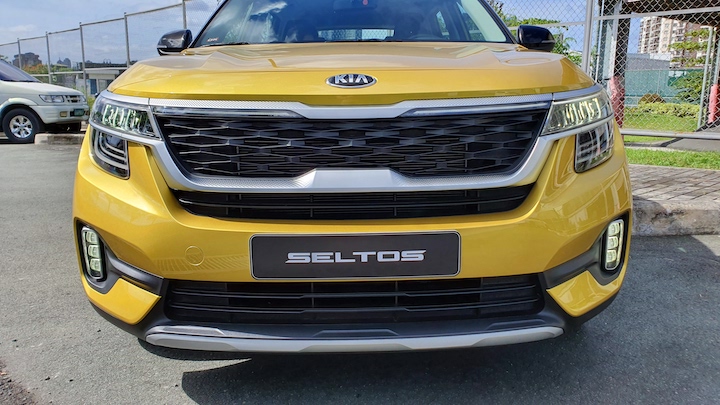 Continue reading below ↓
Recommended Videos
When it comes to exterior design, Kia usually gets it right, and the Seltos is no exception. Up front is an imposing tiger-nose grille flanked by sleek but big LED headlamps. Hood strakes above them give the crossover an angular shape, while the beefy haunches on the side provide some welcome curvature. Underneath, the 17-inch bi-color alloy wheels give the car an SUV-like appearance.
In the rear, you get similarly big LED taillights, combined with a gray plastic strip in the center. This particular unit comes in a Land Rover-esque two-tone paint scheme: Starbright Yellow for the body, and Cherry Black for the roof and the pillars. In all, what the Seltos offers is a stylish package that looks good and exudes a premium feel beyond its actual price point. Kudos, Kia. 
Interior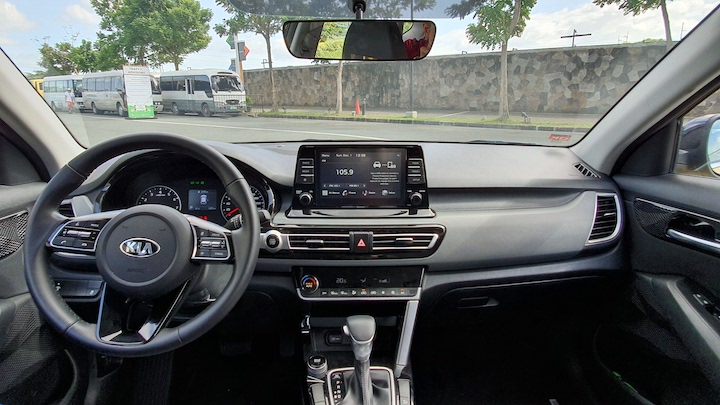 The cabin is equally stylish, but a lot more subtle in approach. The large, leather-clad steering wheel is standard Kia fare, and comfortable to hold. The instrument panel is bright and legible, while the single-zone automatic aircon is operated by blocky and easy-to-use switchgear. In the middle, you get a floating eight-inch infotainment screen with Apple CarPlay and Android Auto. There are six speakers on board that provide crisp, reverberating output throughout the cabin. 
The leatherette and cloth seats in this top-spec SX variant, meanwhile, boast ample cushioning, and the rear perches provide reasonable space for the segment. In the back, you get a cavernous cargo area with 433 liters of space. Other creature comforts include push-button start, automatic up-down power windows on the driver's side, and cruise control. It certainly ticks all the boxes for a city-going crossover. 
Engine
Powering the Seltos is a 2.0-liter, in-line-four gasoline capable of 147hp and 179Nm, and mated to a CVT dubbed 'Intelligent Variable Tranmission' by Kia. Throttle response in this crossover is instant, which can be either good or bad (more on that in the next section). Floor the go-pedal and speed builds up at a steady, naturally aspirated clip. On this city-based test, we managed to average 8km/L.
Driving impressions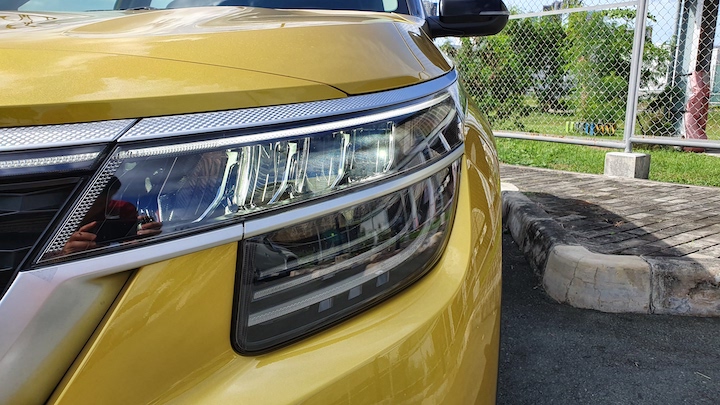 If I had to pinpoint a particular gripe with this crossover, it would have to be the driving experience. At times, it feels as if you're behind the wheel of a midsize SUV, complete with view-obscuring A-Pillars, a high beltline, and a hefty frame that takes up more space than you'd expect. At the same time, acceleration and handling are almost sedan-like, with the car eager to lurch forward at the lightest tap of the throttle, making you forget that you're actually driving something bigger. This dual personality can be a bit startling at times, especially when making your way through gridlock.
That aside, the 17-inch rubber and the suspension setup do a decent job of absorbing and dampening road imperfections, and the 170mm ground clearance ensures you won't scrape the bumper during day-to-day driving. 
Extra features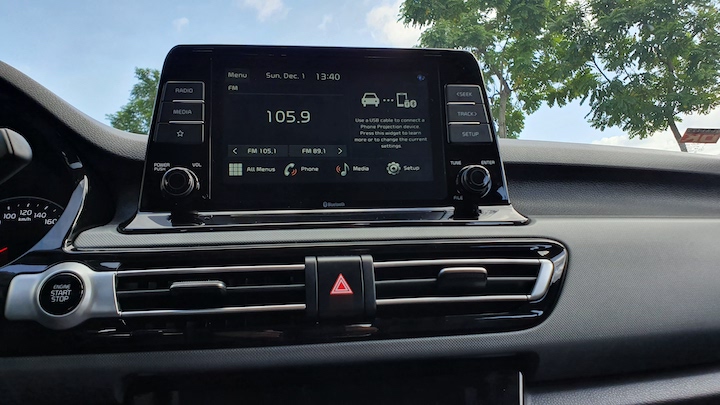 Exclusive to this top-of-the-line variant are safety amenities like electronic stability control, downhill brake Control, hill-start assist, and rear sensors. LED headlamps and foglamps, along with smart keyless entry, are likewise available only on the SX spec.
Verdict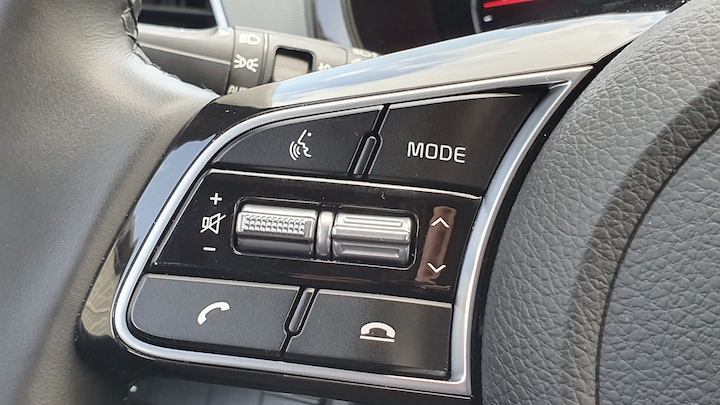 Subompact crossovers remain a ubiquitous presence on Philippine roads, and are one of those must-haves that carmakers need to include in their lineups. So, is the Seltos just another box for Kia to tick? We can't say for sure, but if it is, the Korean manufacturer has certainly put some thought into it. This crossover presents a complete package in terms of features and pogi points. 
At just under P1.5 million, though, this top-of-the-line variant leans toward the pricier end of the segment, competing with the likes of the Mazda CX-3 and CX-30 based on cost. It's certainly an ambitious proposition given the Ayala-led Kia's mass-market leanings, and some might find the more affordable lower variants to be more tempting. You get the same able crossover, after all, minus some convenience and safety features. 
SPECS: 2020 Kia Seltos SX
Price: P1,498,000
Engine: 2.0-liter gasoline I4
Power: 147hp @ 6,200rpm
Torque: 179Nm @ 4,500rpm
Transmission: IVT
Drive layout: FWD
Seating: 5
Score: 16/20