In 2017, Honda Cars Philippines shook up the local crossover scene by bringing in the all-new CR-V. With muscular looks, a modern interior, and two new sure-fire ingredients for success in the Philippine market—the availability of a diesel variant and a seven-seat configuration—it was undoubtedly one of the year's biggest launches.
Since then, the iconic Honda has found immense success: The CR-V finished second in our 2017 Car of the Year voting, and bagged our Readers' Favorite award—beating out models like the Mazda CX-5 and even the Civic Type R. It has also sold over 3,000 units so far in 2018, more than doubling the model's sales last year.
It seems this vehicle just ticks all the right boxes. Hype? Check. Awards? Check. Sales? Check. Performance? Well, we're about to find out.
Styling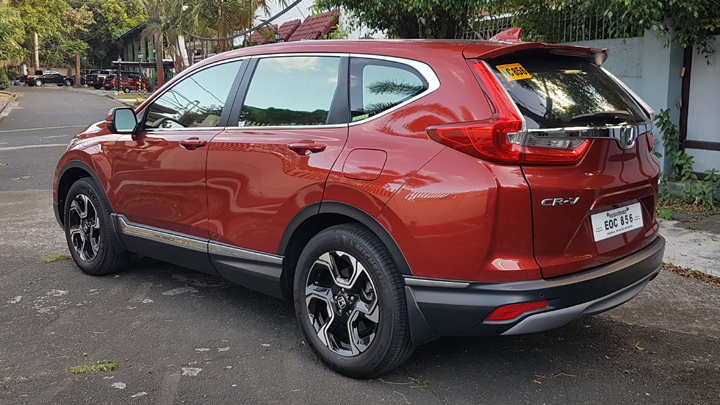 Continue reading below ↓
Recommended Videos
I'm going to be honest: I liked the previous generation's front end better. The added muscle is nice, but the CR-V has just never struck me as a car that should be intimidating. Of course, this is a matter of preference.
None of that is to say this crossover is ugly—far from it. It's a looker, and arguably one of the handsomest in its class. The old elegant swept-back headlights have been replaced with an angrier, more serious design that perfectly complements the large fenders and the more dominating stance. The 'Beyblade' wheel designs look neat, and the rear end's L-shaped taillights will draw attention in any crowd. There's a nice mix of chrome and plastic accents on the exterior, too.
Overall, Honda has done just enough to build on the CR-V's styling without messing with the car's iconic shape and proportions.
Interior
It's hard to find a single fault with how Honda has designed and laid out its crossover's cabin. Hard plastic is used very sparingly, and when it's there, it's nice to the touch. Faux wood trim is usually something I despise in a vehicle, but I found the CR-V's application—with its mostly matte appearance—to be very pleasing visually.
I'm also glad to see that the CR-V hasn't gone the same route as other Hondas with its controls. No touch-based nonsense here (save for the touchscreen, obviously), just good old tactile buttons and dials.
Head- and legroom are great—in the first two rows. The third row can be pretty tight unless your passengers are on the small side (kids should be fine), but you can slide the second row forward a bit if needed. There's also a slight depression underneath the second-row seats for third-row passengers to place their feet.
The only real issue I had was third-row ingress and egress, as it proved cumbersome for my 5'10" frame even with the second-row seats folded down.
Engine performance
The top-of-the-line unit runs on a 1.6-liter i-DTEC turbodiesel with 118hp and 300Nm of torque. Now, we know what you're thinking: "Underpowered." Actually, no.
The small displacement and modest horsepower figures can be misleading. With five individuals on board, the CR-V's powertrain performs wonderfully: It gets up to speed surprisingly quick (at least quicker than I initially thought it would), and the nine-speed automatic transmission performs as smoothly as advertised. The torque on tap gives the impression that the CR-V packs a more potent engine, too, especially during overtakes.
With seven passengers on board? The CR-V's mill begins to have its work cut out for it. I still wouldn't call it underpowered, but you do notice how much more effort the engine exerts to get going. But in my experience, everything remained smooth, and it never came to a point where I was flooring the pedal or using the paddle shifters to get ahead of slower vehicles. If you do feel you need a little extra oomph with a full load, I found that shifting into Sport mode does help considerably.
Our unit eked out a relatively impressive 10km/L in mostly city driving. This includes a trip up to Antipolo and a handful of crawls heading down south to Pasay City. Overall, the diesel option manages to balance power with efficiency without making too many concessions, performance-wise.
Ride and handling
This is a diesel, and while it may not feel like it on idle, it's apparent once you get going. Don't get me wrong—it's still relatively quiet for an oil-burner, and the rattle is barely noticeable. But I've read various reviews saying it sounds and feels like a gasoline unit, and this just wasn't the case for me.
In terms of handling, the CR-V feels much smaller than it actually is. Steering is a perfect mix of lightness and responsiveness, and while the AWD system doesn't provide Forester levels of pinpoint accuracy and grip, it's still very, very good. Just be careful if you're on the short side, as you may find that the large fenders can be slightly obtrusive to your view.
The MacPherson-strut/multilink suspension front and back provides a plush ride through most road imperfections, and the NVH levels impress—but as I've said, this is still unmistakably a diesel.
Extra features
The top-of-the-line SX unit is packed to the brim with extras. The center console provides a ton of storage flexibility: There's a rubberized tray you can slide in and out for gadgets, and the main compartment can house more sizable items like cameras and small bags. You'll also find a number of USB and charging ports around this area.
Entertainment is handled by a seven-inch touchscreen and an excellent eight-speaker setup that remains composed even in higher volume levels. Connecting to the system—whether via Bluetooth or Android Auto/Apple CarPlay was seamless, too.
Another thing I really liked was how easy the digital instrument cluster was to operate. This isn't something you can say about many cars that ditch traditional ones. Other bits? Automatic climate control, a massive sunroof, a multi-view reverse camera, and tons of Honda Sensing safety tech.
Verdict
The Honda CR-V is one of the best all-around crossovers available on the market today. It's a great balance of efficient performance and practicality, and tops its stylish package off with one of the nicest interiors in the business. Performance does take a slight dip with a full load, but the strain is minimal and the added utility the third row provides is well worth it.
The only possible downside? The price. At well over P2 million, this crossover isn't cheap, and the modest displacement and horsepower figure might emphasize this further. Is the relatively premium 'diesel engine plus seven seats' formula worth the cost to you?
SPECS: Honda CR-V 1.6 SX DSL
Price: P2,125,000
Engine: 1.6-liter turbodiesel
Power: 118hp @ 4,000rpm
Torque: 300Nm @ 2,000rpm
Transmission: 9-speed automatic
Drive layout: AWD
Seating: 7
Score: 18/20
Honda CR-V 1.6 SX DSL