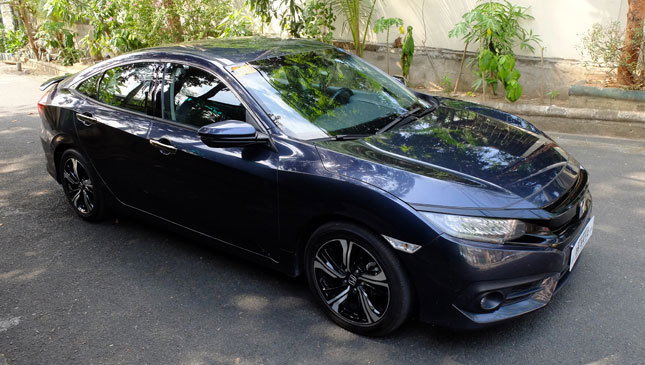 Once upon a time, I had a housemate who owned a Mazda 6 MPS. If you're not familiar with the acronym, it stood for the Mazda Performance Series line of cars back in the day. My friend's 6 MPS looked a lot like the regular one from the first generation, save for a few aesthetic tweaks. But underneath lay a ferocious 2.3-liter turbo, which produced nearly 300hp and 280Nm. And this was before turbocharging became all the rage. At cruising speed, it felt like a regular family sedan with a slightly stiffer ride. But once you hit the powerband, all hell broke loose. 
Continue reading below ↓
Recommended Videos
Why, you might be asking, am I talking about an old Mazda model in a review about the Honda Civic RS? Differing segments and generations aside, the RS reminded me a lot of my housemate's old MPS in that it's just as much fun to drive normally as it is to open up its throttle. As cliche as it sounds, it really is the best of both worlds.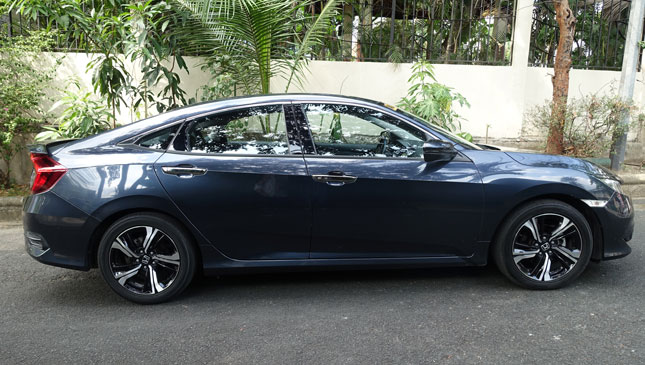 STYLING
After the success of the FD generation, the Civic fell into a bit of a slump. Many felt that the succeeding generation failed to capture the spirit of its predecessors. Thankfully, the tenth generation's styling brings sporting heritage back to the forefront.
The RS's exterior features a low coupe-like stance, an aggressive front fascia with swooping headlights and a gloss black grille, sharp lines running along the sides, and a wing-type spoiler for good measure. It's the right mix of sport and class lumped into one, and even the most hardened Banawe customers will find it difficult to improve on its look.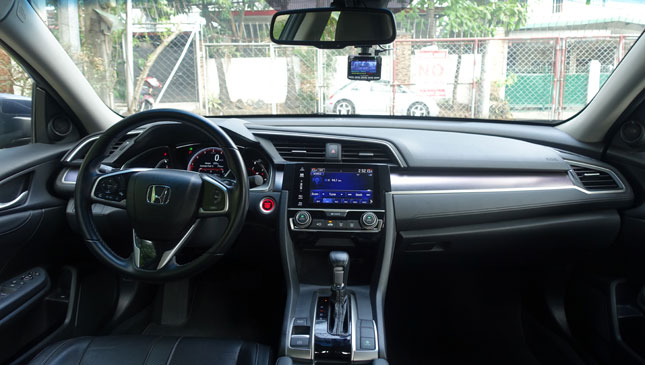 INTERIOR
If your image of the Civic is still that of a bare-bones car waiting to be set up by eager boy racers, you're in for a surprise. Inside, the RS has a surprisingly luxurious leather-clad interior that belies its price point and reputation. Getting the right driving position is easy, thanks to the way the driver's seat and compact steering wheel are laid out. You also get a 7-inch touchscreen display, a full-color digital instrument cluster, and dual-zone automatic air-con. This Civic, like many who have grown up as fans of the nameplate, is all grown up.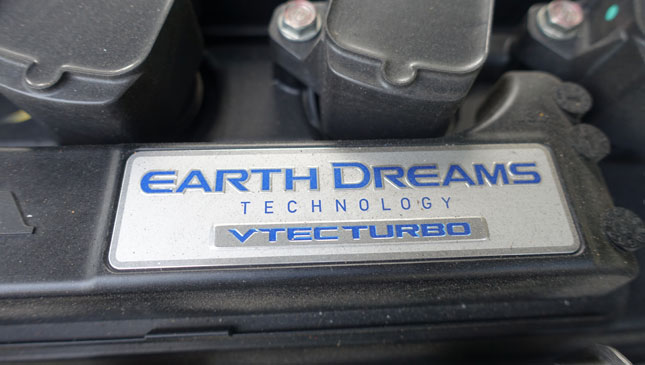 ENGINE PERFORMANCE
The RS is powered by a much-praised 1.5-liter VTEC turbo. Old-school gearheads might scoff at that kind of displacement, but for a vehicle this size and with the advancements in turbo technology, you honestly don't need anything bigger. All the fun you could ever want is available past 2,5000rpm. Unlike other turbos in which the boost comes as a sudden kick, the VTEC's power is a little bit gentler, giving you smoother (but still very quick) driving acceleration. The switch between cruising and pedal-to-the-floor speed is seamless, extolling the car's Jekyll and Hyde personality. 
Due to its small displacement, the engine hums along just fine if you choose to drive at a steady clip. A mix of city traffic and a spirited run along twisties netted roughly 7-8km/L. That figure would've been much higher if I drove conservatively, but the temptation to go past 2,500rpm was just too much to resist.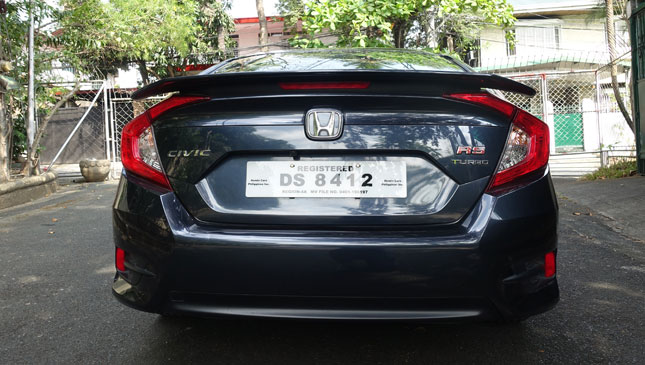 RIDE AND HANDLING
If we had to point out any obvious flaws, we'd have to say that there's a noticeable bit of body roll when taking on tight turns. But it's a flaw hardly worth griping about considering how nimble and sprightly it is to drive. And although it's sporty and sits fairly low to the ground, the ride is much more comfortable compared to other segment competitors. Long drives at a consistent speed aren't tiring in the slightest.
EXTRA FEATURES
Exclusives to the RS variant include an auto-dimming rear-view mirror, eight-way power adjustment seats, rain-sensing wipers, and red ambient lighting. You also get slightly larger 17-inch two-tone alloy wheels.
THE VERDICT
It's easy to see why the Honda Civic won many accolades when it debuted back in 2016 (including our own Car of the Year honors). Honda Philippines  brought the much-loved car back to its sporting roots, while at the same time evolving its amenities to suit refined tastes.
More conservative buyers have the option of the 1.8 E, but the gearheads out there would be best served with the 1.5-liter with forced induction. It's about as ideal as a consumer compact sedan as you could ask for.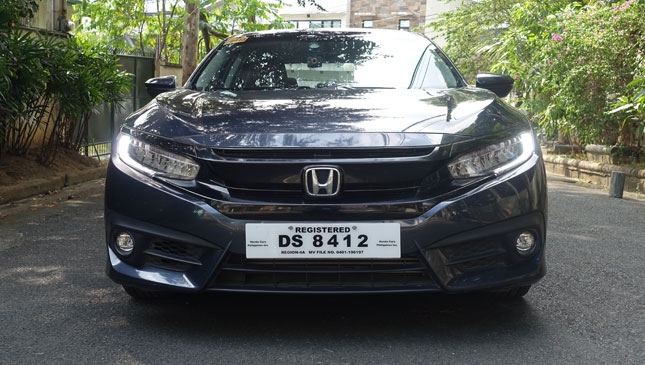 SPECS: HONDA CIVIC RS 
Price: P1,546,000
Engine: 1.5-liter VTEC turbo
Power: 171hp @ 5,500rpm
Torque: 220Nm @ 1,700rpm
Transmission: CVT
Layout: FWD
Seating: 5
Score: 20/20
Honda Civic RS