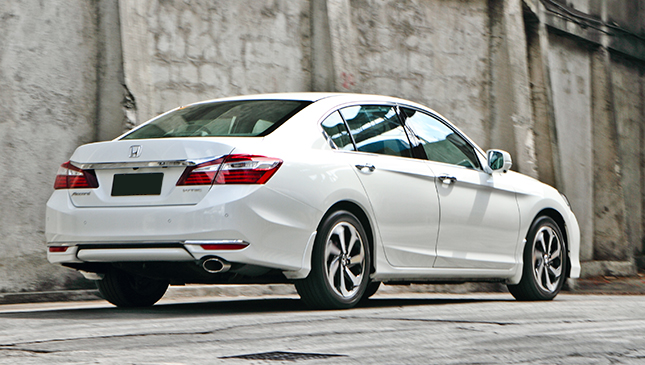 During one of those family lunches, I was seated next to one of my cousins. "What are you driving now?" I asked.
"An Accord," he replied. "Because you recommended it."
I had forgotten that I did, but I was flattered nonetheless. In retrospect, my cousin is the perfect Accord buyer: family man, banker, golfer, and Chinese. He had gotten the 'base' 2.4-liter variant, and that's what I'm reviewing now.
For 2016, the sleek facade of the ninth-generation Honda midsize gives way to a beefier visage that connects visually to the City. Revised rear bumpers and taillights round out the aesthetic improvements. The new toys in the cabin are in the infotainment console, where both center displays now boast improved resolution. The 2.4 S Navi gets Apple CarPlay—an interesting interface with both noticeable pros and cons. 'Navi' here refers to built-in navigation, but Waze is still king.
The crowd-pleaser is what Honda calls LaneWatch. The current Accord already has cameras that assist you when parking and maneuvering. LaneWatch goes a step further: Another camera mounted on the right sideview mirror gives you a live feed of your blind spots. These are bonuses to basic parking skills, and they're handy to have.
The powertrain is retained, and since the 2.4-liter four-cylinder and the tranny are so good, we're not complaining. Now, 173hp might not seem like a lot, but there's nothing dull about how this car drives. Response and handling are above par for a midsize executive sedan.
The seats and the seating position are as good as ever—one of the best. But backseat VIPs will be glad to know the front passenger seat can now be adjusted through dedicated buttons.
This base Accord remains the bang-for-the-buck choice, not just between midsize Hondas, but in the whole segment. And if you don't get stuck in traffic too much, it can do 11.5km/L—which drops to 6-7km/L when all hell breaks loose. If my cousin were to ask me again about which car to buy, I know what I'd recommend in a heartbeat. Unless he's much richer now, and then I'd point him toward the Legend.
SPECS: HONDA ACCORD 2.4S NAVI
Price: P1,793,000
Engine: 2.4-liter petrol I4
Power: 173hp @ 6,200rpm
Torque: 226Nm @ 4,000rpm
Transmission: 5-speed automatic
Layout: FWD
Seating: 5
Score: 18/20