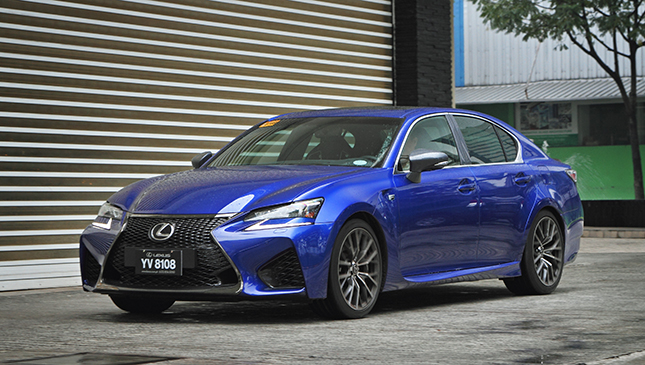 I'm constantly mulling this over: If I had X amount of money, which cars would I choose to buy? Would they be all-out or sensible purchases? The amount of money is relative—we could be talking about an outrageous sum, or a realistic but fair figure. I'm just dreaming here.
On my list is the GS F, my favorite Lexus. This V8-powered, fuel-gargling midsize sports sedan could be my daily driver for all I care. I still wouldn't be so guilty considering it costs a little over half the sticker price of a BMW M5, a Mercedes-AMG E63, or an Audi RS6. As Lexus's response to those uber fast super saloons, there's no doubt about the performance—it's up there, surely.
It's the visuals that draw you at the outset, of course. The styling isn't screaming for attention; it's just right, with added aggression and carbon-fiber bits over the standard GS. I dig everything with how the car looks—the carbon-fiber rear spoiler and diffuser; the uniquely positioned quad-tip exhausts; the contrasting gray side mirrors and door trim that attempt to convey lightness; the stance; and the 19-inch 10-spoke alloy wheels with that double-star design the Japanese love.
And I'd get it in this Ultrasonic Blue Mica color. Just look at it! Everyone who sees this car will be awed—and wait until they hear the burbling sound of the engine.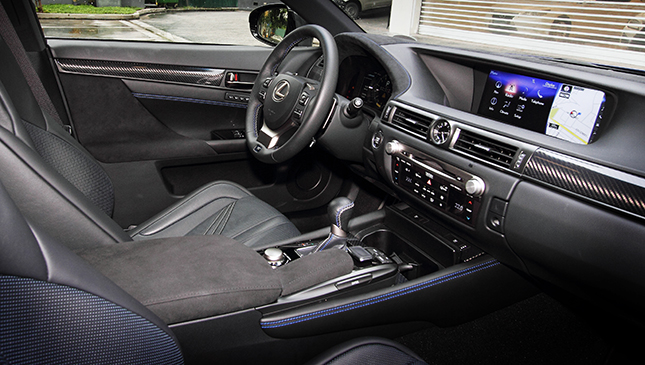 "Do you like the blue stitching?" a friend of mine asks. I reply that I do. It's the color of Lexus's go-faster division, and along with generous amounts of Alcantara and carbon fiber in the cabin, it sets the tone for the GS F's character. Also, the bucket-type seats are a dead giveaway as to what the car is all about. It's easily the most aggressive-looking element here. They're deep and well-bolstered, with comfort still very much a priority. The same goes for the rear seats. Up front, the gauges are pleasing to look at, particularly the center-mounted TFT rev counter that reflects the selected driving mode.
Under the hood is the same 5.0-liter naturally aspirated V8 in the RC F, delivering 467hp and 530Nm. That doesn't sound like much considering the Germans have at least 550 horses each, starting with the RS6. Still, I'm sticking to the sensibility card—there has to be some benefit down the line.
While its counterparts have all gone turbo, the GS F has that old-school feel as you have to rev it to the midrange to see what it can do. The kick you're searching for comes right before 4,000rpm, followed by more ferocity once you hit 6,000rpm. That said, things feel uneventful at low revs. This is a Lexus, so it has to be smooth, which it is. The GS F is still ideal for daily use, with performance waiting to be unleashed when you need it. And there's the benefit.
Coupled to the V8 is an eight-speed Sport Direct Shift automatic transmission. My only gripe with it is that it shifts to second gear too quickly (around 2,000-2,500rpm) regardless of which driving mode you're in, hindering a spirited getaway. It prompts you to swap cogs via the paddle shifters, which is more involving, anyway.
Speaking of driving modes, there's Normal, Eco, Sport and Sport+. I stay in Normal mode most of the time, shifting to Sport and Sport+ when the road ahead is clearer. In doing so, I manage just 4.5km/L. With the fuel level dropping right before my very eyes, I switch to Eco on the way back from our weekend trip in Tagaytay. On SLEX, I net just a smidge over 13km/L with three passengers on board and a slightly filled trunk.
It's when things are much calmer that you appreciate the other side of the GS F, whether in town or on the highway, aiding the argument that it can be used every day. My wife notes that it's comfortable. The suspension is nicely balanced, offering a graceful ride with the right amount of damping for spirited cornering. Steering has the right amount of lightness and is responsive, firming up in Sport and Sport+.
Is the GS F worthy of taking the fight to the M5, the E63 and the RS6? Of course it is, though with a slightly different approach. If you are looking for something more brutal and can well afford a Bimmer, a Merc, or an Audi, then why choose the Lexus? But if you want something that's not too in-your-face, with more than enough performance to call upon, then look no further than the GS F. And it's more affordable than its German counterparts. That makes a lot of sense.
SPECS: LEXUS GS F
Price: P7,668,000
Engine: 5.0-liter petrol V8
Power: 467hp @ 7,100rpm
Torque: 530Nm @ 4,800-5,600rpm
Transmission: 8-speed automatic
Layout: RWD
Seating: 5
Score: 17/20